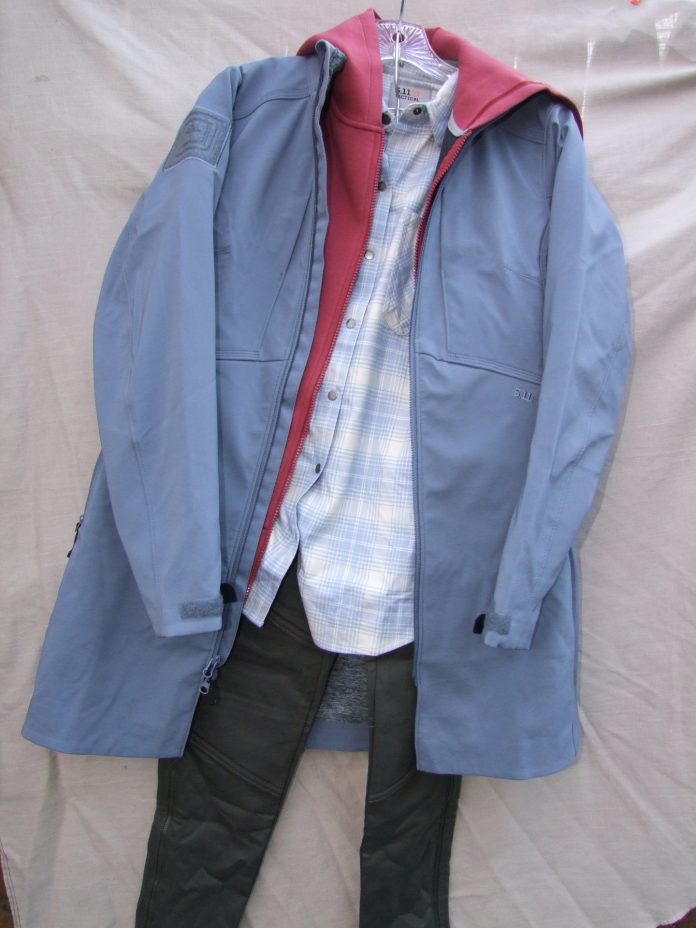 Late last year 5.11 Tactical sent a care package of ladies clothing. We found all of the items ran true to size. My partner in crime wears a 6 pants and medium in tops. None of the items bound or fit like a second skin. The jackets allowed for layering without sacrificing comfort. Since she travels for FEMA, she liked the fact that there was minimal shrinkage when things were washed and tossed in the dryer.
One of the hardest things of clothing to find is a versatile long lightweight coat that you can layer under. The Atlas is 5.11's newest outerwear option to help correct that. In medium, from the collar to hem it is 32" long or more practically speaking on a 5'4" frame it comes to the upper thigh. This protects your bum when sitting down and from rain dripping off an umbrella. It also ensures if you are carrying an outside the waistband holster it is totally concealed.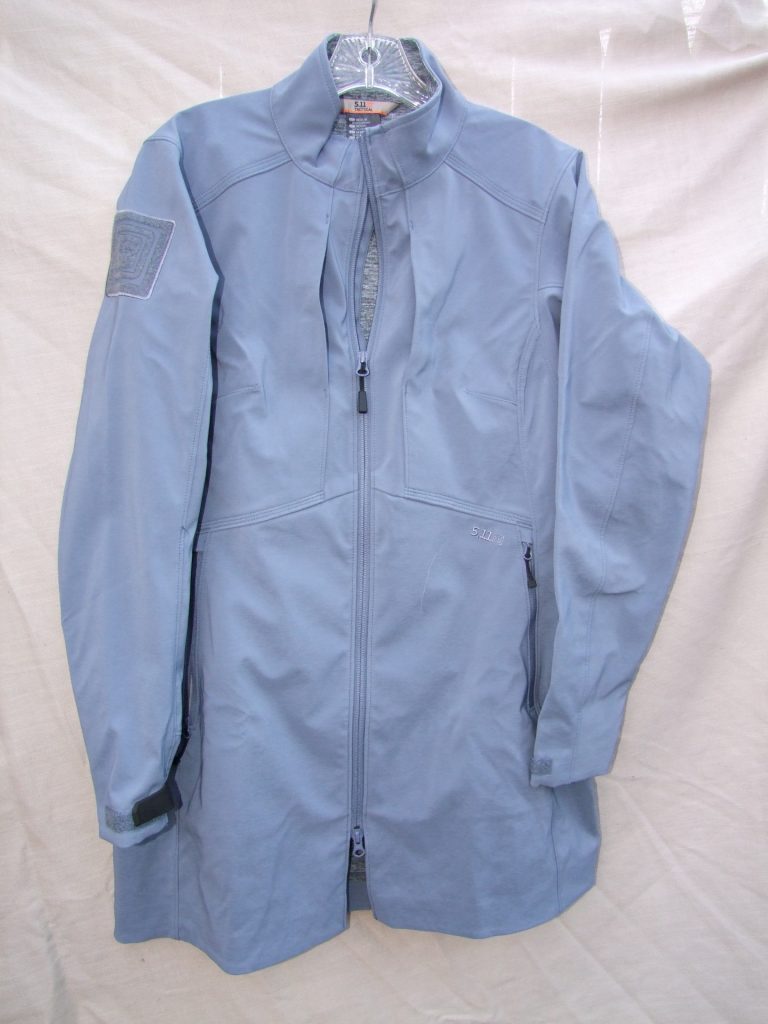 5.11 paid great attention to all the pockets. The chest pockets have double hook and loop closures and the bottom of these pockets is 4" below the seam and bottom closure. This ensures items like a phone, keys, etc. will not fall out. The large zipper similarly designed. Inside of these pockets is a zippered pass through so you can readily access your firearm, pepper spray, wallet, etc.
Comfort is further enhanced using polyester/elastane fabric. This fabric "stretches" in all directions so you do not bind when moving. While not waterproof, the material is highly water and wind resistant so will not get soaked if you get caught in a sudden downpour. At $129.99, this jacket is a good buy and will serve you for years to come.
The shorter sibling to the Atlas is Emma full zip. This jacket can be worn as a standalone piece or layered under the Atlas or other heavier duty rain gear. With its lay flat hood, the Emma is an ideal year round jacket. Like the Atlas this jacket uses what 5.11 calls a scuba knit. This fabric gives you true full range of motion stretch and will not bind when worn inside rain gear.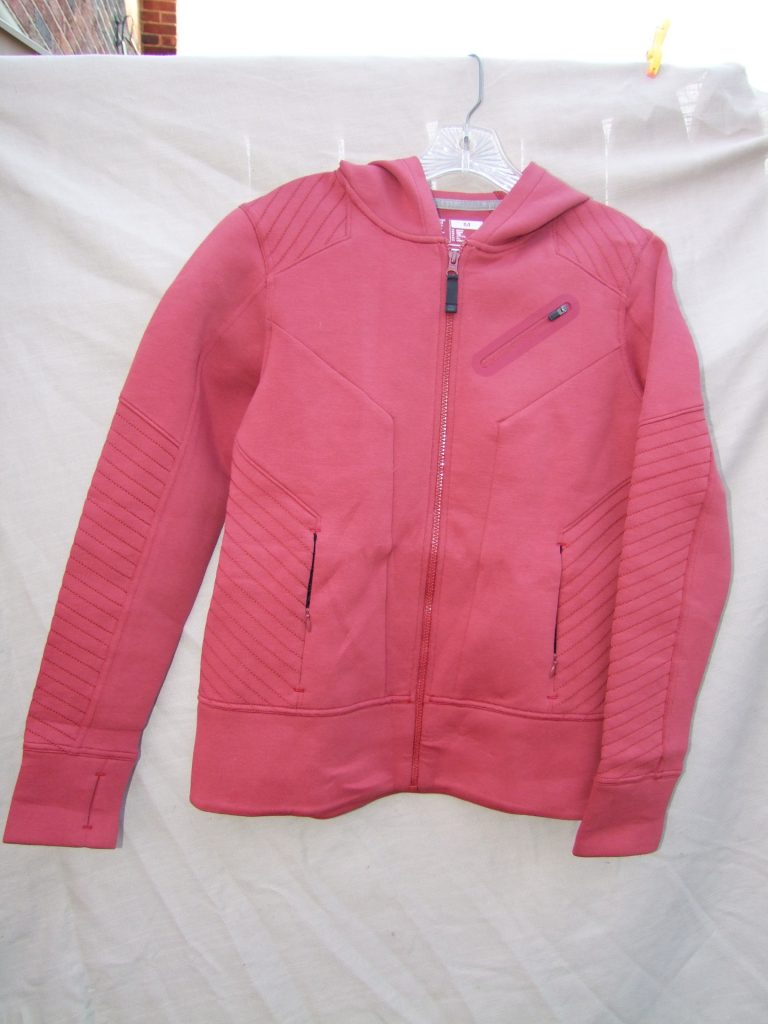 While stylish, the Emma is all about function. The full length zipper makes the jacket easy on/off with quick access to a holstered pistol or belt carried cell phone. The sleeves are cut to give you full range of motion without them rolling up. To ensure the sleeves don't slide up and to keep your hands warm(ish) each sleeve has a thumb hole placed to protect the entire palm.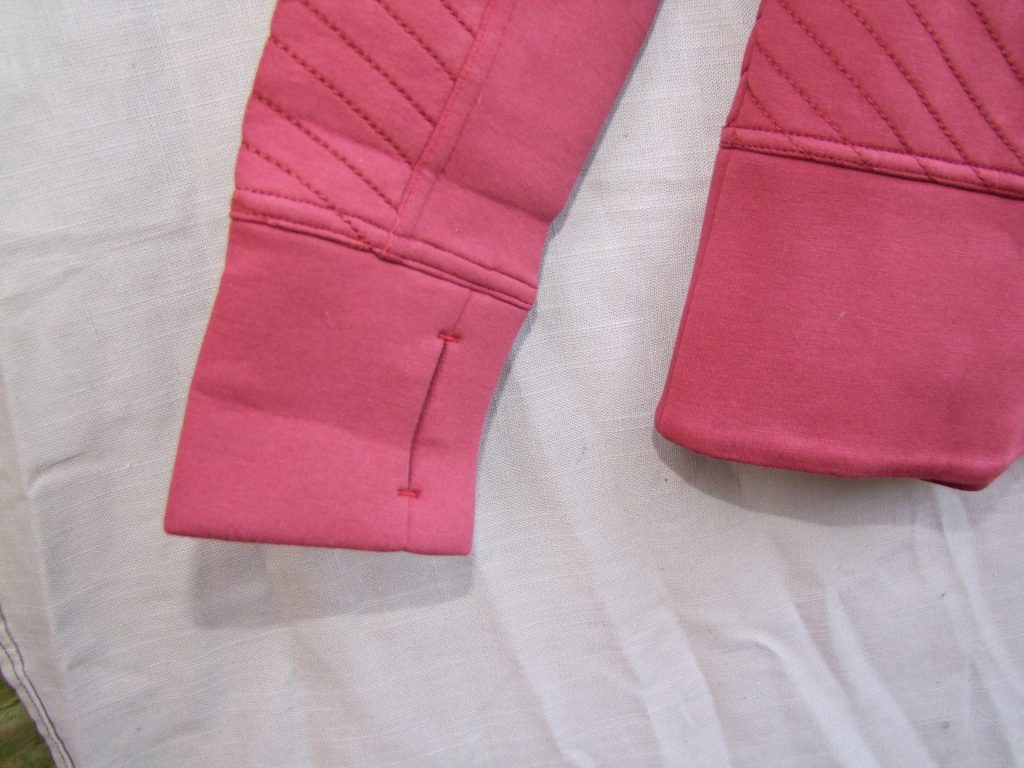 The Emma is 24" long from hood to that bottom hem which will lie just below your hips. Unlike many jackets the hem of the Emma is wide, nearly 5". This helps it to lay flat and not to "print" if you are carrying and because it is double layer, it will not roll.
If you like a good sweatshirt, the Emma Full Zip ($79.99)will meet and exceed your needs. I was told to share some advice on sizing; the Emma runs snug, if you plan to layer buy the next size up.
The Victoria is a traditional sweatshirt on steroids. The polyester/jacquard blend is 54% poly/46% cotton keeps its shape after numerous washings and warm as well. If you wear the Victoria to workout in this blend will wick moisture and dry quickly.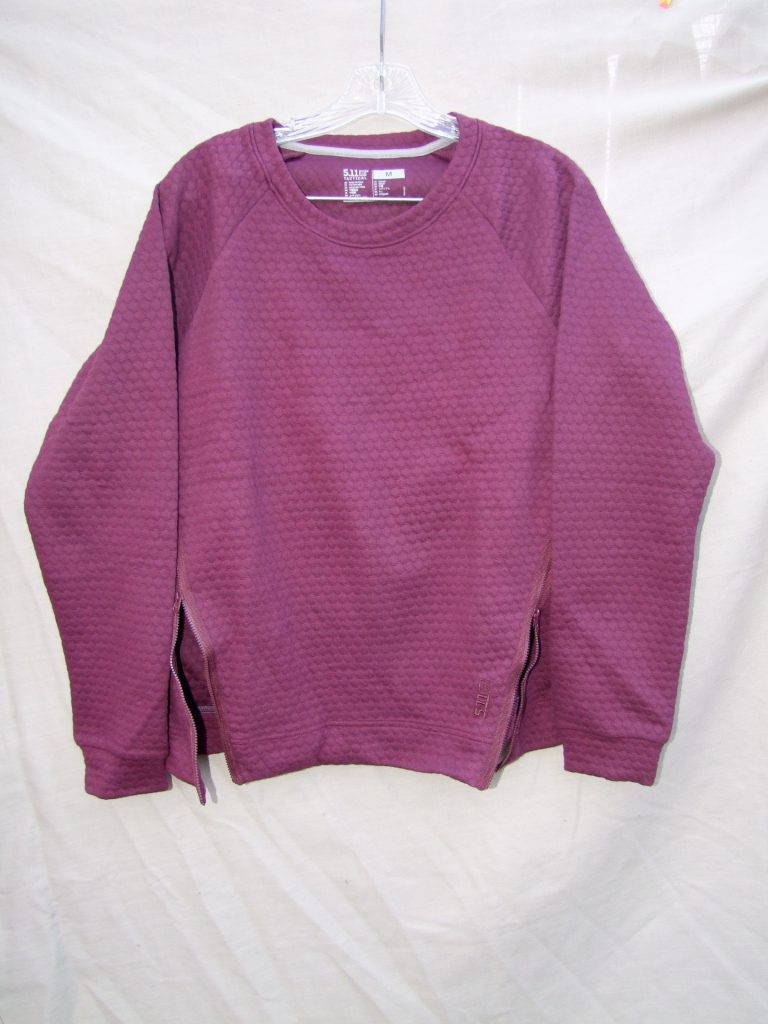 The Victoria will set just below your belt/waistline. It is a full body cut so it is not form fitting. You will find angled zippers in front of each hip allowing you to wear the Victoria while shooting a pistol match and not have to take it off for easy access to your magazines and pistol. At $49.99 the Victoria is competitively priced against any name brand athletic apparel.
If you prefer a comfortable casual shirt, the Cheyenne ($59.99) flannel is just what you are searching for. While this shirt is flannel, it is not cotton flannel. 5.11 uses a 64% polyester/34% viscose/2% elastane which will wear better and not shrink or bunch.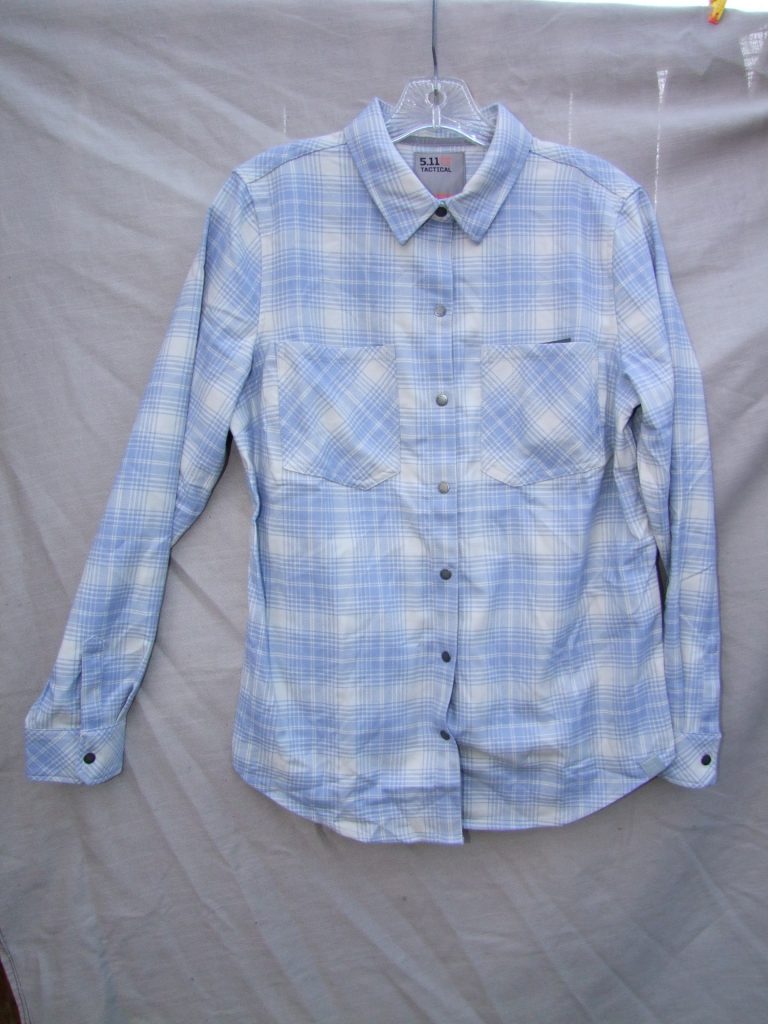 Since this shirt is built for ladies who carry concealed, 5.11 uses their Rapid Draw placket. Instead of buttons, 5.11 installs snaps that look like buttons. A quick tug on the shirt tails opens your blouse giving you access to your holstered handgun. These are not lightweight snaps that pop open every time you brush against something so you do not have to worry about a wardrobe malfunction.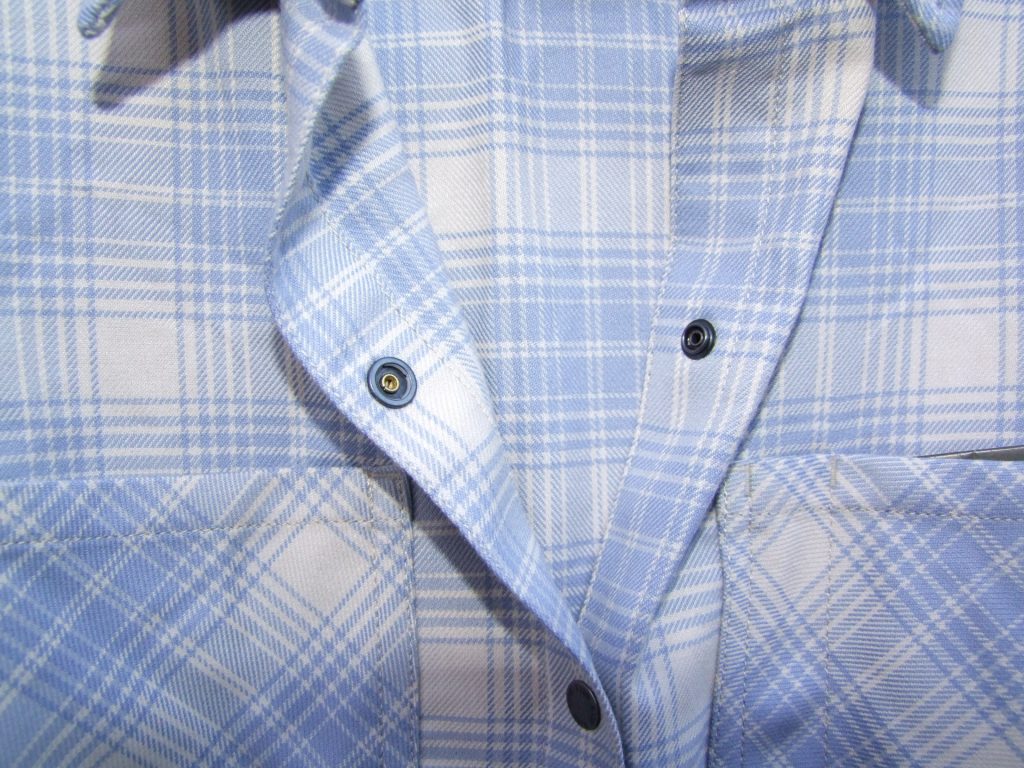 The last item looked at was the Wyldcat pants. They look fashionable yet have belt loops that are properly sized and spaced to accommodate holsters. For comfort in all activities they are made from cotton/polyester/elastane stretch sateen with Microsand finish which is stain resistant. These pants fit like a glove, yet they allow for virtually unrestricted movement.
The Wyldcats look good, but they were built for function. Properly place pockets securely carry your cell phone, wallet, and other stuff without fear of these items falling out. Concealed just above and at the leading edge of the pocket are AR magazine pockets sewn into the contoured waistband.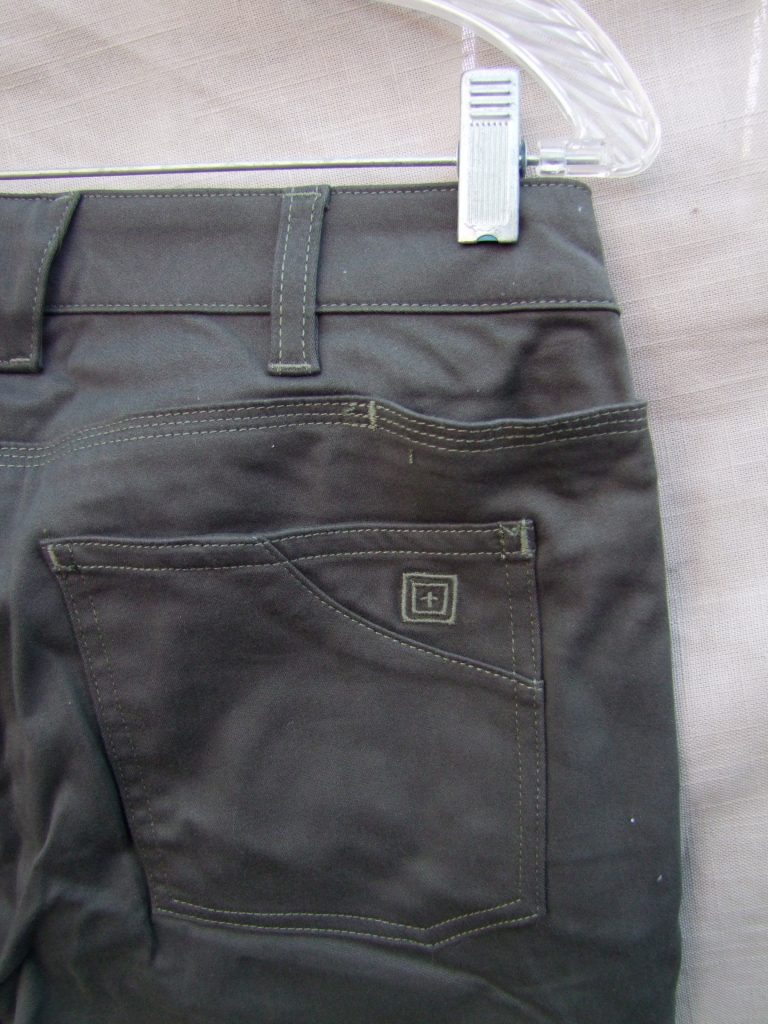 Front slash pockets too are deep enough to carry a clip-it knife, money, ID without fear of losing your stuff. The lower slash pockets will readily carry pistol magazines or your cell phone without the bulk of a cargo pocket.
What sets these pants apart from other ladies "tactical pants" are the legs. They are taper cut to tuck into the tops of a fashion ankle boot. When you look closely at the outer seam, you will notice a zipper from knee the knee to the cuff. This allows the pants to become a boot cut pant for freedom of movement if you wear the Wyldcats as a range pant. The added room will allow you to zipper the legs over a riding/western style boot.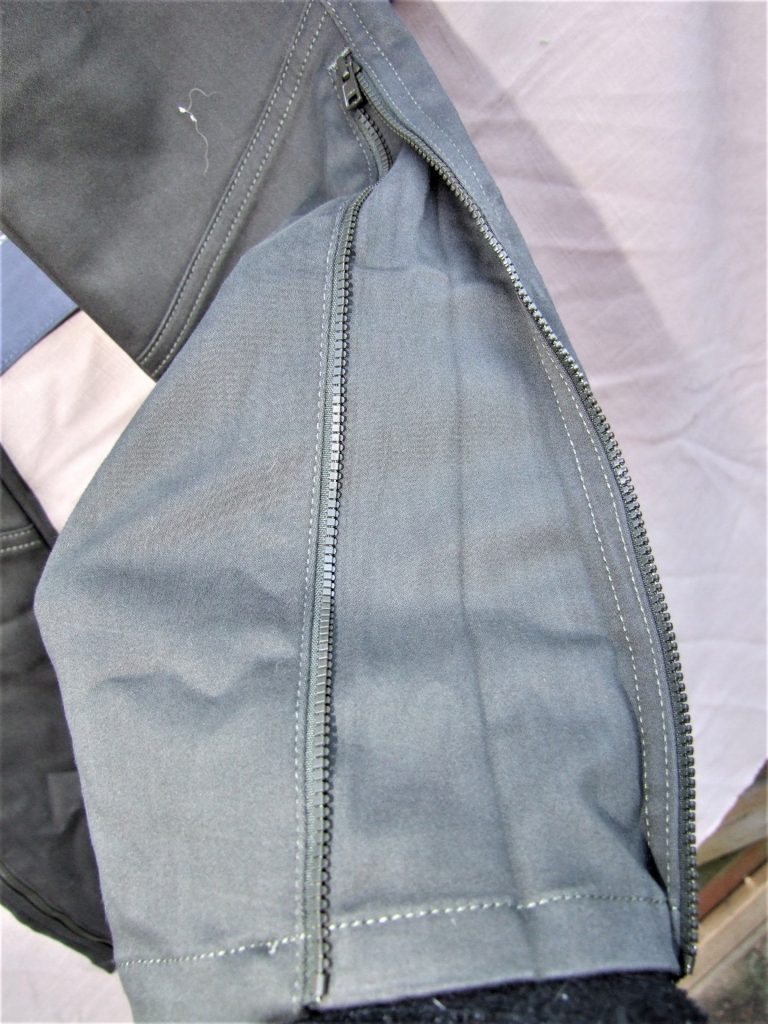 5.11 Tactical has listened to their beta testers and pro staff to create a growing line of clothing specifically for women. You will find everything from outerwear to workout clothing as well as belts and a vast array of other accessories so you are ready for travel, range or just going out to the store. Look for more items in the future.