During my stumbles through the Sands Expo Center a few weeks ago, I found a different company than the usual pre-packaged food provider. Their display was all the way up on the fifth floor, and for only one day, at a SHOT Show pop-up event. Amid all the recent noise about Coronavirus and prepping, I thought I should give them a review.
Omeals offers a variety of self-heating ready-to-eat entrees for varying needs – whether you are a backpacker, family camper, or small scale prepper. Omeals parent company also makes the XMRE line of MRE-style food packages for military, rescue, and disaster relief purposes.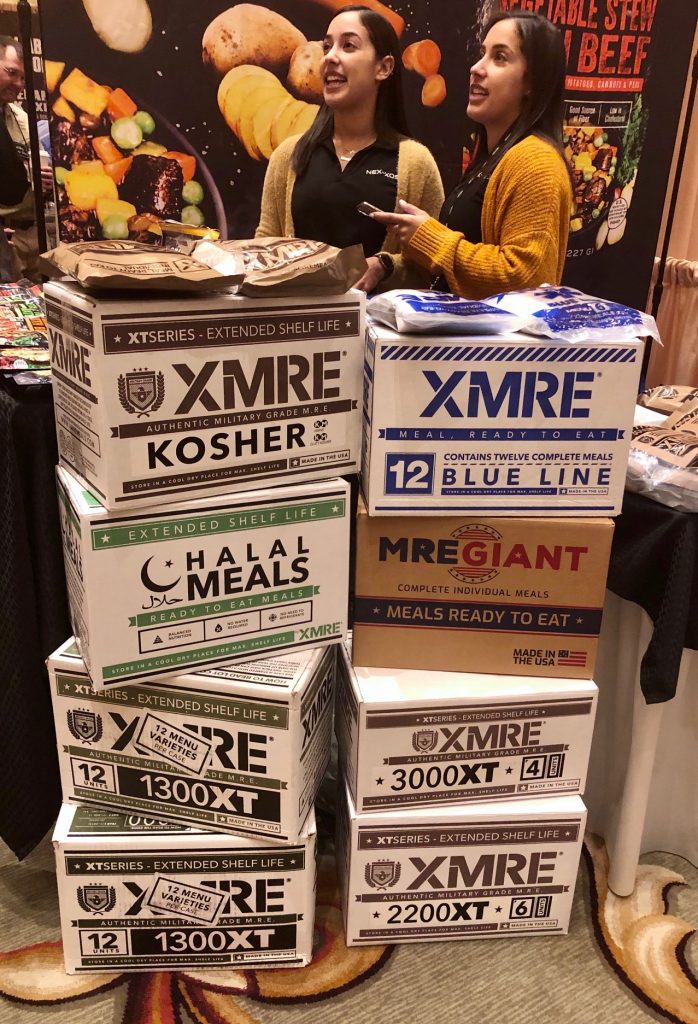 They claim that "…we're also the number one choice for government relief agencies and humanitarian groups around the world."
That sounds like a pretty expansive claim, so I wanted to try their product for myself.
Omeals provided me with one sample entree bag to try, and on a recent snowy Friday night I gave it a whirl in my kitchen.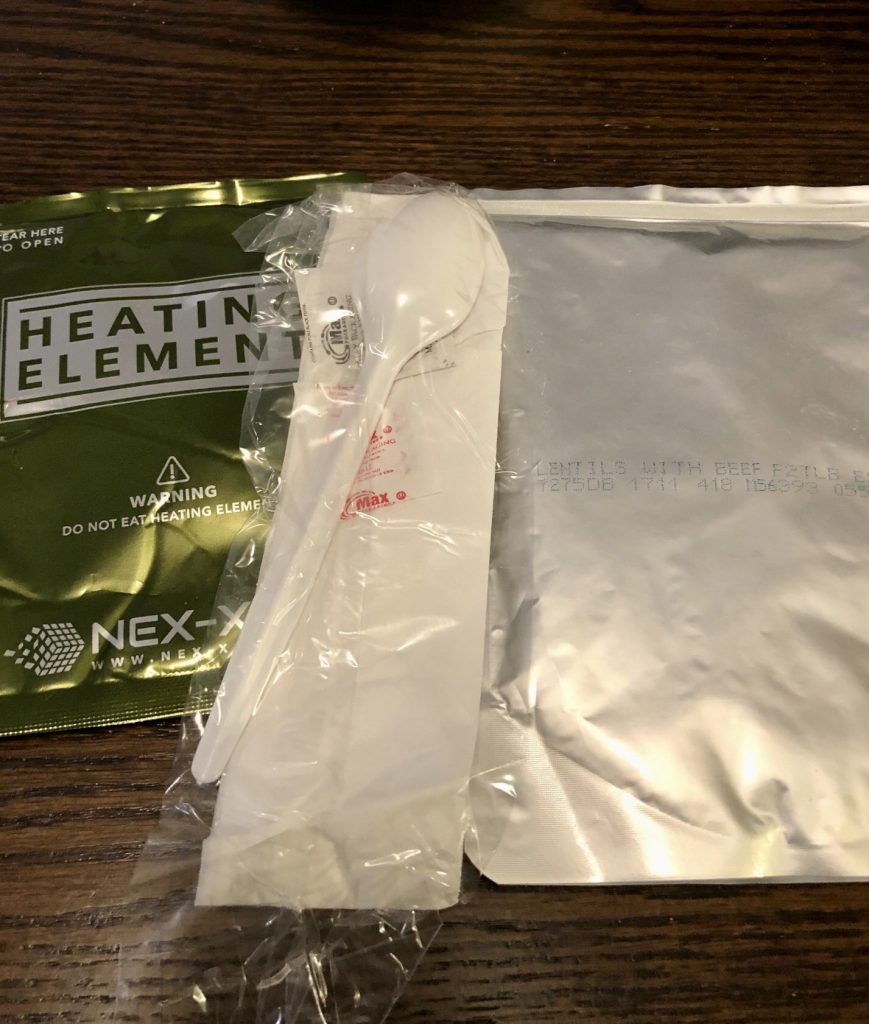 Self-heating
I followed the package directions for heating, thus adding 3-5 ounces of "any liquid" – tap water in my case. I didn't want to waste good beer just to heat my food (or god knows what else they were suggesting – maybe mud puddle water if you were conserving your drinking water). It took a minute or two, but then the sealed pouch inflated, started to sizzle, and began to emit steam from the vent hole.
I waited about 5 minutes after the pouch inflated, then removed my meal pouch with tongs, tore it open, and dumped it out onto a plate. I used a plate because I was at home but there's no reason you couldn't eat it out of the pouch – though the spoon was just a bit too short.
The outer bag continued to steam for about ten more minutes after removing the meal pouch, so you could probably heat an additional small pouch of something else in it as an extra. Maybe reuse a previous entree pouch filled with water for coffee? Or a small can of something else? If you don't have any other heat source you might as well use ALL of it. Waste not, want not. Unfortunately I thought about this too late, so I wasn't able to experiment with this meal. But I'll be ready for next time!
The spoon and napkin package came with salt and pepper packets, but I didn't feel that my entree needed extra seasoning. I thought it was fairly tasty for a pre-packaged shelf stable meal. It didn't look much like the package photo, but what prepared food does? There was a fair amount of meat, and the beans and lentils made it filling. Lentils are also pretty high in dietary fiber, so one should not experience the usual problem common with MRE's (Meals Refusing to Exit) – at least with this particular entree.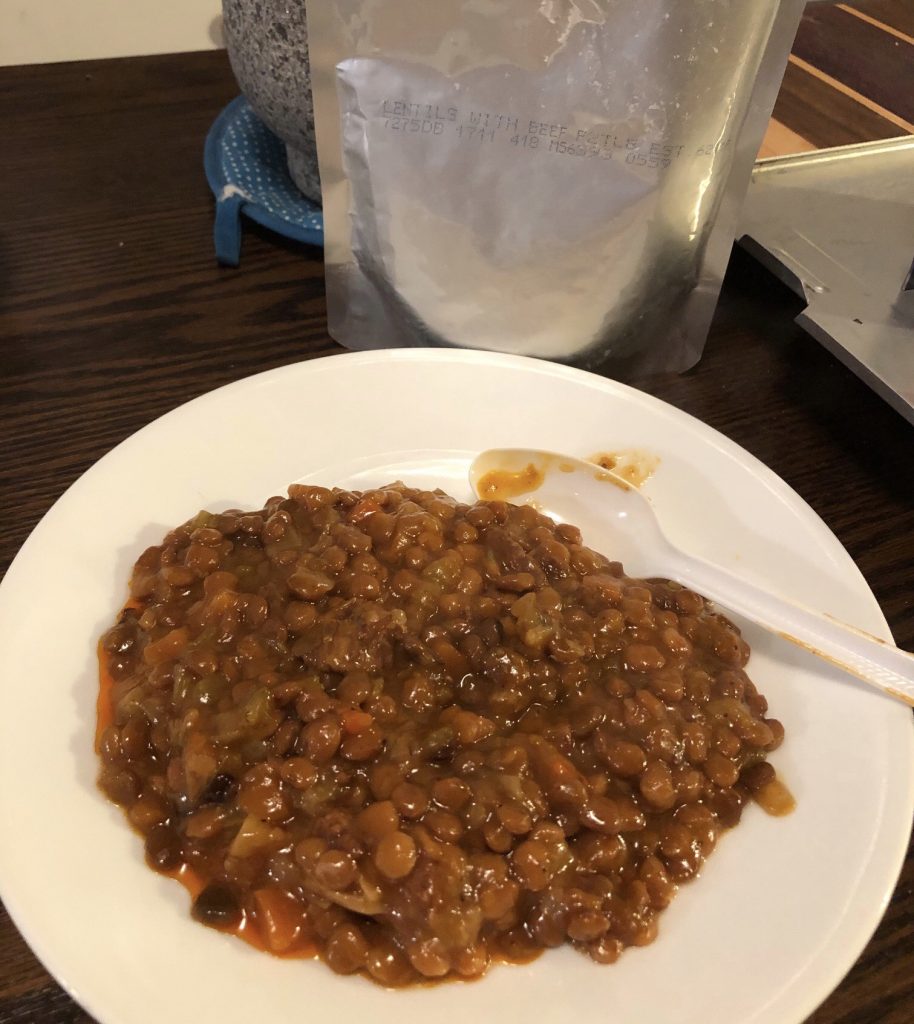 Portion size
The portion size was plenty for me, but I don't think it would fill up a 6 foot 200+ pound man doing heavy labor. The package said 240 calories, so you would definitely need some sides – tortillas, fruit, etc – to make this a complete meal. I ate it with whole wheat crackers and some home-canned pears for dessert.
I searched the Omeals website to see if all of the entrees had similar size and calorie counts, but couldn't find anything with which to compare one entree with another. Having to add additional food kind of defeats the purpose of a pre-packaged meal IMO, but it does at least give you the hot entree portion to build a meal around. For a skinny woman's office lunch it would be fine.
I did however, appreciate that the ingredients list did not include a boatload of preservatives or weird additives.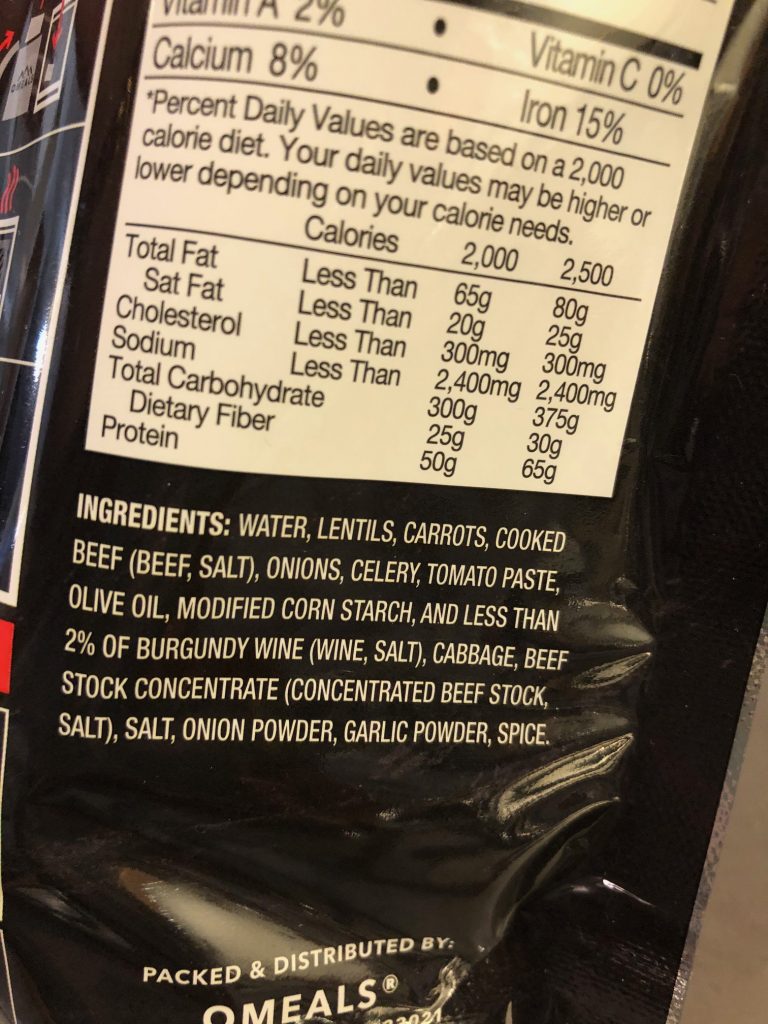 Shelf Life
Omeals advertises a shelf life of 60 months. This is comparable to the 3-5 year shelf life of regular MREs (if stored under optimal conditions).
Varieties
Omeals offers a fair variety of options – chicken, turkey, beef, and also vegetarian choices. The descriptions sounded appetizing, but as I stated above I couldn't find any website info about calorie content for comparison between the various meals.
Heating System
As to how this heating system works, the website states that,
"OMEALS® is powered by NXH® Heating Technology. Tested and certified non-toxic, odorless and safe to use in confined space"
It was certainly easy to use. However, my package did state that it was not to be used on an airplane. I'm not sure if that has to do with the chemical reaction involved in the heating process, or something simpler like reduced atmospheric pressure in the cabin. But I guess this is not an option for lunch on the plane to SHOT Show next year.
Pros and Cons
Pros: Omeals are easy, convenient, tasty, and not full of preservatives.
Cons: Serving size will not be big enough for some people – at least with the sample and product line I was provided. The spoon was also just a tad short for getting all the food out of the bottom of the pouch.
Overall, I thought Omeals was a fine idea for the civilian and traveling family market. There are times when a fully-loaded MRE wouldn't necessarily be desirable. It could also serve as a "gateway" into a market where folks have no idea what an MRE even is.
The flavor is there, the convenience is there, the serving size could be increased a bit, but there is definitely a market niche available for this product. I'll be ordering some to augment my stored food supply. I'm also going to check out XMRE while I'm at it.