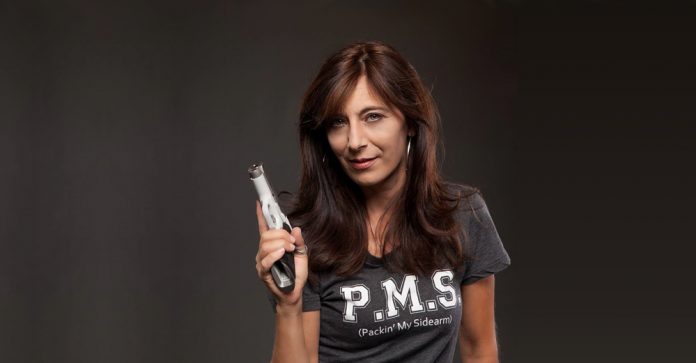 By Nancy Keaton
We have to give credit where credit is due. Many of us start shooting because our husbands took us to the range and introduced us. Sandi Keller is no different, but what she did with that experience is a little different – she started OffHand Gear, a business focused on firearm-related items for women.
It began when her husband took her to range about five years ago. "Oh, my gosh! This is so much fun!" she remembers thinking. "I immediately went to work at trying different handguns, and bought my first one in October." So at Christmas her husband was on search to get her a gift for her new-found hobby, and really couldn't find anything that would work well.
Sandi laughs as she explains that her first product, t-shirts, were created out of her "sarcastic personality." She had a long commute to her then-day job, so lots of time to think. One day in January on her way home, she started thinking about T-Shirts like the PMS T-shirt etc. She walked in house and told her husband her ideas. "He laughed and said, 'With your design background you should do this.' [Sandi has a background in interior design and visual display.] So I looked all over and realized there's nothing out there. I should do it. That day I literally went out and bought a Mac and all software. And in April of 2012 I launched it with just two or three T-shirts in beginning."
Then she realized she wasn't happy with the range bags she was finding. "Everyone knew it was a range bag and that I was going shooting. I didn't like that everyone could tell my business, and also didn't like that they really didn't hold much or hold up well under the weight of ammo and stuff." So her husband again reminded her, "You've got a knack for design, just design one." That same fall she went to work on the NORB (No Ordinary Range Bag.) "I spent eight months designing it, and as I grew in the sport, I knew I had to design something that works as well for a beginner as well as the more experienced."
Another thing she had to work on was the NORB strap. Shorter women had a hard time with the original strap so she took two or three months to come up with a removable shorter strap.
When I asked her if she had other ideas for products, she laughed. "I have a notebook full of gear that frustrates me. Why doesn't everyone redesign stuff and stop doing same thing?" But she can only do so much, the business is only her. She has no employees, no investors, no loans. But as her capital grows, she will develop the next product. That's why she grows slowly.
She recently came out with a redesigned range mat. She wanted one that was a little longer and didn't roll up while a person is trying to lay on it. It's thin but with a very dense foam filling. Sandi had professional long-range shooting friends try out the prototype and they loved it.
I had to ask her about those beautiful, works of art – the handguards. Sandi explained that they took a long time to make. Unique ARs is cutting the hand guards for her and it took about eight months to perfect the designs. They had to make sure they were durable and strong. "They still aren't as swirly as I'd like," she laughs, "But you can't push the envelope too far. But they're working on it. And they only weigh 11.2 ounces."
The designs of the hand guards are inspired by Sandi's life. The first one was the Fleur de Lis, a favorite pattern. The new butterfly design is based on a tattoo on her back. The latest "lips" design was inspired by her oldest daughter who is a make-up artist for Mac cosmetics. She has other designs in her mind as well.
"Everything started with me using the NORB. I would think, 'OK, this is the function that I need for me, then after that how do I make this more feminine. I don't want everything pink or zebra or cheetah. I want it feminine but elegant, and still have a function.'"
Sandi and Offhand Gear are an AG & AG vendor and tries to sponsor as much as she can. She began looking for other women in the industry and found Julianna. "We connected right away. I go to her a lot, and try to do as much as I can. When you want honesty, you go to Julianna. Sometimes when I'm playing around with fabric I'll send her snapshots and she'll be honest. She has become one of my most trusted friends."
One of the most fun things about Sandi's business is find out that there is such a market for women's products. "It's surprising how many women love the products and are as frustrated as me. That's what keeps me going, is that it's not just me asking why is no one fixing this for us and why doesn't anybody care? We will spend the money!"
One piece of advice she would give to someone was looking to start a business is to make sure you have a partner, that you're not trying to do it by yourself. "It's so hard to do as a lone ranger. And because it's a man's world it's hard to get your foot in the door and get the respect, the marketing and connecting. Having a partner is key."
What are Sandi's future plans? "I spent 2015 soul searching the brand. This has been fun, but either it's serious or it's not. Last year sales were really down, and I was getting tired. So I found people to network with and get advice. I sat down with Kelly McMillan from McMillan Fiberglass Stocks, and he said make a decision. So I did. I know that I'm not the only one who wants this stuff, I love this and I want to do this. So I learned about marketing, which is the hardest part. This year really turned things around for me especially after Kelly got me in to Shot Show. People loved the brand so much, they need it and they want it. It really reenergized me."
Sandi plans to hire two people next year, one already lined up is a female veteran. "It's very important to me to hire vets, and to hire women. I want to circle myself with more women. It's also very important to keep everything American-made. I won't make a profit as quickly but I will learn how to stay American-made and still grow and still have a profit margin." Her first hire, though, will be a marketing person. "I would like to spend more time designing and less time marketing," she explains.
I asked about a "sneak peek" at her next project, but she was coy. "It's been on drawing board for about a year and a half, and at Shot Show I connected with right people to get it done. It will be something completely different from the line already– but will still be elegant and feminine." Sandi will spill though, that there will still be more new fabrics for the NORB, the leather NORB will start shipping next soon.
Sandi's final thoughts are what so many women feel. "This industry that has been huge for me, the friends I've made, it's been a huge experience to connect on such a level and have honest-to-goodness girlfriends. If OffHand Gear ceased to exist, we would still be friends. My husband taking me to the range that day was really a life changer, both professionally and personally. For the first time in my life I have girlfriends that I not only trust, but absolutely adore."
SOURCE ARTICLE: https://www.agirlandagun.org/offhand-gear-blends-feminine-elegant-functional/