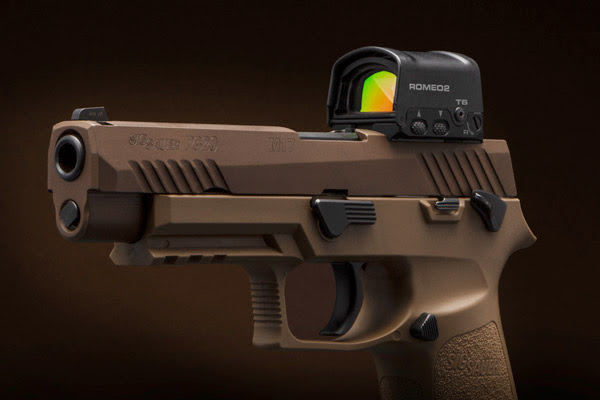 NEWINGTON, N.H., (February 16, 2022) – SIG SAUER Electro-Optics is pleased to announce the ROMEO2 Red Dot sight is now shipping – a mil-spec reflex sight, built for maximum durability and tested to withstand the extreme environments of every mission. 
The ROMEO2 is a Red Dot Reflex Sight that features a molded glass aspheric lens with high-performance coatings for superior light transmittance and zero distortion, a selectable circle dot reticle available in 3 MOA, 6MOA, or 10MOA, and offers D.A.R.C. (Dark Adaptive Reticles and Coatings) technology to provide ideal reticle brightness and target clarity while using a Gen3+ night vision device, MOTAC™ (motion-activated illumination system) and MAGNETAC™ (magnetic activation) that automatically turns the optic off when holstered and on when drawn.   The sight has a 7075-aluminum housing and comes with two (2) steel shrouds for three (3) different optic configurations, to include fully enclosed and sealed. The ROMEO2 will fit all SIG pistol slides with the PRO slide cut and many other slides cut to accept the DPP. A spring-loaded side battery tray with push-button release allows a battery change without the need to remove the optic from the firearm.  The ROMOE2 was designed, developed, tested, and assembled in the U.S.A.
ROMEO2 Red Dot Sight:
Magnification: 1x
Reticle: Circle Dot / 3 MOA / 6 MOA / 10 MOA Red Dot
Adjustment: 1 MOA (per click)Clear Aperture: 30mm
Illumination Settings: 12 Daylight, 3 NV
Waterproof: IPX7
Battery: CR2032
Overall Length: 1.84 inches
Overall Width: 1.32 inches
Overall Height w/o shrouds: 1.12 inch
MSRP: ($779.99)
The SIG SAUER Electro-Optics ROMEO2 is now shipping. To watch the product video or learn more about the ROMOE2 and the complete SIG SAUER Electro-Optics line of products visit sigsauer.com.
About SIG SAUER, Inc.
SIG SAUER, Inc. is a leading provider and manufacturer of firearms, electro-optics, ammunition, airguns, suppressors, and training.  For over 250 years SIG SAUER, Inc. has evolved, and thrived, by blending American ingenuity, German engineering, and Swiss precision.  Today, SIG SAUER is synonymous with industry-leading quality and innovation which has made it the brand of choice amongst the U.S. Military, the global defense community, law enforcement, competitive shooters, hunters, and responsible citizens.  Additionally, SIG SAUER is the premier provider of elite firearms instruction and tactical training at the SIG SAUER Academy.  Headquartered in Newington, New Hampshire, SIG SAUER has over 2,700 employees across eleven locations.  For more information about the company and product line visit: sigsauer.com.