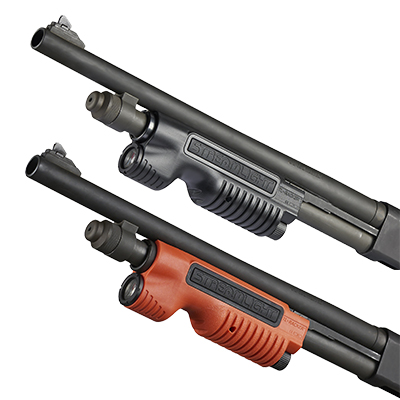 STREAMLIGHT® INTRODUCES NEW MODELS OF TL-RACKER® SHOTGUN FOREND LIGHTS WITH INCREASED LUMENS
EAGLEVILLE, PA, January 29, 2020 – Streamlight® Inc., a leading provider of high-performance lighting and weapon light/laser sighting devices, has increased the lumen output of its TL-Racker®, an all-in-one shotgun forend light designed to fit on Mossberg 500®/590® and Remington® Model 870™ pump-action shotguns, to 1,000 lumens. The company also introduced two additional models of the light, including one for the Mossberg 590® Shockwave and a Less Lethal Orange model for Remington® Model 870™ and 870 TAC-14 pump-action shotguns. All four models now deliver 1,000 lumens.
With its increased brightness and sleek design, the TL-Racker is ideal for door breaching, close quarter maneuvers and other tactical operations, as well as for home defense needs. Its large, ambidextrous switch pad provides easy access for both momentary and constant on functions, and accommodates virtually any hand size. The elongated switch pad allows for thumb or finger activation with no changes in grip; both left- and right-handed shooters can use it without having to make modifications to the light or gun.
"We've increased the brightness, reach, and run time of this lightweight, integrated shotgun forend light, while also offering a new model to fit popular Shockwave shotguns, as well as a Less Lethal Orange model for easy identification," said Streamlight President and Chief Executive Officer Ray Sharrah. "Each features our innovative, ergonomic design that maximizes grip and switch access, while providing extremely bright 1,000 lumen light, all at an affordable price point. It's the ideal choice for use with Mossberg and Remington shotguns."
Powered by two included CR123A lithium batteries, the TL-Racker features a customized optic that produces a concentrated beam with optimum peripheral illumination. Offering a high setting only, the TL-Racker delivers 1,000 lumens and 20,000 candela over a 283-meter beam distance, with a 1.5 hour run time. It is available in several models, designed to work with either Mossberg 500®/590® with either a 6 ¾ or 7 ¾ action slide, or the Remington® Model 870™ and 870 TAC-14 pump-action shotguns.
With a body constructed from super tough, impact-resistant engineered polymer that is virtually indestructible, the upgraded TL-Racker measures 8.00 inches in length and weighs 12.1 ounces. The new model also now features an IPX7-rated design for waterproof operation.
The TL-Racker has an MSRP of $225.00. Each includes Streamlight's Limited Lifetime Warranty.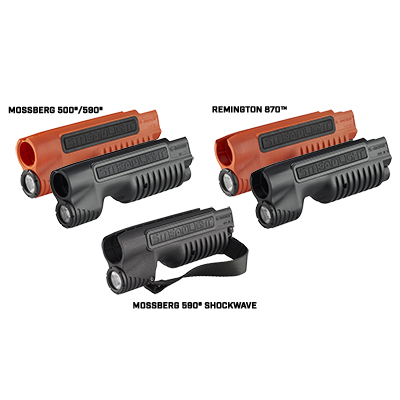 All Rights Reserved. Mossberg 500® /590® and Remington® Model 870™ are registered trademarks of Mossberg® and Remington®. Streamlight has not sought endorsement of this product from O.F. Mossberg & Sons, Inc., or Remington Arms Company, LLC.
About Streamlight
Based in Eagleville, PA, Streamlight, Inc. has more than 45 years of experience making tough, durable, long-lasting flashlights designed to serve the specialized needs of professionals and consumers alike. Since 1973, the company has designed, manufactured and marketed high-performance flashlights, and today offers a broad array of lights, lanterns, weapon light/laser sighting devices, and scene lighting solutions for professional law enforcement, military, firefighting, industrial, automotive, and outdoor applications. Streamlight is an ISO 9001:2015 certified company. For additional information, please call 800-523-7488, visit streamlight.com or connect with us on 
facebook.com/streamlight; twitter.com/Streamlight; instagram.com/streamlightinc; https://www.linkedin.com/company/streamlight-inc./; and youtube.com/streamlighttv.