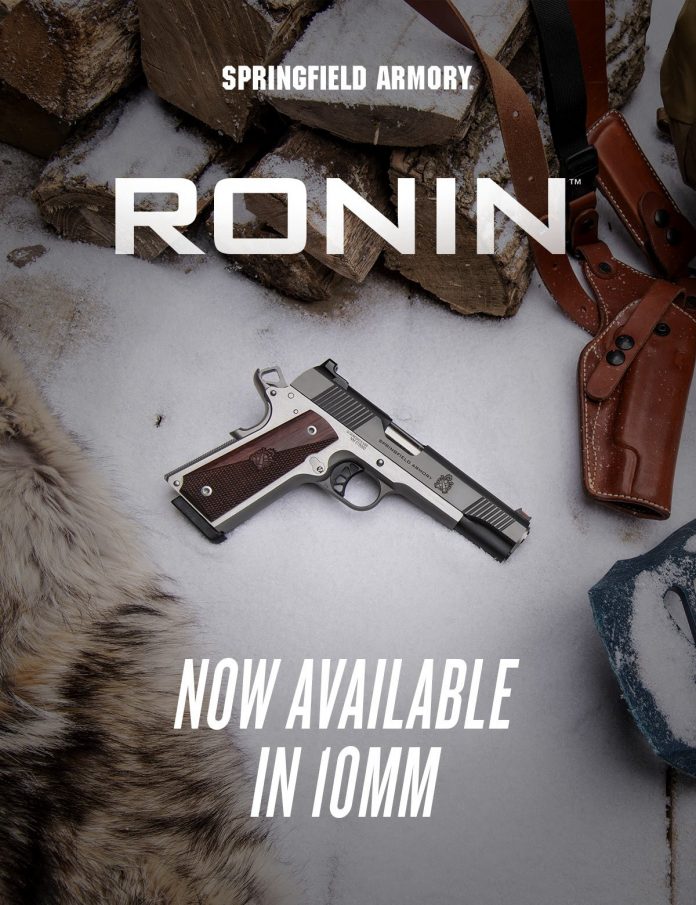 Springfield Armory is proud to introduce the Ronin 1911 in 10mm, a powerful and reliable pistol built for a lifetime of service at an MSRP of just $849.
The Ronin 1911 provides shooters with a pistol that combines classic styling with modern features, the result of thoroughly modern precision manufacturing mixed with a traditional approach to quality and performance.
Configured as a full-size 5″ gun, the 8+1 Ronin in 10mm features a forged steel slide and frame as well as a hammer-forged barrel for unparalleled durability and strength — ideal for a pistol harnessing the impressive power of the ever-popular 10mm cartridge.
Springfield Armory introduced us to the 'Ronin' line a little while back, and while the name seems to be a touch try-hard (but SAINT too) the pistols themselves rolled out as a line of no nonsense 1911's.
Now the no nonsense 1911's are offered in the "Best Millimeter" resurgent pistol powerhouse cartridge, 10mm. Not a lot of people carry 10mm, 9mm is the caliber of carry, but some do. More do in the context of hunting. Many choose a more energetic round if they have another limiting factory on them, such as capacity.
Regardless of your reason to validate the 10mm, it is arguably the 2nd most popular handgun caliber socially (if not in purchase format).
9mm – The stalwart everyman's carry option. Good in many frames and for many many people.
45 ACP – An elegant caliber of a bygone era. Or slow fat bullet. Or MAh tWo WoRlD WArZ. Or some such other definition of the large caliber with the slow rolling recoil.
40S&W – Was king of calibers, until someone checked the math. 'Midwestern spicy' 10mm.
10mm – Best Millimeter. True king of calibers. Spicy but manageable, especially in alloy frames. Much beloved if rarely actually carried and shot.
380 ACP- Hobbit 9mm for when you want a gun that runs more finicky with less delivered energy and almost certainly more recoil due to lack of mass. A caliber, like many, that we ascribed attributes too that it really didn't do.