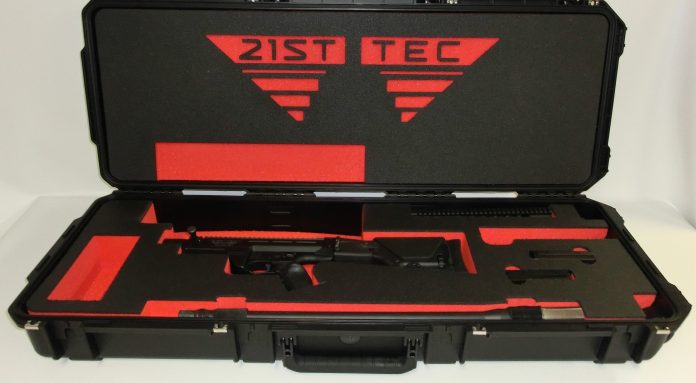 It has been a time of bolt gun resurgence. Between PRS, NRL, the MK22, and strong offerings from many companies expanding their product base, the precision rifles are in a good place. Optics keep getting better too, making the sport of distance shooting more fun and more accessible.
Into this space, a new rifle system is being uncased!

Dallas, GA: 21st-Tec announces their patent pending Bellator™ Rifle System. The new Bellator™ rifle system is a Multi-Caliber Modular Bolt Action Repeater Rifle designed for precision sub-MOA long range accuracy in 338 Lapua Magnum, 300 Norma Magnum, .308 and 6.5 Creedmoor calibers. The new modular system is designed for long range shooting enthusiasts, competitive shooters, police and military applications.
Bellator™ is designed with the modularity of the AR platform. It uses drop in AR trigger, selector, take-down pin, grip and magazine release. It has a user changeable barrel system, bolt and magazine well. The bolt is designed with a forward located left hand handle and right hand eject. To convert from 338 Lapua Mag to 300 Norma Mag is simply done by changing out the barrel. These 2 calibers use same bolt and 10 rd box magazine. Conversion from 338 Lapua Mag size to .308 size is done by changing out the barrel, bolt and magazine well. When converted to .308/6.5Creedmoor it uses standard AR10 metal or Magpul Pmags. Rifle comes with a folding fully adjustable stock or non-folding fully adjustable Magpul PRS stock.
Available in Hard Coat Anodized Black or FDE finish, all versions come in custom cut high density foam hard-case with wheels. Button rifled barrels are made from 416SS and come in the following lengths: 338 Lapua Mag and .308 in 24" length, 300 Norma Mag and 6.5 Creedmoor in 26" length. MSRP: $5000 for non-folding stock and $5600 for folding stock models.
Rifles are in full production at the time of this announcement and in-stock ready to ship.
About 21st-Tec
21st-Tec has been designing and manufacturing patented weapon systems for other companies for 20 years in US commercial market and export contracts. 21st-Tec uses only US raw material to manufacture our rifles in our modern CNC factory. All our products are 100% made in the USA. At 21st-Tec we have a passion for designing new products with outside the box thinking.
Learn more at: 21st-tec.com
Dealer/Distributor inquiries email: sales@21st-tec.comInternational inquiries email: export@21st-tec.com
Interested? Click below.