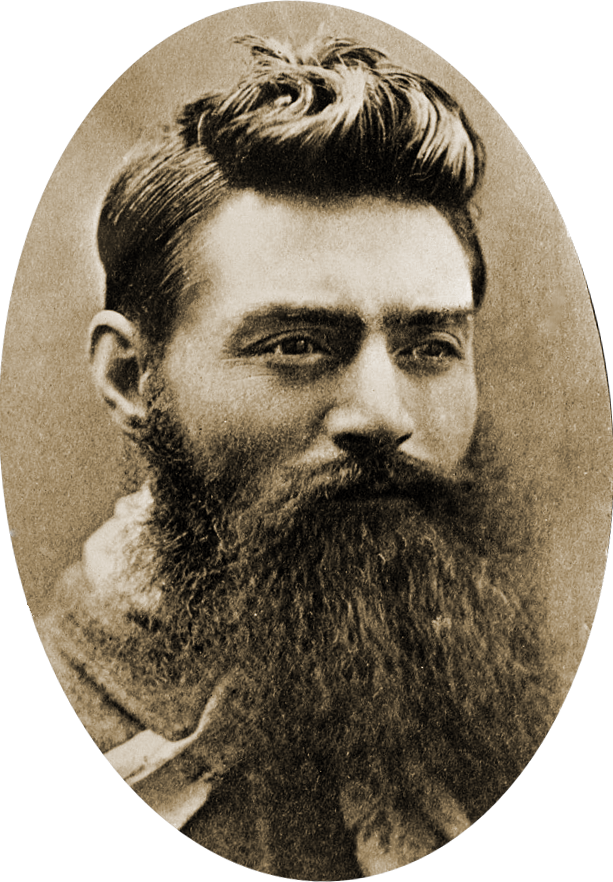 We love outlaws. We romanticize them, we turn them into legends, and they fill us with wonder. Men and women who are truly free, although someone is seemingly always trying to imprison them. The best outlaws are the ones with a righteous cause or perhaps at least a righteous justification. Ned Kelly is one such outlaw. Ned Kelly comes from the land down under, and in the 1880s, he, his brother, and two friends rose to hell after an incident involving a policeman and the imprisonment of his mother.
He went on the run, and like all outlaws, he was packing some heat. He engaged in numerous shootouts and famously once wore a suit of bulletproof armor, and he earned the name the iron outlaw. Although, iron outlaw could equally apply to the iron he was packing.
Kelly's Sawn-Off Carbine
Ned Kelly's first gun appears to be some no-name carbine chambered in the popular .577 caliber. This rifle was apparently quite old by the time it made it to Ned's hands. It famously features a sawn-off stock and trimmed barrel on top of a lack of a handguard. Additionally, there doesn't seem to be any sights. This was the rifle Kelly used to shoot Constable Lonigan.

Lonigan was part of a team hunting Kelly and his gang. While in the bush, the group of policemen split into groups of two. With two out scouting and two staying at the camp. Kelly and his gang got the drop on the two policemen left at the camp. One policeman was unarmed, and Lonigan went for his revolver leading Kelly to shoot him and instantly kill him. The Kelly gang seized the remaining police weapons.
Most existing photos are quite old and small. The reason is that the Melbourne Museum of Applied Science through the rifle out in the 1950s. Why is unclear, but the rifle is currently lost.
Snider Enfield of .577 Caliber – aka Betty
Ned and his gang were folk heroes well before he died. He had quite the following as he raised hell down under. He and his gang were given many weapons by those who believed they were righteous. Ned and the gang were also known to steal rifles. In this case, they cornered a group of kangaroo hunters, and Ned took the Snyder Enfield from a man named Henry Dudley.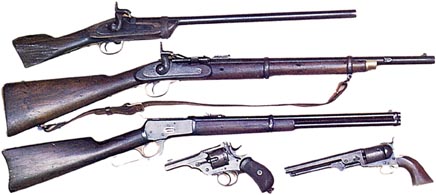 It was said to be his favorite rifle. He carved the initial K into the stock and reportedly carried the rifle everywhere. Kelly and his gang attempted their own revolution and launched the Republic of North Eastern Victoria. When that went wrong, Betty was hidden amongst other rifles from the failed attempt. It was recovered in the 1960s and is now part of a Kelly display.
Colt Navy Revolver
Ned Kelly carried a .36 caliber Colt Navy revolver in his last stand. He had taken the gun from a Senior Constable during a hold-up in Jerilderie. Kelly wielded the gun, dressed in his armor, as he shot it out with police. The Colt Navy was a bit out of date by the 1880s, but Kelly used what he could. The gun was a six-shooter but would be very slow to reload and not necessarily possible in the midst of a gunfight. The weapon was recovered after the last stand and currently sits in the Victorian Collections.
Colt 1849 Pocket Revolver
The Colt 1849 Pocket Revolver wasn't quite the pocket pistol we are used to. They were fairly large but small for the era. Think of them as the Glock 19 of their era. Small enough to carry but big enough to be potent and easy to use.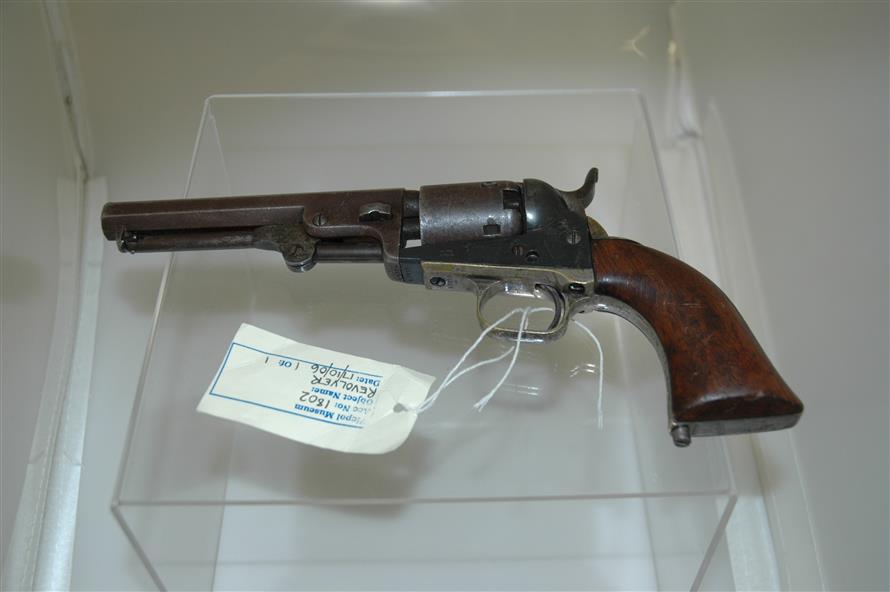 Ned Kelly carried a .31 caliber revolver, but it's not entirely clear exactly where he acquired it. It's believed this weapon was the first he wielded during his last stand. He fired five shots from it before switching to his Colt Navy.
The Gang
Amongst the Ned Kelly core gang and later expanded group, there were shotguns, revolvers, revolving rifles, Martini-Henry rifles, and Spencer Carbines. It's likely Ned used a great many different guns, but these are the ones we know for a fact he carried and used. Like many outlaws Ned's life is complicated, violent, and ended early. He'll likely continue to fascinate students of history and outlaws, and it's easy to see why.