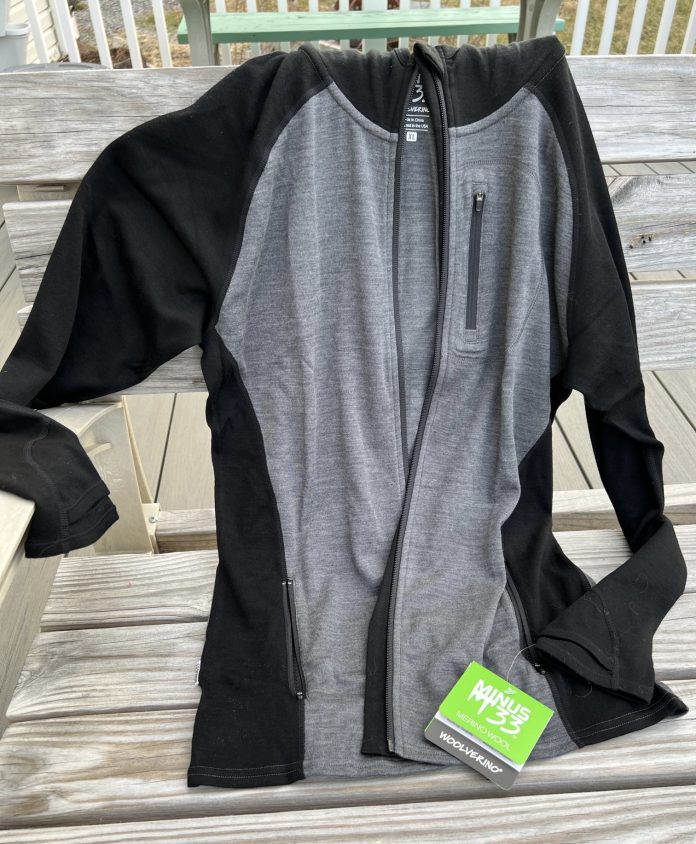 I mentioned during SHOT Week that I had found a new-to-me wool activewear company called Minus 33 . Since then, I've had the opportunity to try out a few of their products for myself and I must say that I am very impressed. This family-owned company produces many quality and extremely useful products for outdoor and activewear – whether that is skiing, hunting, hiking, or military and law enforcement use.
For those of you who have not yet been converted to wool as the ultimate performance fabric, here are a few important facts.
Merino wool is NOT itchy.
Modern wool fabrics like these are machine washable and often tumble dry-able.
Wool wicks moisture.
Wool retains insulating properties even when wet.
Wool is flame resistant.
Wool does not retain body odor.
Wool is a "natural" and "renewable" fiber.
As a self-admitted wool-aholic, I was excited to have the opportunity to test-out three items from the Minus 33 Catalog: the Woolverino Racerback Tank, the Woolverino Multiclava, and the Woolverino Trailbreaker Full Zip Hoodie.
Tank Top that Doubles as a Cami
The Woolverino Racerback Tank is an ultralight knit of 84% merino wool, 12% nylon, and 4% spandex. This weight makes the tank light and silky smooth enough to wear underneath office wear as an extra layer in the winter or as a super light layer over a sports bra for active wear in the summer heat.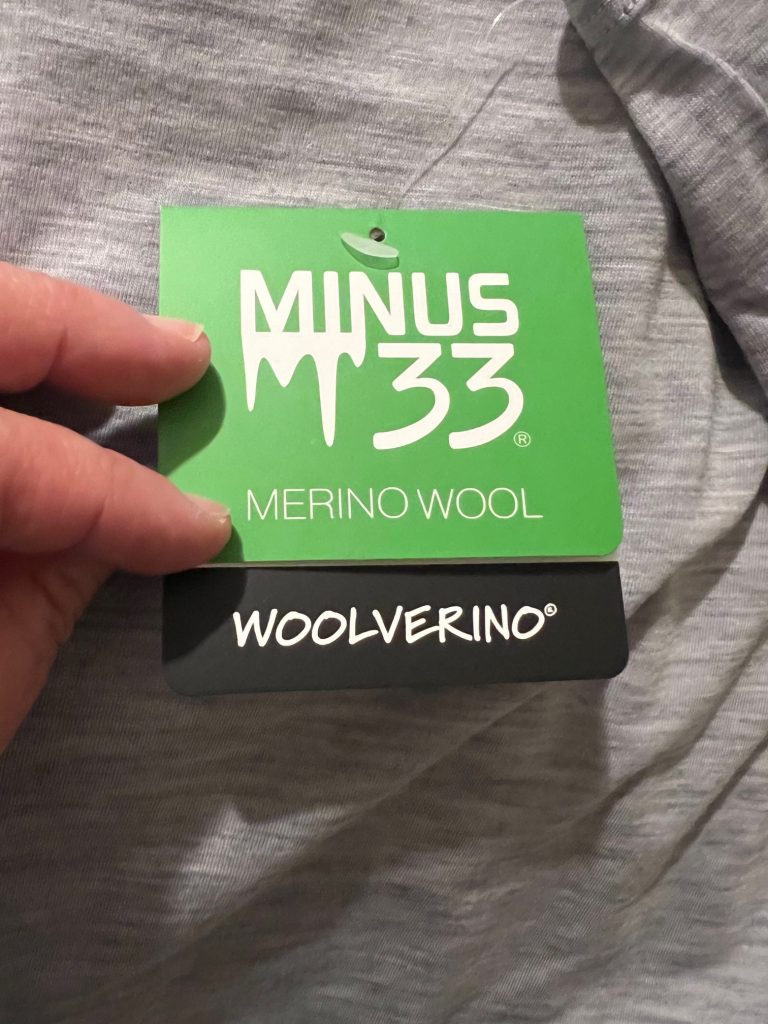 I'm frequently cold at my office and usually wear a sweatshirt fabric "white jacket" to stay warm while seeing patients. This soft merino tank provided a nice additional underlayer to tuck-in under a blouse for extra warmth from drafts. I've also started exercise walking in loops around the office building when there is a lull in the patient load, and this tank helped absorb and wick away moisture while doing that. As a special added bonus – wool doesn't retain odors. Enough said about that.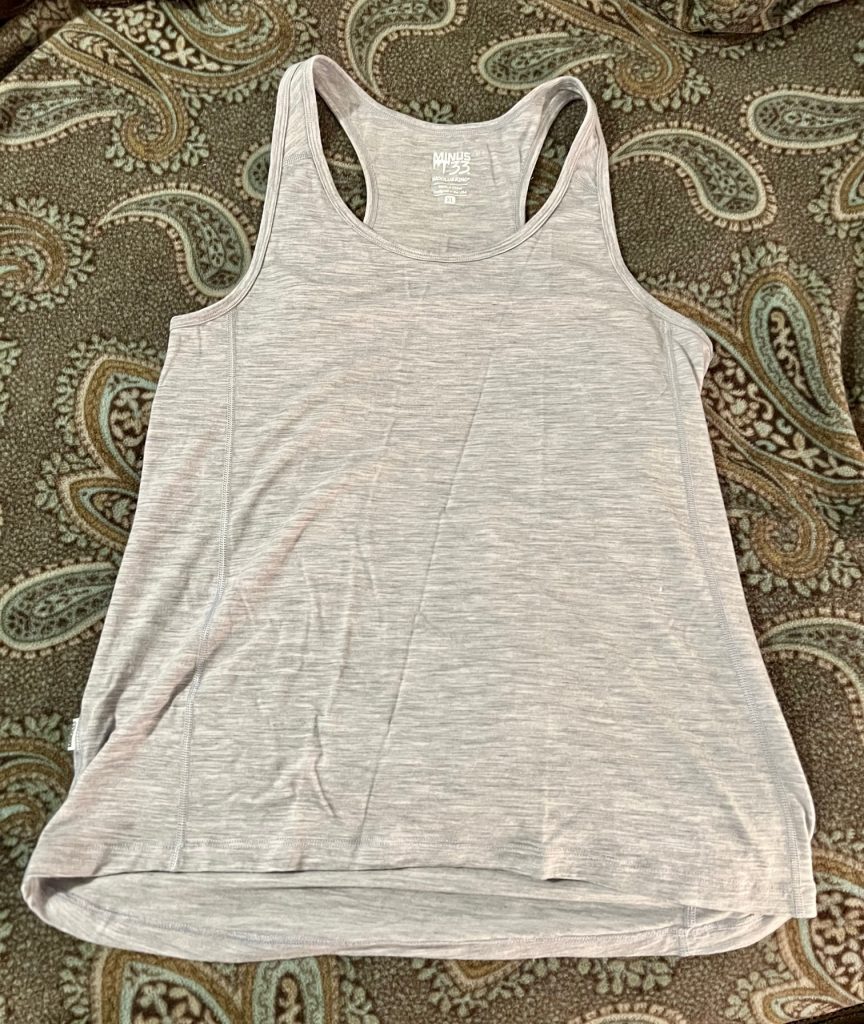 The seams on this tank are all flat locked and don't chafe. The racerback straps stay up and don't require constant adjustments. The merino washed up like a dream in the machine – cold water cycle and tumble dry low. I admit I'm not much for careful fabric care, so tumble dry was a plus for me. I cannot find a single thing I dislike about this tank, except that I only have one. I'll be needing to buy more to satisfy my addiction!
Multiclava
The Woolverino Multiclava is a lightweight knit made from from 84% merino wool, 12% nylon and 4% spandex. I mentioned this particular clever item when I first saw it at SHOT. Now that I've acquired a Minus33 Multiclava of my own and had some time to play with configurations, I think I need to buy more than one of this as well. This green one is going to be my go-to hunting hat and face mask, so I'll need another one to keep in my car get-home bag for weather emergencies.
As I mentioned in the previous article, this is a "multi"-clava because it can be worn in multiple configurations – as a beanie, a headband, a neck gaiter, and a balaclava.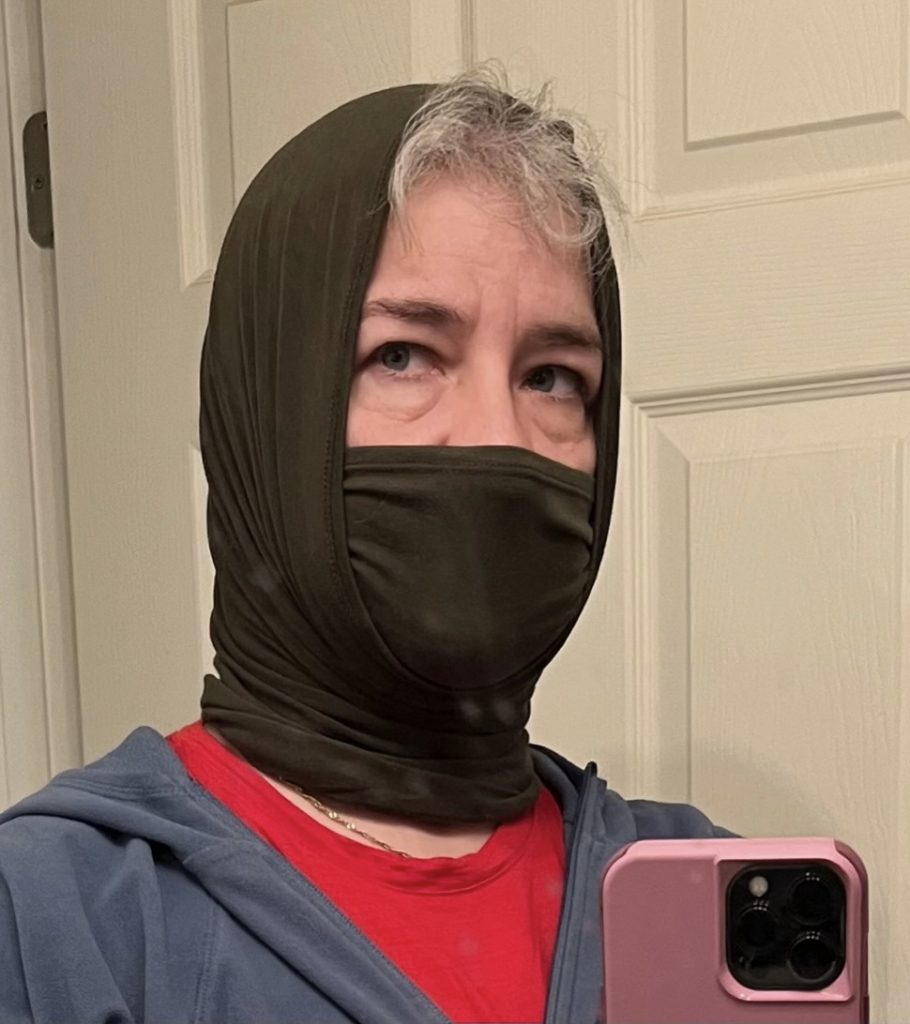 As an added bonus – I discovered that the multiclava can accommodate a ponytail or braid through the top twist when wearing it as a beanie.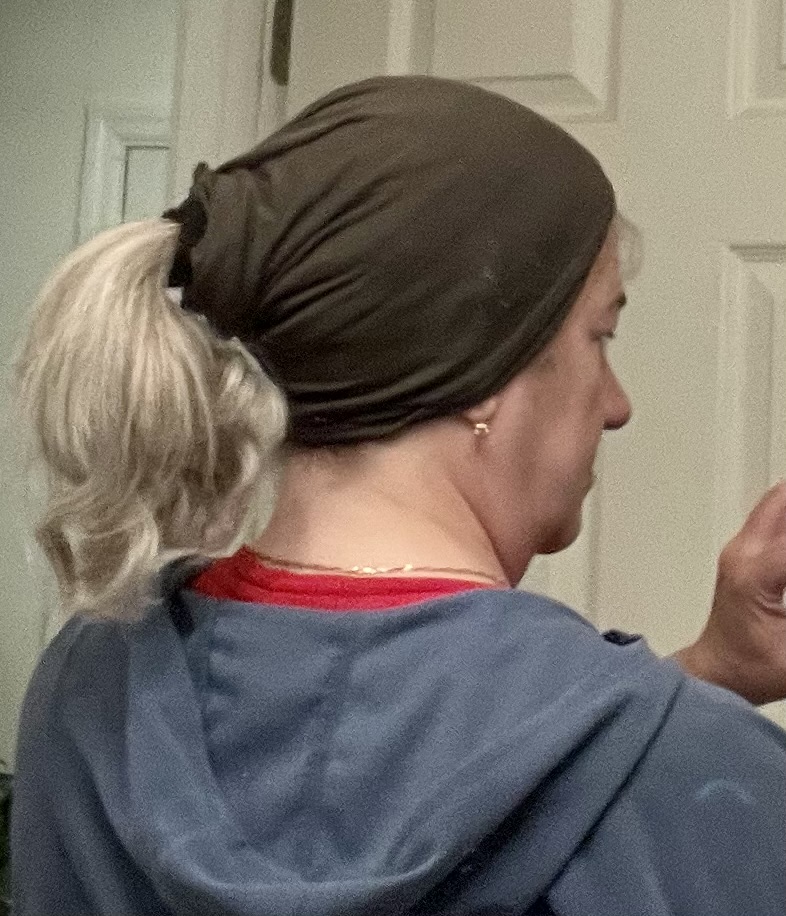 When wearing it as a balaclava my hair can either be gathered up in a "bag" at the nape of the neck or hang down underneath everything – it's always good to have options. Then there's the possibilities for the neck gaiter – like pulling it up into a facemask under a camo cap for deer and turkey hunting. I can also just use it for a headband when things get warm, or when only my ears are cold. The fabric is thin and breathable enough as a single layer that this Multiclava could also be worn for sun or bug protection if needed. With this many configurations the Multiclava would never need to go back in my daypack – I could just change how I wear it as the day warms up or cools down and never actually take it off!
Hoodie Action
The cherry on the top of these Minus33 products was the Woolverino Trailbreaker Full Zip Hoodie. This midweight layer hoodie is knit of 85% merino wool, 13% nylon, and 2% spandex. It has raglan sleeves, so it adjusts a bit to various to shoulder widths (I have fairly wide shoulders), and it has a trim, but stretchy cut so it's not bulky and fits well under other layers. The trim fit makes this hoodie great to use as a mid-layer under an outer jacket in colder weather, and as a standalone light outer layer in later spring. The hood has a trim fit as well to allow for wear under a bike or ski helmet. It has thumbholes to keep my wrists and hands warm and to keep the sleeve from riding up when donning outer layers. It has three pockets – five if you count the mesh inside that forms the outer pockets. This is more than enough storage to carry earbuds, tissues, trail map, car keys, or any other necessary item when out and active.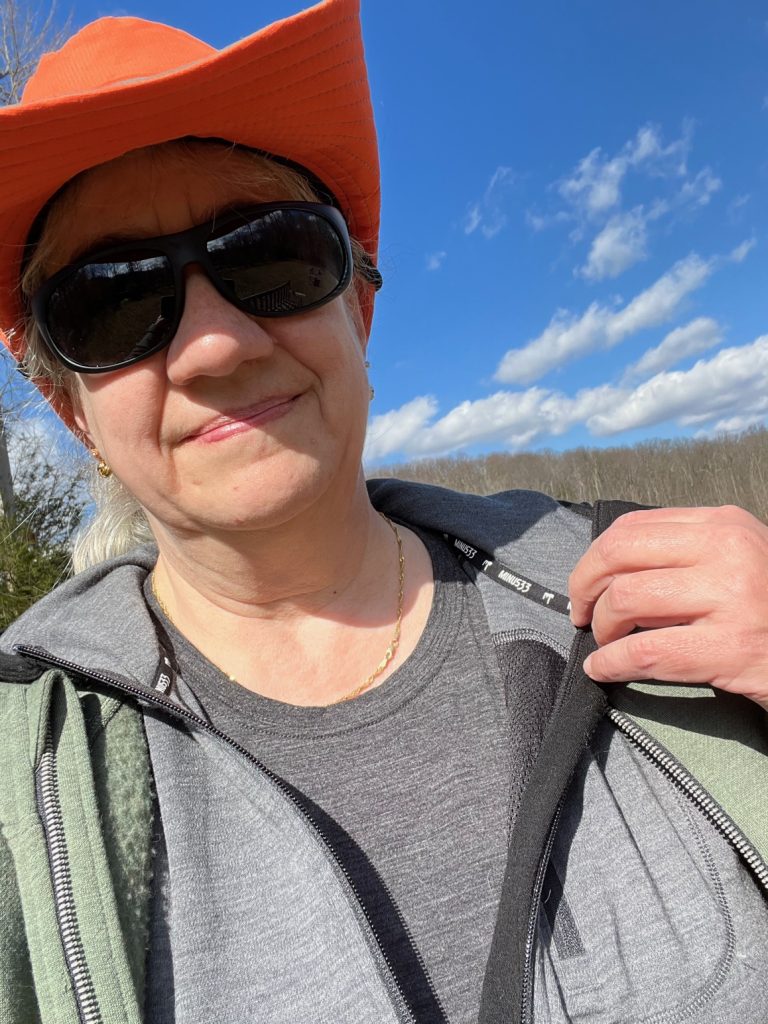 So far, I've worn this Minus 33 hoodie for winter woods hikes, exercise walks, and even under a sweatshirt layer for spring yard clean-up. It has performed beautifully – kept me warm, but also wicked sweat when needed.
I also wore this hoodie over a wool t-shirt as an extra layer for just knocking around inside the cool house on days when I didn't want to turn the thermostat up. It was a perfect layer for that as well.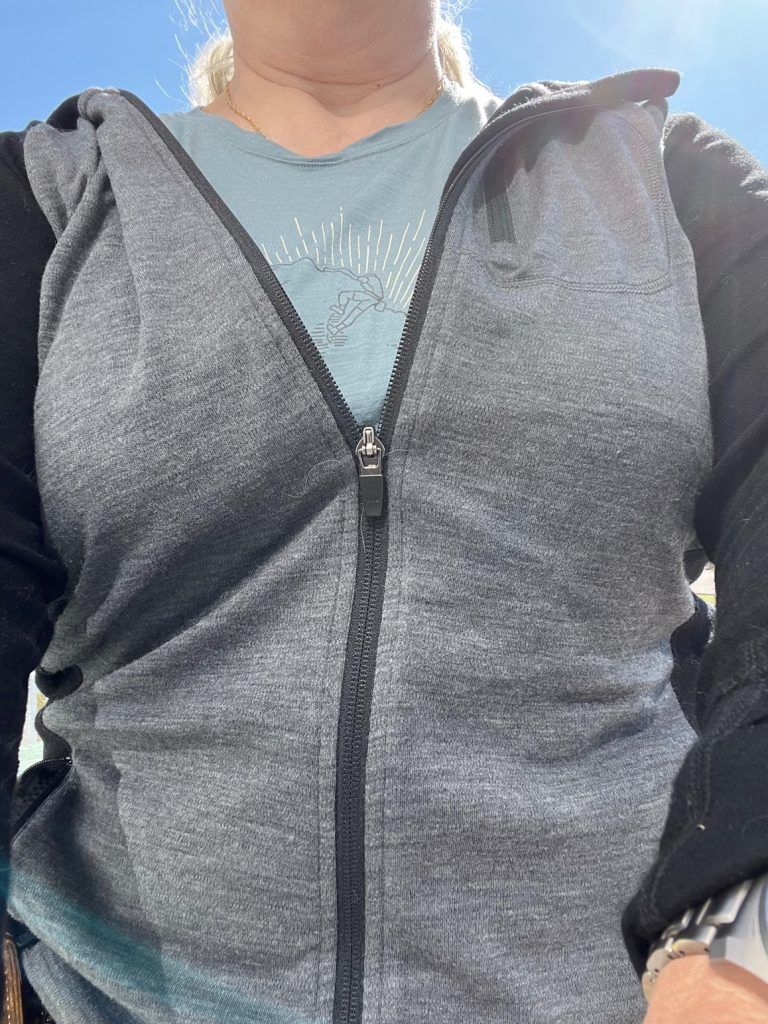 Care-wise, this too required only machine wash cold and tumble dry low. Minus 33 is singing my song with this! I have much better things to do than special-wash my clothing.
I have worn this hoodie virtually every day-off I've had for the past month. It has already become my go-to hoodie, so you can't have it.
You'll just have to go to Minus33 and buy one of your own!