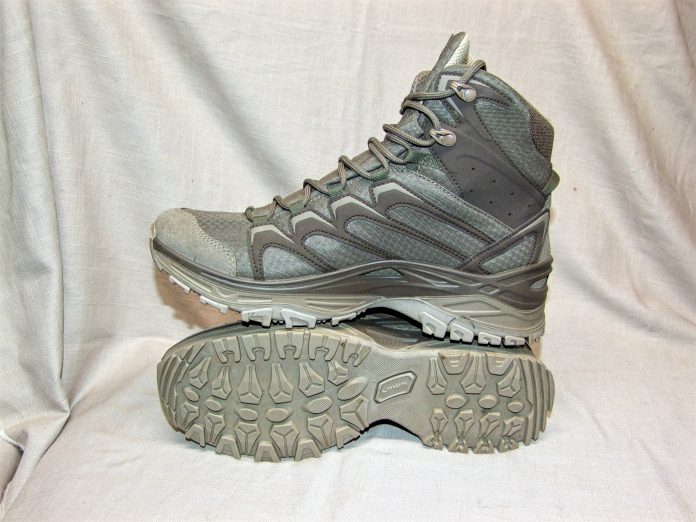 From Scott Smith
Back in the dark ages of time Uncle Sam issued us "cruit boots" in basic training.
Essentially these boots did little more than protect your feet. They were not waterproof,
there was no padding and they were as flexible as a brick. Other than those you have
limited options for footwear; jungle boots or jump boots were about the only other
choices you had.
In the mid eighties, Danner's Ft. Lewis Boot became an authorized option. They
were a vast improvement over "cruit boots". Many troops forked over the two hundred
or so bucks for them because they were Gore-Tex lined, fit well, had an EVA midsole
which absorbed shock, there was a removable arch support and the aggressive outsole
gave good traction.
When I left the Army I continued wearing Danner boots to shoot in and work.
While Danners were great for uniform wear they were heavy for action shooting. Like
other competitors I tried Astroturf football shoes but found they were not waterproof and
they offered no support. So it was back to the tried and true Danners.
Early in this century I came across Lowa Boots at the SHOT Show. The first pair I tried was the Renegade. This was a vast improvement over my Danners for competition. They were almost a pound lighter while being more flexible while being Gore-Tex lined and offering good traction in all conditions thanks to the EVO outsole. These boots became my go to boot until Lowa introduced the Zephyr.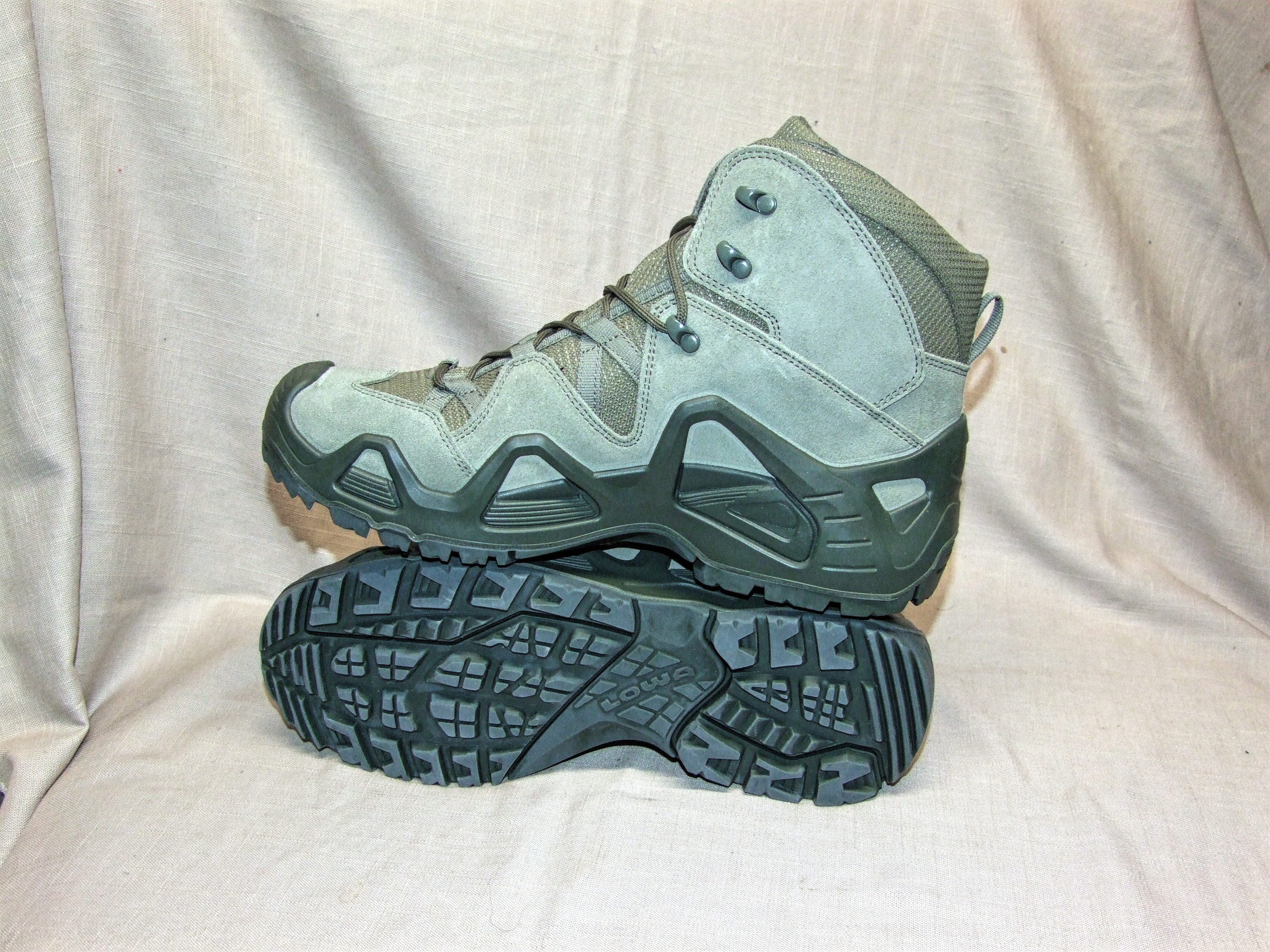 Lowa's Zephyr was an ideal boot for uniform and competition use. This boot was
lighter than the Renegade because it was not all leather. The fabric also made the
Zephyr cooler in hot weather. It could be had with or without Gore-Tex which made it
ideal for hot weather wear. The Vibram Cross ll outsole gave excellent traction in
virtually all conditions and wore like iron. After ten years I had to retire my original pair
because the sole was about shot.
What makes the Zephyr such a perfect all round boot is the double injected
polyurethane midsole and Lowa's patented MonoWrap Stability Frame (MSF). The
polyurethane midsole will not collapse like EVA midsoles (EVA looks like a compressed
sponge). Even after ten years they still were comfortable for all day wear at a three gun
or USPSA match.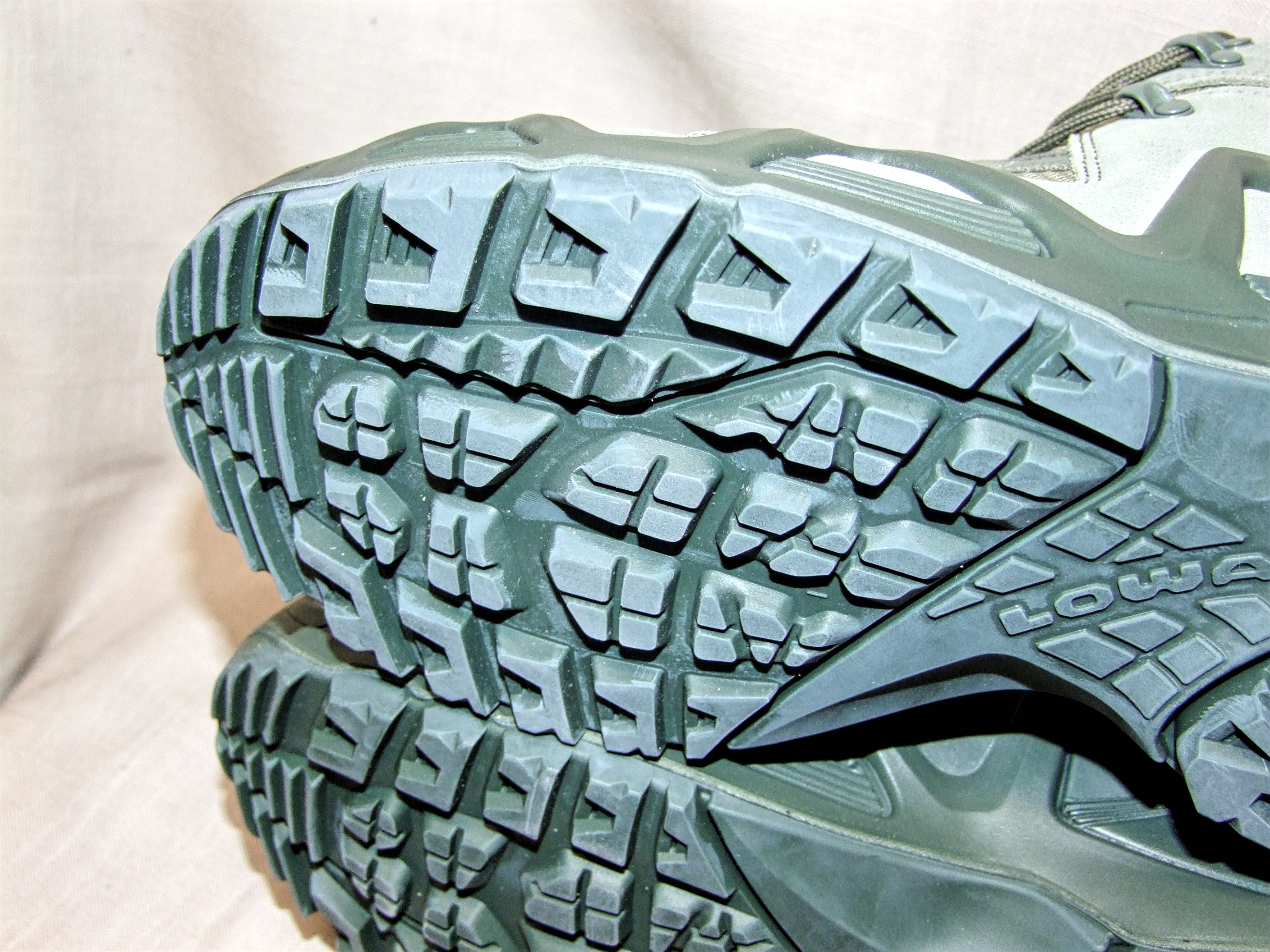 The MonoWrap Stability Frame is visible on Lowa's boots that have it. This frame
is actually fused to the midsole, wrapping your foot to provide you a stable base without
having to use a board last. Without the board last the boot feels like a running shoe but
is far more supportive and responsive to changing terrain. It is comfortable of concrete
or rocky muddy shooting lanes or trails. With the way the Zephyr wears and performs it
is worth every penny of the $210 MSRP.
In 2016 Lowa introduced the Innox (pictured above) family of boots. These boots truly feel like a running shoe on steroids. To quote Outside Bozeman Magazine; "At only a pound a
piece, these boots feel like Ninja slippers; light, fast and nimble. You'll feel like an
acrobat" I figure coming from a magazine covering the heart of the Rocky Mountains
and gear for the outdoors, this is high praise.
Like the Zephyr, the Innox has a double injected polyurethane midsole. It is more
flexible because of the NXT outsole and lighter MSF. You can see the wrap is not as
heavy and you foot does not set as low in the wrap. The Zephyr does not sacrifice support because the shoe laces attach directly to each leg of the MonoWrap so when
you tighten the laces you snug up the MSF. Innox's do not sacrifice shock absorption
either thanks to Dyna PU shock absorbing zones.
Over the last few years we found the NXT outsole gives good traction in all but
the worst of conditions. We found it was not that good in the oozing red clay mud of the
south during the monsoons of 2016. Then again, not many shoes give traction in that
extreme of conditions. That said the Innox gives above average traction and thanks to
the optional Gore-Tex lining your feet stay dry.
Overall the Innox family of boots is perfect for action shooting. They are lightweight; they give excellent traction and wear well. Like the Zephyr, Innox's will set you back $210 a pair.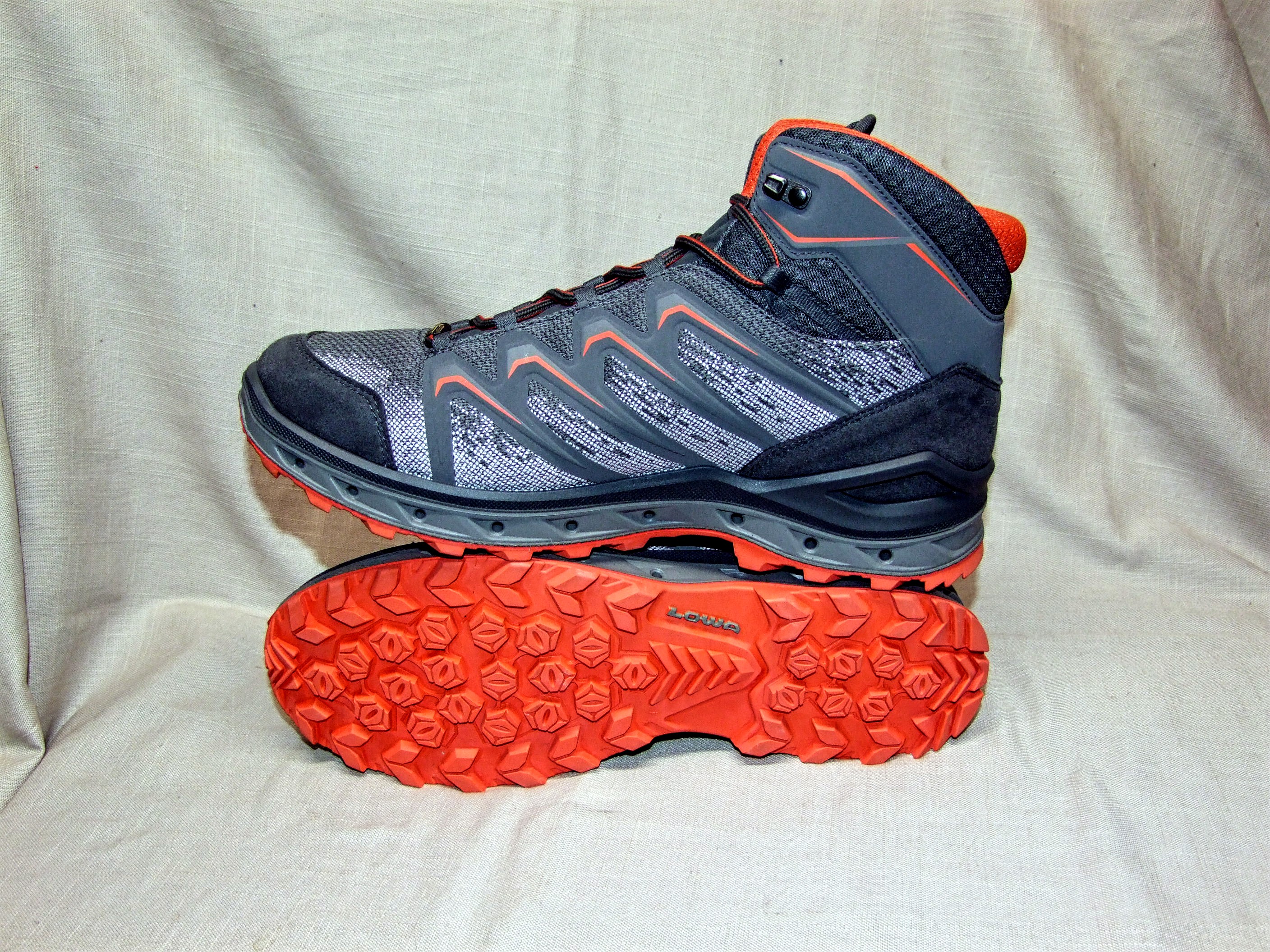 Lowa's newest all terrain sport boot is the Aerox. At first glance it looks like its
sibling Innox, but it is more technically advanced. You will notice the Aerox still has the
Monowrap Support Frame and a double injected polyurethane midsole. These are
pretty much trademarks of Lowa's lightweight boots.
What sets the Aerox apart from other All Terrain Sports boots is Lowa's Surround
System. This system allows perspiration from your feet to migrate to the bottom of the
boot's Gore-Tex lining. Then in conjunction with an open-celled spacer this moisture
evaporates through holes in the mid-sole. This system does not compromise the boot's
waterproof properties. It does make a Gore-Tex lined boot comfortable in warmer
conditions and it reduces weight, making the Aerox one of the lightest speed hiking
boots on the market.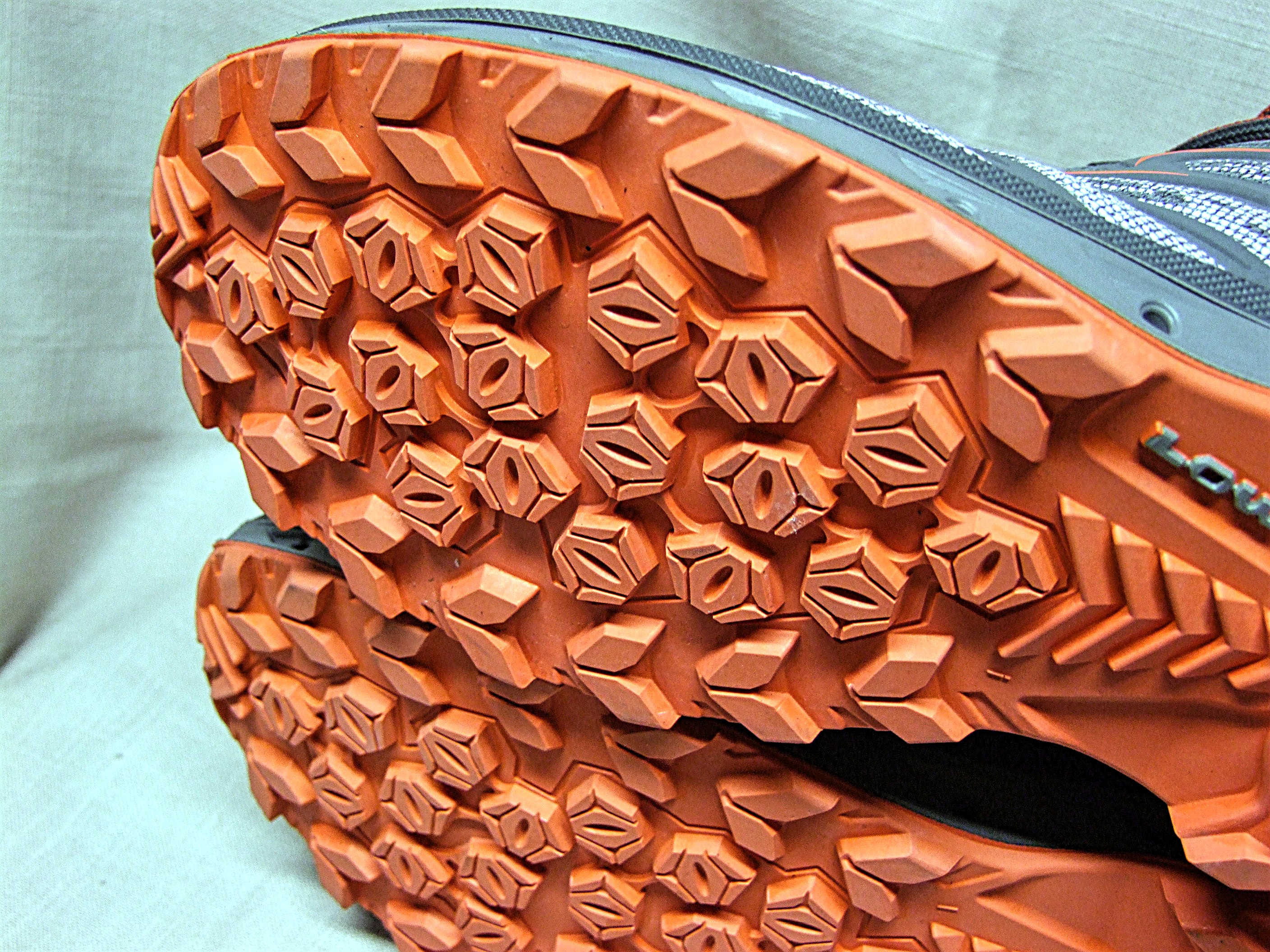 Another advance in this boot is the Surround Trac sole. Surround Trac is a
hexagonal pattern tread on the body of the sole with chevrons on the outer edges. This
pattern is more aggressive than others in the All Terrain Sport family. Wearing the
Aerox while shooting the annual rain fest known as The Rockcastle Pro AM, I can say
this boot rivals the Zephyr for grip. Surround Trac grips on wet grass, slimy algae
covered dirt, wet river pebbles and wet clay. For action shooters, this is a dream come
true. All of this technology and performance does not come cheap, the Aerox will set
you back $240 a pair.
I know several folks who wear Lowa Boots professionally in the harsh conditions
of Afghanistan and they swear by them. We are seeing more Veterans joining the
ranges of competitive shooters and they are continuing to wearing various Lowa boots
on the range and in the field. They are learning the cool kid's shoes do not give support
and cushioning our aging feet, legs and backs need. A friend of mine who teaches
movement for USPSA shooters recently received a pair of Aeroxes and says they help
her injured ankle and legs. She had a pair of those bright colored cool kids' shoes and
said they were killing her. Like her other shooters are learning those bright colored
shoes look cool but they are not comfortable and their soles do not wear well.
Lowa invests loads of money to develop shoes and boots to meet the needs of
hardcore mountain climbers, uniformed professionals, casual hikers,
outdoorsman/women and now shooters. Lowa boots are lightweight, their Gore-Tex
boots are waterproof, the uppers durable, the fit is comfortable, sizes are specifically
designed for men/women/kids and Lowa designs soles that are wear perform well in all
conditions. Unlike those bright colored shoes, Lowa offers most of their popular boots in
men's or women's size as well as ankle high or low cut version with Gore-Tex linings.
You cannot go wrong with Lowa Boots if you are looking for a gift for yourself or
someone else. In my humble opinion Lowa Boots are one of, if not the finest boots on
the market.