CQB styled AR's have taken the market by storm and have gone from a novelty to a must-have for many. Looking back over time to the early days of the western expansion carbine guns for mounted cavalry and cowboys was standard fare. In most cases, those carbines ran the same caliber ammo as their pistols. The Colt 45-70 is one of the most notable examples.
In the modern day, the submachine gun explosion of the 80's that included the MP5 and Uzi guns, for example, revitalized the compact pistol caliber gun market. Fast forward to today and you can see the demand for 9mm, 10mm, and 45 caliber compact guns are growing again.
Lone Wolf is dominating by combining the AR CQB SBR/Pistol genre with the sub compact pistol caliber market with their new AR platform gun that accepts GLOCK magazines.
The lowers accept 9,40,357,45 GAP magazines made by GLOCK or GLOCK compatible like the Pmag GL-9 all the way up to 33 rounds as well as drum magazines.
Specs Lower:
Receiver accepts Glock magazines 9/40/357/45 GAPonly.
Dedicated magazine well for Glock magazines (most non G9 9mm carbines are made for Sten or Uzi mags)
Glock magazines are more reliable than the commonly used Uzi or Sten mags
CNC machined from Mil-spec 7075 aluminum forging.
Type 3 hard coat anodized, black only.
Accepts AR57 uppers.(you must remove the ejector before installing the upper)
Specs Upper:
Quad Rail Free Floating Rail System
A2 Style Flash Suppressor
Properly modified bolt for use with Glock magazines
16″ barrel
4150CM Ordinance Steel
Button rifled 1:10 twist rate
M4 profile exterior
Non-reflective black oxide finish
Bolt is mil-spec 8620 material heat treated to 50>55 RC
Bolt is black oxide exterior coated
Why a 9mm Carbine?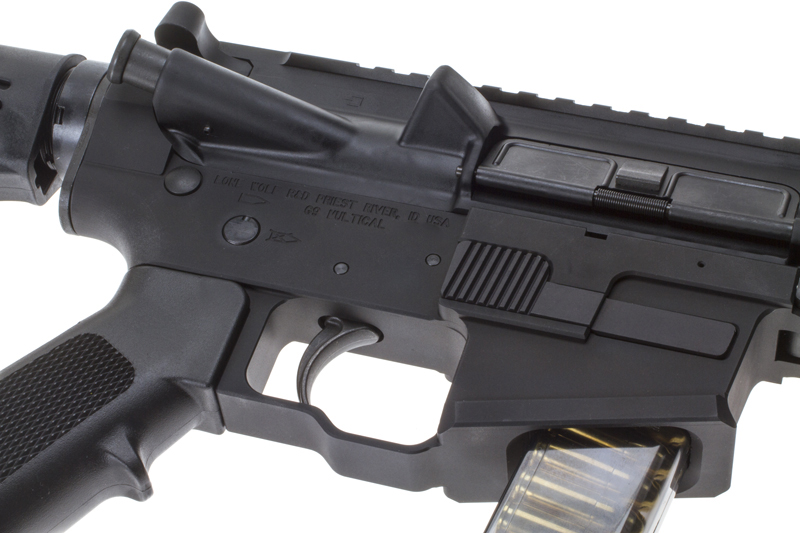 In states like Michigan having an SBR that is registered as a pistol in the state or having a pistol version (No Stock) offers several advantages for legal in car carry. With truck guns becoming a major consideration for many readers the Lone Wolf G9 allows you to have one caliber ammo with one cache of magazines that operate in a daily carry as well as an Oh SH*T carbine.
Lone Wolf GLOCK AR Performance?
We tested the complete 16inch Carbine version and found some incredible results. Not only is 9mm a soft shooter out of this platform he longer barrels will allow bullets to reach their top velocities. We consistently saw increased velocity out of all ammo tested vs a 4 or 5-inch barrel.
The standard GLOCK mags in 15 and 17 rounds, extended GLOCK 33 round magazines, PMAG GL9 in 15 and 17 rounds all performed without issue.
It should come to no surprise that this gun performed admirably out to 100 yards (the limit of our test facility, not the gun). Hitting targets at 50-100 yards with 9mm is not something I or even most people can do well with a standard pistol. However, this was not much different than my typical AR experience.
Pro's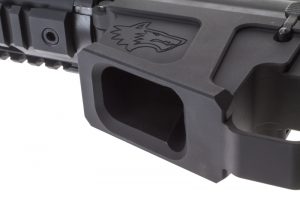 It accepts GLOCK magazines. It's one thing to have a carbine in the same caliber as your EDC. It is another thing to have a carbine that accepts the exact same magazines as your EDC. It makes packing ammo, bullets, mag carriers and other items up much more streamlined and compatible.
The means of operation is inline with an AR. That means that for training and practice you can train with an AR gun but shoot much cheaper 9mm. We buy 9mm at about ½ the cost of 556. While you can shoot 22LR out of AR platform guns made for 22lr they have virtually no recoil, or bang meaning your not getting nearly as close of a comparison as you would with 9mm.
My wife has an irrational fear of rifle calibers. However, since she already shoots a 9mm pistol she was not scared to shoot this gun. It let me train her and get her to practice on an AR should the need ever arise she had to use one. It also works well for my kids who wanted to have something a step up from their 22 rifles.
For many steel targets at home ranges, are fun to shoot. Rifle's and steel targets don't play well. As such having a carbine in pistol caliber that can ding those home targets without fear of damage is a very nice perk.
Cons:
While I am not a fan of the quad rail system, Lone Wolf is using, the G9 is compatible with most AR parts and can be changed to fit your needs. The bolt assembly needs to be modified to run properly on the G9 so you won't want to swap that out. Most everything else, however, is configurable.
Based on the amount of parts I have rolling around here it would be nice if they sold the lowers as stripped so I could install the buffer tube, stock and grip I wanted without needing to replace these items.
The only real gripe if you can call it that is that the bolt is not last round hold open.
Summary
AR guns in pistol caliber don't make sense for everyone. For those who do have a need or want for one, this gun is a serious contender. If you're a GLOCK pistol shooter, then that makes this gun an easy choice for best in category. The availability of inexpensive GLOCK magazines makes the overall cost of ownership lower than many of the competitive pistol caliber carbines that rely on proprietary magazines that can go as much as $80 each.
Lone Wolf sells the lowers and uppers separately via their website here: http://www.lonewolfdist.com/Products.aspx?CAT=3682 The lowers start at $384 and uppers begin at $689.95 and can be cut to your desired length and re-threaded for $90.
Source Article from http://248shooter.com/index.php/lone-wolf-glock-compatible-ar-15-review/