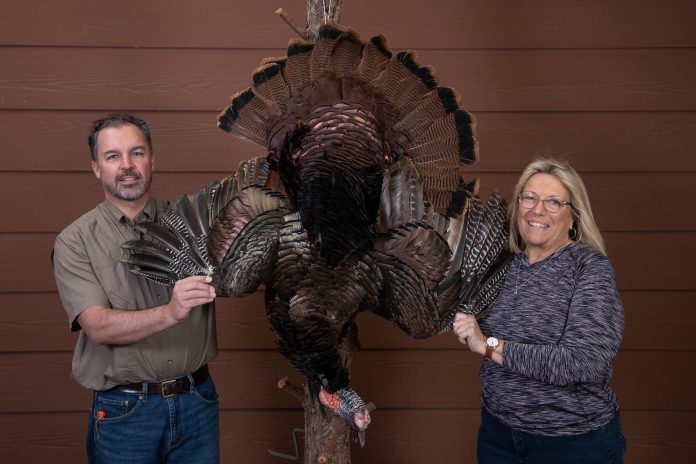 Columbus, Miss. (April 26, 2022) – The APEX Ammunition team congratulates Mossberg's Linda Powell on her impressive performance at this year's Alabama Governor's One-Shot Turkey Hunt. Powell's 25-plus pound gobbler with an 11 3/4-inch beard and 1 1/8-inch spurs was taken with a Mossberg 940 Pro Turkey autoloading shotgun and APEX Turkey Tungsten Super Shot (TSS) # 9s. It was the largest bird bagged during the event and earned Powell the title of Grand Champion with a combined score of 71.13. A total of 64 hunters participated in this invitation-only event, including CEOs, corporate presidents, outdoor and entertainment celebrities, media representatives, and sponsors.
Powell and her guide, Justin Rock of Riverview Farms, had to work for this savvy tom – calling and ultimately repositioning three times to get in position to take him.
"I've used the APEX Tungsten Super Shot on all of my turkey hunts this spring and have been so impressed with how well it patterns in my 940 and how effective it is in the field." Powell continued, "Everywhere that I've hunted, the guides, landowners and other hunters have all asked what I am shooting and where can I buy that gun and ammo."
"We couldn't be happier for Linda and tip our hats to her on not only bagging such a huge bird, but truly enjoying the process and experience of the hunt," said Jason Lonsberry, CEO, APEX Ammunition. "Well done and congratulations!"
The Alabama Governor's One-Shot Turkey Hunt is a premier event that was started in 2002 and last held in 2015. The event raises funds that benefit the many projects of the Alabama Conservation & Natural Resources Foundation, including scholarships at the University of Alabama and Auburn University.
About APEX Ammunition
What started in 2017 with a few handmade shells for a hunting trip with buddies has become an obsession to provide wingshooters with the absolute best performing ammunition possible. Founded by U.S. Veterans and hunting enthusiasts in the great state of Mississippi, APEX Ammunition pioneered the commercial application of ultra-high-density Tungsten Super Shot to create the hardest hitting, most accurate shot loads in the business. The driving principle behind the company's continued quest for innovation and better performance is its commitment to delivering a hunting experience like no other. For more information, visit ApexAmmunition.com.