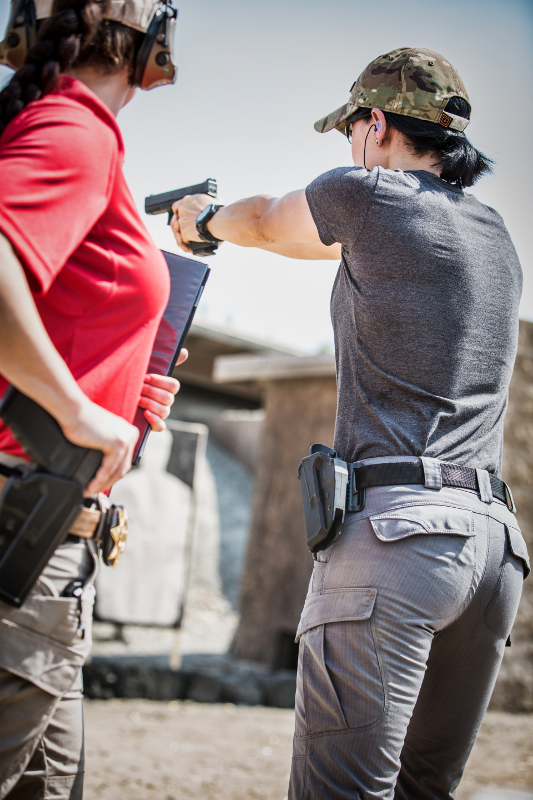 With Mother's Day approaching, now is a good time to look at a few clothing options for female shooters. Over the last few years we have seen women's clothing become one of the fastest growing sectors of the outdoor industry. This only makes sense with more and more ladies participating in action shooting. Two of the leaders in this portion of the market are 5.11 Tactical and First Tactical offering a wide range of clothing for women.
5.11 Tactical has the most complete clothing line offering everything from outerwear to footwear. If you are looking for a cargo style pair of pants with clean lines the Stryke is a good choice. The Stryke is made from 6.76 ounce Flex-Tac fabric is tough, washes well, and wears like iron. While they have are semi-fitted, there is no binding when moving. This is fit comes from the Flex-Tac material they are manufactured from. Flex-Tac is a four way stretch fabric that virtually eliminates binding, especially with the diamond gusset crotch.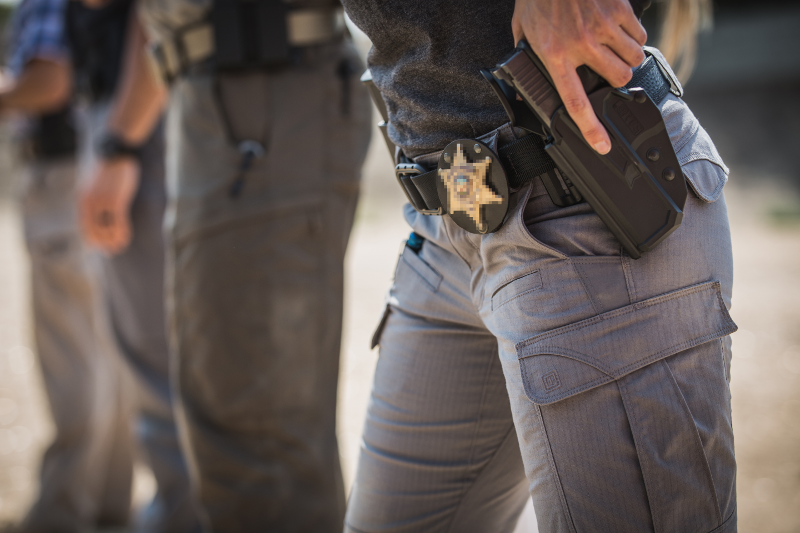 Even though the pants have a fitted waist, they have proven to be comfortable all day without any binding or chafing. This is du mainly to the wide waistband and Flex-Tac material which gives as you move. You will find they run true to size and thanks to a generous zipper they are easy to slip on and off. Strykes are offered in sizes 0-20 in a regular (31") and long (35") inseam and in black, khaki, storm, TDU green, tundra and dark navy. I have worn the male version of Strykes since the debutted and they still look like new. Lisa tells me material did not pick up stains from the red clay when she was in Puerto Rico post Maria with FEMA.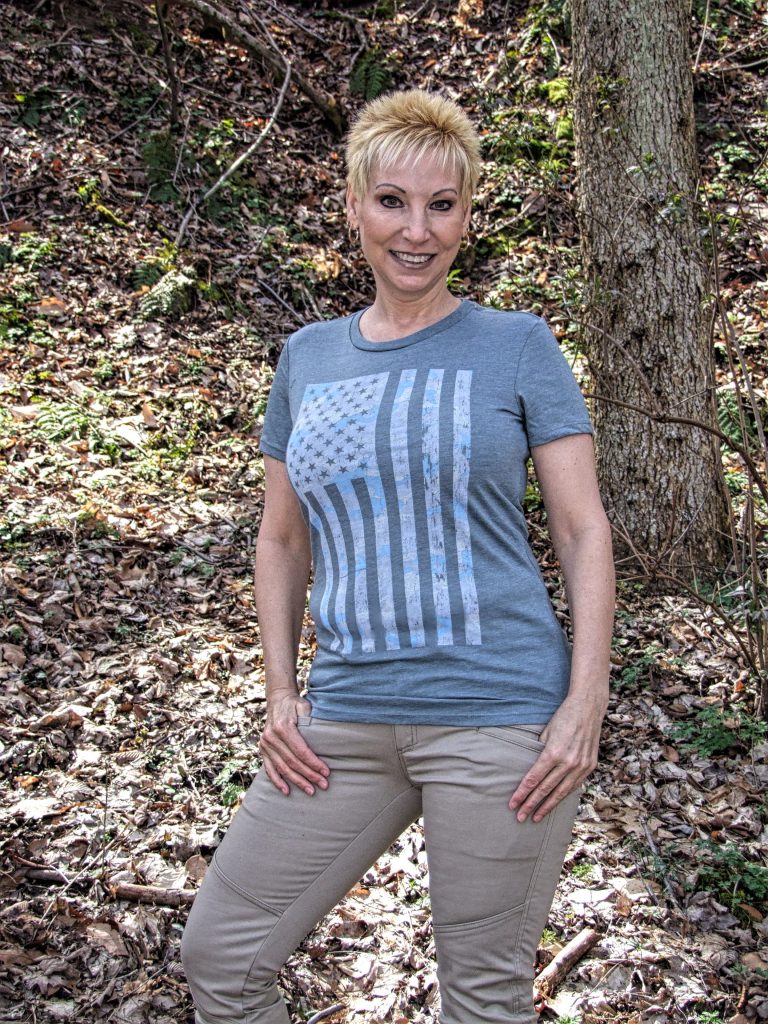 For those prefer a jean style pant, the Wyldcat is for you. Lisa found these pants ideal for travel and in the field with FEMA. Coupled with a t-shirt they are perfect casual attire. These pants scream fashion not gun. They are sized 0-16 in regular and long inseams. Colors are black, khaki and grenade (a shade of gray). For comfort in all activities they are made from cotton/polyester/elastane stretch sateen with Microsand finish which is stain resistant. These pants fit like a glove, yet they allow for virtually unrestricted movement.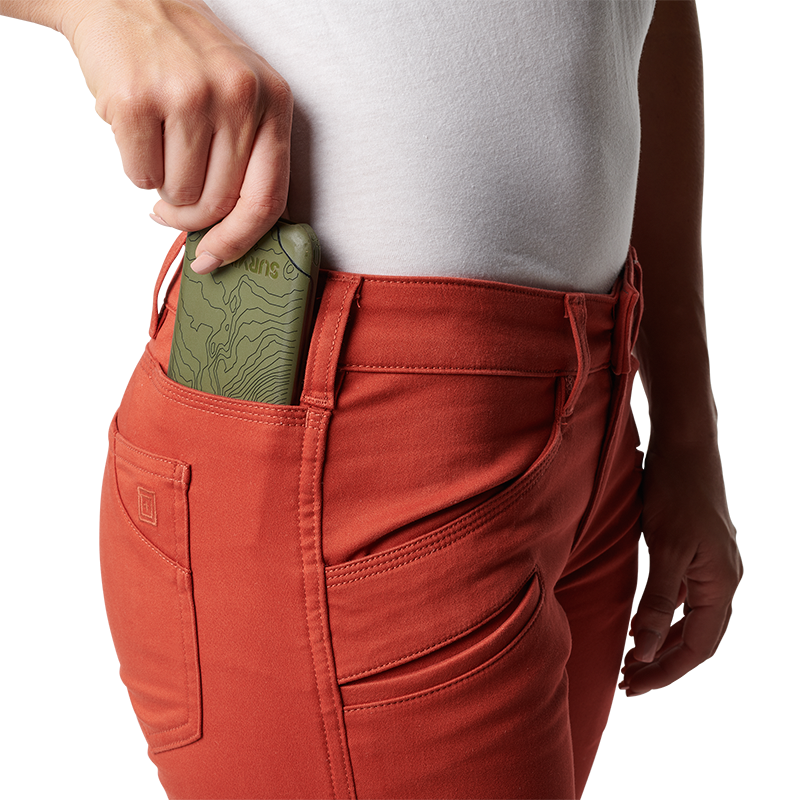 The Wyldcats look good, but they were built for function. You will find th belt loops allow for proper holster placement and they are wide enough to fit fashion belts or a pistol belt. There are seven pockets, two truly functional rear patch pockets that set up on your butt so you can put items like a phone, wallet, etc in them. The right rear has a low profile pocket above it designed specifically to carry a phone or other item. The front slash pockets are deep enough to carry a 3″ clip-it knife, keys, etc. On each thigh there is a slash pocket that can carry an AR magazine, small wallet, pretty much anything you need easy access to.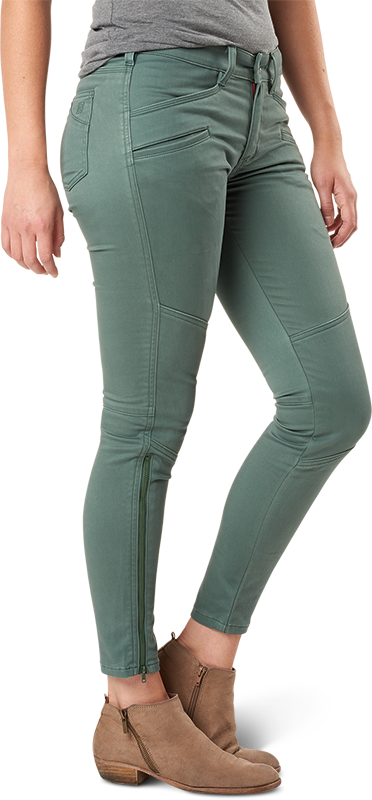 What sets these pants apart from other ladies "tactical pants" are the legs. They are taper cut to tuck into the tops of a fashion ankle boot. When you look closely at the outer seam you will notice a zipper from the knee to the ankle. This allows the pants to become a boot cut pant for freedom of movement if you choose to wear the Wyldcats as a range pant. You can also wear these pants tucked into a fitted high boot when zipped or over the shaft of a western boot unzipped. As you can see 5.11 Tactical has put a lot of thought into the fit and function of the Wyldcat. These pants are tough, functional and designed for the active modern woman.
If you prefer a truly low profile tactical pant, the Mesa is it. The Mesa has low profile zipper thigh pockets that look more like trim than a pocket. There are traditional slash front pockets and rear patch pockets to carry most anything from a wallet to AR magazine. The front pocket's slash is flat at the bottom to allow a clip-it knife to lay flat. You can easily stash an AR magazine or smart phone in the rear pockets. To ensure you do not lose your phone, I would zip them in the thigh pocket.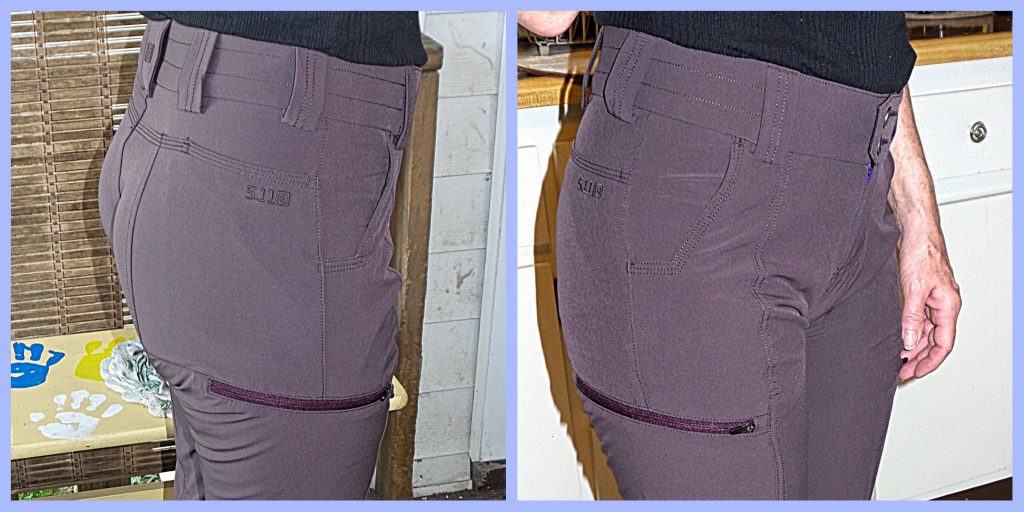 When it comes to comfort you will be hard pressed to find pants that beat the Mesa. The DWR polyester elastane fabric is four way stretch. The eight inch tapered pant leg allows for easy on/off while giving you a fitted look when worn. The extra wide rear belt loop keeps them from sagging when you are wearing a pistol. You will find the width of the waistband and the padding makes this waist one of the more fitted comfortable on the market today.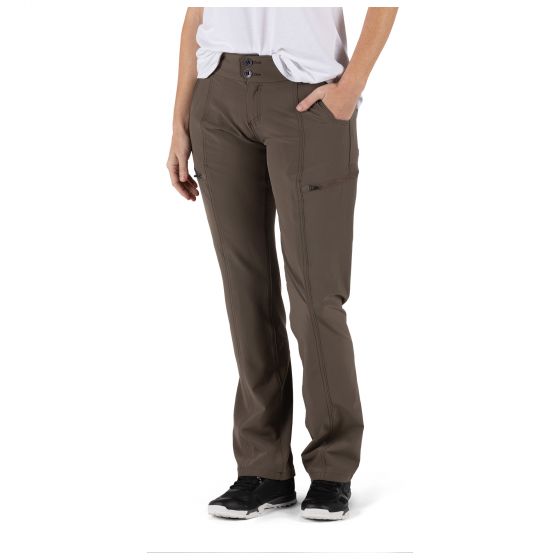 I have on good authority that the fabric is comfortable for all day wear, even when it is flying a desk. It was also told these pants wash well after surviving the rigors of grandkids and their spills. I say this because as much as we would like to spend days on the range or out hiking, the reality is not every one is Laura Croft nor can we spend everyday at the ranget. The Mesa can be had in sizes 0-20 in regular and long lengths. You can choose from black or major brown
5.11 did not forget those who want jeans; the Defender Flex Slim Fit Jeans should suit your needs. Unlike teenage slim fit, these pants are not second skin tight. You would be hard pressed to tell the Defender Flex Jeans from popular brands. They have traditional riveted front slash pockets, with a front "watch" pocket in the right front. The rear pockets are patch style with magazine pockets at the bottom of the waist band. The rear pockets have stylish stitching and a flag logo on the right pocket.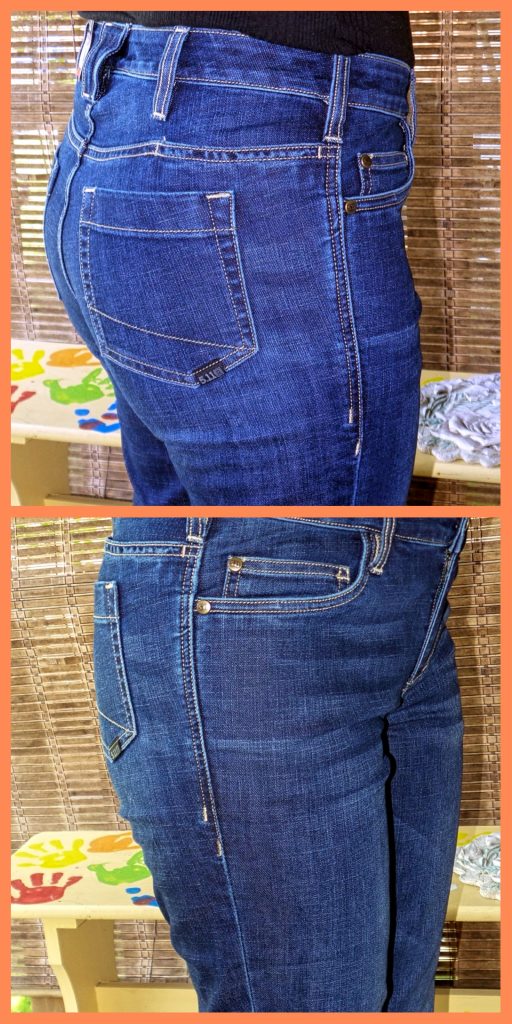 While the Slim Fit Jeans do not not have eight inch leg zippers, they will are easy on/off thanks to the 76/24 cotton poly blend, 10 ounce T400 stretch fabric. If you wear boots these will tuck neatly and comfortably into the shaft,odds are they will not fit over thh shaft of cowboy boot. Blouses tuck neatly into the waist without feeling snug thanks to the fabric's stretch.
For daily wear the Slim Fit Jeans are ideal. My oldest friend in the world is a former EMT and now an emergency dispatcher for an international airport and she wears hers regularly. She says these jeans do not wear you out sitting for eight to twelve hours like traditional cowboy style denim jeans do. More importantly they give you freedom of movement when you need to knee, climb or any other daily activity. She tells me unlike the Mesa's; the Slim Fit Jeans are not stain resistant to the spills and oops of pre-school grandkids…pre-treat before washing.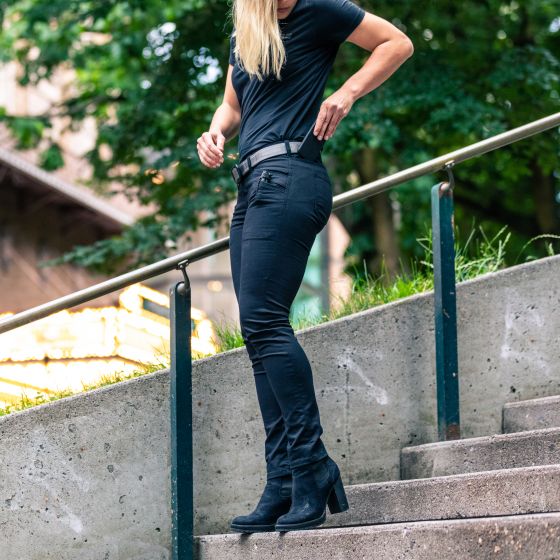 You can find them in black on the 5.11 website, but they can be had in a couple shades of denim on other clothing sites.. Size wise you can choose from 0-16 in short, regular and long lengths.
I have been told by two ladies I trust with my life that all four pairs of these pants work well for work, casual, range and travel wear. They were worn by one who does disaster relief for FEMA. In her travels they were worn cleaning up in some of the worst conditions one can encounter after fires and hurricanes. She gave the Wyldcat and Stryke rave reviews . The other is a dispatcher for emergency services at an international airport. Prior to that she was an EMT for over a decade, so she knows what a profession expects from clothing. Both the Meas and Defender Flex Jeans survived one of the worst things life can throw at them; three grand kids and sitting all day. Poor fitting pants will wear you out when you are sitting all
Over the last several years 5.11 Tactical has gone through many changes; some good, some bad. Vastly improving their women's lines has been for the good. They have worked hard to bring women clothing that looks good and functions in all conditions. These four pairs of pants should serve you well no matter what you are doing. Thank you 5.11 Tactical for help with beauty shots.