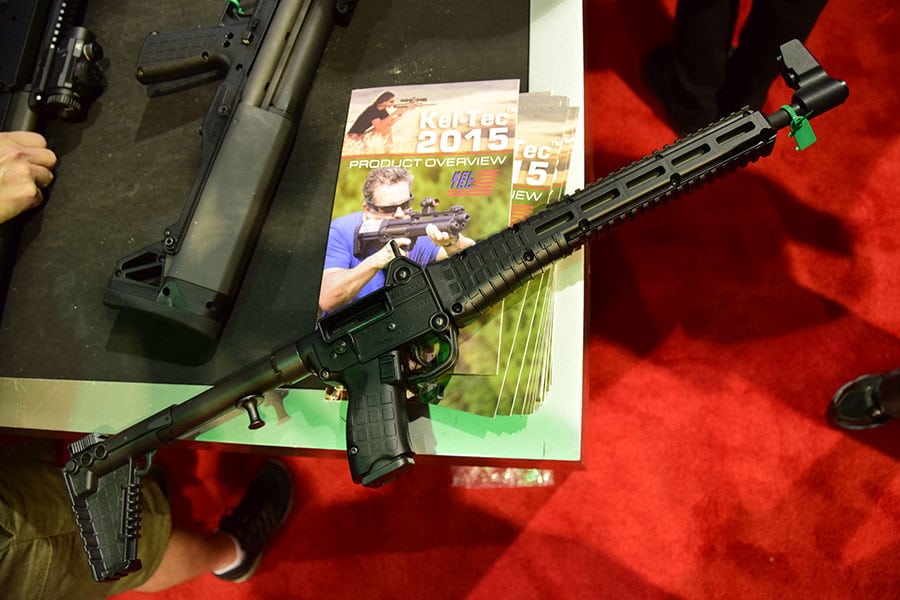 Kel-Tec's Sub 2000 carbine has a cult-following that rivals the Rocky Horror Picture Show. Everyone who fires one loves it, and for good reason. The ultra-simple folding-design coupled  with its ability to use existing, plentiful handgun magazines make it a great companion to a pistol in the same caliber.
Praised everywhere for it's light-weight construction and unstoppable reliability, the Sub 2000 does have a few drawbacks. The one most owners complained about was the weapon's lack of railed handguards. After 14 years, Kel-Tec is ready to add them to the Sub 2000 with its generation two model.
The rail isn't simply a picatinny set up, the sides feature Magpul M-lok slots for attaching whatever device a shooter desires without covering the entire weapon in cumbersome rail segments. The other major addition, is the gator-style grip found on all new Kel-Tec pistols.
Buyers worried that Kel-Tec intends to raise the price can rest easy knowing they intend to keep the original's MSRP of $409. One benefit to the rail that few have recognized, is how it resembles a shrunken down MG42 ventilated handguard.
Look for the second generation Sub 2000 Summer of 2015.
Source Article from http://www.guns.com/2015/01/28/kel-tecs-new-second-generation-sub-2000/