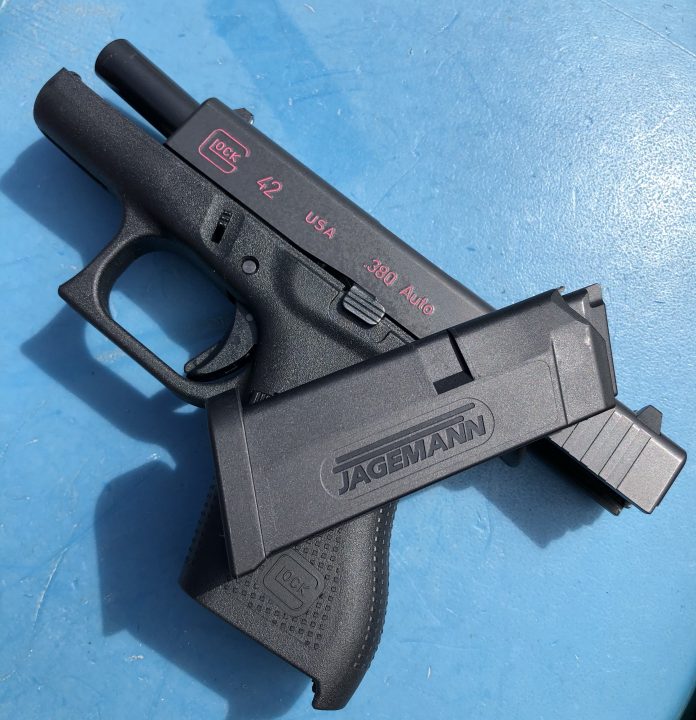 I have confession to make. I received a freebie random handout of magazines about two years ago at SHOT, and just recently found them again. They were in a bag of my stuff from the show and at some point when I had company coming over I cleaned them off the kitchen table – and they subsequently got lost in my piles of gun gear. (Does anybody else have piles? Or is everyone else more organized than me?).
These magazines are by Jagemann (A family operation who may be more recognized for their brass) and are designed to fit my Glock 42.
I love my Glock 42. This is the gun that I shot in the IDPA BUG Nationals a few years ago when they had a dedicated event for Back Up Guns. I love that little .380. I just haven't shot it much in the past year due to concentrating on other things. I shot my 43 a good bit last year, but the 42 sat lonely in the safe *sniff*.
At the same time as I received the 42 mags I also had given a Jagemann Glock 19 magazine to a friend to try out as well. I have a 19 too, but he shoots his way more than I shoot mine, so I let him have at it. I wanted to see if he could break it. He reports to me that he had zero issues with the magazine in the past two years and it still lives on his "battle belt" – even though the magazine is Tiffany blue.
Yes, Jagemann mags come in colors too. There is the obvious black, but also Tiffany blue, red, olive, and pink. Jagemann makes magazines to fit the Glock 17 and 19, and also the Glock 42 and 43. Additionally, they offer magazines to fit certain 1911 style .22 conversions.
I finally decided that with the weather getting nicer, I might as well give these magazines a whirl and remind myself what fun it was to shoot my little Glock 42. What a pleasant reunion! I don't know why I waited this long.
The magazines loaded and fed great, and the plates on the plate rack made a satisfying "ping-chunk" noise as they fell. Ahhhhh.
But that wasn't the only positive thing to report about these Jagemann magazines. Anyone who has ever had to take the baseplate off of a Glock-branded magazine knows what a colossal pain that procedure is. They even had to come up with a special tool to try to make that battle easier. As I recall, the process involves poking, while also simultaneously squeezing and sliding. It's basically a three-handed operation – lubricated with expletives.
Now ask me how long it took to remove the baseplate of the Jagemann magazine … One. Second. Yes really. I poked the button with the end of an Allen wrench and the plate slid right off! No swearing. No screwdrivers and wrenches. It just slid right off!
That alone is reason to only buy Jagemann magazines for my Glocks from now on! And I'm sorry that it took me this long to rediscover them!