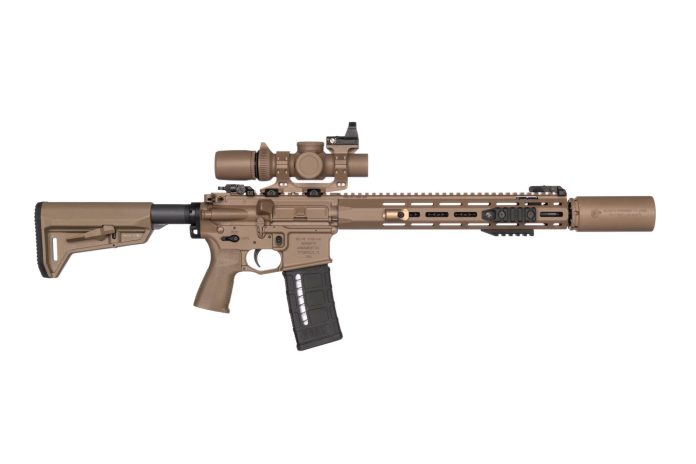 Our old friends across the Atlantic have a new rifle coming to their inventory of small arms.
From Reptilia,
Reptilia is proud to announce that we have been awarded a prestigious contract, in partnership with our UK distributor Edgar Brothers, to supply the UK Ministry of Defence (MOD) with a range of specially designed, battle-proven weapon accessories for the new L403A1 Alternative Individual Weapon System.
Project Hunter demanded weapon accessories that not only met high standards of durability and functionality, but also pushed the boundaries of innovation, ergonomics, and weight savings. We are proud to have exceeded these requirements.
Steve Allen, CEO of Reptilia, spoke about the commitment to providing the absolute best products to our customers. "At Reptilia, we constantly strive to deliver excellence and enhance the capabilities of those who defend our freedom. Working closely with our UK Distributor, Edgar Brothers, our mission was to design and deliver innovative weapon accessory solutions that would further enhance the end user's capabilities."
Project Hunter involved extensive, rigorous, and competitive testing, driving innovation within our industry. We are honored that Reptilia weapon accessories are now part of the finest personal weapon system in the world today. Congratulations go out to our industry counterparts and Edgar Brothers who have also played a crucial role in securing this contract win.
This contract not only reinforces Reptilia's position in the industry but also enables us to invest further in new employees and future innovation. We are excited about the opportunities that lie ahead.
What is it?
It is Knight's (KAC) newest KS-1 rifle, a 13.7″ ambidextrous platform with a well optimized gas system, buffer, and suppressor for operation. It is topped with Reptilia's AUS optic mount and the mount is housing a 1-10x Vortex that is currently not a commercial item. The mount also tops a red dot optic with the ACRO P-2 and Deltapoint Pro have been officially selected and they round out the L900A1 Optic Suite.
'Project Hunter' resulted in the Alternative Individual Weapon System, that is an interesting title with a multitude of possible implications. The USMC's M27 comes to mind and the role creep that came from its adoption. The 'Alternative' in the title suggests it is going to be phased in and ordered as a supplement based upon the needs of various specialty services, units, and missions.
Could it replace the SA80?
Potentially, but that isn't the defined role of the program by any stretch. Knight's is best known for building their weapons in smaller more specialist batches. While the whole of the MoD certainly doesn't need a service rifle replacement today and the A3 variant of the 80 is rolling out and working, the L403A1 updates and streamlines many of the AR variant weapons the MoD already employs and updates the rifles on the racks and ancillary suites to a modern standard. That alone will give British Army, Royal Marines, and Special Services whose smaller subset units may need the weapon in a ready to unbox configuration to zero, confirm, and go for a very wide mission set.
It's further proof of my and others commentary about the ~13″ barrel emerging as the do it all carbine size, with rifles anywhere between 11.5″ to the 14.5″ classic M4 finding their way into inventories. The 13.7″, by the way, wasn't in any way chosen for NFA compatibility or in deference to the US Market. It was the barrel length and rail combination that fit the MoD's performance requirement and in support of their ancillary equipment. It is being reported as the most stringent and thorough MoD solicitation ever conducted.
Will we see it in the hands of the King's Guard? Probably not. I think they'd look great, but what do I know?
In the coming months and with the normal ebb and flow of information, especially about Special Operations equipment, we will see where these start popping up and being fielded.