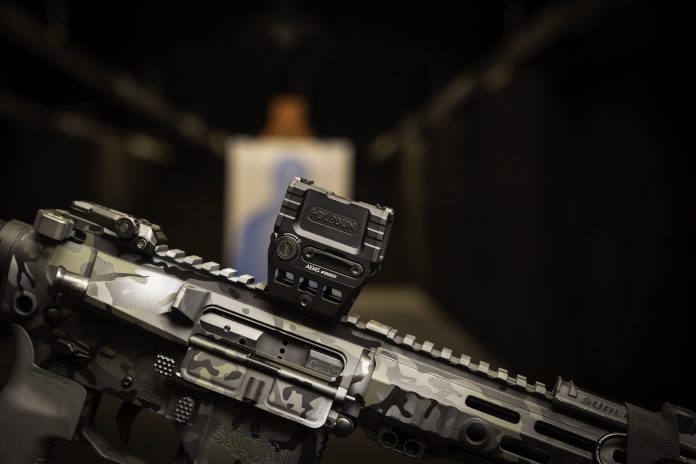 City of Industry, CA (September 1, 2021) – Small optics with large glass and full features are challenging to find. With technology changing and becoming readily accessible, the firearms industry regularly sees a change in the types of optics offered for users. A recent wave of lightweight, powerful, and tiny optics doesn't necessarily result in compromises and can fit the needs of the most discerning firearms enthusiast. One such optic is the Holosun AEMS (Advanced Enclosed Micro Sight) which can outmatch many of the leading industry performers at a smaller size and – comparably – modest price point. 
AEMS is the newest addition to the Holosun family of optics. It has an innovative style that houses features that are leading the way in the optics industry. This 3.9 oz unit (without mount) is lightweight but has been designed for various types of shooting use. This weight savings can be put into other essential peripherals improving overall usefulness of the rifle. 
Holosun's newest optic measures 54mm long, 36mm wide, and 43mm tall which is 11% shorter in length than the standard 20mm micro-style optics while offering twice the lens surface area for a wider field of view. This small package comes with a removable Picatinny lower ⅓ co-witness mount allowing users to swap to an optional absolute co witness mount(sold separately). This option, in turn, makes the new AEMS a great performer across multiple platforms and excellent at adapting to shooting styles and weapon types.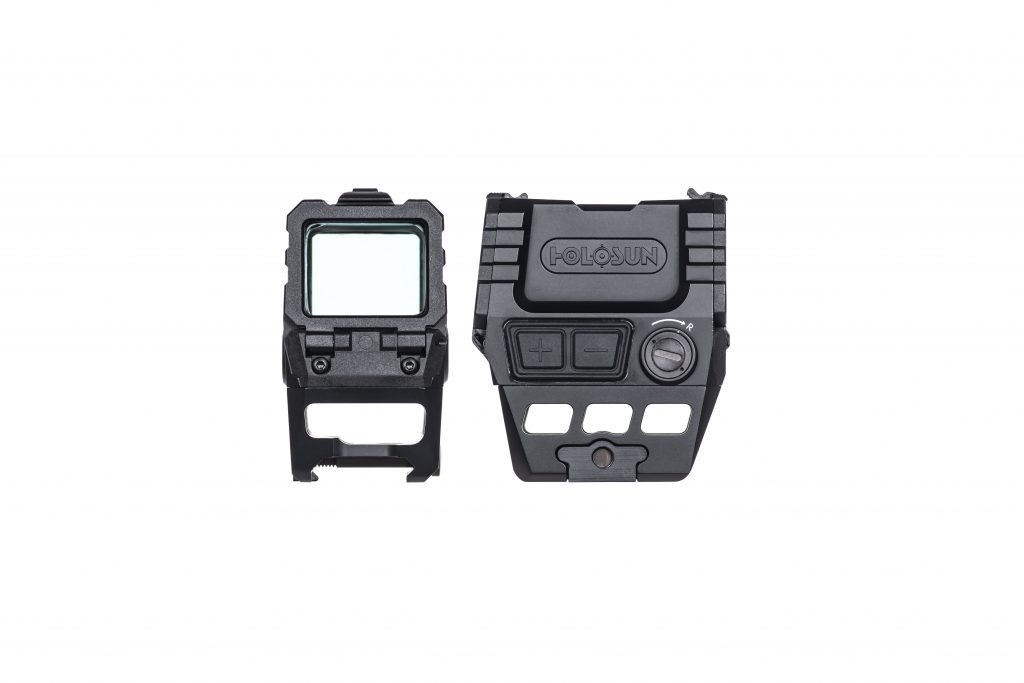 The housing of the new AEMS is made of 7075 aluminum. Within this small package is a large viewfinder and clear, removable/serviceable lens covers. The left side contains two intensity adjustment buttons, while the right side contains the removable 2032 battery and battery compartment. There is no need to remove the optic to change or inspect the battery. The AEMS features up to 50,000 hours of operation and a shake-awake system, leaving any user immediately prepared to acquire a target. As with many Holosun optics, AEMS features solar failsafe. While this does not charge the battery, Solar Failsafe will power the AEMS and automatically adjust the illumination of the multi-reticle system based on lighting conditions. This multi-reticle system allows a user to choose between a 2MOA dot, a 65MOA circle, or circle-dot choices. AEMS is available with green or red emitter color options. 
Features:
• Large glass in compact package
• 7075 Aluminum Housing
• Clear Lens Covers
• Removable 1.63" Lower ⅓ Picatinny Mount
• Only 54mm Long, 36mm wide, 43mm Tall (Without mount)
• 3.9 oz (without mount)
• Side-mounted 2032 Battery with 50k hours battery life at a mid-setting • Solar Failsafe
• Shake Awake
• Multi-reticle System (Circle-Dot, Dot only, Circle only) 
Holosun provides a lifetime warranty on the AEMS. Warranty information can be found here at: https://holosun.com/index/category/items/id/94.html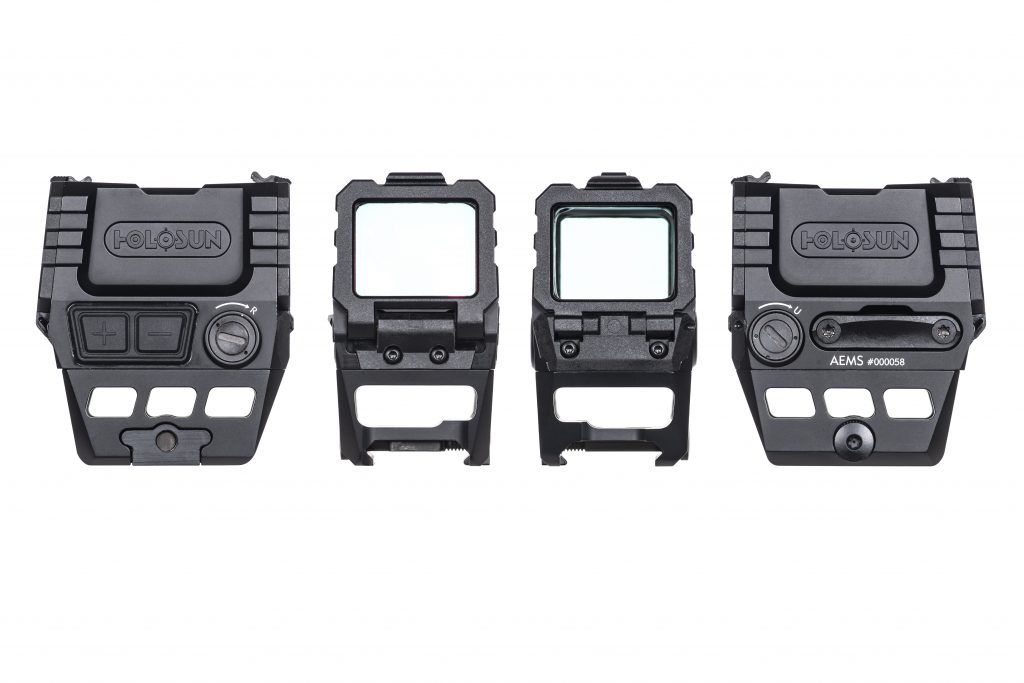 For more information visit Holosun.com