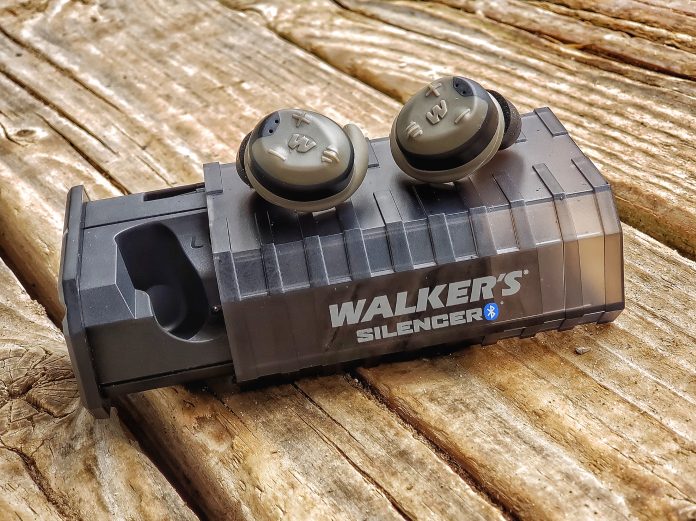 Hearing protection has definitely come along way over the past years. When I started shooting you pretty much had two choices. Soft foam ear plugs that hardly worked or big bulky headphone style ear muffs that you couldn't hear anything through. Walker has been making some very high quality upgraded versions of the muff style hearing protection for years. Models that cancel noise, amplify voices, and even some with Bluetooth features so you can listen to music and even take calls while wearing them.
Above the Rest
These features are all great but what if you are not a big fan of the bulky over the ear muff style protection? Well, Walker has introduced a solution to this problem. A set of revolutionary new Bluetooth earbuds called the Silencer Bluetooth Rechargeable. These game changing, tech-savvy earbuds are the perfect solution. Small, lightweight, portable, and extremely functional.
They feature advanced digital circuitry and performance digital Bluetooth technology. As well as dynamic wind noise reduction, variable gunshot suppression, auto shut off and voice prompts. The best feature of these earbuds is the free Walker's App. With the app you can control the program settings, monitor battery levels, adjust volume and change auto shut off time right from your phone.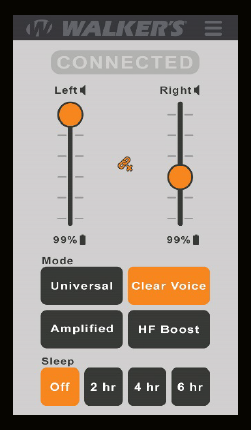 Walker added three programed settings that you can choose easily through the app. Universal, which offers good all around protection. Clear Voice, offering extreme clarity in the voices around you. In Clear voice with the earbuds turned all the way up I could hear people breathing while they still blocked the gun shots. It was actually kind of crazy. Power boost, was very similar to the clear voice setting. However, it really boosted all the sound around you not just voices. Again when turned all the way up I could almost hear my own hair growing. The last setting is HF Boost(high frequency boost).
They come with a USB charging dock with an integrated Lithium battery, a USB cable and three sizes of Sure-Lock sizing fins as well as three sizes of foam tips. The USB charging dock makes a nice carry case. It also charges the earbuds by just placing them in the magnetic holders. Once placed in the dock the earbuds will automatically start charging and continue charging in your pocket or bag.
Real World Testing
As a firearms instructor these earbuds have proved to be an incredible tool for me. I can go on the app and adjust the volume on each earbud individually or lock them together and adjust them at the same time. I have found this feature especially handy when running multiple shooting lanes. If the person on the right side of me needs to talk to me I can boost that earbud up a bit while blocking the noise on the left side. I have even been able to listen to music while shooting. You can actually listen to music in one ear and still hear through the other side.
According to Walker the batteries should last up to 14 hours. I started getting low battery alerts after about 8 during testing. This included them sitting out of the charging dock for a few days between three different range sessions though. I think they would hit around 10 hours easily which is still pretty good. There is no reason to not put them in the dock every time your done with them so I don;t think battery life will ever really be an issue for most.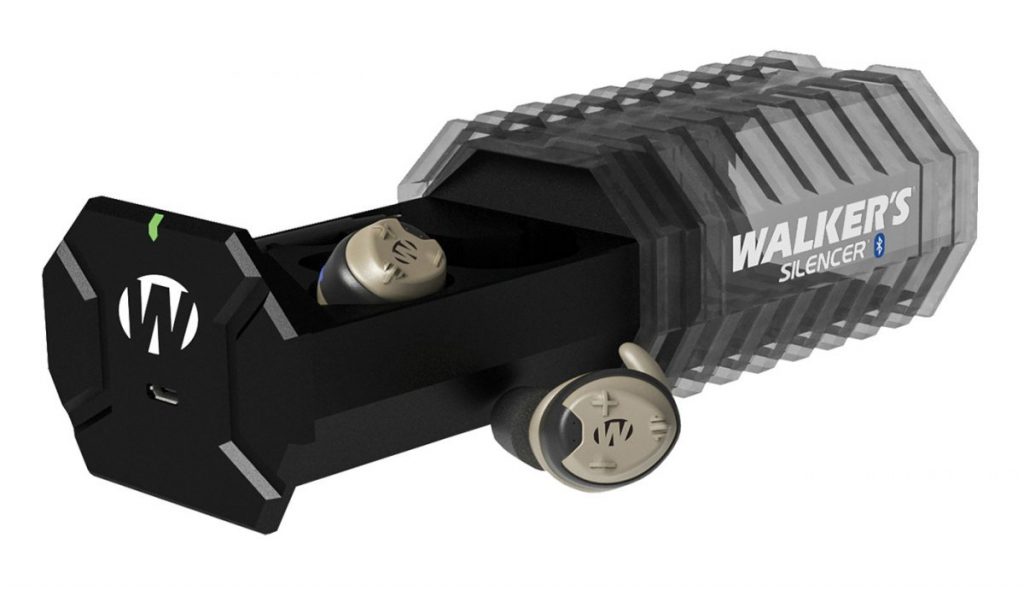 The buttons on the earbuds themselves are a little hard to use. Especially when they are in your ears. You can adjust the volume and programmed settings from the earbuds but I recommend using the app. You have to push the little buttons pretty hard which kind of hurts your ears. If you remove them to push the buttons, you have no idea what program you are in or where the volume level is. This is due to the fact that you must have them in your ears to hear them tell you the program.
So far, I have loved all the features of these earbuds with the exception of the buttons on the actual earbud. With an MSRP of $299.99. The Walker Silencer Bluetooth Rechargeable Earbuds are definitely a bit more pricey than some of other options. But they also offer more than most of those options.