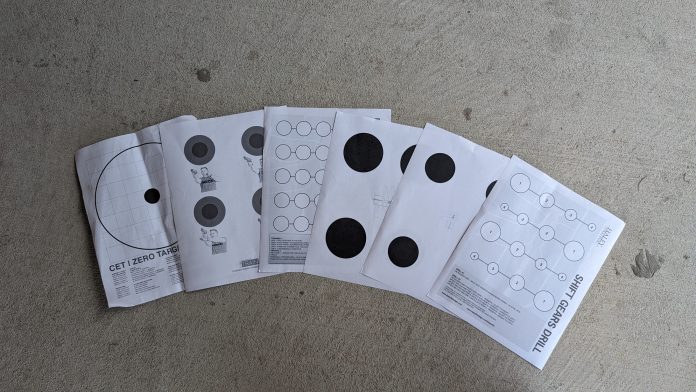 The phrase target package can be quite loaded. When I say Haley Strategic Target package, I'm not referring to a nondescript manilla folder full of information to take out a high-value target. I'm talking about a .zip folder with some printable PDF targets for fun at the range. Well, fun and training. I randomly found these, even though they've apparently been around since 2015ish. I like free stuff, and targets are free as long as you print them at the GAT offices.
What's Inside the Haley Strategic Target Package
The Haley Strategic Target package consists of the following targets:

– Darkness Handheld Techniques Target
– CET I Zero Target
– Feel Eyes Finger Drill
– CET I Kalash Target
– Shift Gears Drill
– Zero Dot Drill
-Zero Dot Drill Carbine
Overall, it's a variety of targets that aim mostly at training. Obviously, the Zero targets are just that, and they tend to be quite handy. The zero targets have quickly become my new favorite zero-target option. Now, instead of buying the bulk brand Walmart variants, I can just print a few with each new optic I have to test.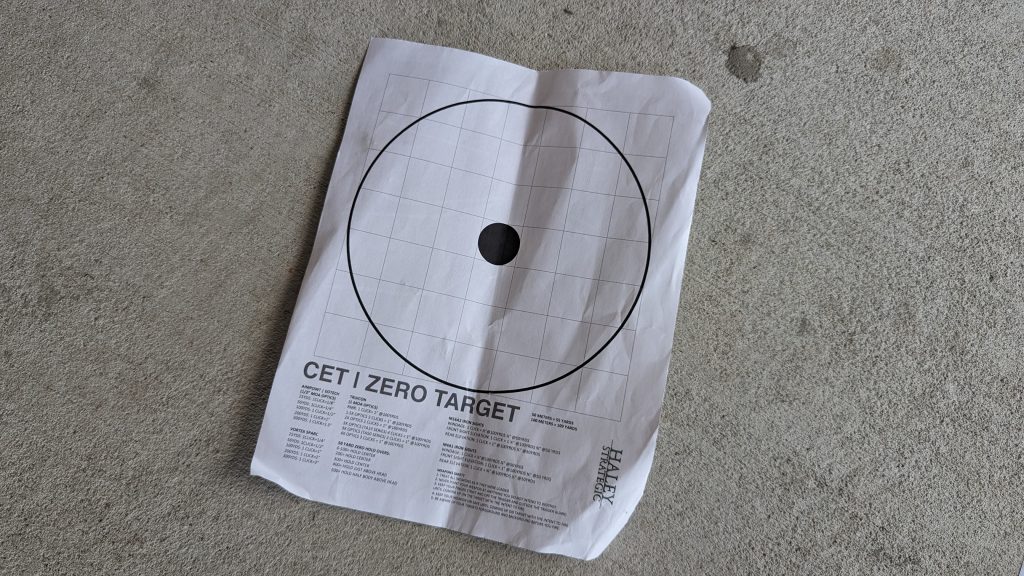 I printed all of these, but the Kalash model. I don't have a Kalash I need to zero. Each target can be used for a variety of training drills, but a few have designated drills that are interesting and dynamic. Let's dive into my favorite.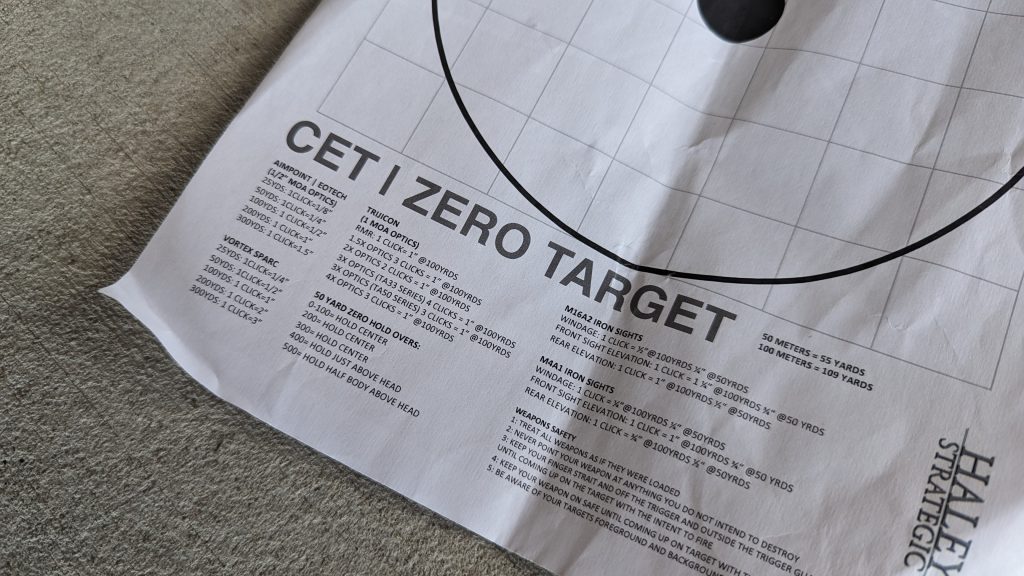 The Feel Eyes Finger Drill
This Haley Strategic target is made up of five lines of 1-inch dots. Each line has five dots. There are three ways listed to train with this drill. I'll just cover the first today.
The first method of training uses all five lines, starting from the top and working your way down. This drill is started at three yards, and experienced shooters can step it out to seven yards. This portion is all about training.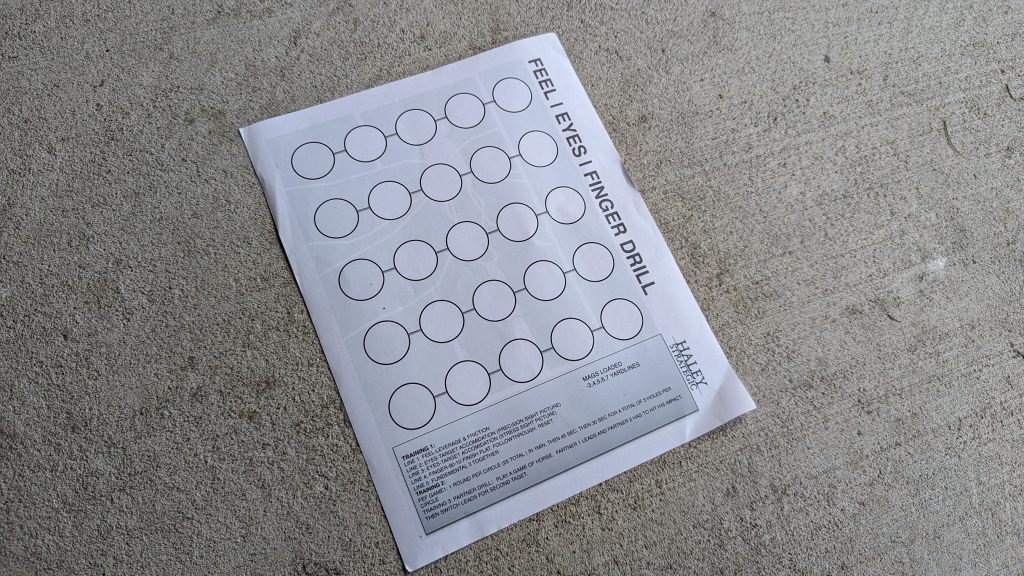 Line 1 Feel – This line has you focusing on the leverage and friction of your grip. Place the carpal of your support hand into the metacarpal of your firing hand. Squeeze the palms together. Fire one round per dot, focusing on pulling the trigger perfectly to the rear.
Line 2 Eyes – Here, we focus on establishing a perfect sight picture. A precision sight picture. Fire one round per dot.
Line 3 Eyes V2 – Here, we are going to use a stress sight picture. With this sight picture, we align the sights but focus on the threat. Our threat is clear, and our sights are blurry. Fire one shot per dot.
Line 4 Finger – This uses the Haley Strategic 90-10-Finish principle. This principle states we pull the trigger as flat as possible, directly to the rear. The first 90 percent is important, but not as important as the last 10%. For the last 10%, practice pulling it to the rear without disruption. Shoot each dot one time using this technique.
Line 5 Finisher – Combine all of the above techniques with your sight picture of choice and shoot the final five targets.
Going Beyond
That's my favorite of the Haley Strategic target package, but it's not the only one. The Changing Gears are fun to improve speed and precision, and the Zero Dot drills are great for figuring out your natural point of aim.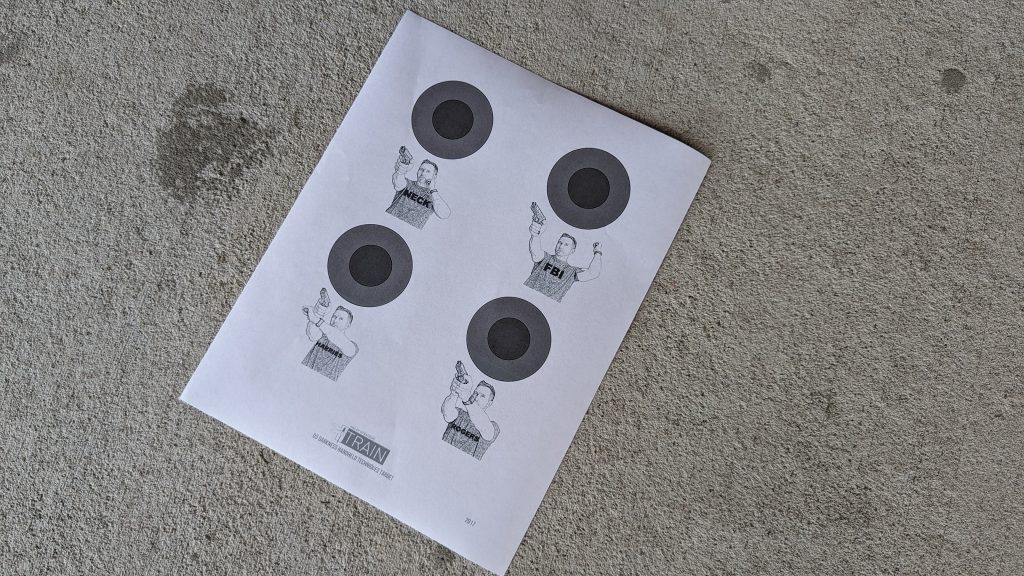 The Darkness Handheld Techniques Target has you trying the various light holds available while shooting small targets. It's plenty of fun, especially since I've been practicing my handheld light practice a good bit. Check out the Haley Strategic Target here and get after it.