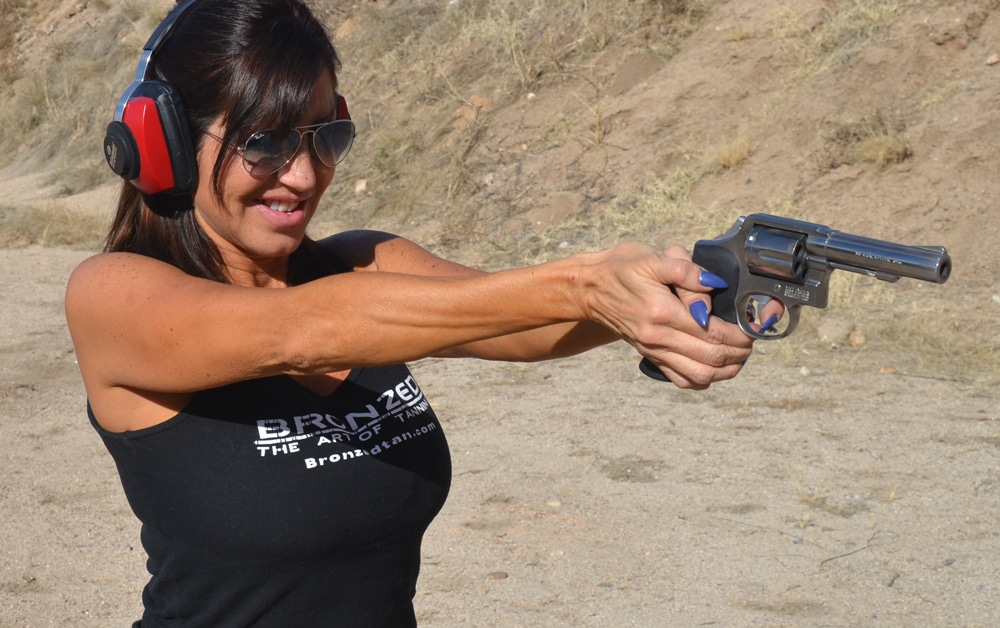 A friend of mine decided she wanted a revolver for her growing collection, so off we went the Small Arms Review gun show at the Arizona State Fair Grounds to see what we could find.
We had our sights on a stainless steel, 4-inch revolover chambered in .357 magnum or .38 SPL, but for $350. After wandering aisles for hours, we found it. Perfect match. A .38 Special revolver, 4-inch barrel, Hogue grips,  2-pounds of polished stainless steel, and a double-action only trigger — the Smith & Wesson Model 64 for less than 300 bucks!
A quick inspection revealed that the gun was likely 30-years old and traveled a great deal in its time. Based on some of the markings — "MOD 64" and "NY-1" stamped on the cylinder yoke cut-out — put it with some 5,500 guns delivered to the New York City Police Department in the late 80s and early 90s.
And the markings and wear explain a lot about its life. In the 1980s a lot of police departments — the NYPD included — required officers to qualify with a firearm only once a year, so judging by the scuff marks and worn areas, it likely spent the rest of its life inside a holster.
Although it suffered a few cosmetic issues — worn grips and holster wear on the barrel and cylinder — the bore was bright and clean with hardly any wear and at $299, it was too good to pass up.
The bobbed hammer makes this a DAO revolver with a heavier trigger pull. Certainly manageable even for a woman with small hands, but could still be difficult. Changing the Power Rib Mainspring will help reduce pull weight and is fortunately a fairly minor bit of gunsmithing.
Chambered in .38 S&W Special, it's good compromise between stopping power, recoil and cost. One thing to note, though, there is a .38 S&W cartridge and a .38 S&W Special cartridge, and they are not interchangeable.
Shooting the Model 64 is a joy because of the weight the recoil is easily manageable and as mentioned before the trigger is very heavy but it does not have any slack in it and has a nice clean break, with a little work it can be much better.
The sights on this revolver leave a lot to be desired with a groove on top of the receiver and fixed blade on the barrel making proper sight alignment difficult for me at distances over 15 feet, but at home defense distances they are fine.
The Smith & Wesson Model 64 is an excellent revolver for both new and experienced shooters. Iconic Smith & Wesson quality and lots of replacement parts available make it a great value. New models are still available with many of the same features, but for about double the price of a used model. The company lists MSRP as $689.
Source Article from http://www.guns.com/review/2015/02/10/gun-review-in-a-buyers-market-the-smith-wesson-64-reigns-supreme/