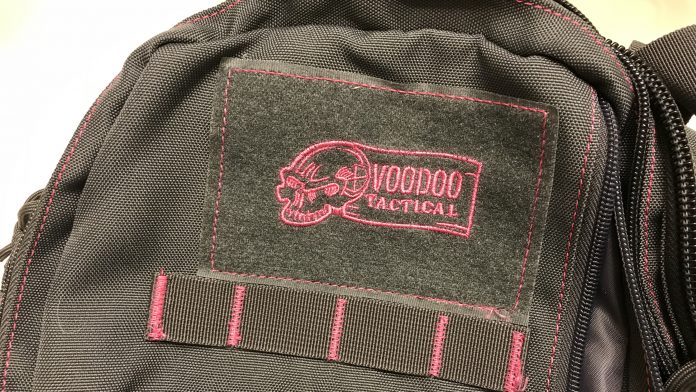 For our 2nd Quarter Member Appreciation Giveaway, we gave an AG & AG member this backpack from our friends at Voodoo Tactical. In this article, Dr. Kathy gives it her review:
I have been eyeing this bag ever since I saw it at SHOT Show in January. I finally got my hands on one, and wanted to give you a review, so here we go. I ordered this backpack from GunGoddess. The checkout process was easy and painless – I even used some of my rewards points, so I got it for 20% off and free shipping! The box arrived on my front porch in two days, and boy was I excited!
I first have to say that there is nothing "Mini" about the Mini Tobago. This is not a tiny bag. It's still definitely a daypack, and not a weekend pack, but there are plentiful pockets, and zippered compartments to keep all kinds of gear organized.
I ordered the version that was gray with pink stitching, and it is much prettier in person than the photos online. I have a Voodoo Tactical bright pink range bag, and although I love that bag and have gotten lots of use from it, this backpack is beautiful in a more subdued and subtle way. It's still a little feminine, but it just doesn't scream about it, like the hot pink bag does.
This bag does have plenty of features that scream "badass" though – LOL – like accommodating a hydration system (which I don't currently have, but have been meaning to investigate). The bag itself is made of heavy pack cloth (unlike the stinky vinyl type cheapo bags out there). There are heavy duty zippers with paracord pulls, multiple exterior pockets, and the pack is covered all over with webbing so you can attach exterior accessory pockets/bags if you wish. I may eventually do that with my trauma kit to make it more easily accessible.
There are mesh zippered interior pockets, and two of what I call "administrative panels", (I'm not sure what you really call them.) You know – the place that has all the pen sleeves, and mini flapped or zipper pockets so you don't lose your chapstick and your cough drops and your keys? Yeah that. There's TWO of them. There is no dedicated key clip, but my keys are on a carabiner, so they were easily clipped to one of the several paracord interior zipper pulls, for ease of access. The exterior pockets and main compartment also have drain grommets at the bottom of each. I HOPE I don't ever need those, but for those who do – this bag is prepared.
I hadn't originally planned on using this backpack as a range bag, but since I had an IDPA match the day after the pack arrived, I thought I would give it a test run that way anyhow, just to see.
Pictured is the gear I took to the match. As you can see in the photos, just the bottom front pocket compartments held 4 magazines and 200 rounds of 9mm ammo. Granted, it was those little compact boxes of Sellier & Bellot, but 200 rounds is 200 rounds. The upper front compartment was roomy enough for my knife, a pen, my Surefire flashlight, sunscreen, hand wipes, a rain poncho, plus unused space. The main compartment held my pistol case, trauma kit, eye and ear pro, holster, and mag pouches. There was a still some room to spare there as well. The side pockets held my belt, snacks, and a water bottle. Actually, after I took the photo, I decided that since I was going to wear the belt anyway, I'd replace it in the side pouch with a second water bottle.
Though as I mentioned before, I was not originally planning to use this pack as a range bag, it nonetheless proved its storage capacity and weight-bearing capacity for me during this test. I usually struggle a bit with managing the weight and awkwardness of my heavy range bag – even with a shoulder strap. With this pack, between the top handle and the shoulder straps, lugging my gear around turned out not to be "lugging" at all. My shoulder didn't hurt, and I didn't have to hold my hip at an odd angle to balance the load, like I do for my regular range bag. The weight rested easily on my shoulders via the heavily padded shoulder straps. The area of the pack that rests against one's lower back was also heavily padded. I had zero discomfort handling this pack all day. I'm even thinking this might become my new SHOT Show bag.
For a second test, I decided to take this bag for a day outing on a tour boat. The pack accommodated a soft insulated cooler – containing my shrimp, pasta salad, homemade bread, and wine slushie (I was treating myself for Independence Day), a shemaugh and bandana (for tablecloth and napkin), and extra water bottles, with room to spare.
For a third test, I took this pack for a state park trail hike, and then a lake beach stop. The pack easily held two water bottles, my lunch, park maps, beach blanket, etc. As well as the knife, flashlight, hand wipes and other miscellaneous "be prepared" supplies that I left in the pack from the last range trip. The padded shoulder straps were quite comfortable during my hike, and the adjustable chest strap/buckle ensured that the straps didn't slip around.
My final analysis is that the Voodoo Tactical Mini Tobago Pack has proven itself to be a great all-around, multi-purpose day pack. It is sturdy and roomy, without being so oversized as to be unwieldy for grab-and-go use. But it also has the features of a much larger "tactical" pack, making it capable and organized where other daypacks fail. I give it two enthusiastic thumbs up.
SOURCE ARTICLE: https://www.agirlandagun.org/gear-review-voodoo-tactical-mini-tobago-backpack/