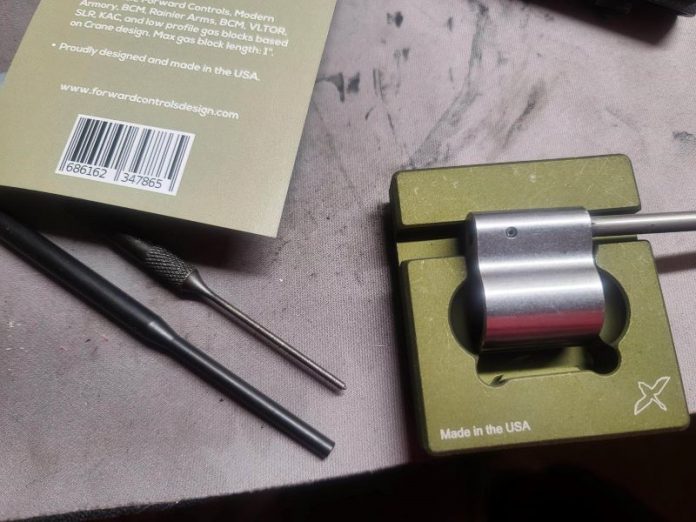 Installing and removing an AR-15 Gas tube pin can be a pain. The difficulty is mainly due to the gas tube and gas block being the main area for carbon build up. Now put a super small pin into that gas block and you have at home gunsmithing problems. Punching this pin out without the proper tools often leads to broken punches and a lot of frustration. Thankfully, there are some tips and tricks for doing this as well as some nifty tools, such as the Forward Controls Gas Tube Pin Removal Tool.
The largest obstacle when it comes to punching out that small 5/64″ roll pin (or spring pin dependent on the manufacturer) is that you can't get a flat surface to rest the awkward barrel and low profile gas block on. Every time you punch on the pin that barrel will roll, thus leading to an angled hit of the hammer and often a bent/broken punch. The Gas Tube Pin Tool from Forward Controls Design helps with that. This tool is basically a jig that you can rest your barrel and gas block in while punching out the pin. There is a spot for the pin to fall into as you're punching and the jig will fit most low profile gas blocks.
The GPT is a small and lightweight jig that won't take up a lot of room on your bench and honestly, is nice to look at as Forward Controls Cerakote guys do a great job. It is strong and will handle a hit from your hammer (we all miss sometimes it's okay) as it is Machined in 6061 aluminum and Type III hard coat anodized.
This tool will help with installation of the gas tube pin as well.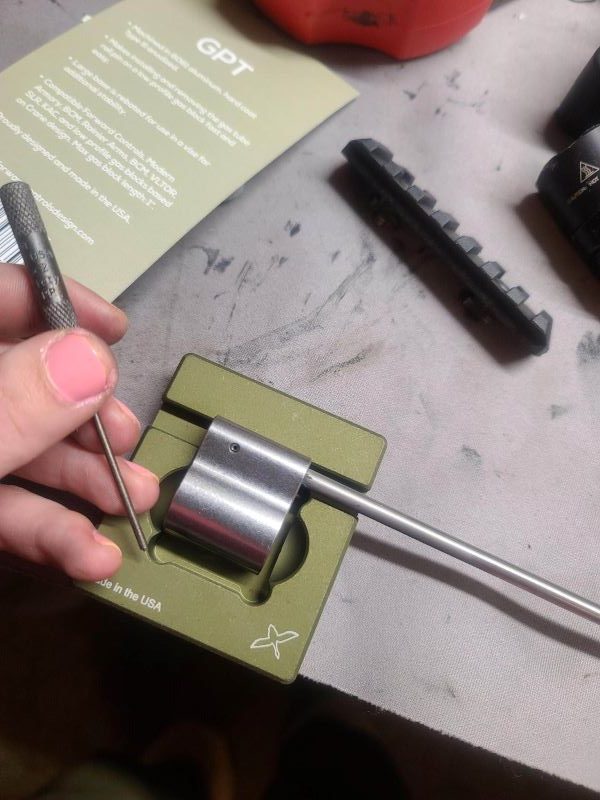 Note: This tool was made with in collaboration with Modern Armory. They have their own version however it looks like it is no longer being made as it is unavailable everywhere.
Features
Can be clamped into a vise due to a rebated base.
Rounded corners and edges for easy holding
Scalloped finger recesses to hold the gas block into the jig
Green color to allow a black gas block to stand out
Compatible with most gas blocks including Modern Armory, our GBF (Gas Block, Forward Controls), BCM, Rainier, VLTOR, Knight's Armament, Badger Ordnance, Daniel Defense, SLR, or other low profile gas blocks based on the original Crane design. Known incompatible low profile gas blocks: Aero, Luth AR, and DPMS, and adjustable gas blocks.
Specs
Price: $45.00
Color Options: Cerakote FDE, Cerakote Burnt Bronze, Cerakote Goose Grey, ODG
Machined in 6061 aluminum
Fits Most Low Profile Gas Blocks- MAX gas block length: 1.00, MAX gas block height: 1.35
Made in the USA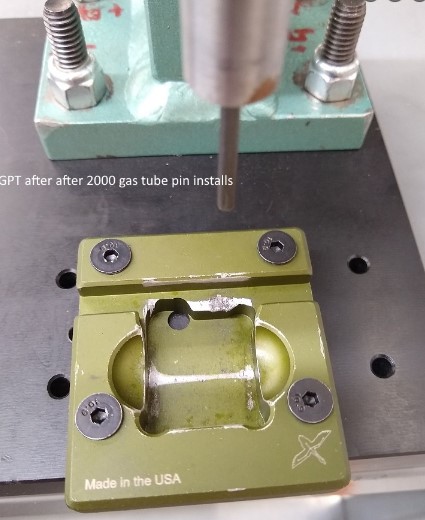 How to Properly Remove the Gas Tube Pin
Below is a video from School of the American Rifle on properly removing a gas tube from the gas block using the GPT. The biggest thing to take away from this video and know when doing this install/removal is that the proper punches need to be used. The proper punches being a starter punch and a nippled roll pin punch. Start with a strong starter punch that is not immediately tapered as this will get stuck inside the hole. After the carbon is broken up a bit from those first hits then you can move to your very small and easy breakable 5/64ths nippled punch.
When installing the pin into the gas block a roll pin starter punch will be needed. This punch is hollowed out at the end so that small pins can sit into the punch. Instead of you trying to hold the pin with your fingers or pliers, the roll pin starter punch does it for you.
If the proper punches, including sizes of punches, are not used
the punch can break inside the roll pin.
the roll pin can start to bend over itself and collapse inside the block, or mushroom out of the block. This makes the pin unusable and makes the pin harder to remove.
the punch can bend, and you will often continue to try with this bent punch, and then it will break. If a punch is bent it is already weakened and will most likely break on the next couple hits
Some armorers will also put CLP or lubrication inside the hole to get carbon moving and let it soak for a bit before moving forward with the removal of the pin.
Pro Tip: When removing a gas tube pin it is in your best interest to have an extra pin on hand as the pins often get damaged during removal because they are so small and thin. It is a small purchase that can be a lifesaver.
To purchase and for more information visit ForwardControlsDesign.com