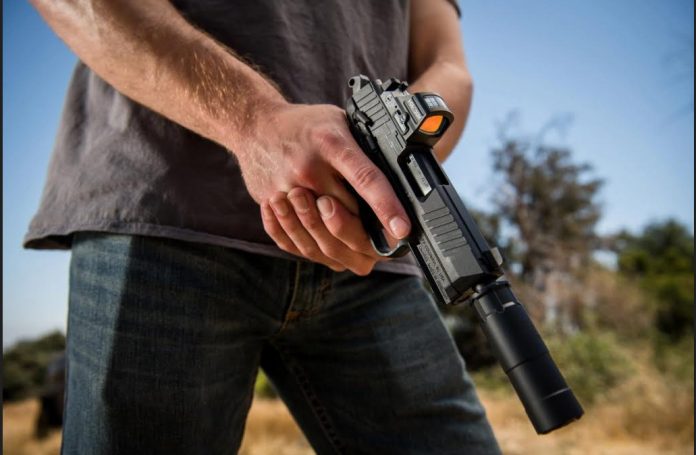 Some handguns are versatile and perform many chores. Some are more specialized. A 9mm or .45 gets a lot done a .44 Magnum or a .22 is useful in a more narrow range of duty. A must have firearm for all of us is a .22 caliber pistol. For training in marksmanship the .22 works well and it is useful even in some forms of tactical training. You may test any number of concepts on the cheap with a good .22 caliber pistol. A .22 for plinking may be a minimal even cheap pistol. A firearm for target shooting must be capable of greater accuracy. A .22 for tactical training should ideally mimic a defensive center fire closely as possible. The FN 502 is a well made pistol and tactical trainer. It is clearly accurate enough for target work. I have taken small game with firearms much less accurate.
The pistol is similar to FN's 9mm handguns in appearance. The pistol features a suppressor ready barrel and optics cut in the same manner as FN's center fire handguns. Unlike many modern pistols the FN is hammer fired.  It takes considerable force to reliably ignite rimfire priming compound. The hammer fired pistol seems a good idea. The 502 features a rowel hammer and ambidextrous safety levers. The grip is compact. Two magazines are supplied, a flush fit 10 round magazine and extended 14 round magazine.
Disassembly is simple enough. Unload the pistol and remove the magazine. Lock the slide to the rear and check the chamber. The takedown lever, located in front of the slide lock, is rotated to release the slide. While the pistol is a simple blowback action the barrel is not fixed and may be removed from the slide along with the recoil rod and spring. The pistol seems well made of good material. The utility of a .22 caliber handgun for practice is a valid modern concept. The pistol allows firing drills that would be more expensive with centerfire ammunition. While this is true it is also true that a good quality .22 opens the door to a world of shooting opportunity. Plinking and small game hunting are among these. The FN 502 is accurate enough for any of these pursuits. I originally purchased the FN 502 based on experience with other FN products. The pistol is a little pricey for a rimfire handgun but performance simply cannot be faulted. Reliability and accuracy are well above average. The forged steel barrel is 4.6 inch long. Lightweight material is used in the pistol's construction. Heavy steel isn't needed for a .22 pistol. The handle is similar to the FN 509 9mm compact. The grip treatment makes for an excellent gripping surface. The pistol features a threaded barrel with thread protector.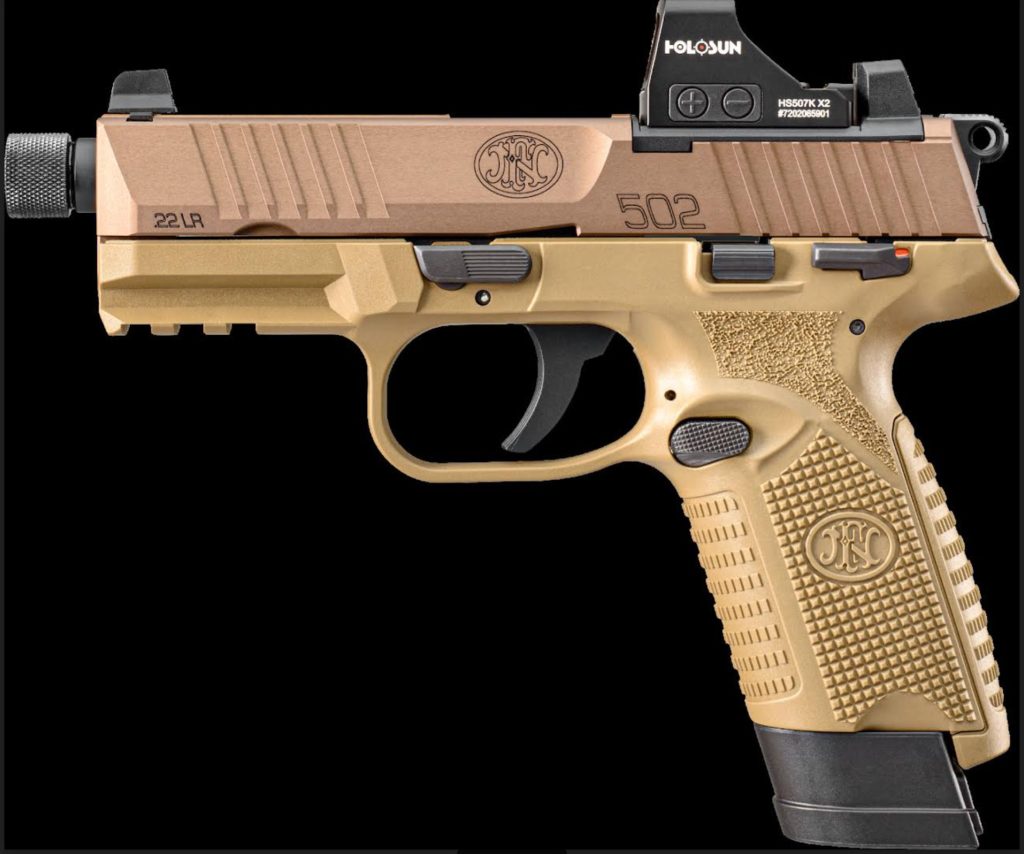 I have fired the FN 502 extensively without a single failure to feed chamber fire or eject. This is a record for a rimfire of any type as the rimfire's priming and heel based bullets are not models of reliability. Due to the pistol's tall suppressor ready sights the pistol fires high. There is no easy fix save changing out sights. I would recommend XS sights for fixed sight use. Magazines are easily loaded featuring a button that depresses the follower. Load the magazines one cartridge carefully making certain they are loaded properly.  Don't hold the follower down and dump ammunition into the magazine.
Since the pistol was reliable and quite accurate I felt it was worth mounting a red dot sight. I mounted the Meopta MeoSight IV red dot. Using one of the pistol's supplied plates I mounted the Docter foot print MeoSight. After a minimal effort in sighting in I had much superior speed and accuracy compared to the fixed sights.  Using the dimmest dot setting at 25 yards I was able to fire several groups of 1.5 inch for five shots. This is an excellent level of accuracy for the finest handgun and unexpected in a .22 rimfire. But then a fixed barrel good sights and trigger and a heavy pistol make for good accuracy. The pistol has proven accurate with a range of good quality ammunition. I have fired the least expensive bulk ammunition with good results and good quality loads such as the CCI Mini Mag with excellent results. This is a good handgun well worth its price.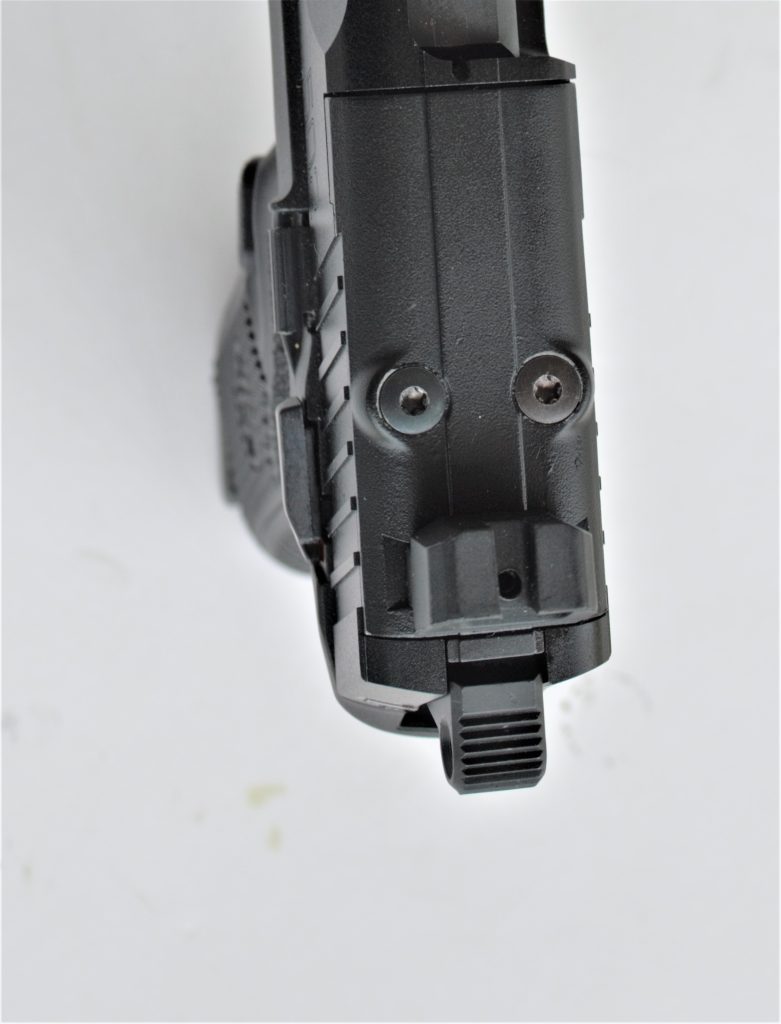 MeoSight IV
Magnification – 1x
Objective Diameter (mm) – 24×17
Dot Size – 3 MOA
Battery – Cr1632 3V
Battery Lifetime (hours) – 30,000
Transmission – ≥ 80%
Impact per Click (in/100 yds) – 1.04
Impact per Click (MOA) – 1
Elevation Range (in/100 yds) – 126
Elevation Range (MOA) – 120
Windage Range (in/100 yds) – 126
Windage Range (MOA) – 120
Length (inches) – 1.89
Depth (inches) – 1.41
Width (inches) – 1.22
Weight (ounces) – 1.2
Anti-Reflective Coating – Yes
Anti-Scratch Coating – Yes
Hydrophobic Coating – Yes
FN 502 Specifications
CALIBER: .22 LR
OPERATION: Single Action Only
MAG CAPACITY: 10 or 15 Rd.
SIGHTS: suppressor/optics-height iron sights with optics-ready slide
WEIGHT: 23.7 oz.
BARREL: 4.6″ threaded 1/2×28″
OVERALL LENGTH: 7.6″
HEIGHT: 5.8"
WIDTH: 1.4"
FINISH: all-black or all-FDE
TRIGGER PULL: 4.0 lbs