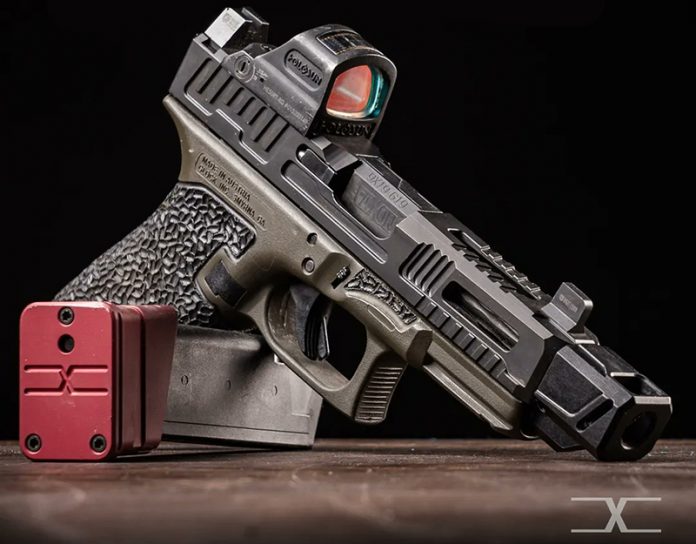 There's been a resurgence in pistol compensators this year as a few manufacturers have come out with options for various handgun models.
Faxon Firearms tells us in their latest press release,
"Anything improving pistol accuracy is worth checking out."
That said, they'd like you take a look at one of the newest pistol comps to hit the market: the Faxon Firearms EXOS.
BLUF: You can get one online here: https://faxonfirearms.com/handgun-parts/compensators/
From the Faxon release.
Faxon EXOS | Is It The Best Pistol Compensator?
Constructed of black anodized 6061 Aluminum, the Faxon EXOS features an angled front port single chamber design, enabling the compensator to improve shot-to-shot accuracy by reducing muzzle climb and recoil.
This specially designed port design allows gas to deflect upwards as opposed to only deflecting to the sides, reducing the up-and-down muzzle movement and allowing your sights to reset on target much faster.
The Faxon EXOS Pistol Compensator is designed to fit flush with the slide and has been optimized for Faxon match-grade pistol barrels. For all other threaded pistol barrels, the barrel should protrude .600″ or less for a flush fit.
Compatible Hosts For The Faxon EXOS Pistol Comp
All Glock Gen 5 Pistols
Glock 19/17/34 Gen 4
Glock 19/17/34 Gen 3
Glock 43/43x
Glock 48
SIG P365/P365XL
SIG P320
M&P Shield/Shield Plus
M&P Full Size Pistols
Faxon FX19 Pistols
Each EXOS pistol compensator comes complete with thread locker, two 6-32 set screws, and a 1/16 Allen wrench.
Best Pistol Compensator For Concealed Carry
If you want to add a compensator to your concealed carry pistol, the Faxon EXOS Comp is a great choice.
Concealed carry holsters are often not too forgiving when it comes to pistol compensators. The EXOS Comp addresses these issues with its low-profile design that mimics the profile of the pistol's slide.
The EXOS will work with any open-ended holster designed for your pistol. Even IWB holsters can work comfortably with this compensator.
Conclusion
The Faxon Firearms EXOS is one of the best pistol compensators to hit the market.
Granted it's not the only player in town, but its unique port design, ease of installation, and performance have put the competition on its heels.