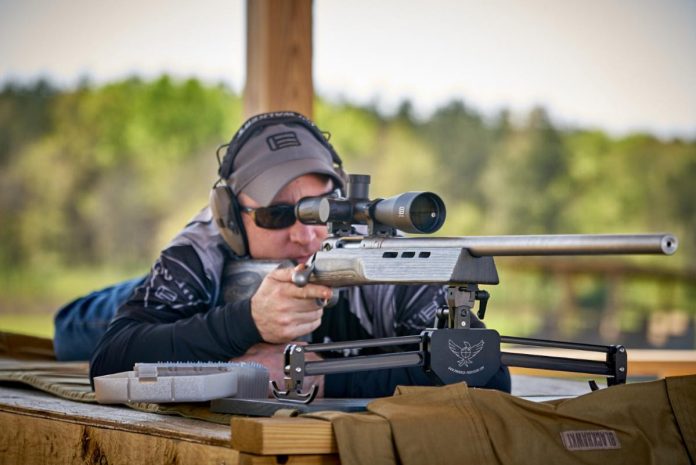 Ann Arbor, MI (June 24, 2021) – Winning the long-range game requires an outstanding optic – one that's powerful, bright and robust. Say hello to the EOTECH Vudu 8-32×50 SFP riflescope. Its formidable 32x magnification builds confidence, providing a large, bright target image. Its competition-grade turrets with easy-to-read MOA adjustments and zero stop are perfect for rapid, repeatable adjustments. The Vudu 8-32×50 SFP riflescope delivers features F-Class, benchrest and varmint shooters love. And like all EOTECH optics, the Vudu 8-32×50 SFP will endure the rigors of everyday professional use.
High-magnification optics like the Vudu 8-32x require the best glass and a large objective lens for optimal light transmission. Vudu uses multi-coated XC™ High-Density (HD) glass delivering edge-to-edge clarity and unparalleled light transmission and color reproduction. The combination provides vivid views at any power.
The 8-32x features the HC2, MOA-based, hashmark reticle that was designed for the precision long-range shooter. The non-illuminated crosshairs allow for elevation and windage correction, while the ultra-small center aiming dot (0.15MOA at 32X) provides the utmost accuracy.
EZ-Clik™ competition height turrets, calibrated in .125 MOA (1/8" per click @ 100 yards), add exact dialing for dead-on holds; easy-to-read scales provide repeatable and surgically precise adjustments while its EZ Chek (zero stop) enables rapid turret resets. A large, 34mm main tube allows up to 100 MOA elevation and 80 MOA windage adjustment, necessary for dialing drop and wind at extreme distances. A side-mounted parallax adjustment dial fine-tunes the reticle focus while observing the target. Its one-piece eyepiece and included throw-lever offers fast and fluid transitions from low to high magnification.
Vudu Scopes feature an aircraft-grade aluminum main tube with a hard-anodized, durable finish, creating a lightweight riflescope in a tough-as-nails, waterproof package. Each riflescope passes substantial environmental testing, ensuring unsurpassed durability in all conditions.
Building confidence, this lightweight powerhouse packs match-winning long-range features into a mission-ready package. Competitors trust the Vudu 8-32×50 SFP for accuracy and consistency in matches won by thousandths of an inch.
Vudu® 8-32×50 SFP Scope Features:
32x magnification for pinpoint holds; 4x magnification range (8-32x)
Generous eye-relief
50 mm objective for increased light transmission
One-piece eyepiece for easy magnification adjustments
Competition-grade turrets with easy-to-read MOA adjustments and EZ Chek (zero-stop)
Side-mount parallax adjustment
Ultra-small aiming dot (0.15MOA @ 32X)
Includes: sunshade, throw lever, lens cloth, Allen wrench, product user and reticle manuals
Vudu® 8-32×50 SFP Scope Specifications:
Magnification: 8x – 32x
Objective Lens: 50mm
Focal Plane – Second Focal Plane
Eye Relief 8x: 86-98 mm; (3.39-3.86 in.); 32x: 89-98 mm (3.50-3.86 in.)
Exit Pupil 8x: 5.3 mm (.21 in.); 32x: 1.6 mm (.06 in.)
Field-Of-View (Degrees) 8x: 2.53 degrees; 32x: 0.63 degree
Field-Of-View (@100 Yards) 8x: 4.0 m (13.2 ft.); 32x: 1.0 m (3.3 ft.)
Elevation Travel: 100 MOA
Windage Travel: 80 MOA
Exterior Finish: Flat Black; Type III anodized
Overall Length 392mm (15.4 in)
Weight 930 g (32.8 oz)
Tube Diameter 34mm