Located at the New Holland Pistol and Rifle Club (NHPRC) in Gap, Pennsylvania, the Isreal Weapon Industries (IWI) Gas Gun Challenge gives shooters the opportunity to shoot out to 700 yds with their gas gun off of props, modified prone, and some build your own position stages.
Sponsorship
With IWI being the title sponsor for this match series and a ton of other LARGE companies coming on to support this is looking to be a very successful year. Not only do sponsors allow the Match Director to have some added equipment to run their match well, but they also can help fill the prize table. This is a great place for newer shooters to have the oppourtunity to see or hopefully grab some equipment they need to be successful on their precision journey. Thank you to the sponsors listed below to help make the east coast matches a success.
Isreal Weapon Systems Title Sponsor, Magpul, Vortex, Timney, True North Concepts, Coltac, Warne, Kestrel, Keystone Munitions, Patriot Valley Arms
Note: This series used to be sponsored by Giessele so when searching you may see "Giessele Gas Gun Challenge" that is this match however those are previous years and now it is IWI Gas Gun Challenge 2022.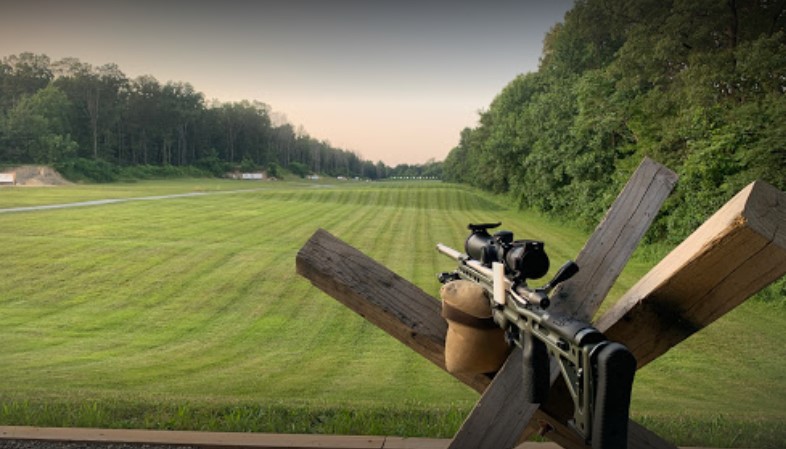 The Rules and Classes
2022 IWI Gas Gun Series (OPEN/DMR/RECCE)
Entry Fee: $30.00
Shooter sign-in 8:00 am
Safety Brief 8:30 am
This Competition is designed for the AR or other Semi-Auto rifles.
Open Division (Sniper Class Rifle):
Open Division rifles will not exceed .30 caliber or velocity over 3,200 fps. No other restrictions in this class.
DMR Division (Designated Marksman Rifle):
Intended to allow competitors the opportunity to compete using traditional military and law enforcement gas guns in caliber .223/5.56 or .308/7.62×51. This promotes Active Duty military and law enforcement competitors use of their Service and Department issued rifles.

RECCE Division (Light Reconnaissance Rifle):
Intended to allow competitors the opportunity to compete using traditional military and law enforcement gas guns in caliber .223/5.56. This promotes Active Duty military and law enforcement competitors use of their Service and Department issued rifles.
The courses of fire range from 100 to 700 yards. The stages have restricted round counts and time limits. Stages may require pistols – this will be promoted prior to the match. The stages typically require safe movement, non-standard firing positions, moving targets and varying distances.
Targets are steel, moving and reactive.
Since this is a sponsored series, prizes are awarded at matches to shooters in each class, with expensive prizes awarded by raffle for attending shooters.FOR ADDITIONAL INFORMATION CONTACT: Robin Gilmore, Match Director – Robin@RobinGilmore.com
To see this information and match date list click here
Pistols
Pistol marksmanship does not grace the precision shooting platform very often so the fact that the IWI Gas Gun matches will throw pistol shooting in is huge. There won't be a lot, and some details are still to be made public such as available points and such, however according to the rules "There are no restrictions on pistol or pistol sights as long as it is safe to operate". So bring what you have and the ammo to shoot it. Also, there will be no drawing from the holster.
For specifics watch the IWI gas gun social media closer to individual matches.
New Shooters
The first match will be the Pro/Am which allows new shooters to experience the match and be coached by pros. It is a great way to begin. The match fees are only a 30 dollar entry fee and registration is open on the practiscore link as we speak. If the match is full, you can try emailing the Match Director or come as a Range Officer which is still a great way to see how to attack the match.
P.S. There may be some pistol stages which a lot of precision series don't include currently.
To sign up click, Match Practiscore. For more information follow their Instagram and Facebook Page and Group.
"- Sign up for all the matches will be handled through Practicescore. The link is in our Bio and we will post the link when each monthly matches opens.
– Round count is roughly 100 rifle and 25 pistol +/- 10%. Clearly bring more, but for planning purposes this what you'll need.
-Shooter brief at 8 am, hot at 9am
We go cold for 1 hour during lunch. At which time pizza and water/soda are brought in for you as the shooter. We schedule this time into the match because we feel building a strong community is key to ensuring our freedoms in this country, state, and city. During this time we encourage you to build camaraderie with others, discuss techniques and gear, and get ready for the second half of the match. Also keep in mind many of our sponsors are there both to shoot and speak with you directly.
– This is a BRAGGING RIGHTS MATCH/Series with some prizes.
– The series consist of 7 total matches with a finale which is the 7th match. – To qualify for the series the shooter must shoot a minimum of 3 matches along with RO'ing one match. Giving back to the sport is just as if not more important than participating. Without the volunteers no shooting sport could make it happen. – Clearly you can shoot all 6 matches and RO one. At which point we would take your highest 3 scores. – Shooters may elect to not participate in the series and just shoot all 7 matches. These shooters just will not qualify for the series. However you might regret that one as there are some solid prizes dedicated to the series prize table.
– Trophies will be awarded to those who are in the series and EARN them
– As stated above shooters from our amazing sponsors may be there. Use this time as an advantage to discuss gear or maybe improvements you can see.
– Keystone Munitions (thanks Jeremy and team) will be on site as well. They will have product onsite for you as competitors at a discount. Please keep in mind they are also shooters so respect them while the match is live.
– Loaner rifles are being built. IWI Zions 5.56, Timney Triggers, Vortex Optics 5-25 MIL, and Keystone Munitions. Rifles will be zeroed at 100 yards and a data card will be provided for that rifle. There are only a handful of these rifles so first come first serve. They are NEW shooters who want to come out and see what this match and shooting discipline all about. You will still pay for the match, but there is no extra charge for using these rifles. You only get this one time. After that it's on you the shooter to purchase the products and come out."
Happy shooting gas gunners! Show what those cartridges and gas guns are capable of.