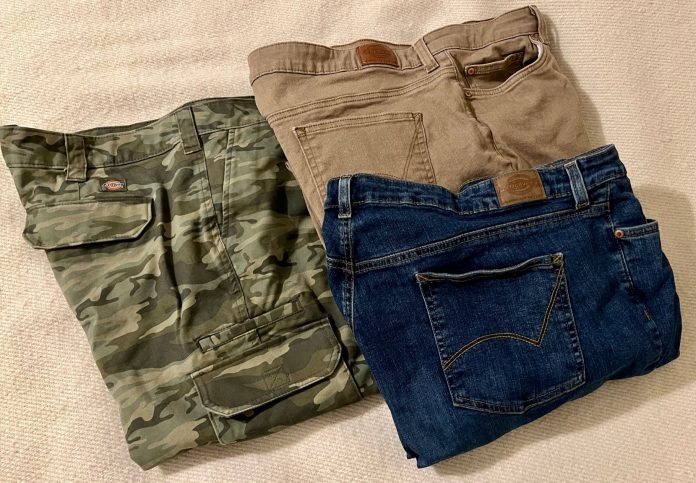 Are you a mature or "plus size" woman who struggles to find jeans/pants that suit her needs? I am, or I "was".
But I have found a brand with consistent sizing and features that I appreciate. You may not think of this brand when contemplating women's fashion. But that's just it – I'm after function, not fashion. That brand is Dickies.
Most people think of Dickies as a men's blue collar brand. That is partially true since the company has been manufacturing workwear since 1918 and is even bigger than Carhart. But while it's true that Dickies makes a lot of work wear, the type of work may range from outdoor farm and mechanical work, to hospital/healthcare scrubs, to even casual office wear, and their line is not men-only.
I first found Dickies at SHOT show several years ago when I decided to try out their women's line of tactical pants for shooting matches. Unfortunately that line no longer exists. Dickies was taken over by VF Corp in 2017, not too long after I wrote that blog post, and they made some changes. Despite the changes however, I continue to be pleased with the fit of Dickies line for women.
Since it can be difficult for we women to find jeans and outdoor wear – especially those of us who have a bit more "real estate" in our bodily portfolios – I decided to write about Dickies again and give them a little more plus-size love.
In years past I had to shop in-person for jeans because the fit was so variable from brand to brand, and even within a brand. But the pandemic being what it was, I basically stopped clothes -shopping in person for two years. When I found myself in need of some new pants this year I wanted to order online and decided to see if Dickies still fit me as well as the tac pants I got a few years ago. The short answer is yes – yes they do. Their 18W still fits me like it did in 2016.
I now own two pairs of Dickies camo jeans, three pairs of regular jeans, and two pairs of khakis for work. These were not provided to me for product endorsement, I bought them for myself with my own cash. I just really, really like them. Allow me to go over the points about these pants that make me happiest.
Size range
The first thing I like is what I mentioned above – the size range. Now, obviously what is "currently available" is going to vary depending upon the season the of the year and what they have in stock. But when I have shopped online I saw women's plus sizes from 16W to 24W. That's better than I have seen in some other brands, and that alone makes me repeat customer.
Real pockets
Raise your hand if you are a woman who actually USES her pants pockets. Yeah, me too. I stopped carrying a purse decades ago. My wallet goes in my front pocket with a chapstick, my keys hang on a carabiner from a belt loop, and a cloth hanky goes in the back pocket. Companies who put microscopic/vestigial pockets in their clothing for women should be boiled in their own pudding, IMO.
These Dickies jeans do not suffer from such shortsightedness. I have largeish hands for a woman, and I can easily get down inside my front pockets.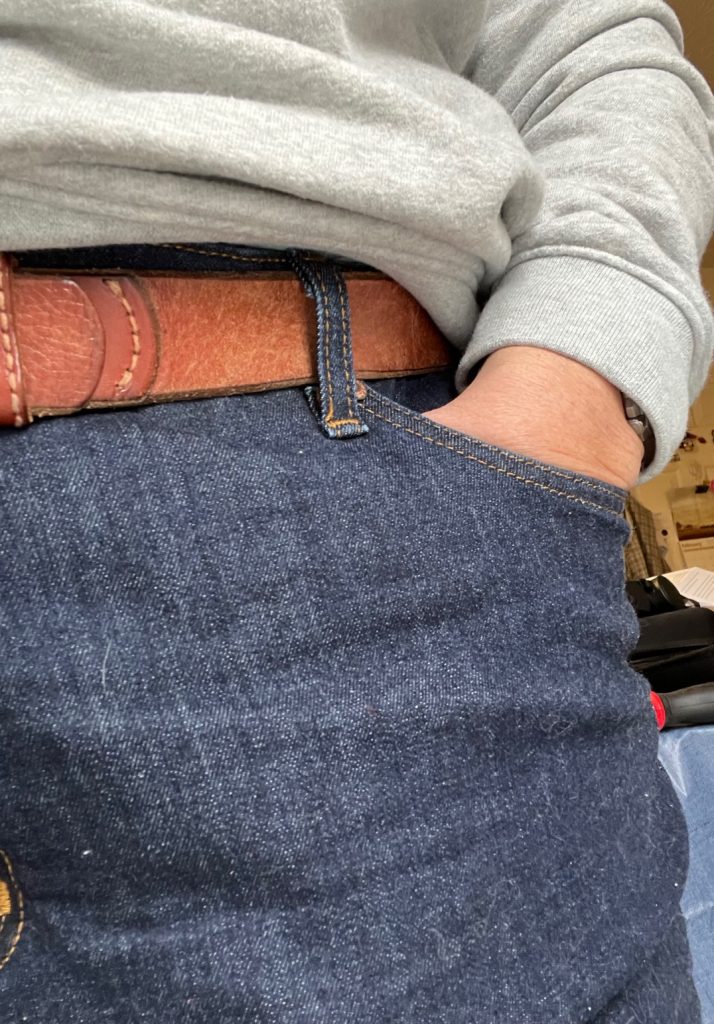 Butt coverage
Pants companies seem to forget where plus size women often carry their Plus-i-tude. Adequate rear coverage is essential, especially for camo pants. I do NOT want to be sitting in a blind and feeling the frost where the sun don't shine. If I try on pants (especially outdoor wear) I always do a deep knee bend first. If that maneuver causes me to feel a draft in the caboose, the pants go right back on the rack. These Dickies passed that test too. And no, I'm not going to show you a photo.
Flexible fabrics
Related to the above, flexible fabrics go a long way to making sure I can crouch down in the weeds, scramble over logs, and otherwise perform the duties that I am outdoors for in the first place. And besides the outdoors, as a pediatrician I often need my khakis to allow me to crouch down to knee level or even kneel on the floor to examine a recalcitrant toddler. I am limited enough by the performance of my own joints, I do not want to have my motion further limited by my gear. Stretch fabrics for the win.
Camo option
And here we come to the cherry on the top of this Dickies Sundae. I was recently delighted to find that they offer a camo cargo pant option in womens plus sizes. Now, this is not a licensed camo pattern for those who are unnaturally attached to their Mossy Oak bedsheets and underwear and who don't mind paying extra for the licensing. But it is camo enough for my needs. I am old, fat, and arthritic enough that the game can hear me coming if I am on a stalk – they don't need to see me to bust me. It doesn't matter what camo pattern I'm wearing. I mostly sit in a blind in the dark – thus wearing camo only because I feel I'm somehow obligated to. If you hunt turkey, ducks, etc, your mileage may vary, but for squirrels and dove and such this ought to be fine. I would rather wear a no-name pattern that actually fits me than a name brand that doesn't even cover my caboose. Heck, my grandfather hunted in red and black plaid.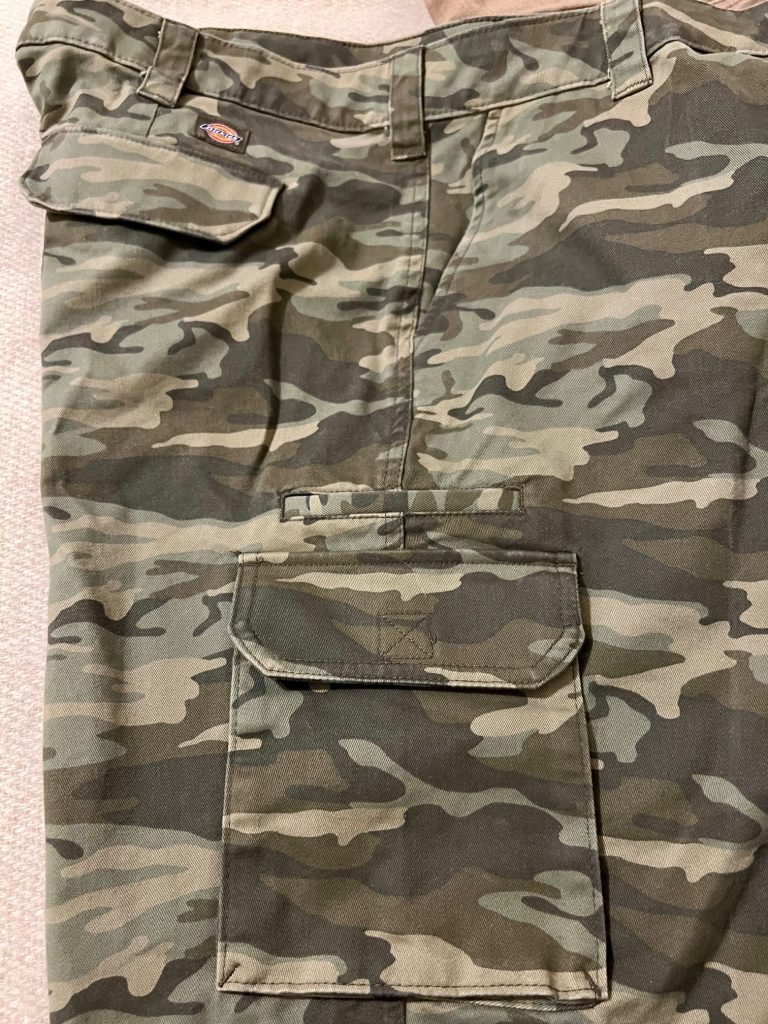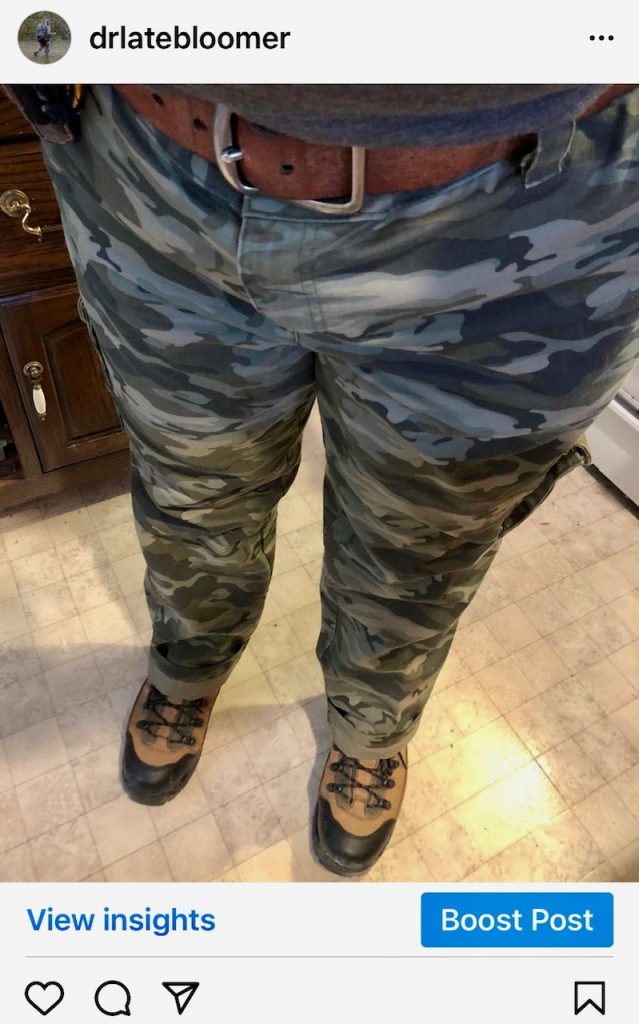 This model of cargo pants is made of the flexible fabric I mentioned above, is a "relaxed fit", and has side cargo pockets and flaps over the back packets. Plenty of space to stick my beef jerky and homemade fruit leather snacks in case I get hungry while I'm checking my game cams.
So there you have it – the reasons I spend my money with this company. If you already have a favorite fit and brand loyalty you like, great. But if you are still searching, you may want to check out Dickies for women.