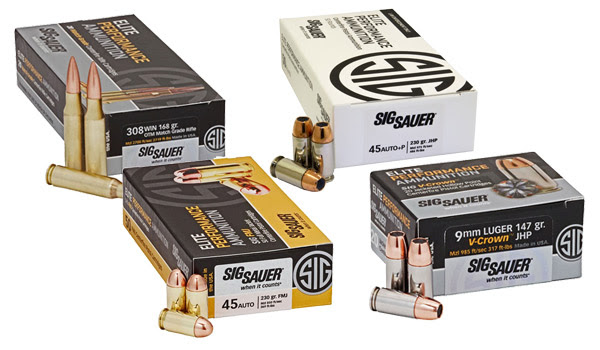 NEWINGTON, N.H., (January 17, 2020) – SIG SAUER, Inc. is pleased to announce a contract to supply ammunition to the Federal Law Enforcement Training Centers (FLETC) for up to $7.5 million.  FLETC is the premier law enforcement training entity operated by the U.S. Department of Homeland Security with locations throughout the U.S.  
"It's an honor for SIG SAUER to be recognized for our capabilities to deliver a wide selection of the highest quality, most precise ammunition to the foremost law enforcement training center in the U.S," said Ron Cohen, President and CEO, SIG SAUER, Inc.
The FLETC ammunition will be manufactured at the state-of-the-art SIG SAUER ammunition manufacturing facility in Jacksonville, Arkansas.

The SIG SAUER Ammunition awarded in the contract is:

SIG SAUER Elite Match Grade rifle cartridges are engineered for precision auto-loading platforms utilizing optimized shell case metallurgy and premium primers, featuring a hollow point bullet and brass casing.  The contract includes: 223REM (77GR) and 308WIN (168GR).
SIG SAUER Elite V-Crown JHP defensive rounds combine perfected material specifications and fine-tuned design innovations, featuring a jacketed hollow point cavity and coated nickel cartridges.  The contract includes:  357MAG (125GR), 357SIG (125GR), 380ACP (90GR), 40 S&W (165GR), 9MM (115GR), and 9MM (147GR). 
SIG SAUER Elite Ball FMJ are designed to match SIG V-Crown ballistics for a more seamless transition from training to carry ammunition, featuring a metal jacketed bullet with a lead core and brass cartridges.  The contract includes: 45AUTO (230GR) and 9MM (124GR).
SIG SAUER Law Enforcement Duty Ammo is a defensive round designed specifically for the demands of law enforcement professionals, featuring a jacketed hollow point cavity, coated nickel cartridges, and are sealed and waterproofed.  The contract includes 45 AUTO +P, JHP (230GR).
About SIG SAUER, Inc.

SIG SAUER, Inc. is  a leading provider and manufacturer of firearms, electro-optics, ammunition, airguns, suppressors, and training. For over 150 years SIG SAUER, Inc. has evolved, and thrived, by blending American ingenuity, German engineering, and Swiss precision. Today, SIG SAUER is synonymous with industry-leading quality and innovation which has made it the brand of choice amongst the U.S. Military, the global defense community, law enforcement, competitive shooters, hunters, and responsible citizens. Additionally, SIG SAUER is the premier provider of elite firearms instruction and tactical training at the SIG SAUER Academy. Headquartered in Newington, New Hampshire, SIG SAUER has almost 2,000 employees across eight locations. For more information about the company and product line visit: sigsauer.com.