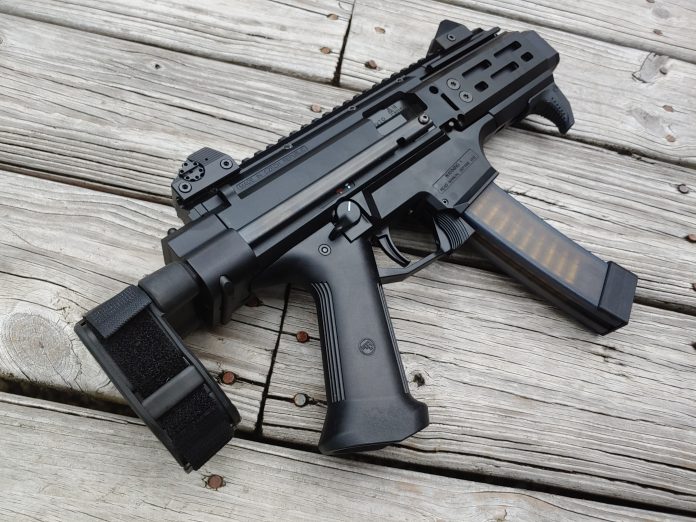 I like CZ for a lot of reasons. I like DA/SA hammer-fired guns for one, I like the affordable price, I like the designs they incorporate. Best of all I like the fact that they listen to their customers. The Scorpion was released a few years ago and the customization machine fired up. One popular mod was the Scorpion K models. These guns featured shorter barrels and handguards making them a compact Scorpion. CZ must've had their ears perked up because a few years later they premiered the Micro Scorpion EVO 3 S2. This replicated most of the Scorpion K model changes, but with few flairs. CZ showed it at 2018 and now it's finally reached store shelves.

What's Changed with the Micro Scorpion?
The CZ Micro Scorpion incorporates a few major changes to the original Scorpion pistol. First, you get the PDW brace that was made as a culminating effort between Manticore Arms, CZ USA, and SB Tactical. This is brace collapses down to a very small size overall and can be deployed with just a pull of the brace.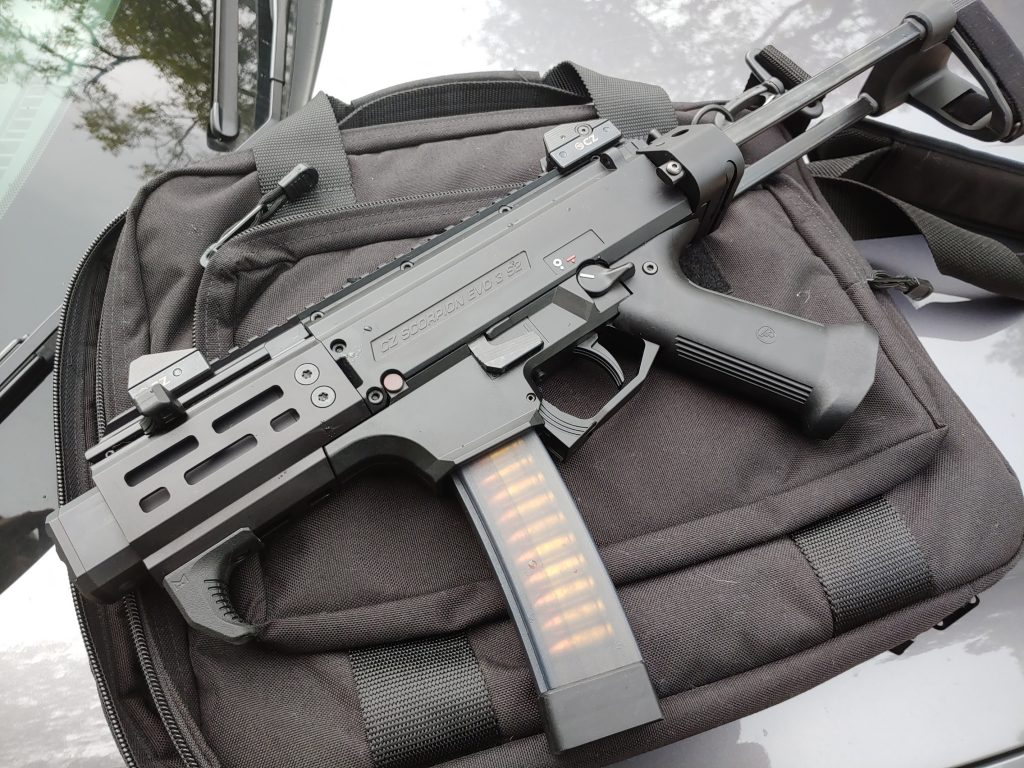 The next change was trimming the barrel from 7.71 inches to 4.12 inches and the barrel is topped with the NoOsprey faux suppressor from SilencerCo. This faux suppressor means there is plenty of room for adding an actual suppressor underneath the handguard. Speaking of, the handguard is a short M-Lok model similar to the models you find on the Scorpion rifles. Lastly, there are only two sling points versus the several for the standard Scorpion.
Deep Dive Into the Micro Scorpion
The Micro Scorpion is a 9mm, semi-automatic, blowback-operated pistol. Yep, it's very PCC like, but legally, of course, it's a pistol. It's quite compact and measures only 16 inches with the brace fully collapsed. The brace has a single setting for length. The weapon is almost entirely ambidextrous. It features an ambidextrous safety, an ambidextrous magazine release, and you can swap charging handles from left to right.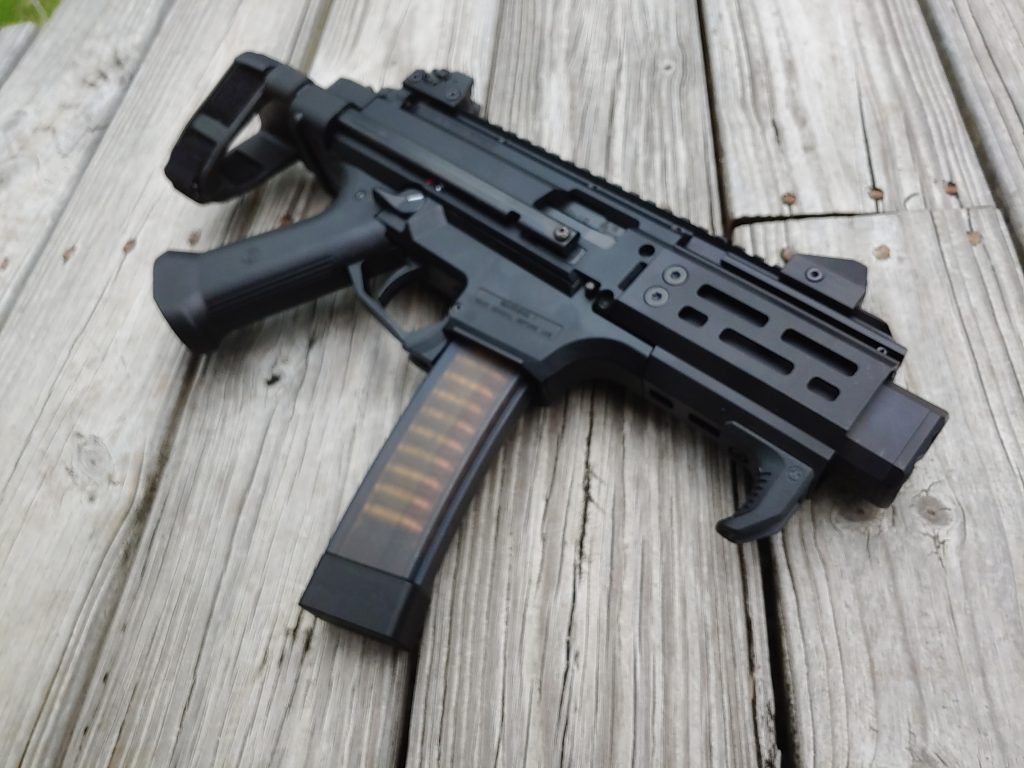 There is also a bolt release accessible to righties. The control that collapses the brace is positioned in the center of the base for the brace. The Scorpion comes with two 20 round magazines, but 30 rounders are also available. These magazines are very affordable, often available for 20 bucks or less. On top of that Manticore Arms makes magazines, and soon Magpul will be releasing some.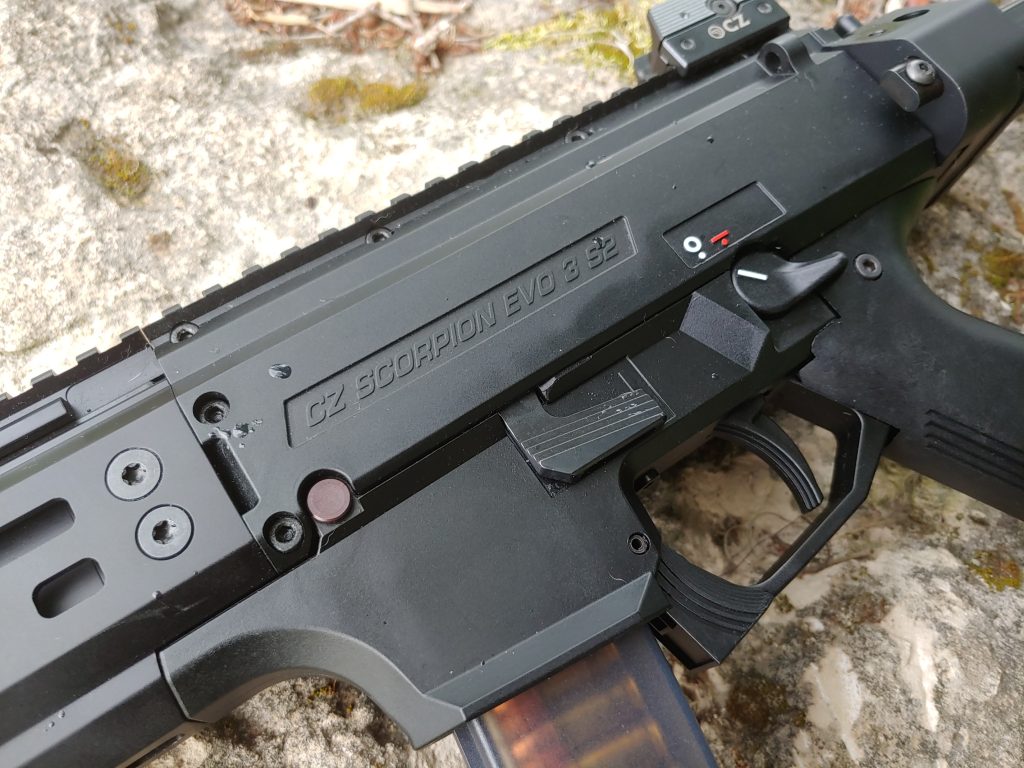 The gun comes with a set of awesome sights. These sights feature an AR-style front point with 4 rear aperatures. The sights are all metal and very well made. They are easy to adjust and all-around very awesome for such a gun. Lastly, as we mentioned there are two QD sling points on the base of the brace.
The Micro Scorpion in Action
The Micro Scorpion is a hefty little gun that weighs 5.5 pounds. It looks like it should be lighter, but its a solid and dense gun. The charging handle is placed beside the barrel and is very HK like in its positioning. You can even lock the charging handle upwards and give it the ole' HK slap. The pistol grip is very large, and you can actually adjust it to change the distance from the trigger. The standard position is fine for me.
Ergonomically the gun is extremely well done. Everything is easy to reach and manipulate. The only downside is that damn safety. Everyone has complained about the safety since the very first CZ Scorpion. The ambi safety digs into the trigger finger and it gets old fast. At this point, they should include a safety delete that allows owners the choose which side they want a safety lever.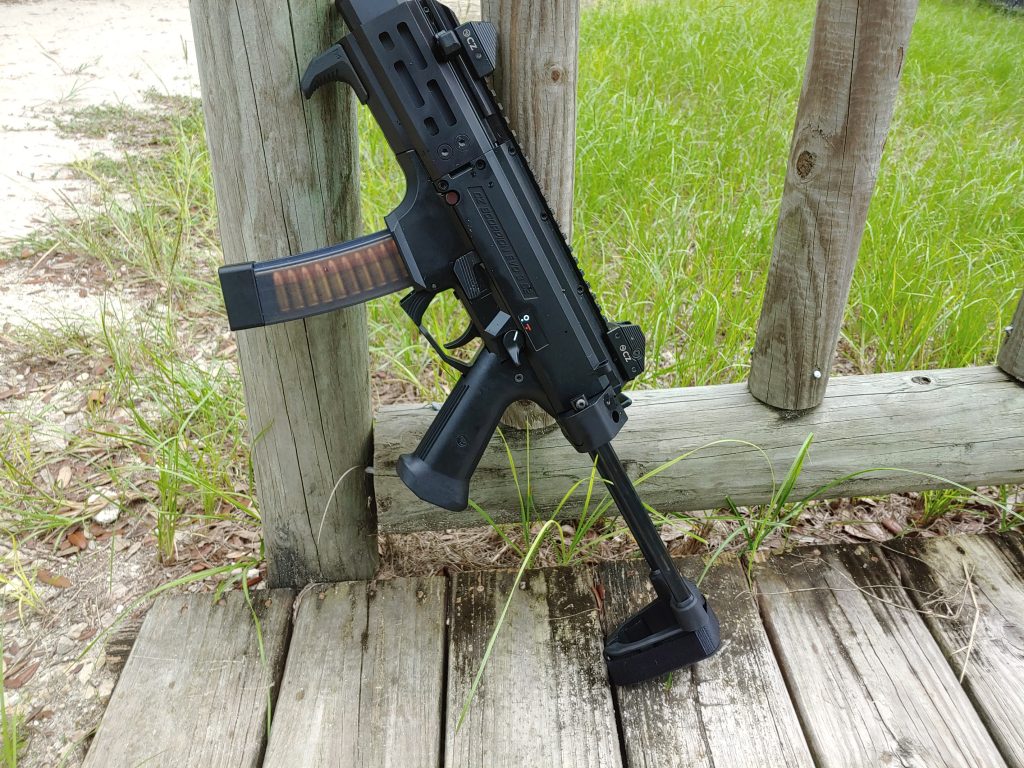 The magazine release is perfect and can be used via the thumb when you grab the magazine, or by the trigger finger for a speed reload.
The CZ Micro Scorpion is quite short and very handy. Moving from target to target feels very natural. Moving through a home or close quarter's environment is very easy and the short little gun is a CQB dream. Solid Snake would love it.
The barrel is short, as is the forend. The inclusion of a hand stop prevents your hand from drifting in front of the barrel and causing a little pain, and very little fun. With a gun this short holding it by the mag well is most comfortable to me.
Accuracy and Range
The barrel is short for a gun this big, and sure a Government 1911 has a longer barrel so what's the point? Is there any advantage between this gun and a standard handgun?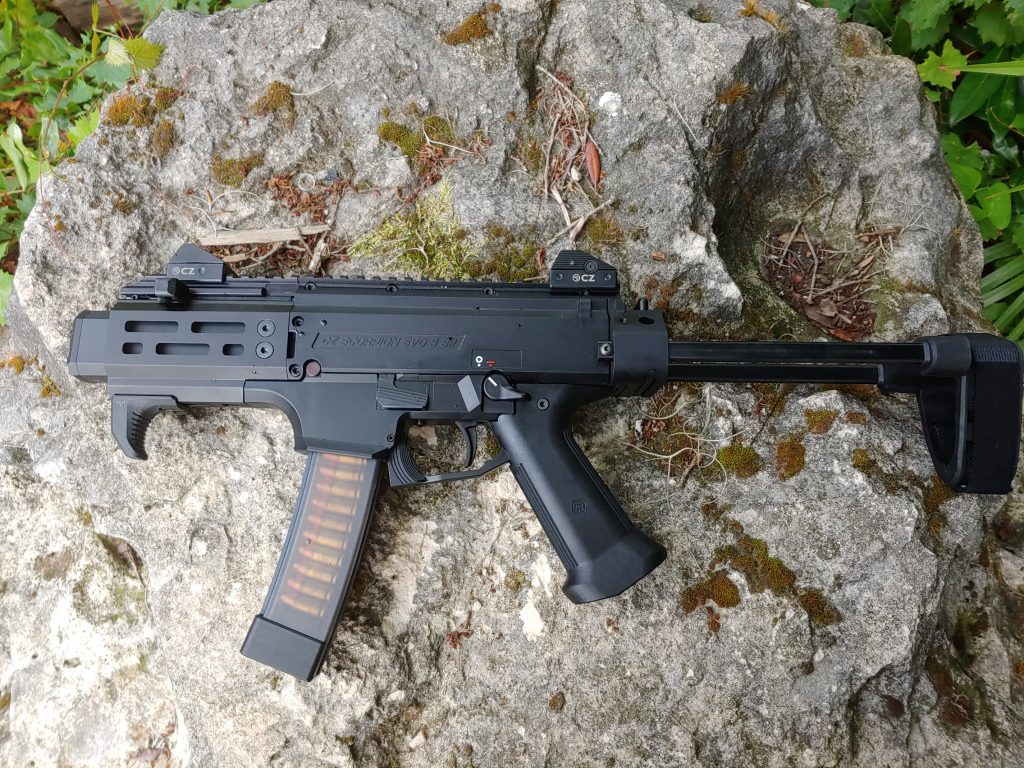 Ballistically no, but in terms of how the gun handles and shoots there certainly is. With the brace in mind, it's much easier to fire this gun at longer ranges. You can really reach out and touch a target with the Micro Scorpion easier than any handgun. You can peel someone's wig at 50 yards with absolute ease. In fact out, to 100 yards you'll still be hitting man-sized targets.
Not only that, but the Scorpion weighs a lot more than a pistol so recoil is nearly nil. It's controllable and you can rapidly fire and still maintain excellent accuracy on target. It has tons of advantages over a standard handgun, this includes the speed of reloading and malfunction fixes.
The PDW Brace
The included brace is very comfortable wrapped around the arm. It tightens down easily enough and it gives you enough slack to move your arm back and forth for different positional shooting. It allows you to better balance the front-heavy weapon with a two-handed traditional grip.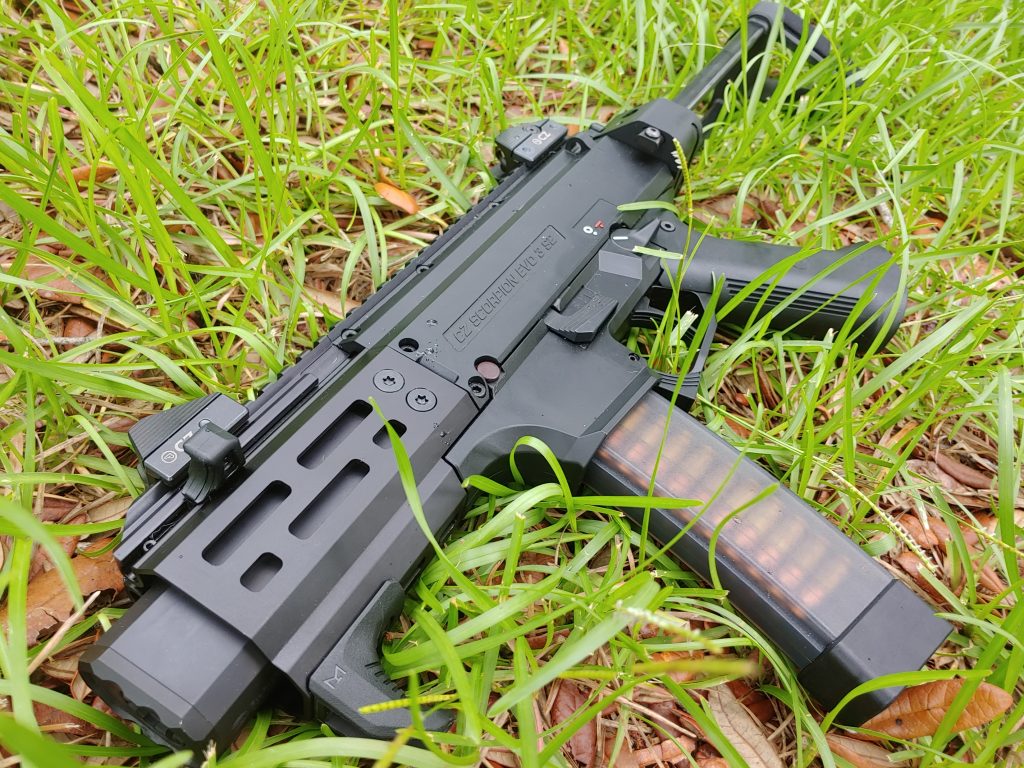 If you choose to misuse the CZ Scorpion's brace and place it against your shoulder you'll find there is very little support. However, it's a 9mm sub gun so you don't need a lot of support to comfortably and accurately fire it.
Downsides
CZ needs to go back and really refine this trigger. It's long and spongy. HBI makes an upgrade that cleans up the trigger very well, and CZ should make that stock on these guns. It costs 9 bucks and is an awesome improvement. The safety as I mentioned above gets annoying and can be fixed by purchasing a safety delete or via dremel tool.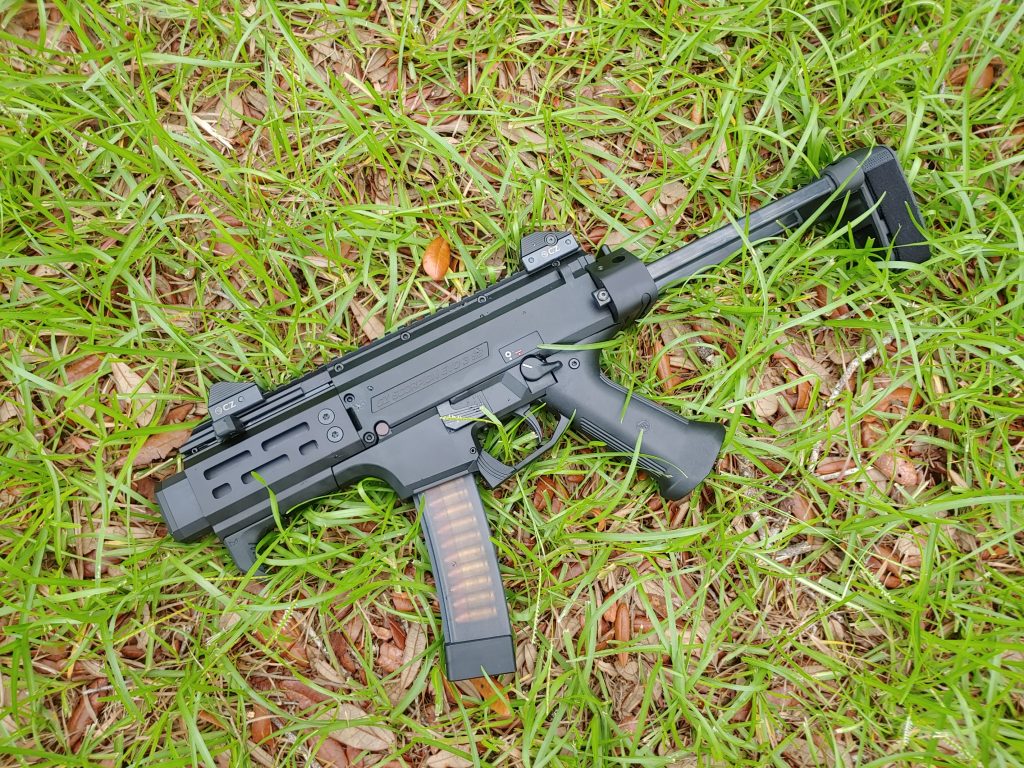 There isn't a lot I don't like about this gun. It's a blast to shoot and very easy to control. The small size and relatively lightweight makes it popular among my non-shooter friends. It's got looks that kill and is dead nuts reliable.
If CZ made a few tweaks it'd be a 10/10 gun, but 9/10 ain't so bad.