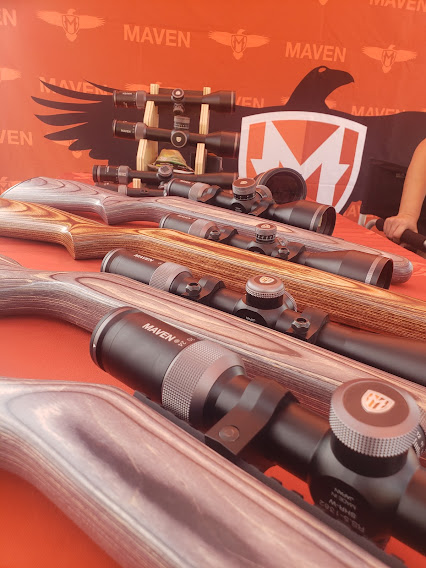 "MAVEN WAS BORN OUT OF WANTING TO SOLVE A PROBLEM…OUT OF THE IDEA THAT WE CAN DEVELOP A PRODUCT WITH NO COMPROMISE IN QUALITY, AND NO COMPROMISE IN PERFORMANCE, WITHOUT THE BIG BOX STORE MARKUP."
About the Company
A company built up from small mountain town roots of Lander, Wyoming. This company prides itself on their decades of outdoorsman experience and consistently finding new ways to create higher quality products without a higher price point.
"The name Maven comes from a shared interest in the book The Tipping Point by Malcolm Gladwell (2000). In the book, Gladwell talks about mavens and how they drive brand momentum."- Maven
The Comp Expo was my first time talking to and experiencing Maven Outdoor Equipment Company. Mollie Dahl was on the ground for Maven. She struck me as very knowledgeable, through real experience with the product, and confident. Turns out that she hunts herself and knows what makes good and bad optics.
Direct to Consumer Business Model
Maven Outdoor Equipment Company puts out quality optic without marking the price up. This works due to their Direct Consumer business model.
The model is simple. Maven kills the markup of their optics due to cutting out the retail portion. Maven delivers direct to the consumer. This allows them to still use the same high quality materials and partnerships with companies without making you pay that quality price.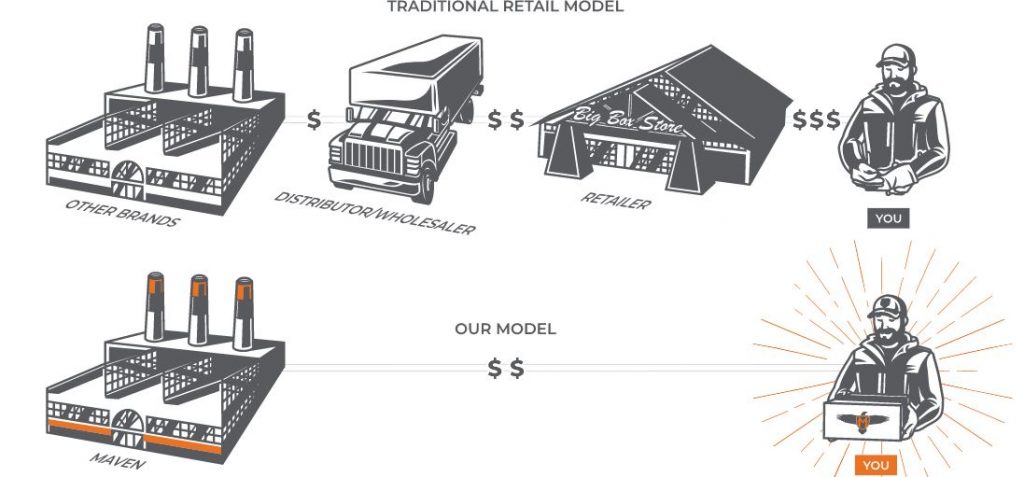 Transparency
Maven is also very transparent about the quality and specs of their optics. The company tells the consumer the direct origin of their glass.
Straight from the website..
"Quality– Because we sell direct to consumer, we're not driven by the demands of the retailer. Therefore we're not building our products to hit a certain price point which limits the type of materials we can use. As a result, we use the best glass available in our optics. In our S, B, and RS Series optics, we utilize the best optical components available from Japan. In all of our optics we plan and build an overall optical system for the best available performance. In our C Series, we use a combination of key Japanese components along with other optical elements from China. In all of our optics we plan and build an overall optical system tuned to be the best performance available."
They also tell the consumers the specs for each optic all the way down to light transmission, pressure testing, twilight factor, prism type, etc. See all optic specs within the chart HERE. Not many companies give away that much information publicly..honestly, not another one that I know of in fact.
Note: I am still very new to optics in general. Writing this article and talking to Maven it allowed me to deep dive into the optics world and learn some terminology. I found this video below that helped me understand what the terminology means and what could make one set of binos better for a customer over the others. Watch the video for the learning aspect..not the review. At the end, maybe the most interesting of the whole video, are the clarity tests. Going all the way back to 1951 Airforce clarity methods, it is an easy way for you and I to test optics.
Customized Builds
Another special Maven thing..Customized builds. On the website Maven allows customers to build their own optic from the ground up. Choose your frame (type of optic), then go on to choose armor color, ocular end, focus wheel, and objective tube. Maven also allows you to choose the rush on your build. Say you need it for your hunt next month..you can choose a 2 week delivery over a 4. Last but not least, engraving. Maven allows you to custom engrave your optic for an additional $30. Not bad.
Newly Released Products
Maven had many products on the table for the Expo but did have some newly released products.
The newly released B-Series Binocular Line Up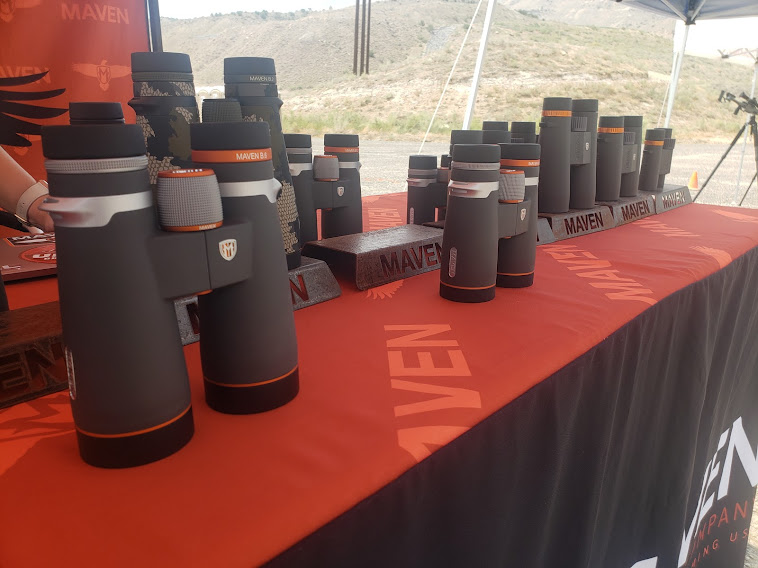 The B1.2 is an improved model of its previous B1 binocular. This improvement allows better performance on a more compact frame for the SAME PRICE. The B1.2 has wider FOV, improved glass coatings, a larger, wider Schmidt-Pechan prism (a type of prism design that allows more compact bodies to house the prism) and brighter glass, yet still in light and compact housing. It also comes in two options, 8x or 10x, including two color options.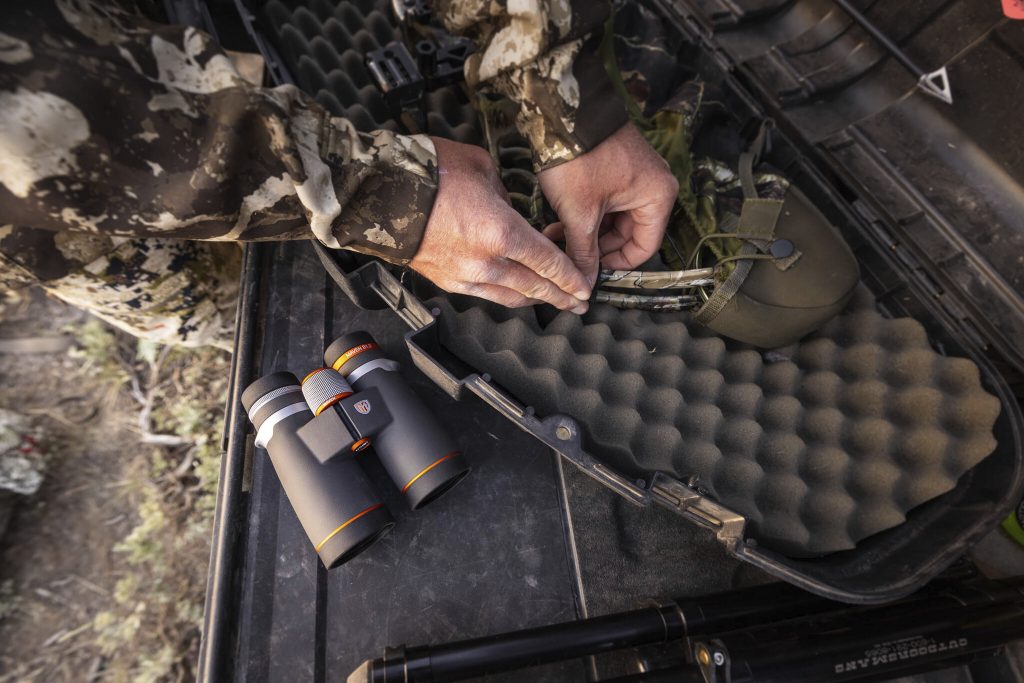 Specs
-Price: 8x=$900, 10x=$950
-Colors: Grey/Orange, Grey/Black
-Size: 5.7 in.
-Weight: 26.8 oz.
The B6 is the brightest mid-size binocular that Maven offers with a 94.75% light transmission level in the 10x and a 93.80% in the 12x. It is also the first B-series model that has a 50mm objective lens. It offers a FOV of 6.5″ for 10x and 5.5″ for 12x.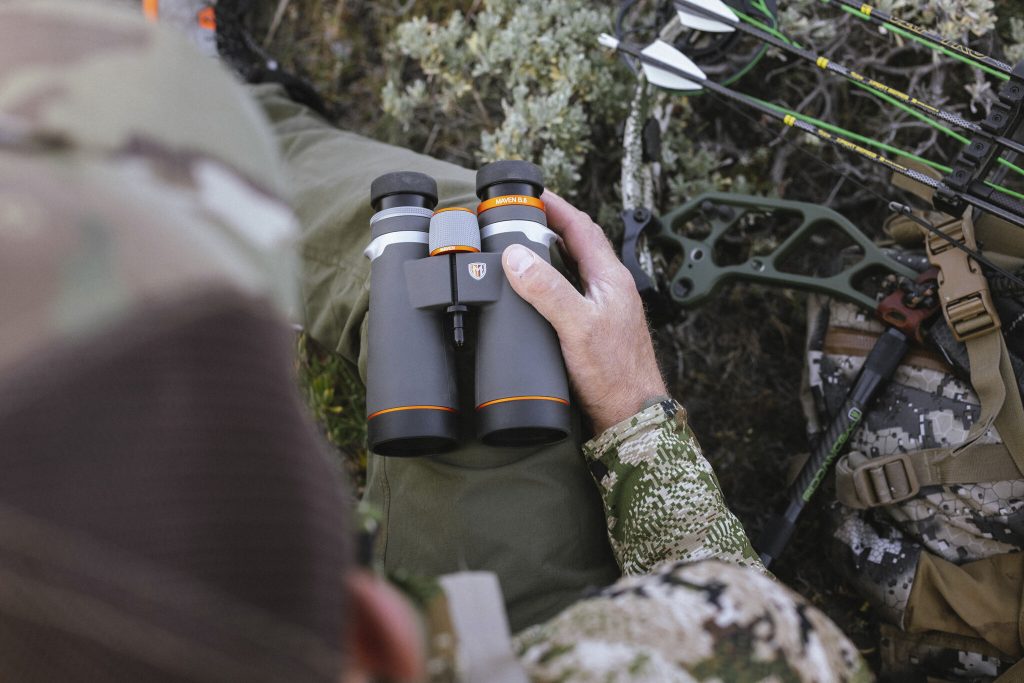 Specs
Price: 10x $1,000 and 12x $1,050.
Colors: Grey/Orange, Black/Grey
Size: 6.6 in.
Weight: 30.7 oz.
Rangefinder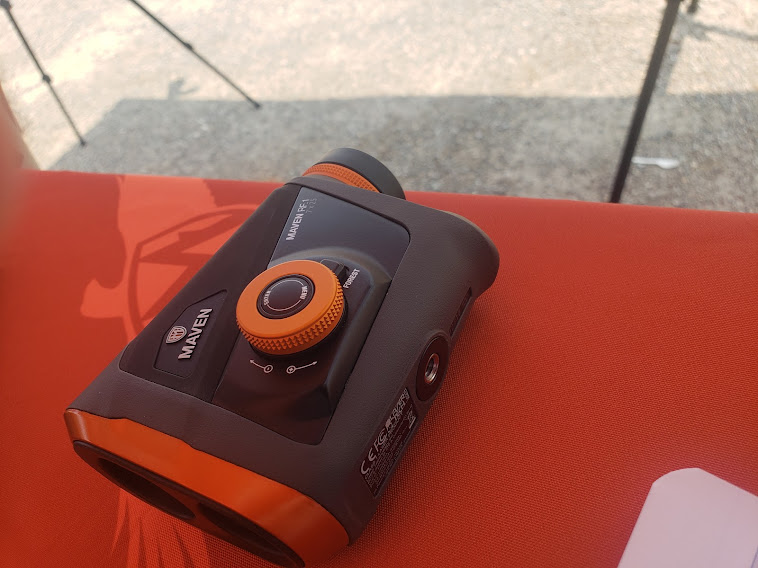 The RF1, recommended for archery hunters, rifle hunters, and long range hunters/shooters alike allows ranging to targets from 5-4500 yds. It includes added functions such as Field/Forest. This function allows the operator to get the static out of what they are ranging so to speak.
"For difficult to range scenarios, the Field/Forest Function matches your range mode to your unique environment. Switch to the Field mode when you want to acquire small, hard to hit targets and ignore larger objects in the background. Alternatively, switch to the Forest mode when you need to range objects behind trees, bushes, etc, or when rainy or snowy conditions persist."-Maven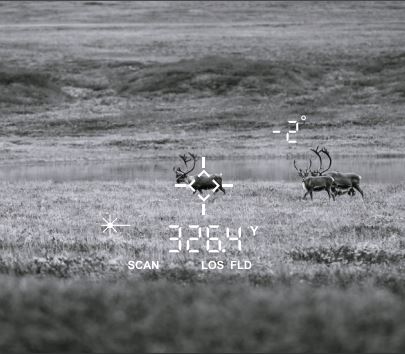 The RF1 allows for ranging in both meters and yards, 5 brightness settings and 5 different reticle options. Looking through it everything seemed to pop. I ranged an item about 2,000yds away on a rocky cliff and the RF1 gave me the range right away. However, if ranging further targets it may take a little longer to receive the range back.
The switch for the options within the RF1 is a magnetic switch. Meaning when switching to different modes the switch will not overtravel and it will be a positive click.
Specs
-Price:$400
-Colors: Grey/Orange, Black/Grey
-Size: 4.7 in. x 3.1 in. x 1.8 in.
-Weight: 10 oz.
-Water Resistant
-5-4500 Yard Effectiveness
-Line of Sight & Angle Compensation
-Field / Forest Function (Obstruction Filter)
-5 Reticle Options
-5 Brightness Levels
-Tripod Adaptable
So what makes a rangefinder bad/good? This is all personal opinion obviously. However, the big things that Maven looked to do with their RF1 was speed up the receiving of ranges and make it more consistent. Cheap, poorly made rangefinders will be slow and will be inconsistent in their ranges. The Rf1 shows no issues with that and is made with Mavens same quality glass.
Why Maven?
If their transparency in their products capabilities wasn't enough, they also give a lifetime warranty to every product that they make. Maven also has a demo program. This means that Maven will send you out a lightly used optic to demo. After two weeks of putting it through its paces you have the option to keep the demo, return it to purchase a new or customized version, or send it back for a full refund minus shipping.
Pro Tip: When talking to Mollie we mentioned fogginess within optics and the glass coatings. While some poorly made optics are just foggy to begin..Mollie talked about how it could be the operator that is creating the problem as well. We, me included, run optics hard. Dropping them in dirt, snow, etc. How do we clean them off? Well our shirts of course! Which as I'm sure you know isn't the right answer. The more that we use our clothing to clean off glass the more we scratch it with the course dirt on our clothing, remove the glass coatings, etc. We are only hurting ourselves. The right way to clean this glass is to one, use a type of blower to first blow the dirt off. Personally I use a small handheld air blower that was 5 bucks on amazon and keep it in my pack. Then you can use a CLEAN lens cleaning cloth that is made to not scratch up the coating on the glass.