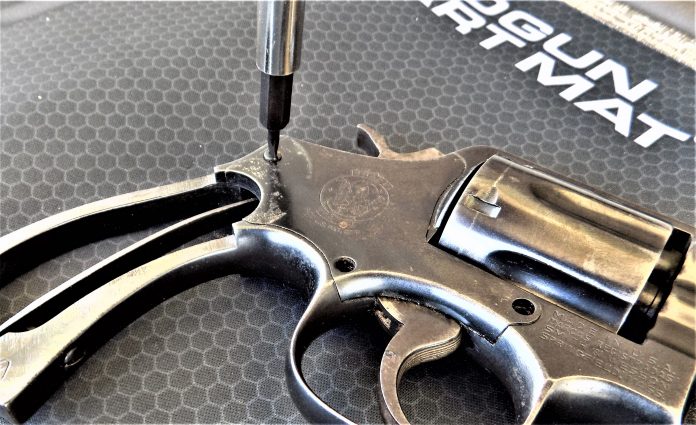 Commando means different things to different people. Commando may mean being undisciplined in some way and going without certain essential garments, or it may mean you are well trained in overland and overseas maneuvers. Safe to say I think the term is unconventional.
There is a book called Commando Gunsmithing. Not one thing in the book describes work that must be carried out with a lathe or drill press. It is all about maintaining, repairing and modifying certain firearms, mostly handguns, with some mention of shotguns and rifles as well, and tells how the average shooter can keep the firearm running with a minimum of skill and a few parts on hand.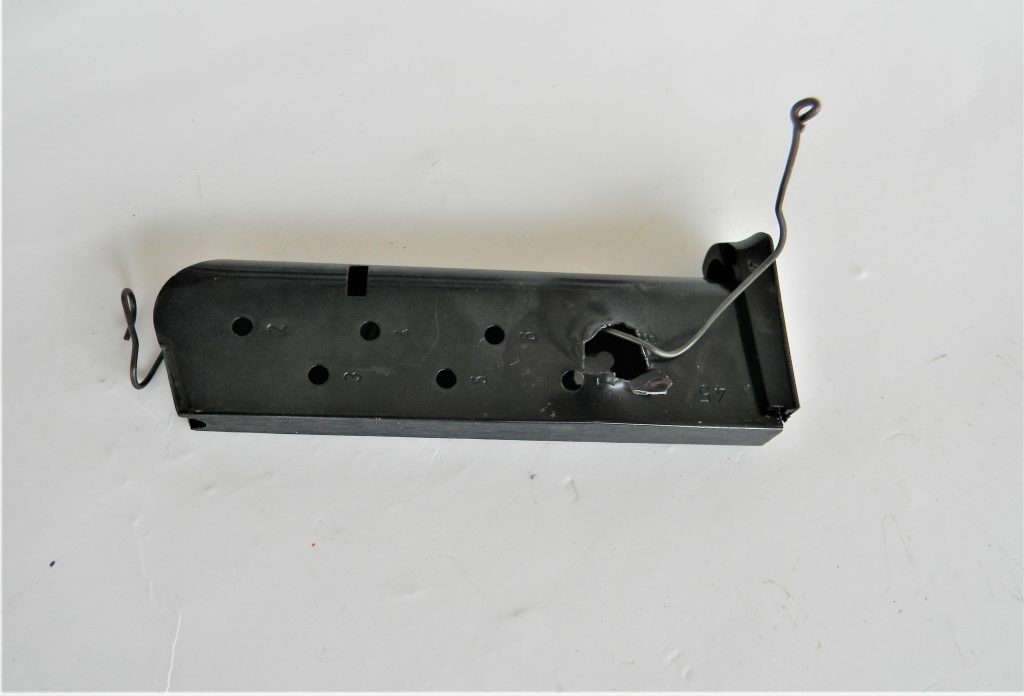 I think that the real value is explaining which guns will need what parts. During an my shooting life I have figured out exactly which gun needs what parts and almost in the order they will need them. This isn't a boast, I simply want to make life easier for you. As an example I have replaced quite a few 1911 extractors. Grips crack, grip screw bushings are a trouble. I have cracked exactly one frame in a hard use pin gun. I believe it broke at about 11,000 rounds. That isn't a lot but the pin load was a hard cast 255 grain SWC at 938 fps. Yet, that's too much. So I don't have a spare frame as I wont need it. I have a couple of spare extractors. They are not pre fitted as I don't know which 1911 I will need it for. If I had but one 1911 and used it in competition I would pre fit the extractor by grinding the bump on the extractor until it fit that one gun perfectly. I would be certain it didn't clock or turn in the slide. You should as well if you are in this game.
Lets look at the different types of pistols many of us use in competition and personal defense and see what parts you should have on board for a long and happy service life. If you have tried to order parts lately as I have you know some parts are scarce and shipping times longer than ever. It pays to be proactive. Fortunately most of these parts are inexpensive. 
Autoloading Pistols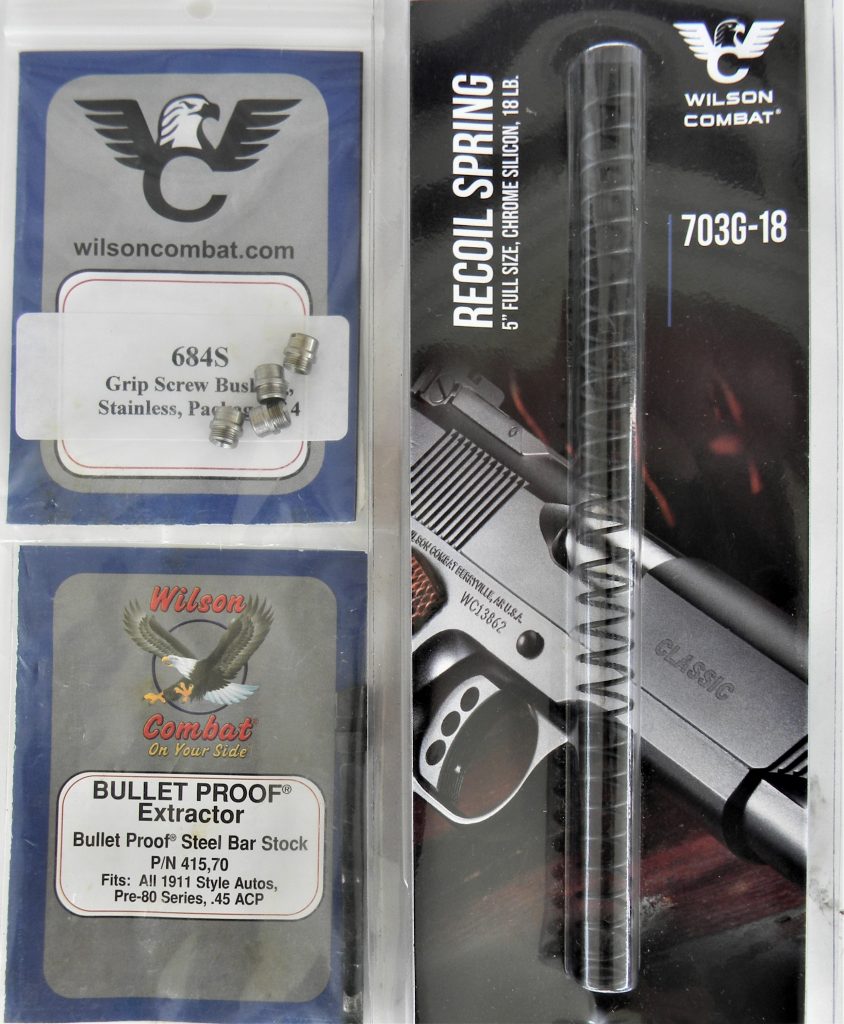 Grips break. Not a bad idea to have a spare set put up unless you are using a polymer frame gun- then there is no need. Beretta and CZ grips are a little thin and break often. Magazines are a renewable resource with a finite life. Factory magazines from Beretta, SIG, and Glock will last a lifetime, at least the bodies will if not damaged. In the 1911, Wilson Combat and MecGar are top choices. You never have enough magazines. If you keep them in the original packing then they have not been proofed in the gun but should work. Check magazine spring pressure. At a high round count the magazine spring may be ready to give up the ghost. It is asking a lot for a magazine to ride at full compression and always feed time after time even when the last few rounds are at almost no compression. But then SIG and Glock get it done don't they? Recoil springs should be kept on hand. Some last longer than others. A good bet is to replace the magazine spring at 5,000 rounds and the recoil spring at the same time. With the high pressure .357 SIG or 10mm, perhaps a bit sooner. When recoil becomes greater and the spent cases are sent flying a bit further the recoil spring may be on its way out.
Revolver Generalities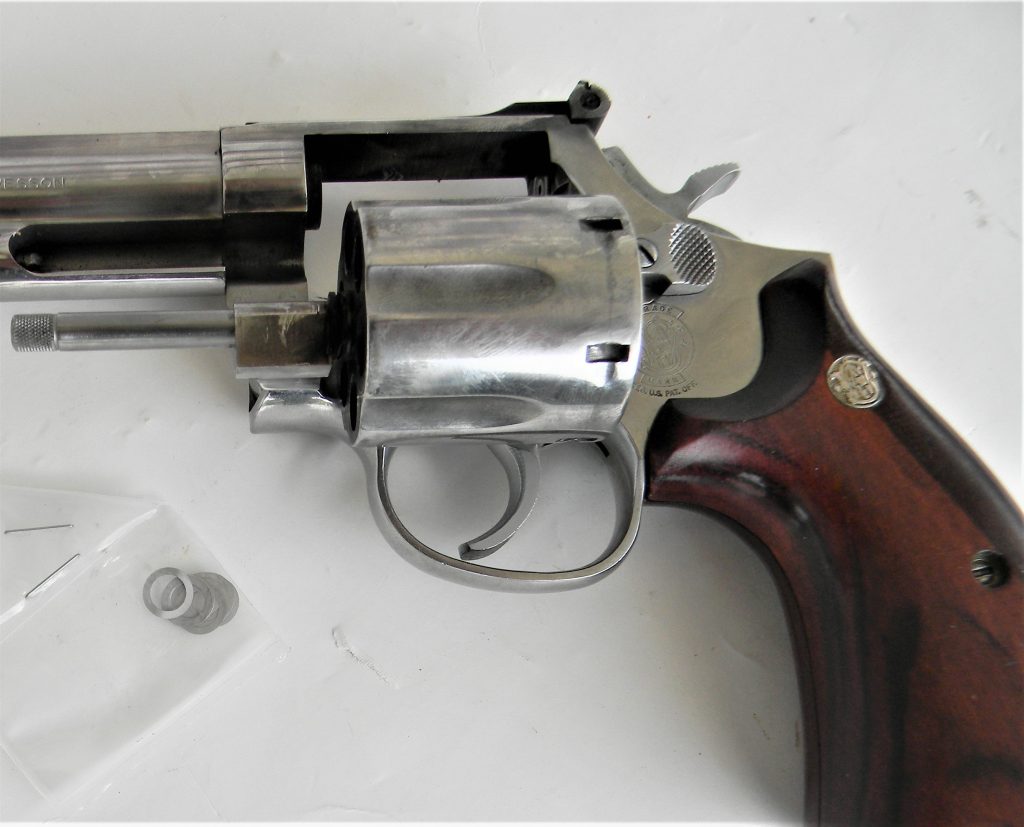 Revolvers last and last and last- but they too show wear. The only common complaint from police service was the adjustable sights on some revolvers getting knocked off by contact with door jambs. Some of the guys who put Smith & Wesson revolvers sights on their automatics- a labor intensive and once popular modification- later wished they had footed the bill for Bomar sights. If you own a goodly number of revolvers it may not be a bad idea to put up one set of adjustable sights and at least a leaf or two. Another thing that you will probably have a need for with Smith & Wesson is end shake bushings. If you have a K frame .357 Magnum sooner or later the revolver will develop end shake. This is simply loose play on the cylinder. Be certain to order a package of end shake bushings. They are simple to install and make a great deal of difference. They will cure forcing cone spitting and end shake or end play as it is often called. ( Or cylinder play.)They are about a nickel each. Revolver action springs don't seem to go bad often enough to keep them in stock. Occasionally the trigger return spring on a Smith & Wesson revolver will give up, but more often a simple cleaning is all that is needed.  If you own several Colt Pythons I would put up a firing pin. The original will break if dry fired and the last time I had to order one it was three weeks before I was able to find it!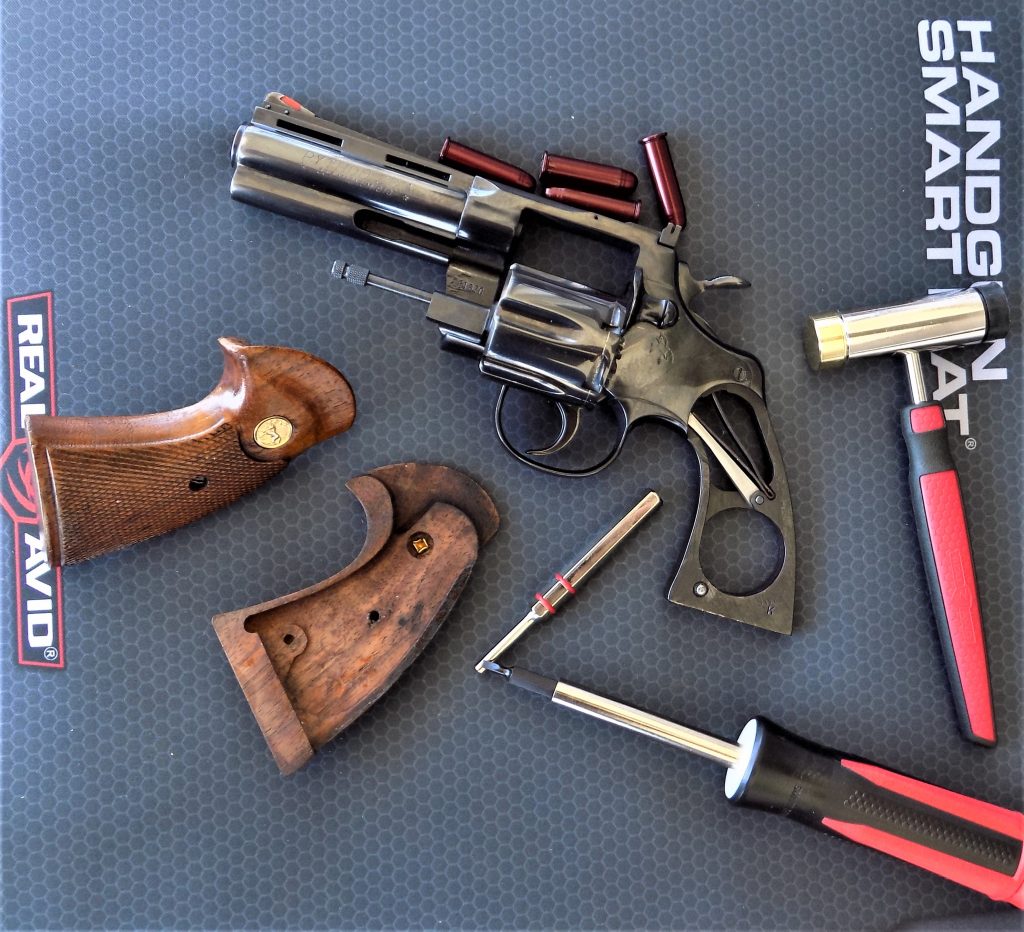 Going back to the self loading pistol. Among the very few parts needed for modern pistols may be a locking wedge for the Beretta 92. While the newest versions are improved these locking wedges have a finite life, anywhere from 13,000 to 18,000 rounds before they crack. The SIG doesn't seem to need anything on a regular basis. Friends using CZ75 types in competition tell me the extractor needs replacing at 8,000 rounds or so but then some are running at 15,000. The next thing that is needed is a proper tool set. Real Avid offers excellent gunsmith grade punches, sight movers, tool kits, and cleaning kits. A good cleaning kit and thorough maintenance on a regular basis will avoid breakage. These are machines and machines must be serviced and lubricated. They will last practically forever if properly maintained. 
Robert Campbell
Don't buy the print copies! Folks are asking absurd prices on these, completely ridiculous at thirty to sixty dollars. The Kindle book is only $3.99 at Amazon.com
ASIN ‏ : ‎ B08ZHY774Y