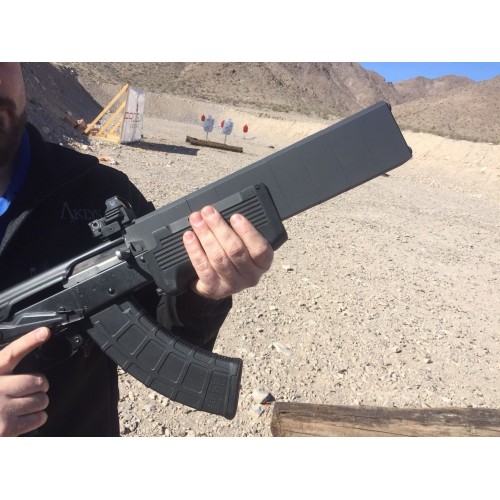 This year at SHOT was fairly sparse on truly new products. Obviously there were new models. Companies had more variants and accessories to improve their legacy products but it was a vanilla show in most respects.
But there is always an outlier.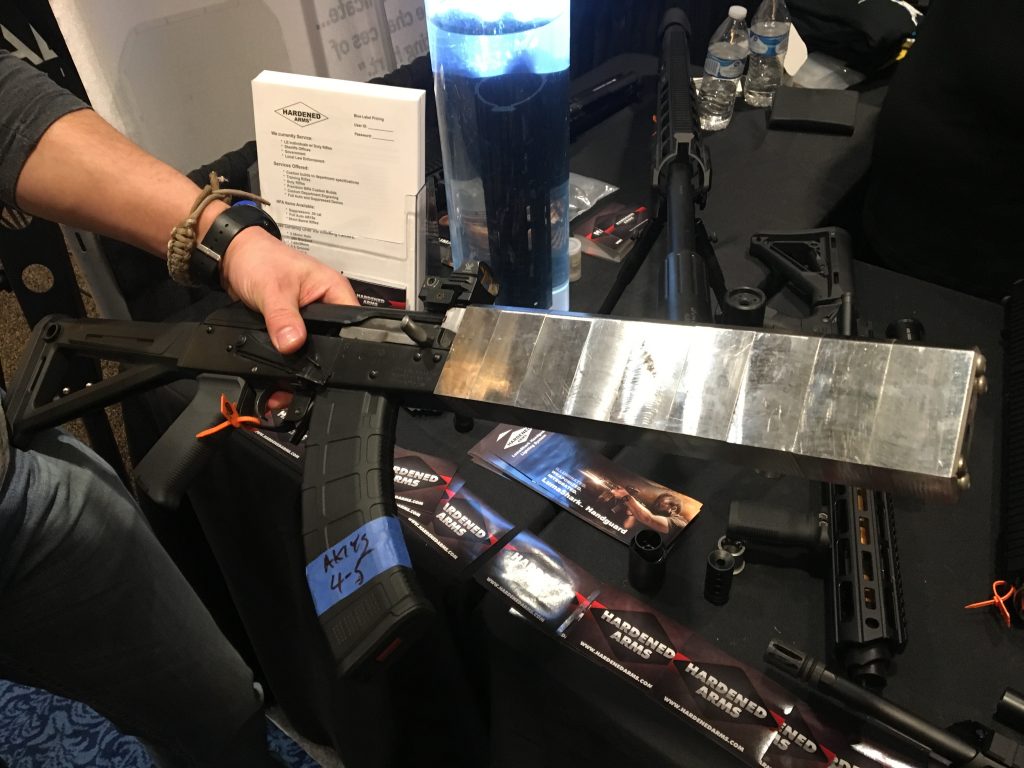 Aklys Defense had this bizarre box muzzled Kalashnikov prototype.
Color me intrigued.
The Aklys Defense AKSV is a self contained auto-regulating integrally suppressed 7.62x39mm AK.
Aklys calls it the Velociraptor.
The AKSV is a change in thinking about the AK platform and integrally suppressed rifles as a whole. The Velociraptor utilizes the standard AK self-regulating gas system but captures all gasses including chamber gas and expels it out the front (note the pictured "snout" and gas dumps) and away from the shooter in a controlled manner. You will get no cloud of gas in the your face like you will experience with other suppressed platforms and suppressed AK pattern rifles. The recoil on the AKSV is the lightest impulse you'll ever feel due to the gas regulation and braking effect of the suppressor.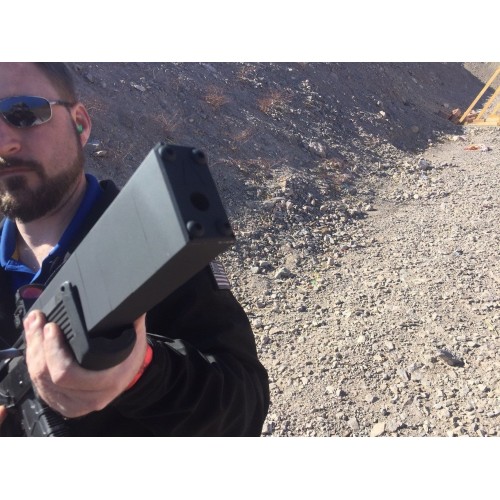 We utilize a special 1 and 7 twist barrel blank with our own custom profile and nitriding for extended life.  It is designed to stabilize both the heavy subsonic rounds and standard ammunition.  Standard velocity rounds will retain enough velocity to make the rifle effective for "social" work needed. (Editors Note: Suppressed firearms are much gentler on the shooter in confined spaces like the home or a vehicle
The AKSV utilizes a modular suppressor and our special short gas piston system. Comes standard with Magpul AK MOE buttstock, pistol grip, 2 magazines and a custom forend.
The Velociraptor's design is two part. The back half is traditional Kalashnikov. The front half is a complete redesign that's surprisingly light and well balanced. The barrel, gas system, and suppressor assembly work together to keep all the increased gas pressure from firing suppressed away from the shooter. I've fired similar systems suppressed and the gas during rapid fire is… obnoxious is probably the polite word.
Weight : 7lbs 15oz (6 oz lighter than a standard AK)
Barrel length:     9.33″
Tube Length:      12″ 
Over All Length: 32″
Material: 17-4 Stainless and Nitrided 4340

DB Drop: over 27 DB with no gas in the face
Aklys Defense has opened pre-order for the AKSV with a substantial incentive.
MSRP $4285:  Early Adopters will receive the option of a Custom Serial Number, plus, an Aklys Defense Velociraptor Shirt, custom soft sided case, and a discount of $400 with Deposit of $1785 (remainder due at time of shipping). Once the initial 10 guns are sold price goes to full MSRP of $4285.
This gives you your tax stamps free essentially.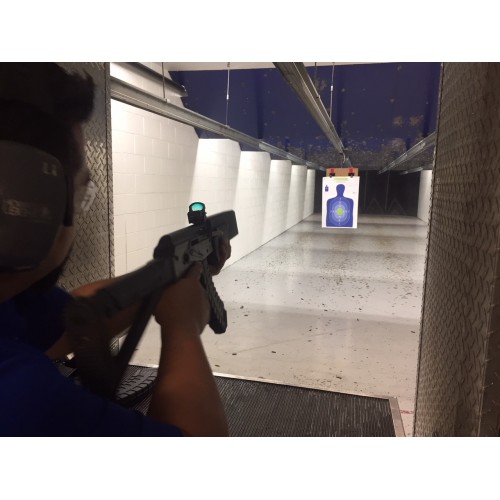 While most suppressor systems have been designed on the AR15 side of the house this radically forward thinking (and gassing) design from Aklys gives AK fans a uniquely functional system in their corner. The advanced engineering using the science of fluid dynamics has purportedly taken care of the single most annoying aspect of a suppressed firearm.
I'm looking forward to getting my hands on one and giving a live fire evaluation but the prototype was impressive… Just when you think you don't want anything else.