G-Code has developed an RTI based Velcro holster solution for mounting in your car. If you're unfamiliar with the RTI system, it is a method of attaching a holster to multiple different carry platforms. They have MOLLE, war belt, tactical belt, drop leg, and more so that one holster can be easily mounted to any of your gear. In addition to G-Code other companies like Safariland also support RTI mounting.
What you get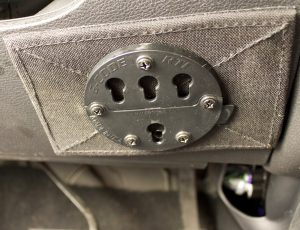 Included in the kit is an adhesive panel that is attached to any flat surface such as a vehicle or under a desk. Next, is the hook-backed pad with RTI wheel. This combo gives you a secure yet removable mounting platform for the holster of your choice. The holster itself can be removed from the RTI wheel and secured to your belt when leaving the car or the entire hook backed pad can be pulled off and stored out of site.
Does it Stay?
Right after Shot Show we got with G-Code to send us the RTI Vehicle Mounting System for review. My goal had been to release this review months ago until I talked to a friend. In his infinite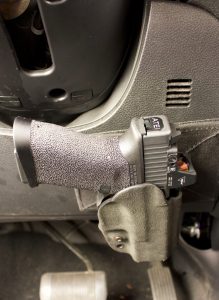 wisdom, he told me it would never work due to the high temperatures of summer and the types of extreme heat reached inside a closed up vehicle in the sun. The review was delayed so the challenge could be accepted.
The RTI vehicle kit has been installed in my car for seven months now. My car sits in a driveway in full sun with external temperatures of 80-90 degrees regularly. In all this time I have not seen the adhesive separate at all.
Mounting
The process of mounting the adhesive backed loop pad is simple. Find the desired spot, clean the spot and stick. The hardest part for most of us will be locating the perfect mounting position.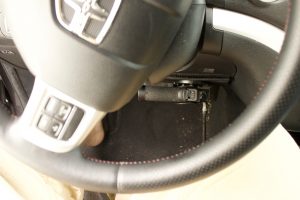 I picked just below the steering column. Be careful with this area, as you will want to make sure that the firearm will easily clear the holster without hitting an obstruction like the steering wheel. I wanted to place it on the side of my center console but the shape of my console did not allow for it due to curves and grooves that would affect the adhesive's grip.
Another thing to note is that you may need an alternate handed holster based on your mounting. While I am right handed, in my car, a left handed holster worked best to draw the pistol.
Why do I want this?
Some of us spend hours driving from location to location. Unfortunately, for many the placement of seatbelts are not conducive to an efficient handgun draw for some on the common body carry positions.
For longer drives, I also find the ability to remove the holster and mount it within reach makes for a much more comfortable trip. Lastly, for dropping my kid off at school, it's an easy place to ditch my gun to stay compliant.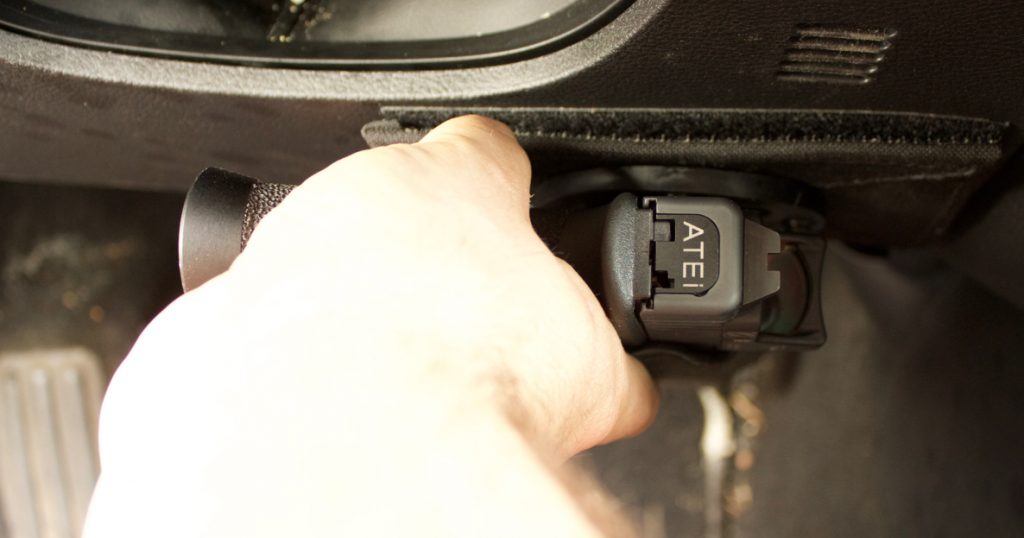 G-Code
You can't go wrong with a G-code holster. My first "real" holster was a G-code Incog. That Incog has held up for years. Though the guns that have gone in it have changed and evolved my G19 Incog still has a place. G-code is made in America and is veteran owned. The people that build and sell their gear are people that know combat and carry the gear they produce.
They have developed a wide selection of holsters compatible with the RTI system. From active retention holsters to those more common in civilian markets they make holsters that cover a broad range of firearms and carry methods. Not to mention they work close with people like Travis Haley to continually evolve their product.
Conclusion
If off body carry in your car, office or another location is something that interests you then consider looking into the G-Code car mounting options. We tend to stay away from off body carry as a recommendation, but there can be a time and place for it. Of all the solutions that have walked through our door, this is the first we are publishing a review for. The reason is it is the first product of it's kind that has held up to our testing and offers an actual advantage to it's use. You can purchase the kit for your local G-code dealer or direct online here: http://www.tacticalholsters.com/product/GSG017.html
The kit retails for $49.99 for everything you need except the holster. OSH holsters start as low as $40.
Source Article from http://248shooter.com/index.php/car-carry-g-code-rti-vehicle-mounting-system-review/