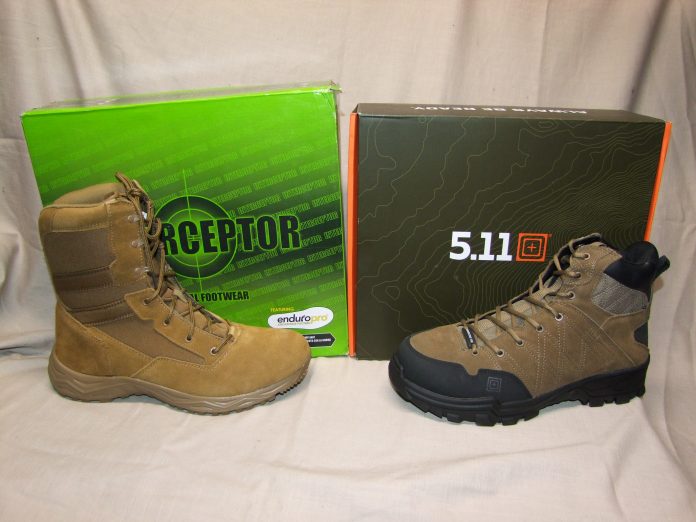 Every year we trek to Las Vegas to the SHOT Show to see the latest and greatest in firearms, clothing, ammunition, range gear and footwear. It seems footwear is one of the areas of SHOT that never disappoints, thanks to new technology and redesigning perennial favorites. Two established players in the footwear arena are 5.11 Tactical and Interceptor.
Unfortunately we are in the midst of a nasty winter so I could not put these boots through a lot of wear testing. If it was not brutally cold out, it was snowing or raining. I did not want to take a spill seeing how the boots feel. However we did get a few breaks so I could get out and give them abbreviated workouts.
First up was 5.11 Tactical's Cable Hiker Carbon Tac. 5.11 Tactical has been offering boots for duty, hiking and range use for well over a decade. Over the half dozen years 5.11 has started building boots for shooters, hunters, hikers using the technology and proven designs in their duty/uniform line. The Cable Hiker Carbon Tac Toe is one of first boots available for 2019.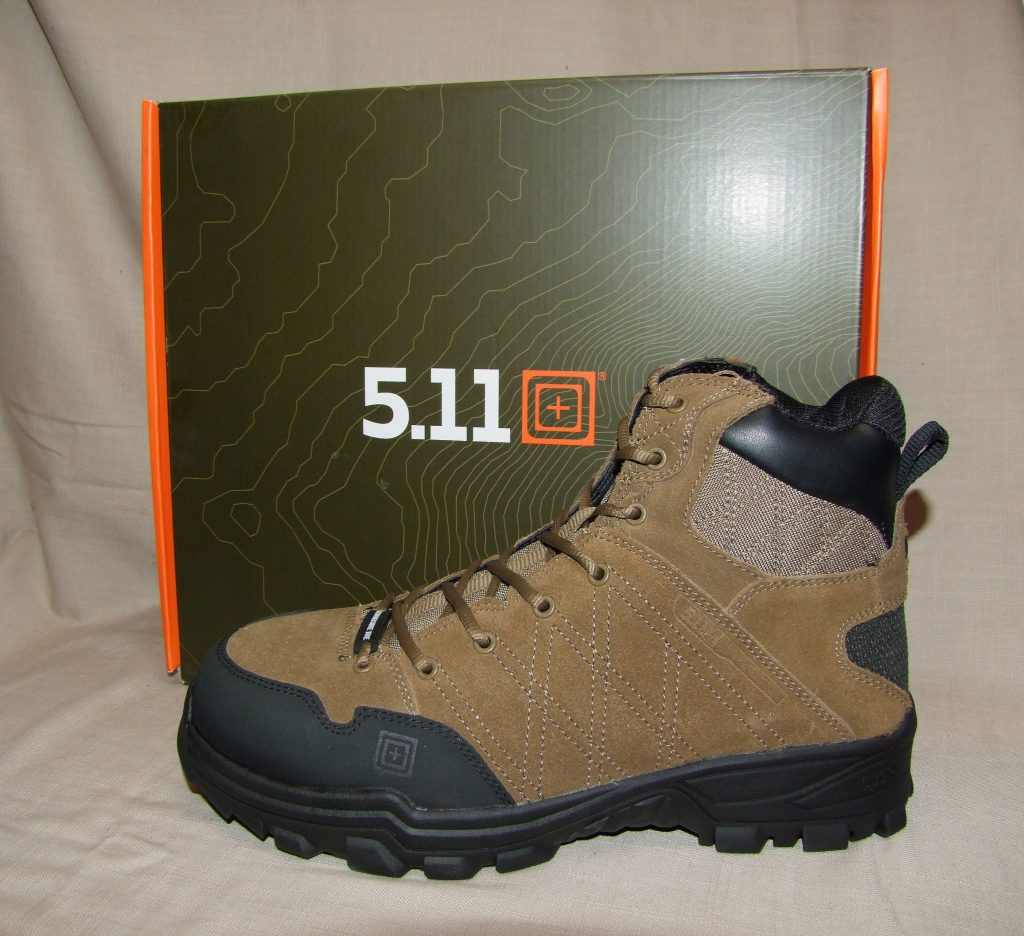 I am not a fan of protective hard toes, because I had to wear steel toed boots for a position I had when I first left the service. Back in the early nineties there were very few choices for protective toes, pretty much steel toes were it. Those of you who have worn steel toes know they are heavy, hot in the summer and cold in the winter. Neither of these factors makes you want to wear protective toes unless they are required. Even no-metallic toes were not the most comfortable because they were just as heavy and uncomfortable as steel toes. Fortunately non-metallic toes have made great strides in comfort. They have also started meeting various industrial safety standards. Both of these factors have led more folks in both industrial and non-industrial settings to start wearing them. 5.11's Cable Hiker Carbon Tac (CHCT) is one of the boots that I would call a leader in the non-industrial market. Because of their heritage, they are also a boot I would suggest to you; the readers.
What caught my attention about the CHCT is its weight. They weigh a few ounces more than the non-protective toe version. While you know there is a hard protective toe cap, it does not feel like a steel toed boot. I am certain this is because not as much material is needed to wrap the cap. You say the boot liner wraps the cap which is true; however the cap needs wrapped first so the sharp edges will not rub on the boot. This decreases the toe box area, which makes the boot less comfortable. With the carbon toe cap, this wrap can be thinner which increases room in the toe box; which increases foot comfort.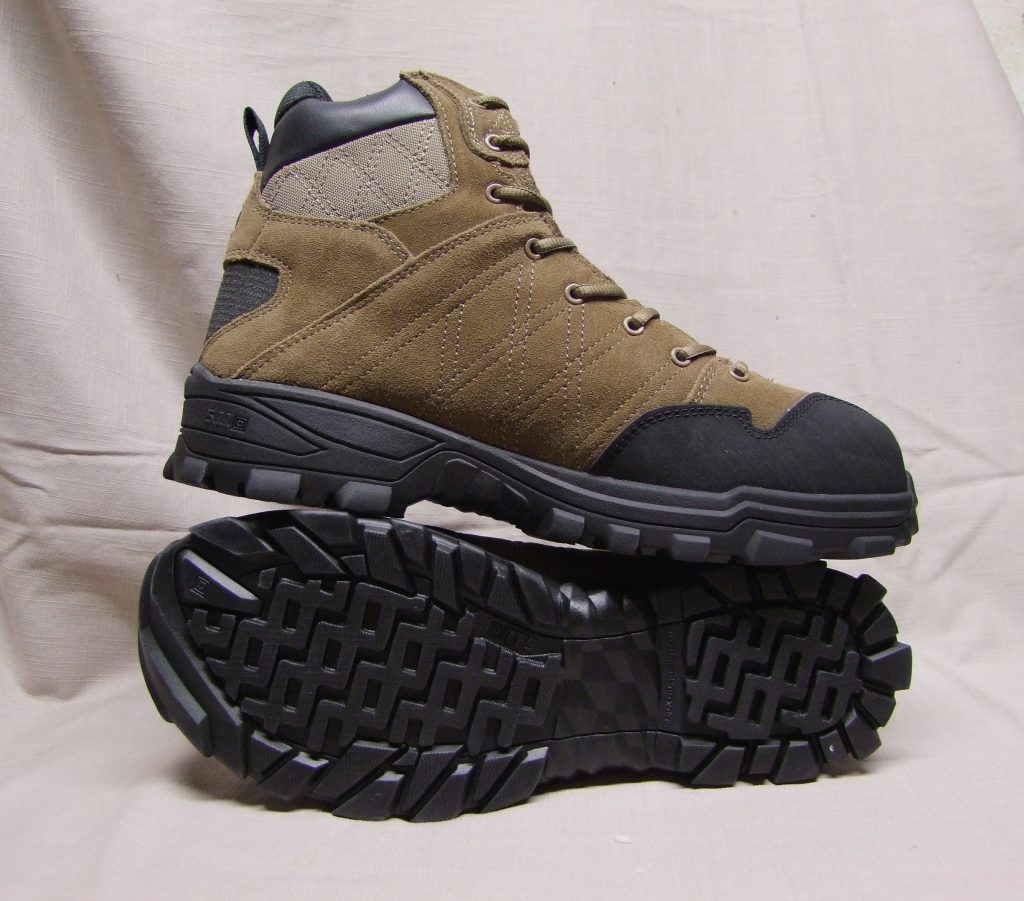 The other major factor that makes the CHCT attractive to the end user is, first it is a hiking boot, not a protective boot masquerading as a hiking boot. What this means is you get a hiking boot with a 30mm thick with 10mm of EVA for cushioning and a 16mm forefoot. When you have these thicknesses or the forefoot to heel ratio of approximately a half inch your feet and legs do not get fatigued like they do in boots that have nearly zero heel lift. You can see this heel lift when you look at the CHCT.
To further aid in comfort 5.11 uses their time tested Ortholite insole. Ortholite does not crush down like many other materials used in insoles. It offers a high degree of shock absorption without adding addition weight.
Another feature of the CHCT is the Speed Urban outsole. This sole is non-marking, slip and oil resistant. I found it to give good traction in the snow and ice the Polar Vortex that created me when I returned from the SHOT Show. If I was slip sliding away in that mess, I am sure the CHCT will be surefooted in all but the worst conditions on the range or in the field.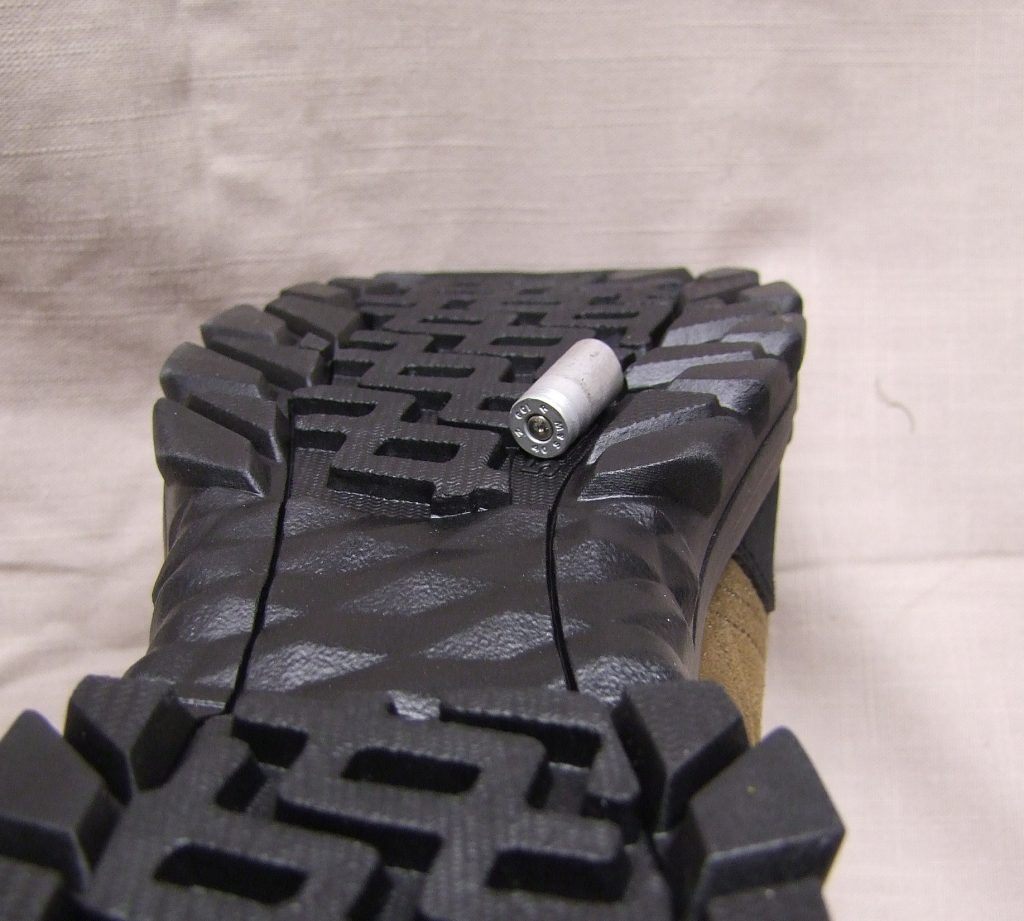 Overall 5.11 Tactical's Cable Hiker Carbon-Tac is a comfortable solid boot. With the protective carbon toes cap, I can see this boot becoming a favorite of a match's "Mr. Fix-it". The toe cap will undoubtedly save toes from dropped tools, parts for props or other weighty surprises that could cause a major ouch on the range or in the field. The only thing the CHCT lacks is a waterproof membrane, but that will add additional cost to the $139.99 MSRP. Even without this I still would recommend 5.11 Tactical's Cable Hiker Carbon Toe if you are looking for protective footwear for the range, field or daily wear.
The other boot that caught my eye was Interceptor's Frontier Tactical Boot. The Frontier is AR 670-1approved. Too many old Vets being "Army approved" might make you think of those black cruit boots we wore in the sixties through the early nineties. Today this standard means boots must meet certain standards for color, shock absorption, wear and comfort; not just be the cheapest black boot the Army can buy.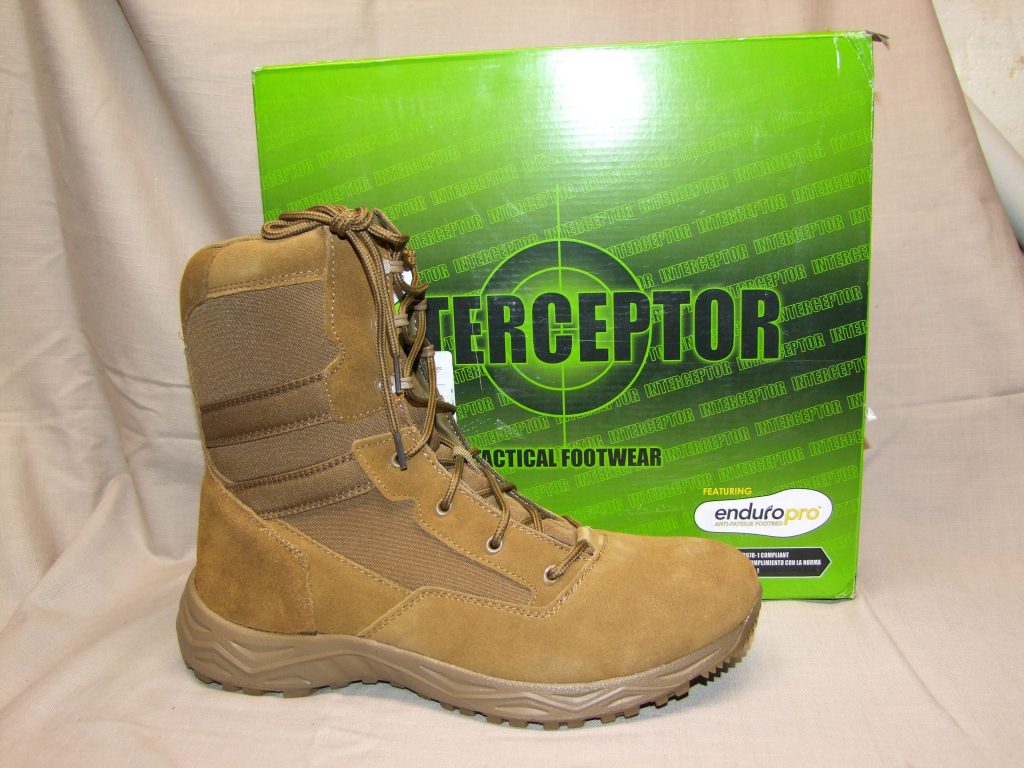 While looking at the Frontier my initial thought was it feels like a comfortable running shoe with a boot shaft. The boot is flexible, lightweight, offers good support and the aggressive outsole should give good traction. The sole wraps up the toe so you can get an aggressive toe off when running in them.
A closer look at the boot revealed the midsole to be polyurethane. This is generally a material used in vastly more expensive boots, not something I would expect to see in a boot selling for $43.23 at walmart.com. Polyurethane reduces weight while giving good shock absorption. Coupled with Enduro Pro Anit-Fatigue foot bed, the end user should have all day comfort. For good or bad with my beat-up knees I quickly notice when boots do not offer good shock absorption. I was able to walk a couple miles a day when we had a few decent days here. I was not achy or worn-out so the Frontier gets two thumbs up.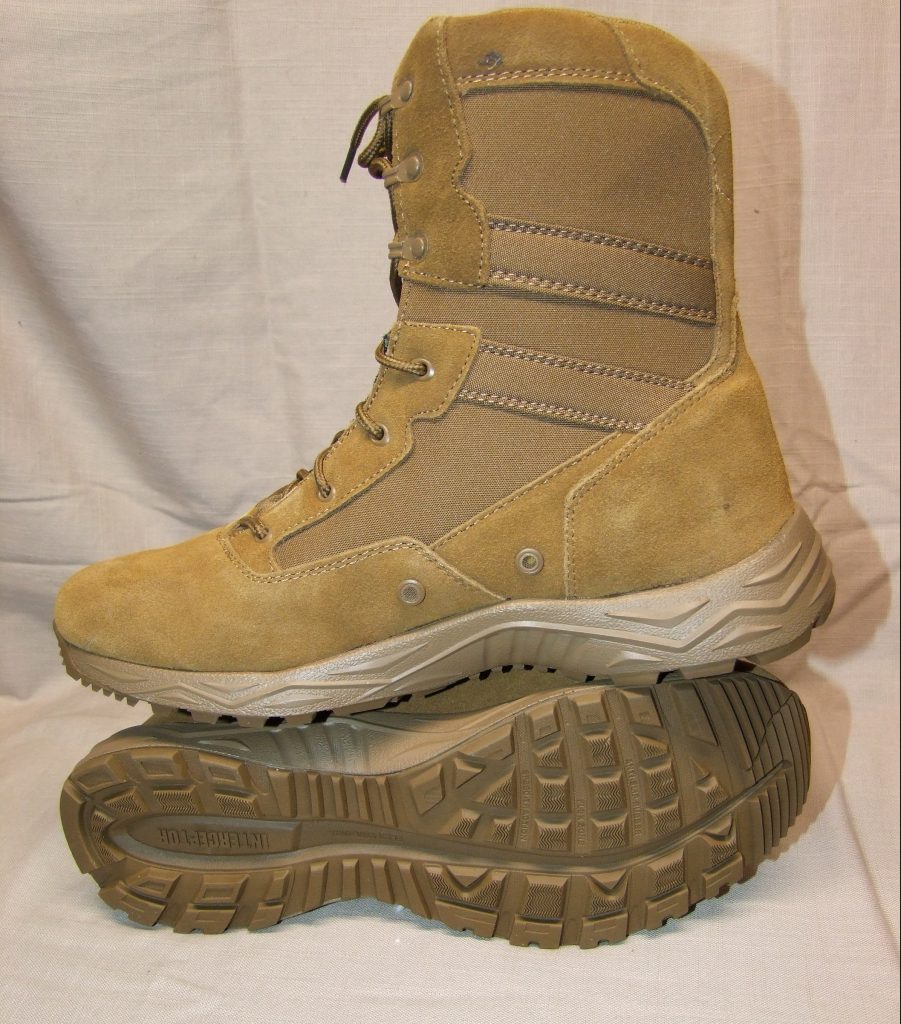 The upper of the Frontier is nylon and suede. The ankles have to stability strips that wrap around the ankles. This allows you to snug the boot up to help prevent rolling your ankle. There are air vents in the arch area of the boot to keep your feet comfortable in hot weather.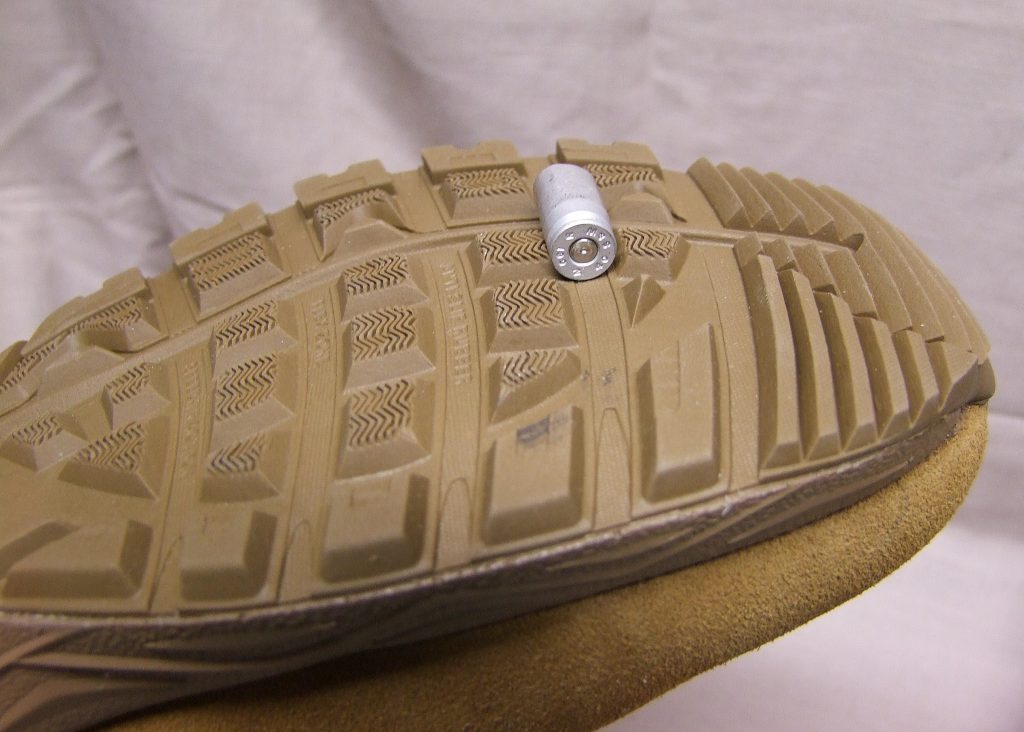 Overall I was impressed with both 5.11 Tactical's Cable Hiker Carbon Tac and Interceptor's Frontier Tactical Boot. If I were the "Mr. Fix It" for a club or major match, I would wear the CHCTs. They would save the toes from dropped hammers, dropped steel plates etc. For those who are looking for a value priced uniform boot or responsive boot for shooting in; Frontiers are an excellent choice.
As you can see from the brief review of these boots; manufactures are building boots to meet a wide variety of needs. Take some time to research footwear to meet your personal needs. Your body will thank you.