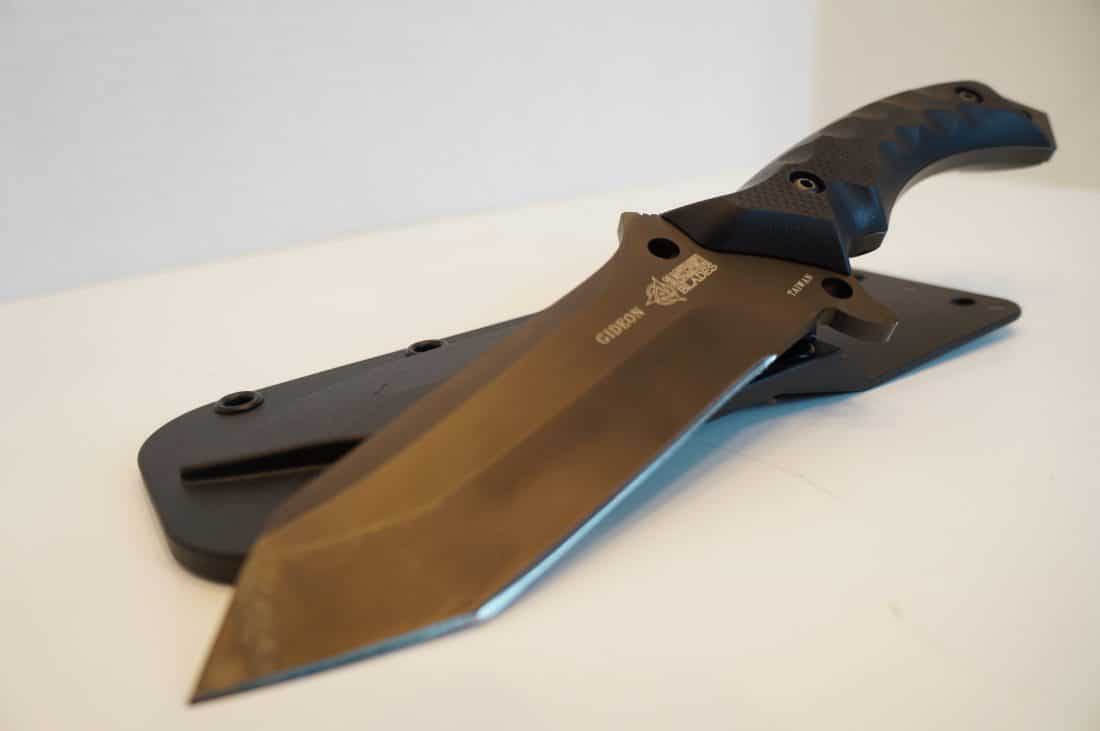 A while back, I was fortunate enough to obtain a sample blade from Blackhawk's tactical knife collection. Better known for their excellent line of tactical back packs and Serpa holsters (which I have personally carried for a great number of years), Blackhawk collaborated with some of the brightest minds in the industry to offer an affordable production knife for the tactical community. Coming from a Law Enforcement / SWAT background, I understand the importance of a good quality knife for daily use, but most of the time, it comes with a hefty price tag. Everything from cutting ropes to cutting grabby offenders hands away from your service weapon while fighting for your life, a knife must be sharp at all times and strong enough not to break when the going gets rough. In this review, we take a look at the Blackhawk Gideon Tanto fixed blade combat knife.
When it first arrived, it had an impressively colorful box with images of the knife all around and a list of features on three sides. This is nice to see and probably helps the knife get the buyers attention when sitting in a glass case at the store, but absolutely nothing else. When retrieving the knife from its box, it was still in its kydex sheath. I was happy to see this material used due to the rigidity and usefulness of kydex in lashing a sheath to a pack or chest rig. As I withdrew the knife, I had to depress a smart designed little tab just above the hilt to allow the blade to escape. This would later aid in knife retention when mounting inverted on the strap to my ballistic plate carrier.
While holding the knife in my hand, I was impressed by the heft of a smaller sized combat blade. Constructed of AUS8A and measuring only 10.2 inches overall with a true 5 inch blade, the thick spine of the knife gave it the overall weight of a small .22 pistol. The all steel construction ran from the blade, through to the pommel where a pointed "skull breaker" tip protruded from the well fit G10 scales. The edge of the tip was constructed as such the end user would easily be able to deploy it as a glass breaker or raking device during grappling.
With a noticeable curve in the grip, the whole knife balanced well and felt very natural in my hand with a positive hand stopping hilt to prevent slicing a finger. The grips were CNC machined for precise fit to the handle that is easy to maintain even when wet. While finished in a black Ti-Nitride for protection against the elements, I would have liked to seen a flat dark earth option offered in order to not stand out from a basic camo rig setup.
After a few months of using the Gideon Tanto, I was able to clearly determine what I liked and didn't like about this handy offering by Blackhawk. Keeping in mind, the main purpose of this knife design is for slashing and piercing, I listed the pros and cons of my experience.
PROS
Small and strong, not taking up a lot of room on my kit.
Two holes in the hilt large enough to tether with paracord for a makeshift spear if need be.
Retailing at $135, it will not break a young tactical officer's budget.
Sturdy enough to break a glass window withstand being driven through a car hood and still retain its tip.
Well fitted and comfortable grip scales angled for a nature slash and stab motion.
Surprisingly sharp right out of the box, unlike most production knives on the market.
Despite being used in and around salt water, mud and sand for 5 months without being cleaned other than wiped off by a rag, it shows no signs of rust or wear.
Cons
Unidirectional Sheath is not left handed or weak hand friendly.
No option for a belt clip
No color options
A bit too small to be a full size combat knife
     Overall, I will say I like this knife for what it is and enjoyed my experience with it. With its fast handling blade and very comfortable grip, it currently resides as the fix blade of choice for my instructor belt when teaching firearms classes. I feel like this knife is an honest offering by Blackhawk and not an afterthought to cover the knife market in its catalogue. If you're looking for a purpose built knife on a budget, the Gideon Tanto by Blackhawk is a sound choice. To find out more about the Blackhawk Gideon and other great products, please visit our friends at www.blackhawk.com.
– Trampas Swanson
Sourse: Eric TGL