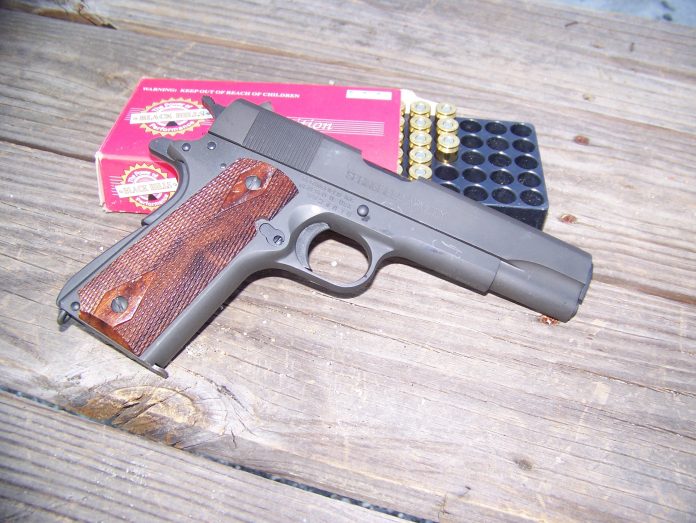 It is an understatement if I say the 1911 is a very popular handgun. It is also fair to say that the majority are of recreational value only. I would never trust most makes for personal defense. There are pistols in the middle range from Springfield, Colt, SIG and Ruger I find reliable enough for personal defense. The 1911 offers a combination of emotional attachment, history, and deadly efficiency in the right handgun. Prices range from a few hundred dollars to several thousand. While you may not need a Les Baer or Wilson Combat pistol you do need a reliable handgun. Springfield recently introduced the Garrison to replace the Mil Spec pistol. There are still plenty of Mil Spec 1911 handguns for sale. One local shop had three on hand. I don't usually have the reader running about looking for older guns. Usually there are better guns to be had brand hammer new. In this case you may wish to grab a Mil Spec!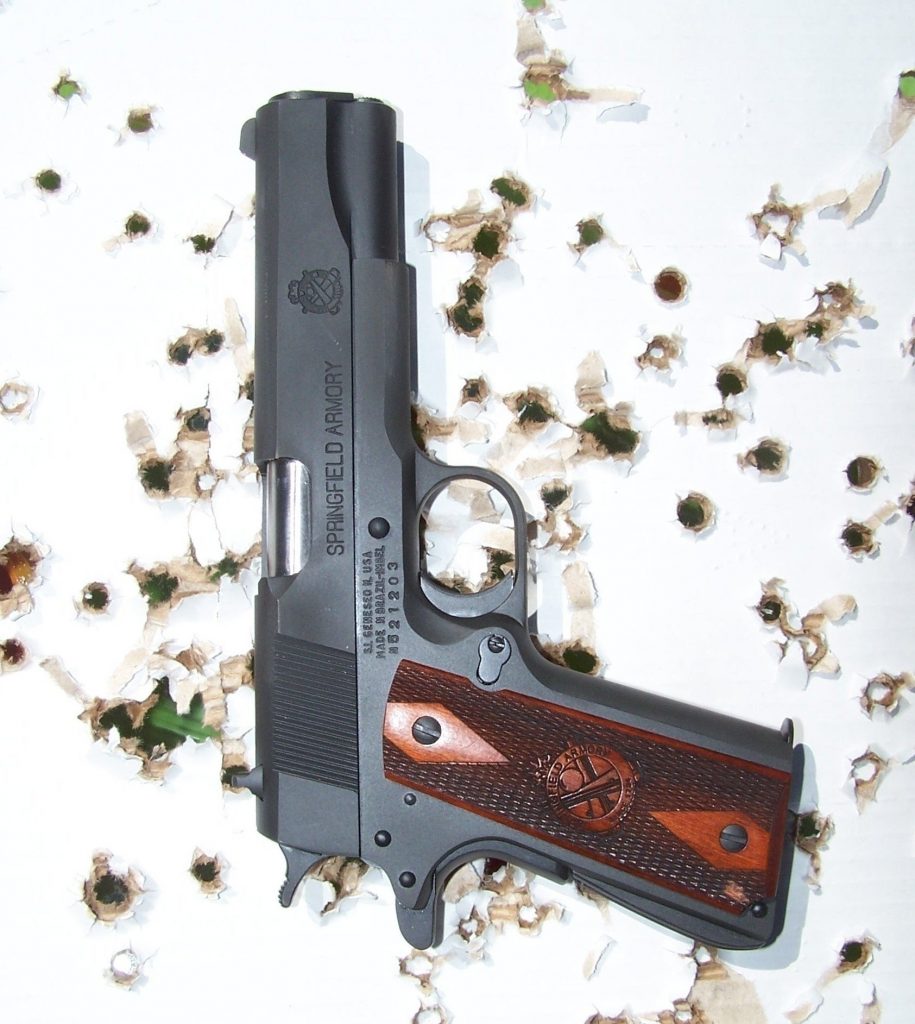 Most Mil Spec 1911 handguns are parkerized. A very few are stainless steel. Some are two tone although I have seen only photos. Some are olive drab. The parkerized gun seems the majority finish. The pistol features a lightweight firing pin and heavy duty firing pin spring for safety. The action, then, is a Series 70 or Mil Spec without a firing pin block. Yet the lightweight firing pin and heavy duty firing pin spring make the pistol drop safe. A lowered ejection port and high profile sights separate the Mil Spec from GI handguns. GI guns are OK while the Mil Spec is more useful for most shooting chores. The pistol features a short trigger and arched mainspring housing. I find this set up superior for fast combat shooting versus target shooting. Before firing the Springfield Mil Spec 1911A1 .45 lets look at the specifications.
Specifications:
Barrel Length: 5″
Weight: 36 ounces
Overall Length: 8.625″
Trigger Pull Weight: 6.2 pounds.
Recoil Spring & Guide Rod: Standard GI
Sights Fixed: 3-dot
Safety: Slide lock and grip safety
Magazines: 7 round- compatible with all 1911 magazines.
The front sight measures .12 wide as far as I am able to measure. An .11 inch rear notch makes for a good sight picture. There is very little lateral play in the slide to frame fit. Barrel to slide and barrel to bushing fit isn't tight but snug as it should be. There is room for foreign material and powder ash but enough tolerance to ensure reliability. The slide lock safety is tight and indents properly. The grip safety should release its hold on the trigger about half way into compression. The Springfield requires the grip safety be 'mashed' nearly to the frame so be certain you have a good hold on this 1911.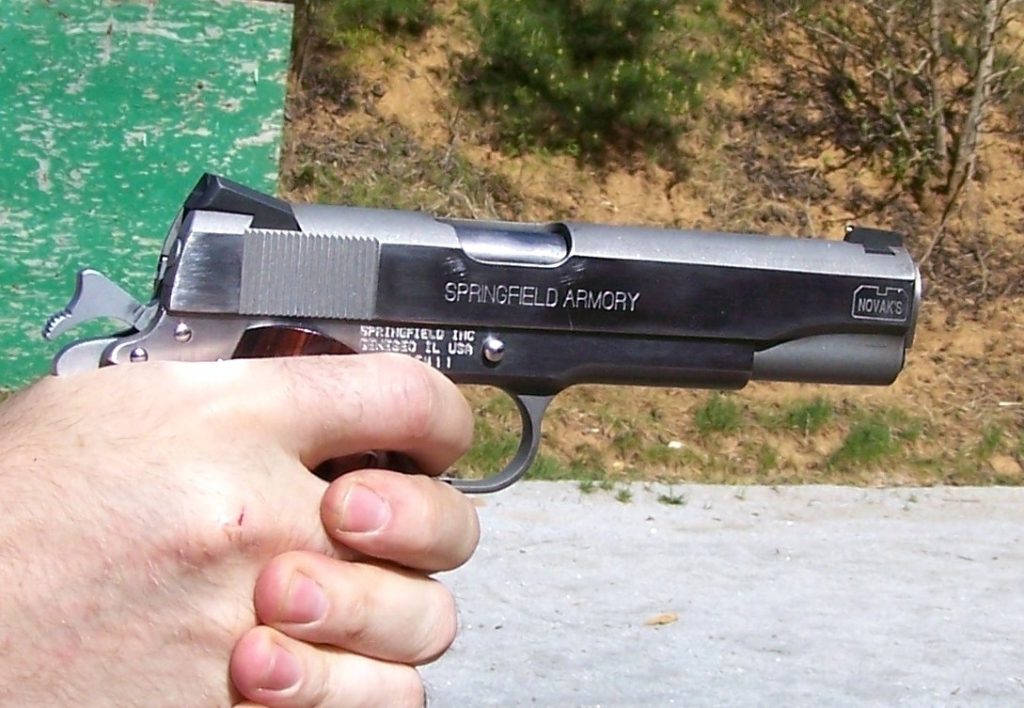 Firing test went as expected. I fired fifty rounds of Black Hills Ammunition 230 grain full metal jacketed ammunition at 7, 10, and 15 yards. The pistol comes on target quickly. Good hits were easy enough. I have a lot of time in with the 1911. I ate the X ring out at 7 yards and made good groups at 15 yards. A steel frame .45 doesn't kick that much. The pistol is controllable and handles well. The sights are leagues ahead of a GI .45 but certainly are not Novak sights. I find the Springfield Mil Spec well suited to personal defense. The final and least important test was firing for accuracy from a solid bench rest using the MTM Caseguard K Zone firing rest. I used three loads. These included the Black Hills Ammunition 230 grain FMJ loading, the Black Hills 185 grain JHP and the new 135 grain Honey Badger.
Results: Black Hills Ammunition 5 shot group in inches
230 grain FMJ 2.6 in.
185 grain Jacketed hollow point 2.8 in.
135 grain Honey Badger 2.5 in.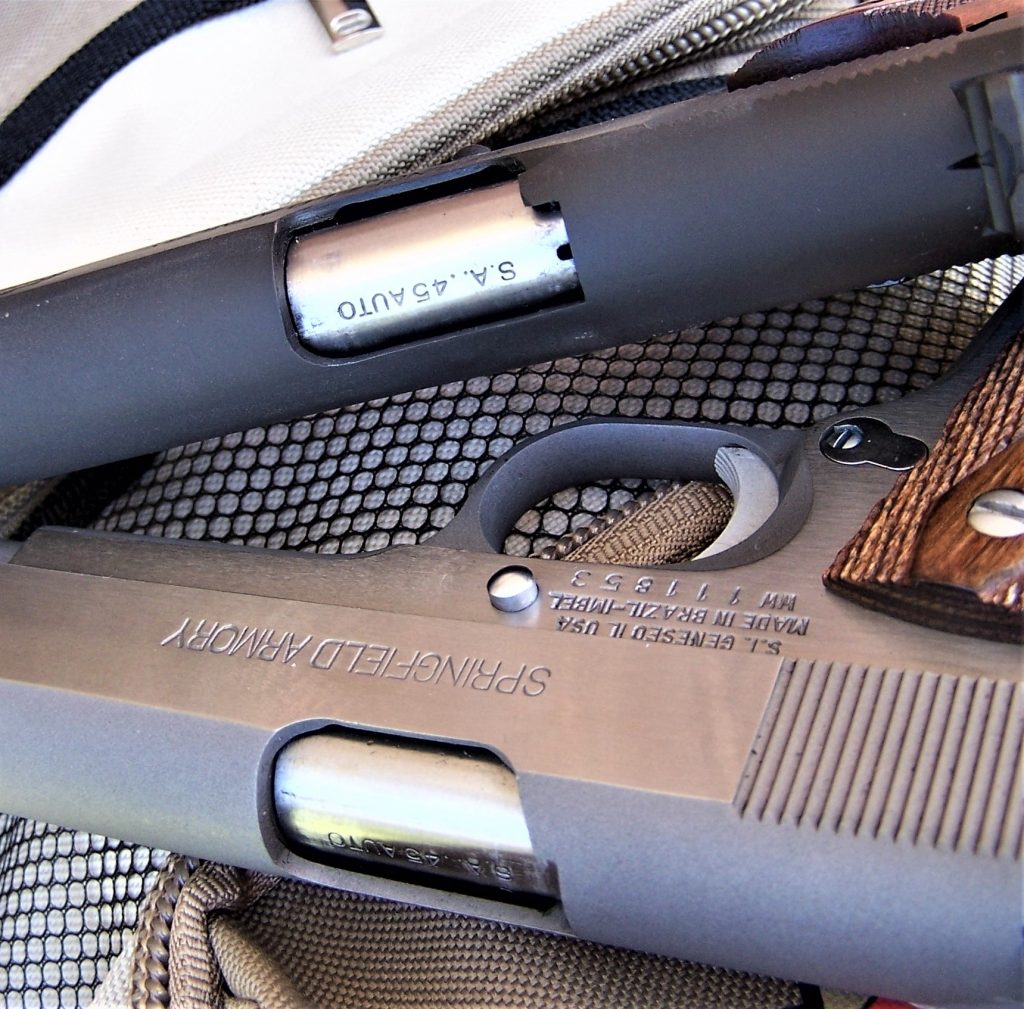 The pistol's sights are well regulated for the six o'clock hold at 25 yards with the 230 grain load giving a dead on hold at about 50 yards. The 135 grain load struck 2.3 inch low. The Springfield Mil Spec is a great shooter for the money. It is well worth your hard earned money.