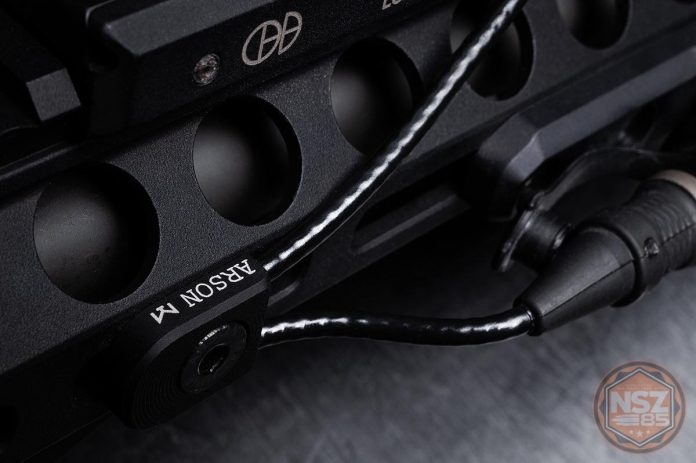 Lights, switches, and cords. How do we keep it manageable, clean, and professional looking? Lights have been around for some time within the firearms industry. With that prevalence comes products to finally get those cables out of the way during weapons handling.
Note: Picatinny and Keymod WireGuide System will be released in the next couple of weeks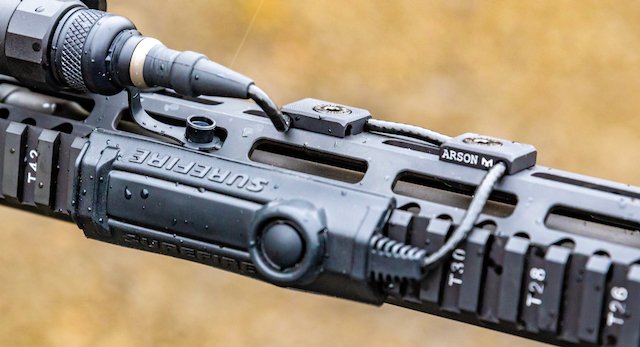 A beautiful product that won't break the bank. This WireGuide System involves small M-LOK pieces that allow the user to wire your cables through the individual piece/pieces within the system and can be mounted anywhere on the rail.
There are three wire guide style options to route your cables and can be bought separately.
90 Degree Clamp: Routes the cable 90 degrees to bring it up from along side the rail to the top if need be.
Thru Clamp: Using two separate channels this clamp feeds the wire parallel to the M-LOK slots.
End Clamp: Used to grab the slack left and keep it encapsulated and close to the gun so it does not snag on anything
The individual pieces are small enough for two to fit into one M-LOK slot if needed.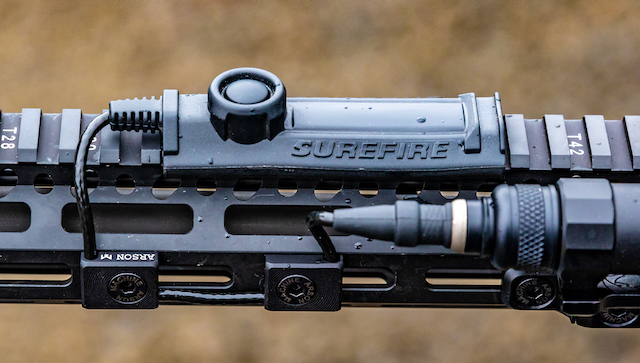 Specs
Quality materials within products are a must. The Arson Machine M-LOK WireGuide System is made with 6061-T651 aluminum and uses Type III hard anodizing in black. A subtle yet thoughtful addition are the Grip Rings added to the piece. Arson Machines states it was added on the "top surface of each part to help with grip and help reduce visual signature."
Arson Machine Upgrades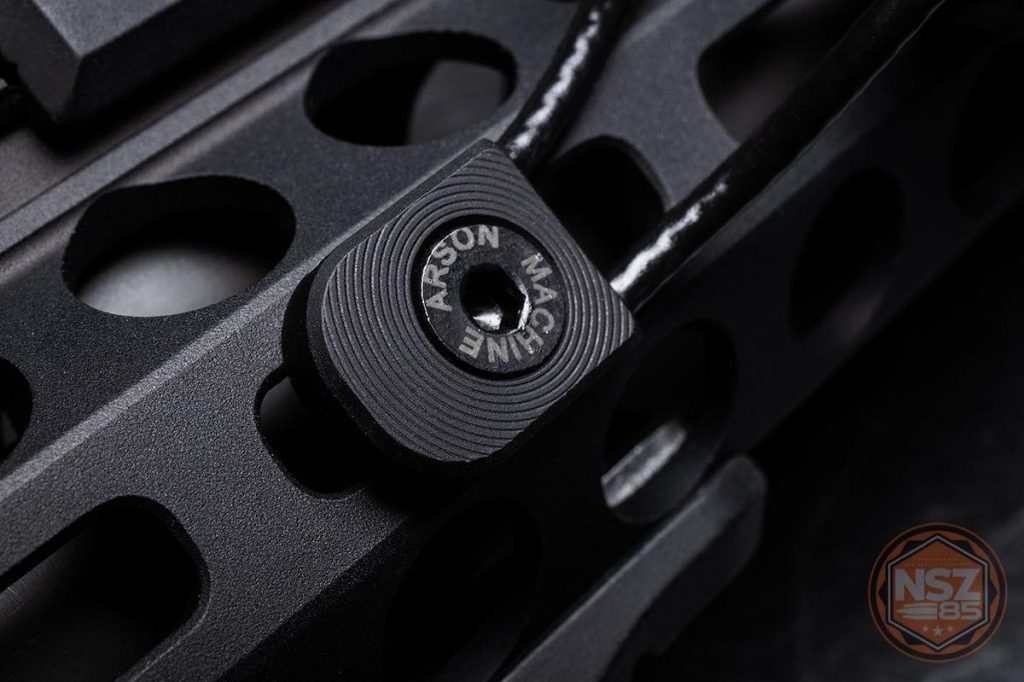 Installation
When installing the WireGuide System you will want to use a small amount of Vibra-Tite or a medium-strength threadlocker on the M-LOK screws. When tightening, go just until snug then stop tightening. Many will overtighten M-LOK which can break the mount or damage the rail.
Why Can't I DIY?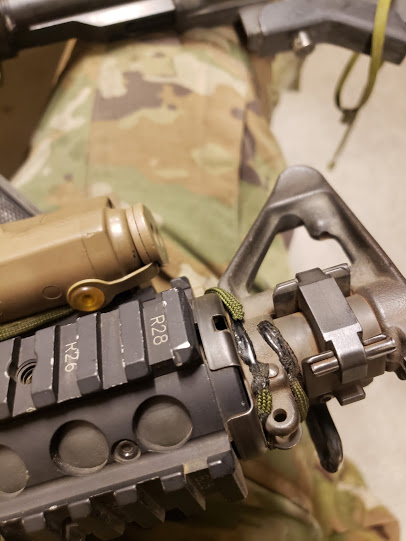 Well, you can. However it isn't good practice due to the harmful effects it could have on the gun. Guns run hot. Anything that runs hot has the ability to melt things. Melt things such as your plastic zip ties, tape, or paracord. Often times operators will also wire it under the gas tube without noticing which makes it melt even hotter and quicker. So what? Heat dispersion is now changed. As well as the lengths you may go through to replace a gas tube or clean off the melted product. During time in the Army we saw paracord for optics melt to a gas tube after one trip to the range. It is just not worth it.
Firearms are investments. Treat them as such. Use quality products. We will spend hundreds of dollars on lights and switches and then won't spend 12 dollars to properly mount them.
From the Product Designer and Developer
The developer, Jason Gifford, for the Arson Machine WireGuide System has both an engineering and military background. While talking the terms "simple and small" came up many times. He talked on the industry wanting to overcomplicate things and when doing that, the solution actually creates more problems. When talking about the "what and the why" behind the WireGuide System the developer stated, "We want to keep it as modular and small as possible. WireGuides are meant to corner the market on "small", or at least that's my intent. Any variations or modifications, will by design be in the direction of other products. IE; big and or janky."
So how did he get there?
Funnily enough, arfcom. Jason was searching for an IR set up and found a thread on light set ups. His eyes and mind forgot the light and went to the terrible practices of users tieing their equipment down. After an hour of searching for a cable management system on the internet he realized that what he was looking for, a small and modular system, didn't exist.
The first model printed by Jason was a hit with LE personnel, 2 more models later and the first batch was sold out before another batch could even be finished.
The developer ends our conversation with this. "Simple problems require simple solutions. We are holding low voltage wires on a weapon, simple. We are not sending cars into space. We will leave that to Elon."
A simple solution to a simple problem, keeping your cables tidy.