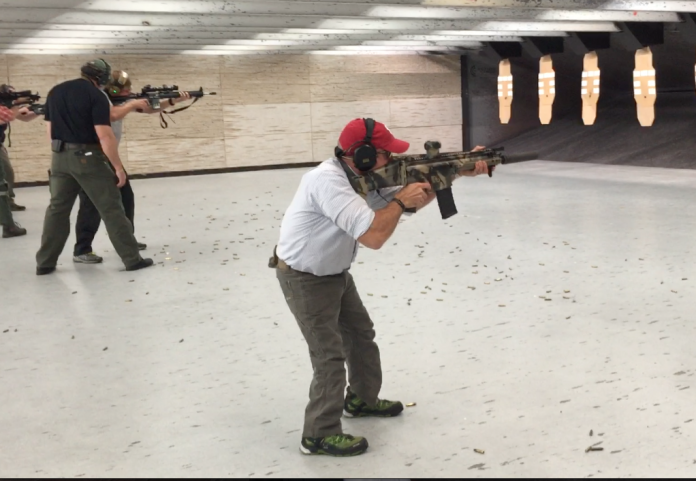 By: Mark Farage – MASF Member
AAR: Green Ops – Defensive Carbine for AR Platforms I (09/20/15 – NRA Headquarters Range)
I don't like reading long dissertation style after-action reports on classes so, I'll try and keep this short, informative, and to the point.
Any time that I go check-out a new instructor / teacher, I always make it a point to take one of their basic courses. It's a great way to be introduced to an instructor / teacher and it's a great way for you to be introduced to them. Trust me, as an instructor / teacher myself, getting to know your students (their capabilities – strengths and weaknesses) is uber important. Also, if an instructor can't teach the fundamentals well… well, that's a bad sign. As such, I took the Defensive Carbine for AR Platforms I course from Green Ops last night at the NRA Range.
Overall, I was impressed by the course and will definitely take additional classes from Mike Green. The course opened up with some basic classroom information on defensive firearm use and safety information. I won't bore you with the details…but the details are important…particularly in light of today's litigious culture. Just know that the hour spent in the classroom goes quickly and you will be on the range soon.
Range time started with a 5-round zero course of fire and ended with a barricade shoot / no-shoot decision course of fire. In between those two courses of fire the group of ten students was broken down into two groups and the groups alternated between courses of fire and rest periods. The courses of fire included, but were not limited to: 1-shot ready drills, 2-shot ready drills, 1-shot / reload / 1-shot ready drills, 1-shot / reload / 2-shot ready drills, multiple-target transition drills, etc. All-in-all what you would expect from a basic carbine course.
I really appreciated the fact that we covered malfunctions but, we didn't spend any actual range time on clearing malfunctions. In a 4-hour course format there just isn't enough time to train on malfunctions. I know there are a gazillion different opinions out there on malfunction training but, in this area I completely agree with Mike Green, save the majority of your malfunction training for off-range time. In today's busy world a lot of us have limited time to hit the range and that time is better spent shooting. I fully support malfunction training in more advanced classes, but a basic class shouldn't get bogged down in malfunction training. As an aside, I've run a combined 50,000 rounds through my two primary guns (a Noveske MK18 and a SCAR CQC – yes, I've changed barrels, bolts, firing pins, springs, etc.) and I've only had a handful of malfunctions outside of those purposely induced by instructors / teachers. What's the lesson; invest in good equipment if you're going to trust your life or the lives of your loved ones to that equipment.
Mike is a really good teacher, he takes time to work with each student, his demonstrations were spot on and he does a great job of teaching "methods" and reiterating that "methods" are just that…"methods" on how to do something not "the only way" to do something. I was really impressed with the fact that he spent time with each student on each drill, giving pointers here or there depending upon the need (skill based). I was also impressed with Mike's demeanor, he's a good instructor / teacher and as a good instructor / teacher he didn't feel the need to stroke his ego… I always like that in instructors / teachers. Being humble is a rare commodity these days… and Mike has that mastered. Mike also did a great job of fielding questions and answering them but, also keeping on point.
At the end of the day we all (well most of us) have limited resources, limited time, and limited ammo… so, would I recommend you investing in a training class with Mike; absolutely. There aren't that many short-format courses out there and I think Mike has really filled a niche and the location for the DMV can't be beat. A special thanks also goes to the NRA range staff for keeping everyone safe.
If you have any questions, let me know and I will answer them as best as I can based upon my experience.
-Mark William Farage
Biography:
Mark Farage is the founder of Farage Precision, LLC and a minority owner of Ronin Combat Strategies.  Mark is a "teacher" with a highly diverse skill set honed from a wide range of experiences, travels, and training.  His background includes, but is not limited to: competitive shooting, professional firearm instruction, extensive off-road experience, advanced first aid training, global travel, and, combative tactics.  As a shooter he is an avid USPSA, IDPA, 3-Gun, 2-Gun, Precision Rifle Series, and Steel Challenge competitor and he gained practical firearms experience as a private military contractor working in the Middle East.  In the area of vehicle dependent travel he has participated in off-road adventures from Columbia to Vietnam, he's been getting off of the beaten path for over 20 years, and he has a reputation for building some of the most capable overland vehicles ranging from Land Rovers to Toyotas.  He has attended numerous driving and recovery schools and is well versed in a full-spectrum of vehicle operations.  Mark has also traveled the globe and visited every continent with the exception of Antarctica.
Mark has extensive experience working for international corporations in the area of global risk management, fraud mitigation and resolution, and corporate criminal investigations throughout North and South America, Asia, and Europe.  His investigations have led to the prosecution and imprisonment of individuals on the local, state, and federal level.  Mark currently works for a publicly traded company in the Washington, D.C. Metro area and continues to maintain industry contacts in the off-road, firearms, military, and medical community.  Mark has an undergraduate degree and Masters of Business Administration from Christian Brothers University; he is a Certified Internal Auditor, Certified Fraud Examiner, Certified Information Systems Auditor, and a NRA certified firearms instructor.
Mark is an adventurer at heart and does not let his Osteogenesis Imperfecta prevent him from enjoying and thriving in life.  Mark enjoys CrossFit, climbing, hiking, fishing, camping, wrenching on his off-road vehicle, and reading when he is not knee-deep in an adventure.
SOURCE ARTICLE: http://masf.co/2016/08/17/after-action-review-aar-of-green-ops-defensive-carbine-for-ar-platforms/