Big Tex Ordnance has Ike! He's a good man and thorough. I like Ike. Everybody likes Ike.  And you'll like Ike too. Visit Big Tex Ordnance [today].
[Editor's Note: I too like Ike. Chris is alright. Chris actually reads these. Hi, Chris!]
And so I did. Recently, I drove over to Conroe, Texas where Big Tex Ordnance has their new flagship retail store and indoor range facility. Big Tex Ordnance is perhaps best known as an online-focused firearms industry retailer that deals in a wide variety of high-end firearms, gear and accessories.
Their signature move is to include pocket sized US Constitutions and themed stickers with each order they mail out. Moreover, if BTO isn't actually the fastest outfit when it comes to shipping out customer purchases, it is most certainly in the running for the top contender. And while Ike wouldn't directly admit this to me, he's probably a stakeholder in the Topo Chico mineral water operation based in northern Mexico across the border from Texas. In short, BTO is a small outfit ran by a handful of very hardworking guys and gals. It was their level of customer service that got them a strong online following and loyal customer base, but they also stock the sort of stuff that a connoisseur might appreciate.
Who is Ike? Ike is the entrepreneur who started his own business, and at a relatively young age. The first steps of his BTO journey began circa 2014 after selling off his old Ford F-150 pickup truck to buy some equipment to Cerakote guns on the side. After making some money from this initial entrepreneurial endeavor, he eventually sold his Cerakoting gear and used those proceeds to buy a small amount of retail merchandise, which he began selling online.
He ran his first retail operation out of the back of a shed and eventually, that shed turned into a tiny warehouse. From that warehouse, Ike and his team recently expanded into their first brick and mortar shop that also happens to have a full size indoor gun range. Ike and his brother had been frequenting this particular indoor range for years and when the old owner was ready to retire, he offered BTO the chance to buy the business and take over.
[Editor's Note: I still think they missed a golden opportunity to name the range Big Tex Indoors and keep Big Tex Outdoors as the general business name.]
That's exactly what BTO did; they had their grand opening a little more than a year ago. BTO's new headquarters has a classroom area, two twenty yard indoor pistol range partitions, and an additional 100 yard indoor rifle range, in addition to its general retail area and gun-rental counter.
Inside the shooting areas, the counters opposite from shooting stalls have thoughtfully tethered magazine loading gadgets that anyone is welcome to use while they are there shooting. I mention this because this is the first time I have ever seen an indoor range do this. Equally thoughtful is the fact that customers can find lead removing soap to rinse their hands when they are finished shooting in the restrooms.
Ike told me that with this latest and most drastic expansion yet, one of BTO's goals was to turn their new headquarters into a regional training destination. BTO has been making efforts to host classes with nationally recognizable trainers and firearms instructors at this new facility. Becoming a training destination in Conroe is yet another way that BTO is trying to bring more value to the firearms community. After all, firearms are serious implements that can have lasting if not deadly consequences and everyone wins when training opportunities are easier to come by—especially in underserved geographical areas.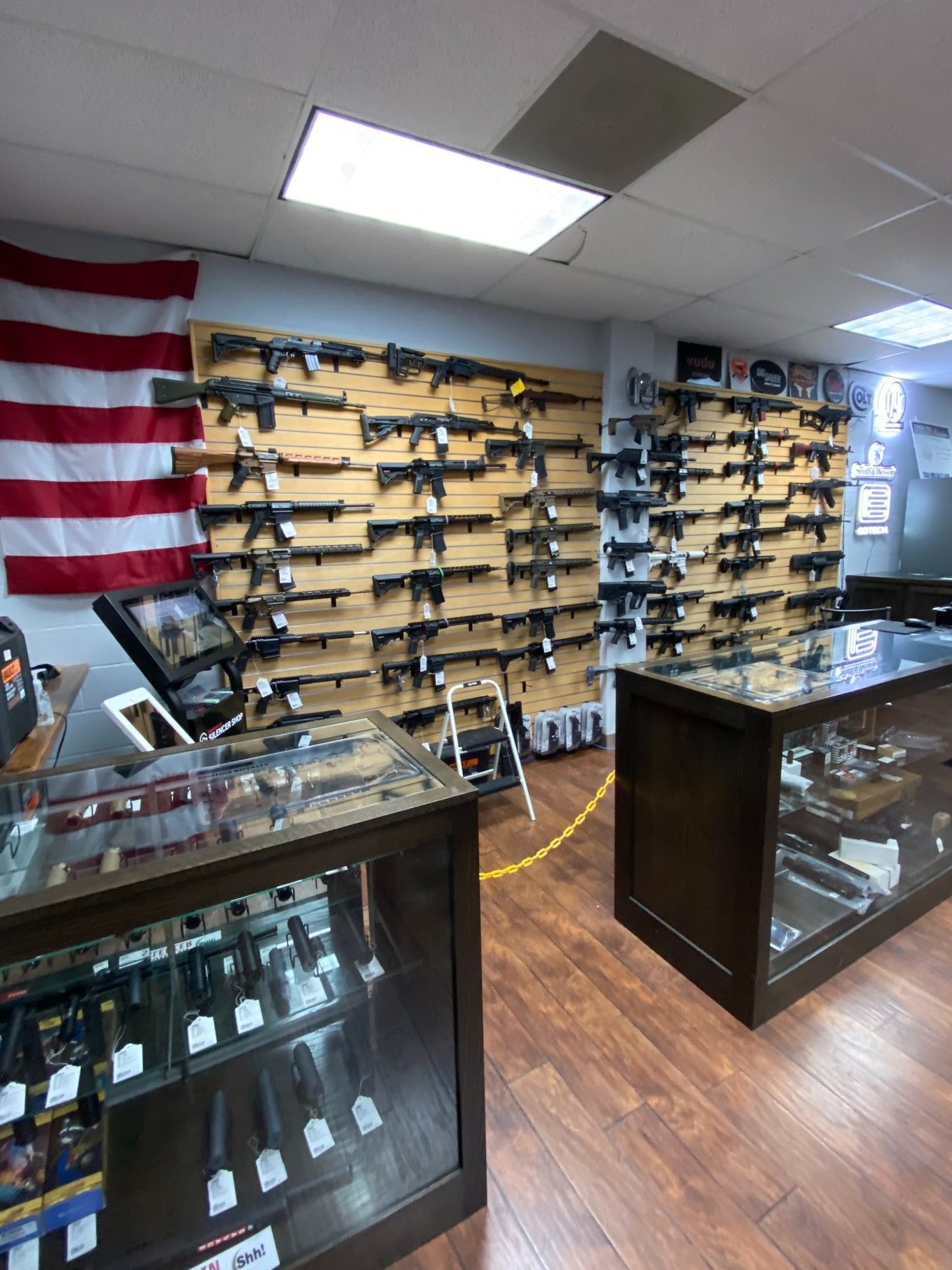 The first time I walked into Big Tex Ordnance's brick and mortar store, I could not help but to notice how well stocked the entire shop is. Counters, walls, and display cases bristle with firearms like fruit trees in an orchard right before the harvest.
Besides the sheer amount of inventory, BTO also covers their bases quite well across firearms categories: by brand, category, price or style. To say that they had something for everyone at the shop is an understatement, especially for the size of their shop. I wouldn't hesitate to say that their "menu" is better curated than that of a typical big box store that does put some emphasis on its gun counter.
Considering we're on this side of the 2020 Covid pandemic, where we saw supply chain interruptions on practically everything, it is worth mentioning that some gun shops still have empty spaces on their walls or display counters. While I am aware that the ammo supply is starting to recover from these events and supply can be seen on most store shelves again nearly to pre-pandemic levels, BTO is ahead of the curve as the storefront sits chock full with all types of ammunition. They even have cases of overflow ammunition stacked like bricks along side part of the store by the range area. Some could say that these extra cases make the shop look cluttered, but after going through this most recent shortage, extra inventory is a welcome sight to me.
I ordered a Surefire X-300-U B thousand lumen weapon mounted light from Big Tex Ordnance some time back in late 2020 after I bought my Beretta 92X Performance. I had never met Ike, nor had I ever been to Conroe, and at the time I was living in the American West, so the fact that my light arrived from the eastern portion of Texas to the mountains as quickly as it did frankly surprised me. (Especially because this happened at the same time most everyone else was experiencing major shipping delays during the pandemic). Expecting to hear about some sophisticated algorithm or other serious technological tool, I asked Ike what the secret to their scary quick shipping is. He just told me as a matter of fact that shipping was just something his team highly prioritized as they are always striving to do better. If you happen to be visiting the southeastern part of Texas near Houston, be sure to drop by and say hello to the friendly folks at BTO, you'll be glad you did.