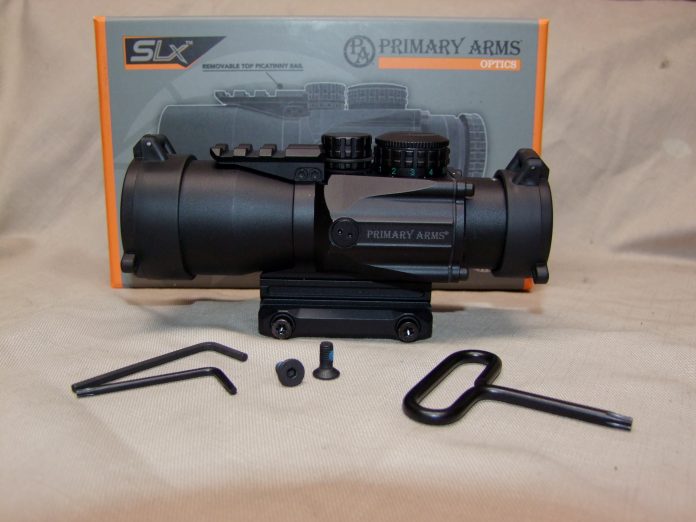 Over the fifty years I have been shooting, the area that has grown to offer shooters more options is optics. In my youth if you wanted high end precision optics, you purchased a Unertl. In my youth these scopes sold for $50-200 which would be $1700 today. For affordable scopes ($15-$75) we had Bushnell, Weaver, Redfield, Leupold or branded scopes such as Western Auto, Sears, Montgomery Ward which were about half of the others. These inexpensive scopes were not known for holding zero and they were prone to fogging.
Fast forward to 2021 and you can still find inexpensive scopes but they are light years ahead of what I grew up shooting, save for those from Unertl which still have a following today. One brand that has become popular with a variety of users is Primary Arms. Primary Arms is known for affordably priced, quality optics. Most of their scopes and red dots are priced under $500.00.
I have been testing a 5X Gen III Prism for the last several months. It has been mounted on a KelTec SU16A. This "folding" rifle has been in a discreet carry case and is my truck gun when traveling. With its 18.5", 1 in 7 twist barrel it is an accurate compact rifle; especially when loaded with Black Hills Ammunition and mated with a quality optic like those from Primary Arms.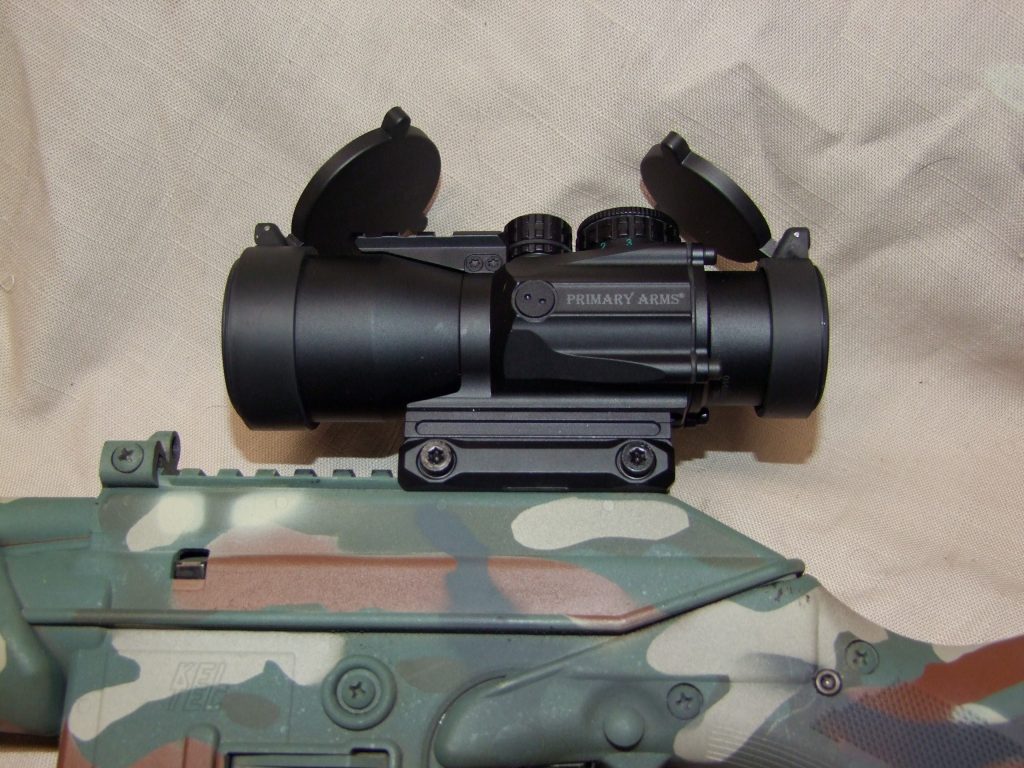 Primary Arms' attention to detail starts with the base. Most OEM bases are adequate but need upgraded for serious use. This is not the case with Primary Arms' base. PA has two bars that give seven points of contact instead of five, four of which contact three rails. This helps ensure you will not lose zero if you remove the SLx. These bars also give more even pressure once the scope is attached to your firearm. This also gives you two slots to mark to ensure your scope is properly replaced if you remove it. Lastly you can remove the mount and the scope will fit perfectly in a traditional carry handle.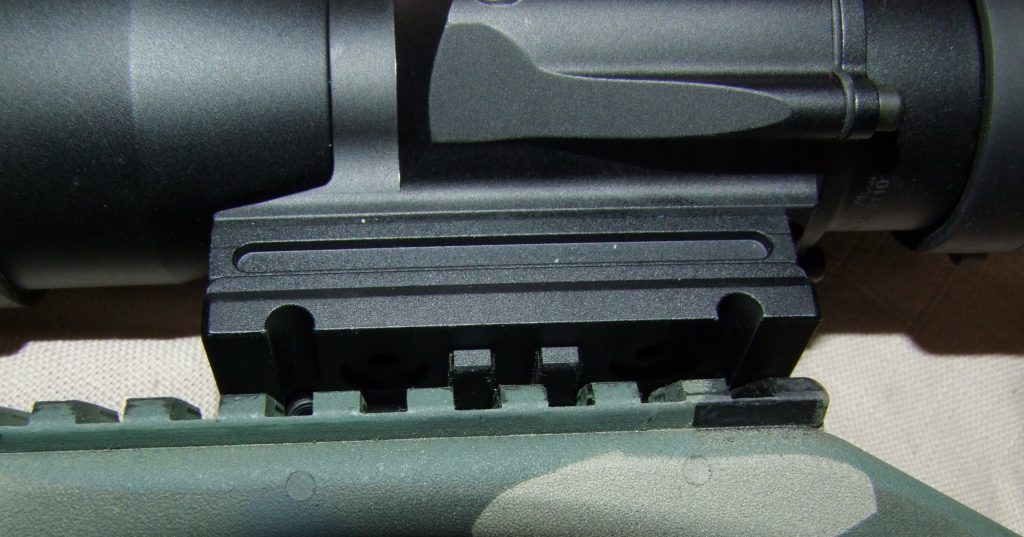 Next Primary Arms includes custom flip-up lens covers. These are not flimsy pieces of plastic, they rival those you would spend several dollars for aftermarket. They functioned flawlessly in scorching hot or freezing temperatures. Unlike bargain scope caps these have not cracked when removed or installed in single digit temps.
Another nice feature is the removable rail on top of the scope to mount a mini red dot. Like the scope caps, this would set you back several dollars if you installed one. Unlike one you would install this rail is low profile so it will not interfere with the SLX's operation if you do not remove it.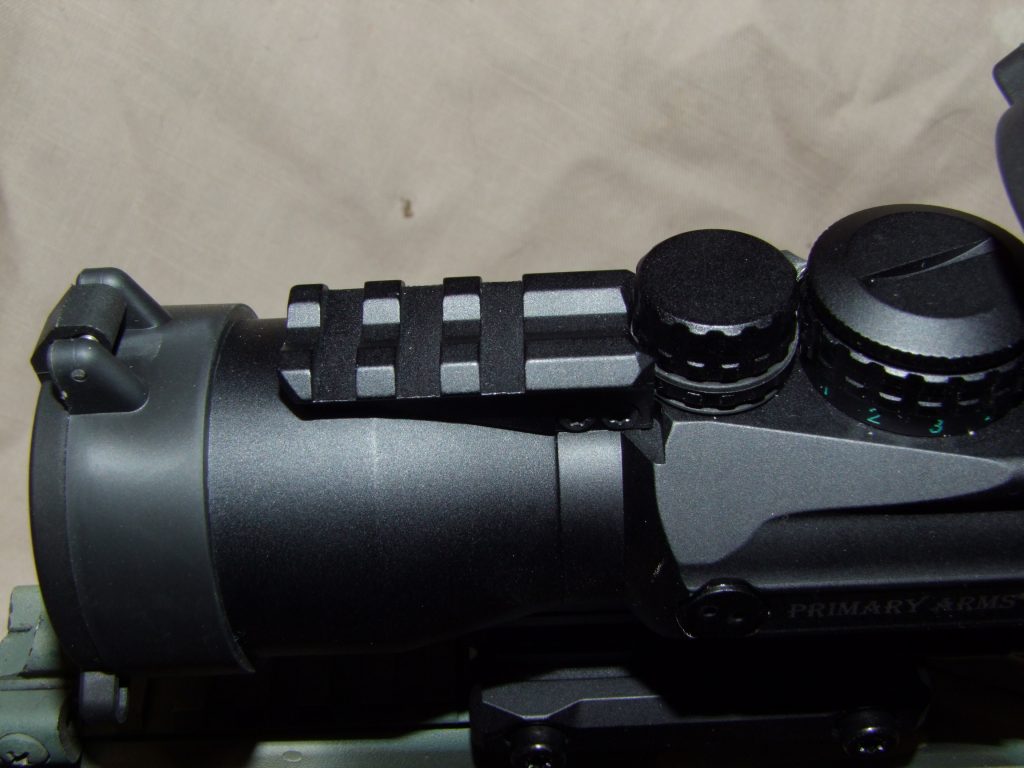 Primary Arms ensures you do not lose the adjustment caps by attaching the caps with a flexible strap. This is a feature generally only found on much more expensive optics You will find each click is 0.33" of vertical and horizontal movement at 100 yards. At 50 yards, I found the adjustment to be just under 0.25″.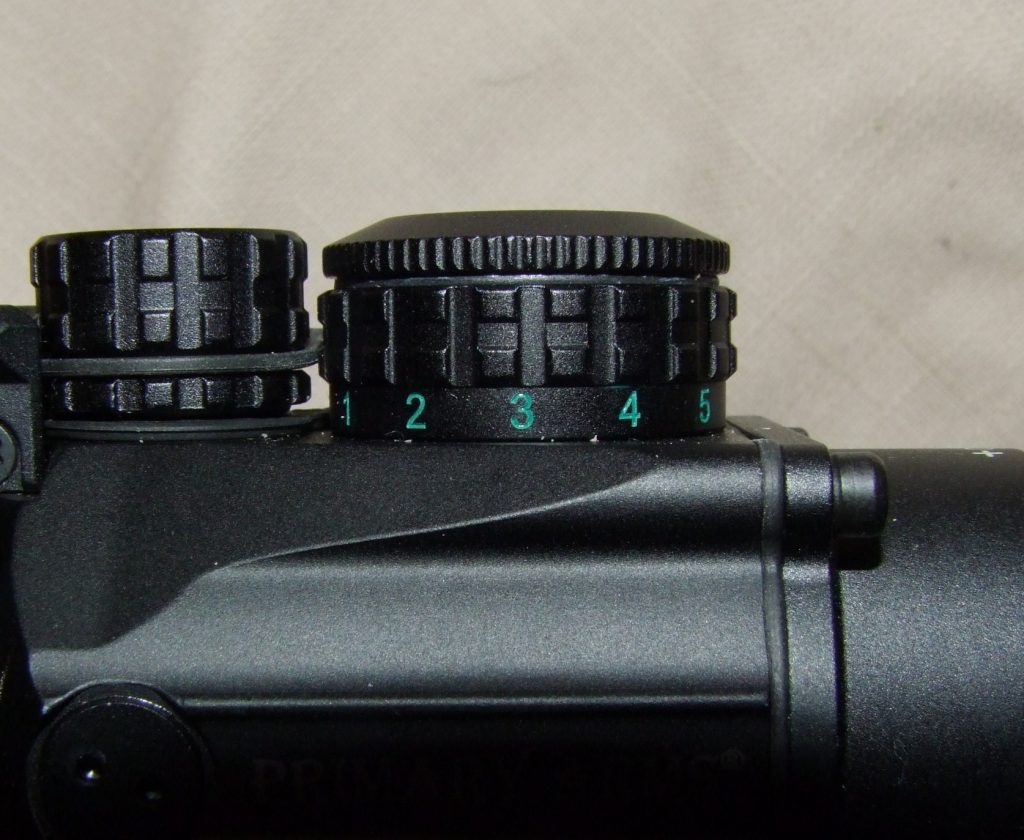 One last feature I have grown to appreciate is the Advanced Combined Sighting System reticle. It can be turned on to red or green. There are five intensity settings for red or green. If you travel a lot, you too might find like I did; this helps when going from lush greenery to browns of desert regions.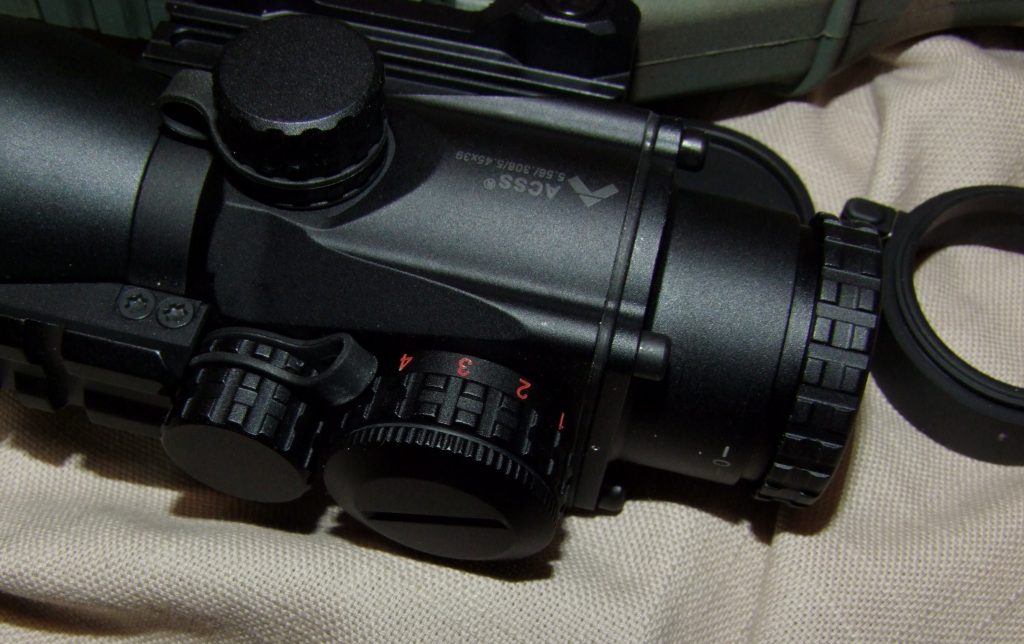 The ACSS reticle is an inverted horseshoe with a Ballistic Drop Compensator. Primary Arms' manual gives you the BDC for .223/5.56, .308/7.62X51, 5.45X39, 6.5 Grendel and 6.8 SPC. I zeroed my SU16 with 5X SLx at 50yrds with 55gr JHPs and the BDC was nearly dead on at 200yrds; the actual impact was 2" low; which could be caused shooting in various weather conditions. After zeroing this set-up with 55gr JHPs, I also tested the variation of POA/POI with various weights of .223Rem and found the biggest spread was 3" at 200yrds. In practical terms, that is good and I left the zero as it was. Over the last several months, the SLx was off and on the SU16 several times and zero never changed.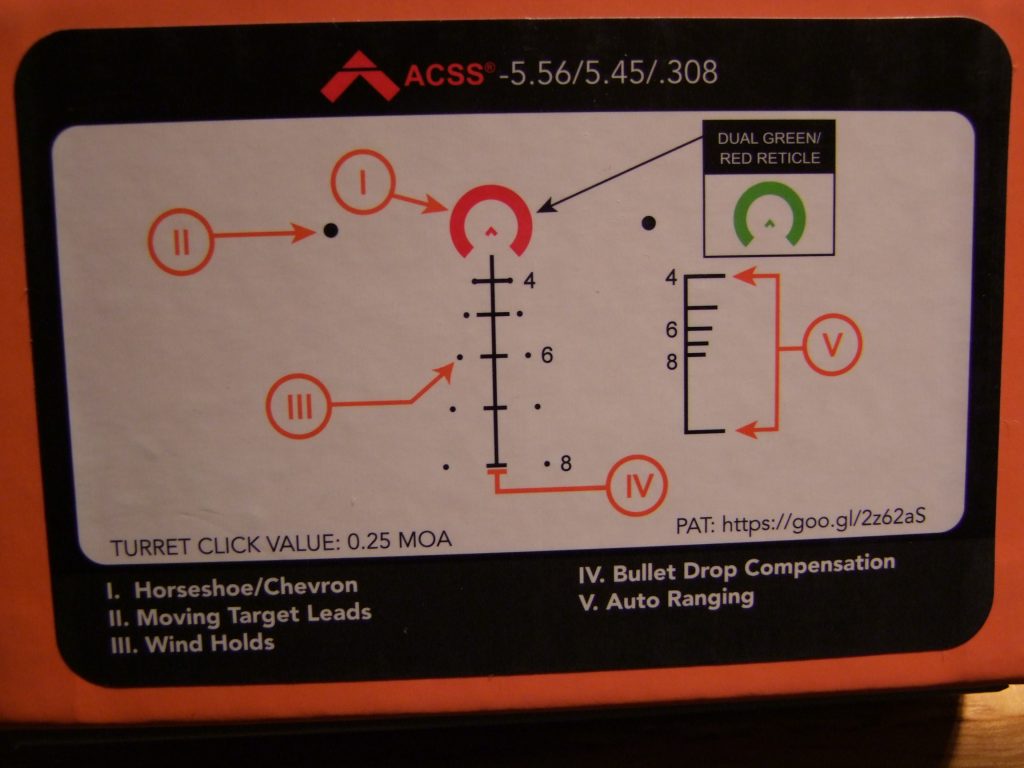 Lastly Primary Arms SLx has a feature I have not seen on many combat style optics, an adjustable ocular lens. To those with perfect eye sight, this is not a big deal. However, when you wear corrective lenses, not being able to clearly see the reticle is. It greatly affects accuracy. Primary Arms, saw fit to give the SLx an adjustable ocular lens. This makes seeing the ACSS's BDC marks much easier; so much so I could actually use them. I am certain others will appreciate this as much as I do.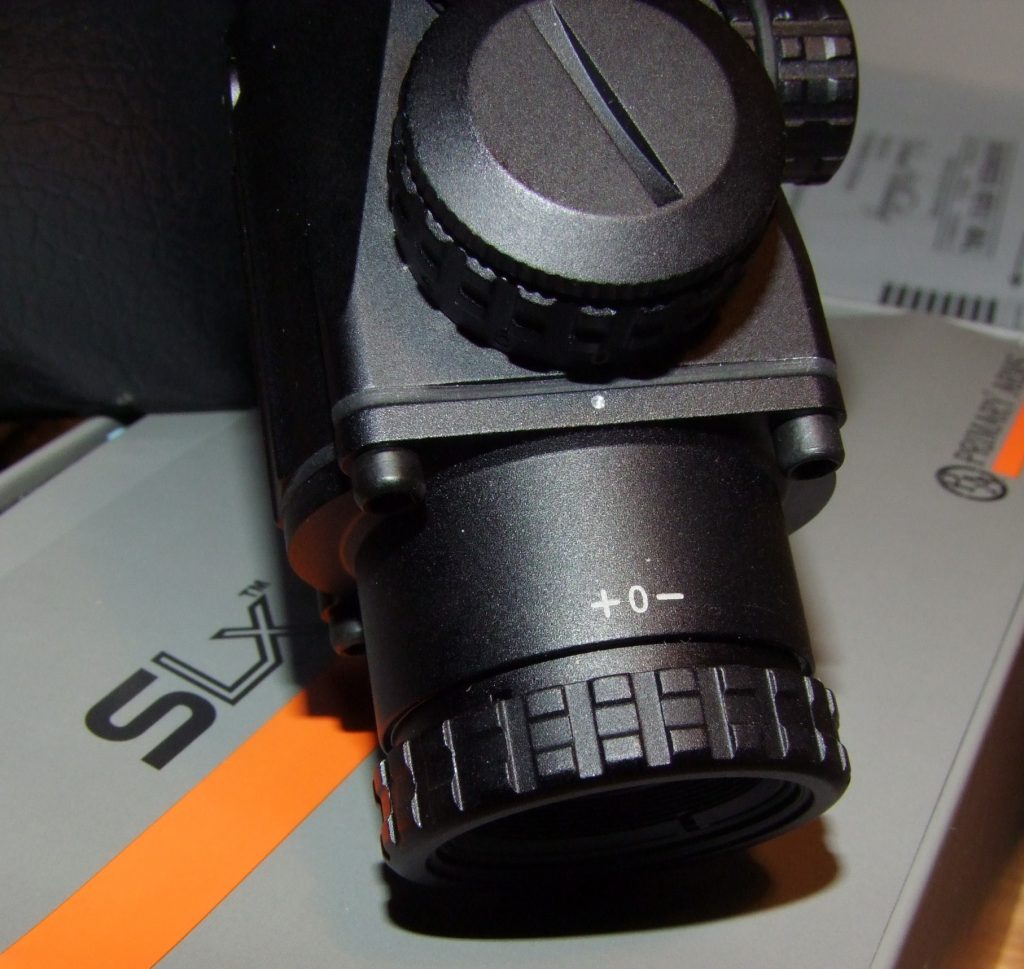 With a $329.99 MSRP Primary Arms' 5X GenIII SLx is an awesome piece of kit. The optic is ideal for many applications; hunting, competition, duty, personal protection. If you are a rancher or farmer, the SLx would also be ideal for on the range to dispense various destructive varmints.
Overall I found Primary Arms' 5X GenIII SLx to be an excellent scope. It now permanently resides on the KelTec SU16. I trust to protect the house or my RV when I am traveling. I cannot give any piece of kit a higher recommendation than that. If you are looking for a quality compact fixed power optic, PA's 5X GenIII SLx should be on your short list.