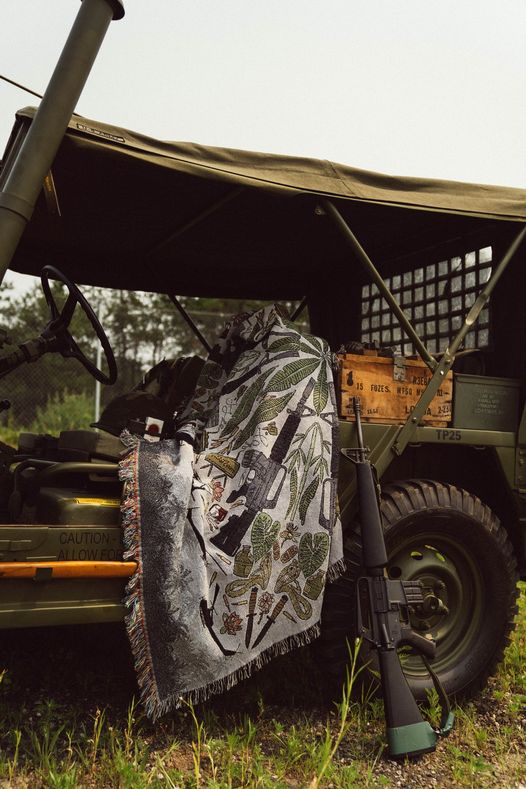 A comfortable, strongly woven, beautiful blanket…with claymores, helicopters, and old school Colt firearms.

The Throw
From the Website,
"The Vietnam Throw is a concerted effort to recognize our military history, and is a humble nod and thank you to the servicemen who fought in Vietnam. The throw features a Colt XM177E1 and Huey helicopters, along with other items and foliage reminiscent of the Vietnam War.
Our blankets are woven, not printed. The final size of the blanket will be roughly 54″x72″ – they are large enough for a queen bed & perfect for naps on the sofa. 
Woven in a small family-owned mill located in the foothills of the Blue Ridge Mountains. These blankets are made on European Jacquard looms with roughly eight miles of American made 100% Cotton yarn."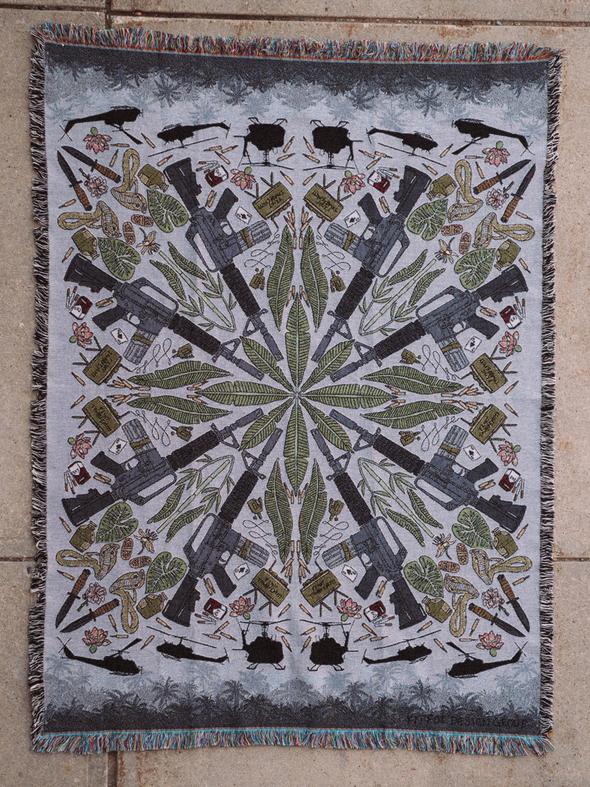 Pre Order Round 2
From the website,
"The second run of blankets are estimated to ship around Thanksgiving (US) week. We are limiting this second run of blankets to approximately 450 throws to ensure that our manufacturer has ample time to manufacture, quality check, and ship them to us so that we can get them out well before the Christmas rush. 
International customers: we will be prioritizing your orders to ship first so that you have all odds in your favor for receiving your throw blankets before Christmas. We are also going to be making DHL temporarily available for blanket orders as we will make a drive down (about 60 miles) to the hub for those packages. 
Gift orders: We are offering gift-wrap and note services for this second run of orders. If you would not like gift-wrap, but this order IS a gift, please use the order notes to let us know. 
As with the previous run of blankets, we will be sending regular updates as well as listing the current status here and on the blog (link to come). 
This pre-order phase will run silently (those of you who just wander over here, or have put your email in the out of stock notifications) 10/1 through 10/4, and publicly from 10/5 through 10/18 or until the limited allowance is sold. "
RECOMMENDATION: To ensure that your order is placed in time since they are only doing 450 blankets in this preorder, immediately go to the website and put your email in the email notifications bar. This will also give you a discount code yay! Then, since this article will be posted within the pre-order two dates, just go ahead and order a pre-order HERE. We understand that pre-orders are always sketch. However, trust this one. Kitfox updated us multiple times and are very transparent in their processes.
My Experience
I ordered in the very first pre-order run. I received around 5 emails from Kitfox just giving updates and ensuring that we know that we weren't forgotten. The last update even allowed us to change the shipping address if we did indeed move. It shipped directly on the day that they stated in the last email as they were tracking the package as well.
I'm in love. It is comfortable and well made. The color palette is a mild palette that allows these images to blend beautifully while not jumping out at you. In my eyes, that makes it special. You have to have a love for the history within the firearms world to truly appreciate the throw. To have to look closely to see every casing in between the ferns and Hueys..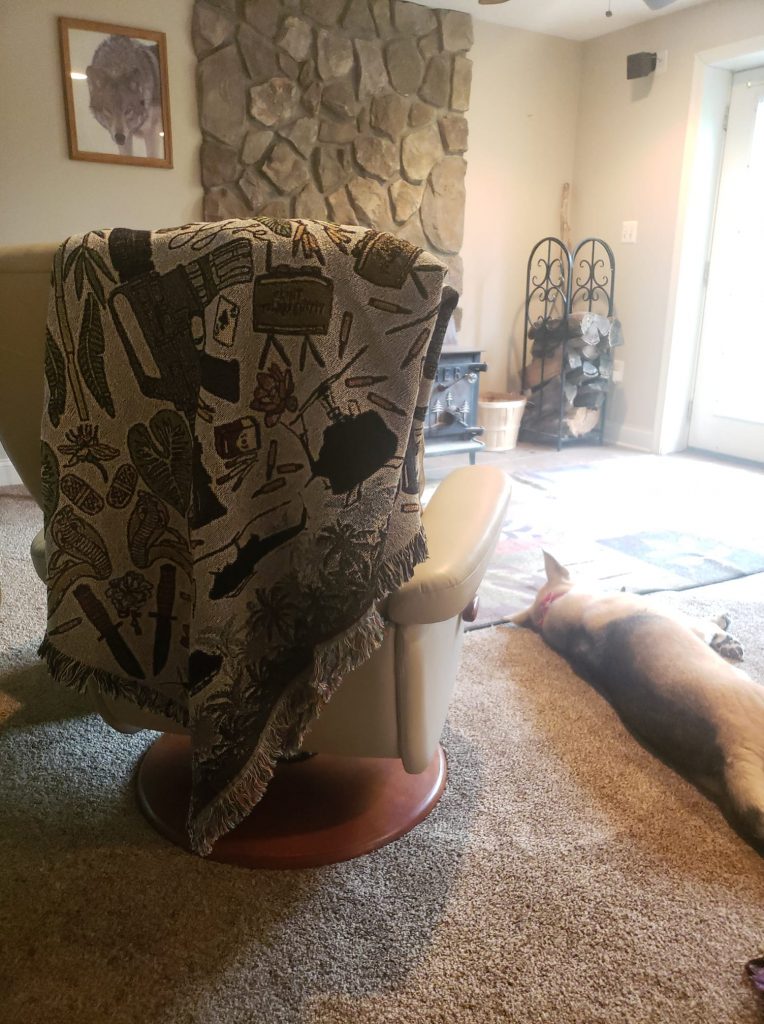 As far as care for it, I was told specifically to wash separately and on gentle cycle. Air dry.
It also came with stickers, a patch, a secret pin (see their Facebook about that) and a coloring poster. Which I was very excited to receive as an extra considering how they first got big. The very popular Firearm Coloring Book.
To see updates click HERE for the Vietnam Throw Blog
Click HERE to see other items within the Vietnam Collection
Other Items to purchase
Kitfox Design Group makes some very adorable cookie cutters in firearms shapes.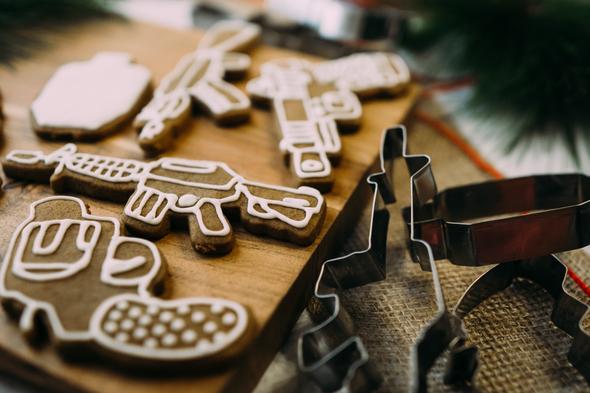 The famous Firearms Coloring Book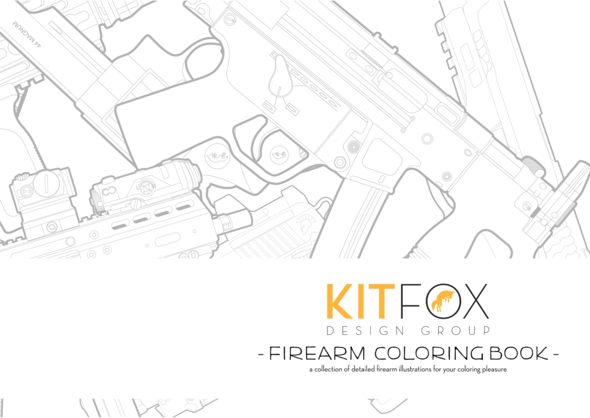 Apparel including the Death Card