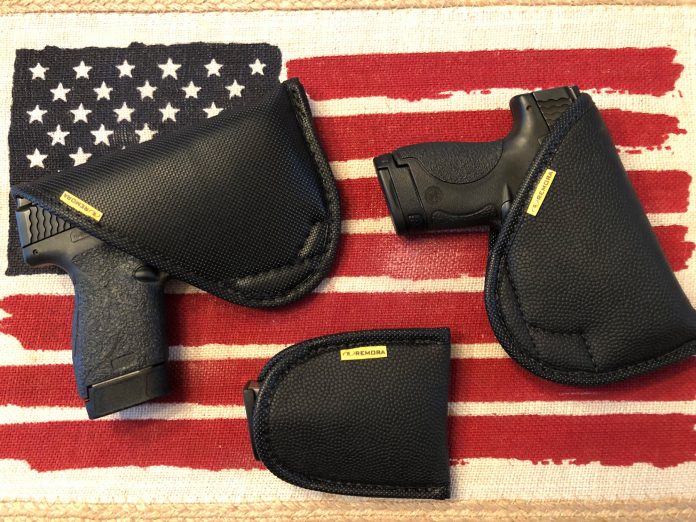 This review of the new generation Remora low-profile, no-clip, IWB holster is coming strictly from a female perspective, and I've been as open and honest as possible in giving these holsters a fair shake. I'm more of a "girly girl," so some women may have a completely different take. As with all holsters, it's what works for the individual.
I was looking forward to receiving my Remora holster in the mail, and unpacked it with much optimism. I was surprised to find not one, but two of the Series 5 holsters, as well as a magazine holder! I received the Remora Artemis Low Profile No-clip IWB Holster Series 5MP, and the 5 MP-SS (with sweat shield) for my S&W M&P Shield .45. I also received the Single Magazine holder. I was a little confused at the time, but soon realized that there is a significant difference between the two holsters.
My husband is a fan of this type of holster, although I never saw the draw (no pun intended). After examining the Remora holsters, I was really impressed with the products themselves, as they were obviously well made, had precise stitching, and screamed "quality!" They were both very light weight, were made of a textured, pliable, no slip material, and the inside contained a plush, padded lining.
These are both low profile/pocket, no-clip, in the waistband holsters (IWB). The "no-clip" part of the holster had me very skeptical. After all, I'm a girl, a short one at that, and at 5'1", I'm also very short waisted. I carry cross draw, and have tried many different holsters. These were low profile, and I was pleased that I wasn't tortured by a holster that jabbed me in the ribs when I bent over or sat down. Likewise, it didn't fall down inside my pants, as the non-slip binding is just that.
As a female, there are many things to take into consideration. Most of my friends and I don't wear belts with our pants and capris, and in fact, most pants these days are made of some sort of thin, stretchy material, so retention is certainly an issue. That said, most of my pants are petite, have no pockets, or don't have deep pockets, so the "pocket" part didn't work at all.
When wearing with a pair of stretchy jeans and a regular blouse, it worked great, and was pretty hard to see. The only issue was going to the restroom. If I had buttons, then I had to completely remove the holster (with the gun in it), and find a way to hold the firearm with one hand and do the rest of my business with the other hand! I did end up putting it under my arm while fastening my pants, but I wasn't quite sure how to gracefully handle that situation. The pull on, no button leggings were easier, as I was able to trap it.
Because I work from home I wear yoga pants a lot. I also work out, so this is a pretty big part of my wardrobe. I found that both holsters did stay put when sitting or standing, but if I was more active, they moved around a lot. They worked better with tight yoga or workout pants. I also wear shorts, usually something like the Eddie Bauer Guide Pro Collection which is a two way stretch nylon/spandex material. They stay well, with only little movement, without a belt.
I don't wear many dresses, but on the rare occasion I prefer to carry off-body. I have a concealed carry purse, and haven't been very happy with the little "halfie" holster they had in the pocket because it didn't cover the trigger guard to my liking, so I substituted that with my 5 MP holster and it worked really well.
I was very surprised that I liked the 5MP-SS version the best because of the sweat shield. I don't always wear an undershirt when carrying, so having the butt of my gun up against my skin was irritating, so the higher back of the sweat shield was great. It is still low profile, but has an added bonus of covering the back of the slide and keeping the firearm off my skin. It is super comfortable, and the non-irritating, smooth material doesn't rub, poke, or pinch, and it offered amazing concealment.
The material and design of these Remora holsters definitely changed my mind with regards to this type of holster. They are pretty amazing, well made, easy to use, offer comfort, and safety. The magazine holder did its job well and was small enough for me to put in my pocket. There are certainly times when these holsters will absolutely fit the bill!
---
Barb Miller is a certified pistol instructor and AG & AG chapter facilitator in Centennial, CO.
SOURCE ARTICLE: https://www.agirlandagun.org/a-girly-girls-take-on-the-gen-ii-iwb-pocket-remora-holster/