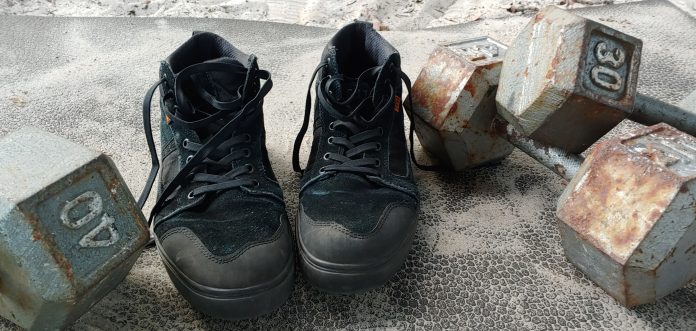 I'm not sure when the tactical community decided to stop looking like Operators from the 1990s with their big baggy button shirts, cargo pants, hat with the American flag patch, and combat boots but it's a welcome change. Not only has the tactical world integrated into fashion, but the fashion world has integrated with the tactical world. From the useless Black Multicam to plate carriers becoming part of streetwear we've seen a mix of cool, useful, and… questionable. The Norris Sneaker from 5.11 are trying to be both cool and useful.
The Norris sneakers are what happens when you take a pair of Chuck Taylors and give them to a tactical company. The name alone is one of the better puns. Think about it, they take the classic high top sneaker design that was popularized by Chuck Taylors, improved them, and called the Norris sneakers. Chuck freakin Norris lives on as a meme.
The Norris Sneakers do have a very classic look to them, and they certainly don't look outwardly tactical in any way. By tactical looking I mean they don't look like a pair of Bates boots, or MOABs. They look like shoes, but they pack a ton of features you'd find in boots.
The Norris Sneakers – Feature Filled
The Norris Sneakers come equipped with a Vibram Marbrani outsole with XS Trek built-in. XS Trek is a no marking compound that helps prevent scuffing when working indoors or over nautical environments. The material also helps provide low profile traction. Vibram soles are known for their extreme durability and are the go-to standard for high-quality boots.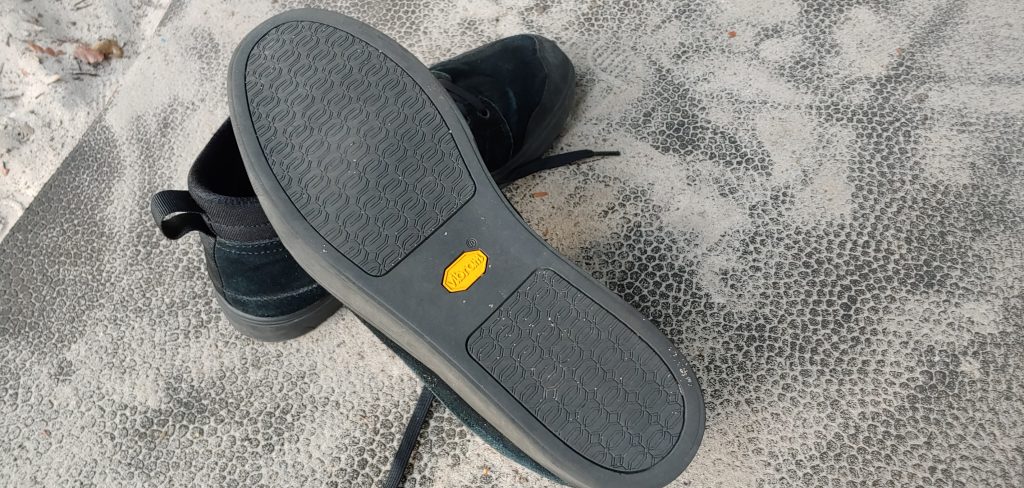 The Norris sneakers have climbing grade rubber toe protection for increased traction. On top of that, the sole is ASTM certified for puncture resistance. You can cruise the streets of San Francisco and not fear the syringes laying everywhere.
The Ortholite upper cuff gives an excellent fit and keeps the shoe in place. It also provides excellent ankle support.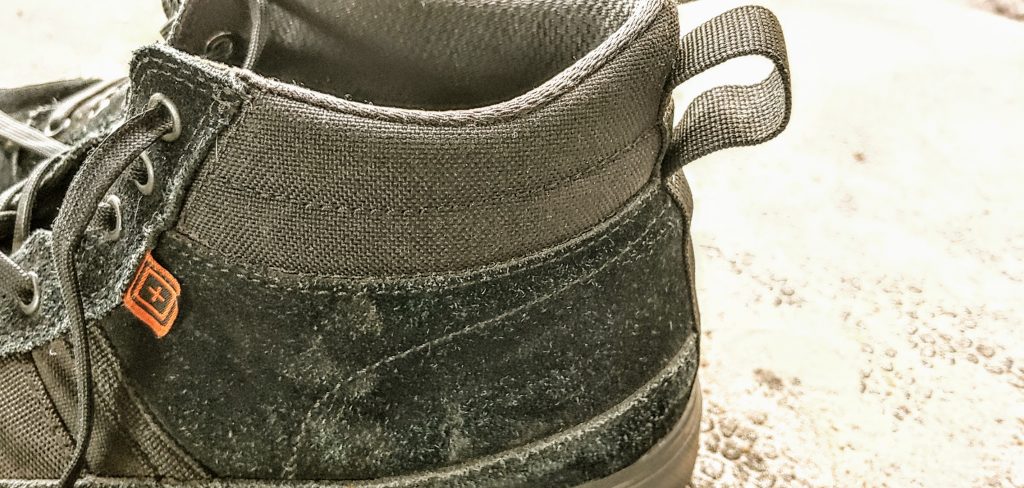 While these are still just sneakers they have enough boot like features to make them an excellent hybrid design. If sneakers are cars and boots are SUVs then these are a crossover.
On the Streets
Admittedly the only downside to the Norris Sneakers is that they a while to break in. For the first week or so they rubbed my pinky toe on either foot. Not enough to blister but enough to feel relief when you weren't wearing them. After a good break-in period, they comfied right up.
The Norris Sneakers are slightly tighter than normal boots, but it's more of the way a glove embraces a hand than a set of tight shoes. They don't slip on and off by any means and like boots they are best worn tightened down.
Impressively enough the tread is great with wet terrain, including mud, concrete and yes boats. While it might be Fall in the rest of the world it's currently cooler summer in Florida so boats are part of my equation.
Speaking of boats, there isn't much water protection. They will shed gentle splashes and resist it okay. Should you submerge your Norris sneakers don't expect much water resistance.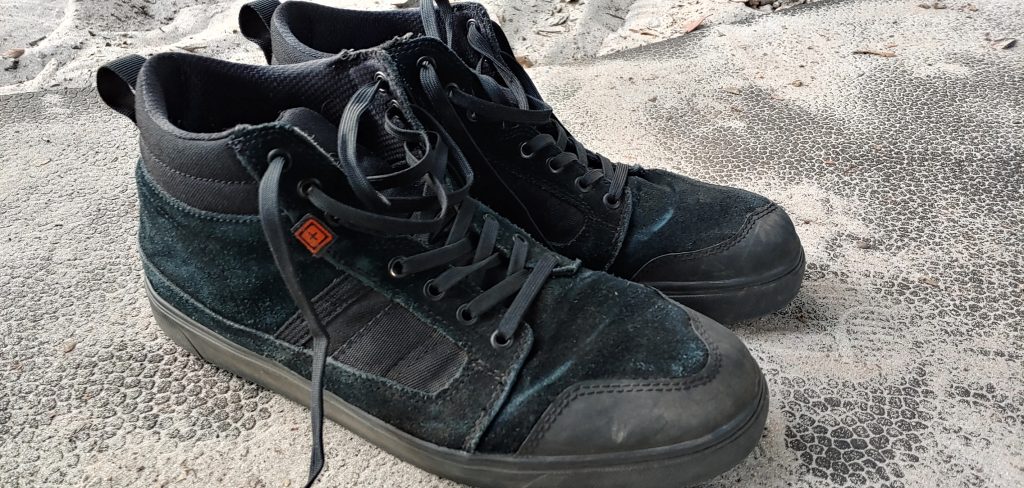 What you can expect is a comfortable and very lightweight option. They give most of the protection of boots with the weight of shoes. It's hard to beat the overall design and the blend of both boot and sneaker.
I've put many a mile on these shoes in various circumstances. This includes running sprints, weightlifting(especially deadlifting), walking on trails, in the wild, and just normal life. The shoes hold up and the 5.11 design is rock solid. The quality is evident and 5.11 used some beefy stitching and thick materials.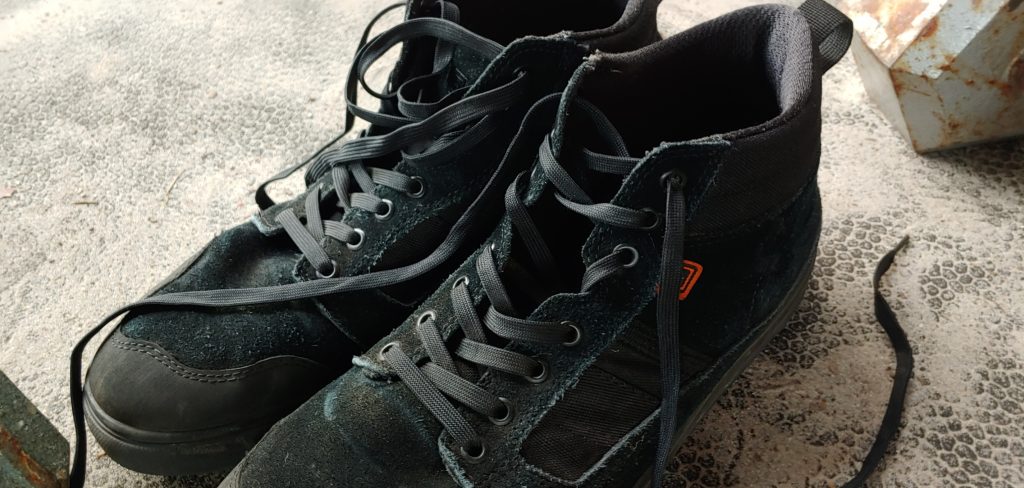 The Norris Sneakers are robust and discrete. I loved the 5.11 jeans and these sneakers are the shoe variant of that. They are light, discrete, comfortable and rugged. Perfect for daily wear with all support you need without the distinct boot-like appearance.