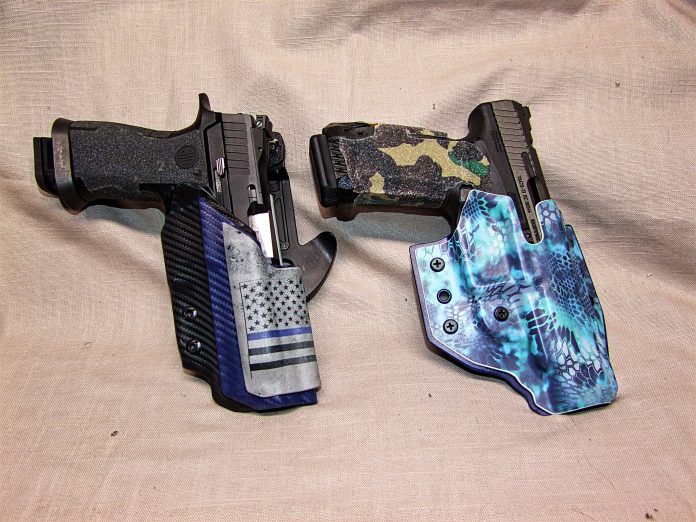 From Scott Smith
Over the last twenty years I have used and seen many kydex holsters from many makers of holsters, they have changed since the days when you simply folded a piece of kydex to fit a pistol.  Kydex holsters these days are as closely fitted to a pistol as hand boned leather is. You can find inside the waistband holsters, numerous types of outside the waistband holsters, single/double/quad magazine pouches; whatever you want, pretty much you can have. All you have to do is be able to foot the bill and it's yours.
A few years ago I was shooting with a number of junior shooters and they all had kydex rigs molded from wild colors. I come to find out one of the kids dads made them. Scott Frank is the owner of 3i Holsters (www.3iholsters.com ) in Zanesville, Ohio and he makes unique holsters to fit his customers needs. We emailed back and forth to meet and have him make a couple holsters for me. It was agreed he would make a holster for my Canik TP9SFx and a Sig P320X5. My criteria for these holsters were they to be bright or camouflage pattern and both of them be outside the waistband. Other than that, Scott could have free reign on what he was making.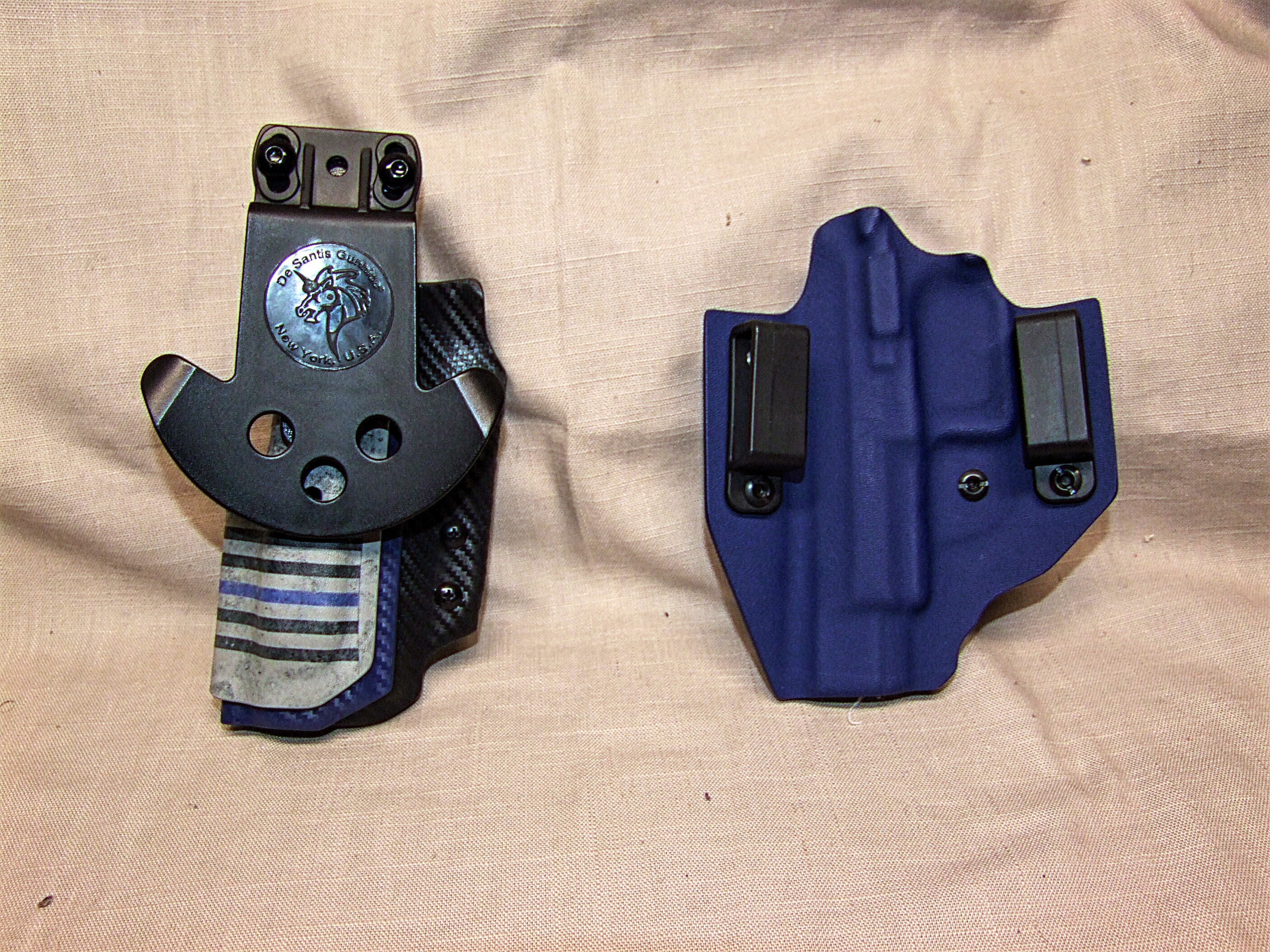 When I arrived at the 3i Holsters shop, I was impressed. Blue guns were in marked boxes on the wall so employees could see what was being built, there were numerous sample holsters in the front case, there were holsters in progress, color swatches allowing customers to see actual material and the staff was hard at work cranking out product. 3i is busy building stock holsters for several shops in the Zanesville area that stock their holsters and having product for popular pistols when they take the shop to local gun shows. Scott is busy building a business that is far more than a hobby. Several local officers use 3i holsters for duty and competition shooters are using their gear all over the country.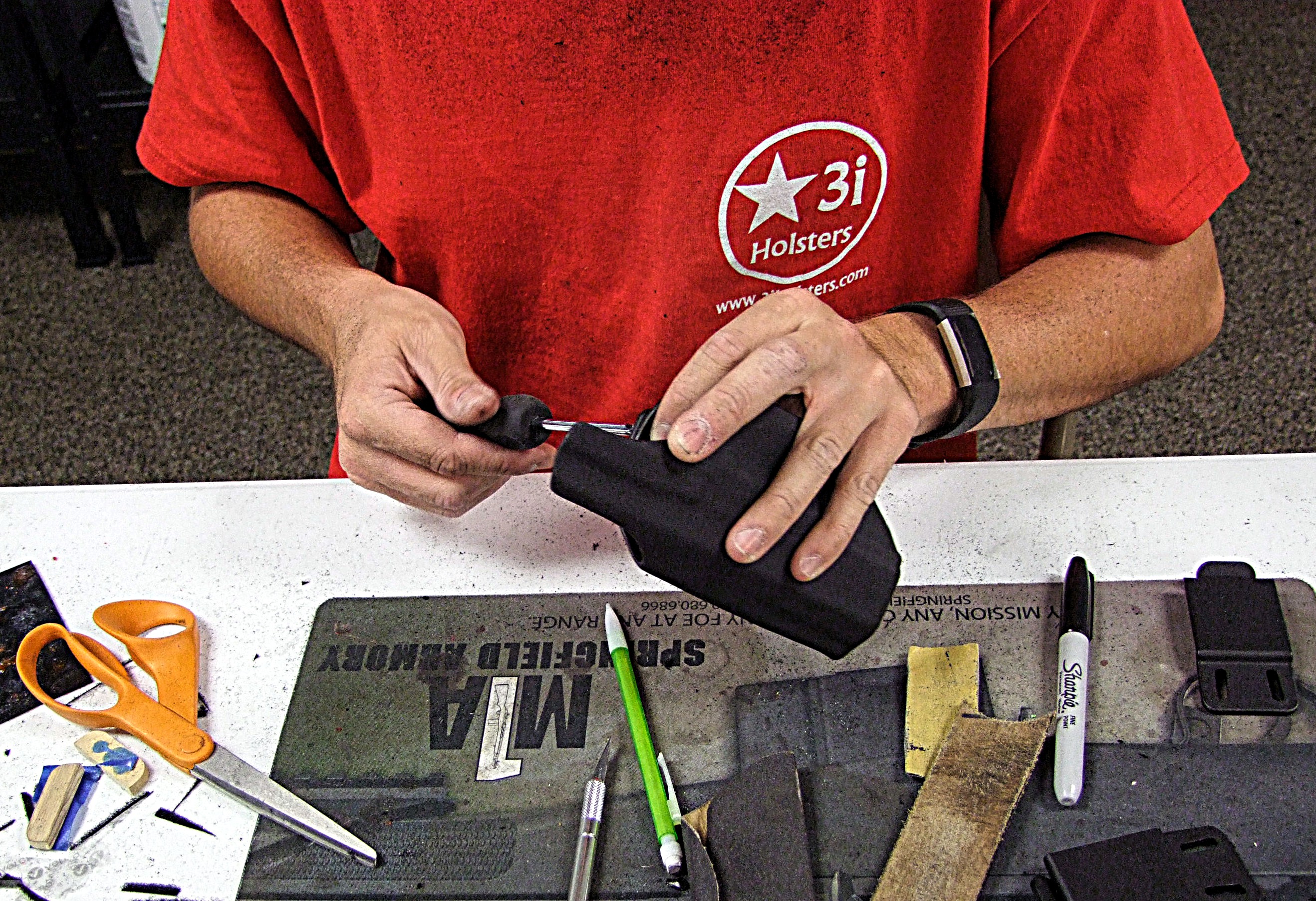 What truly impressed me was the attention to detail that is holster is given. The guys cut the kydex for each holster, vacuum fit it to each pistol or knife, and then excess material is removed. After this the edges are given a sanding and polish job that eliminates all sharp edges and any tool marks. This detail is given to every holster built by 3i. Scott told me he believes every holster; be it a stock holster or full custom build, should be given the same care. Every customer gets the best product the shop can turn out.
The first holster I have built was ready when I arrived. It was a custom adjustable height paddle holster for my Sig P320 X5. I was blown away with the holster. This straight drop holster is a three layer holster in black, blue and a subdued blue line flag for my service as a LEO. The black layer is the piece that has adjustable retention via two Chicago screws. The blue and flag layers are secured with the paddle screws. To keep range dust from collecting in the holster it is open bottomed. Even with a fully loaded pistol this holster rides close to the body and is as fast as any holster I have used. If I cranked the tension screws down, I do believe the 320 would have stayed put in a hurricane.
Scott finished the holster for the TP9SFx while I was there. He did this because the Canik was just starting to gain popularity and he did not want to invest in the inert pistol if the pistol was not going to have a following. This holster is an open bottom pancake style with formed belt loops. To meet the request of bright, the front is Kryptek Pontus with a royal blue back. I am generally not a fan of formed polymer loops because they are too hard to thread a belt through; however these are boxy enough that a belt slips right though. The slight angel locks the holster in place when you snug up your belt.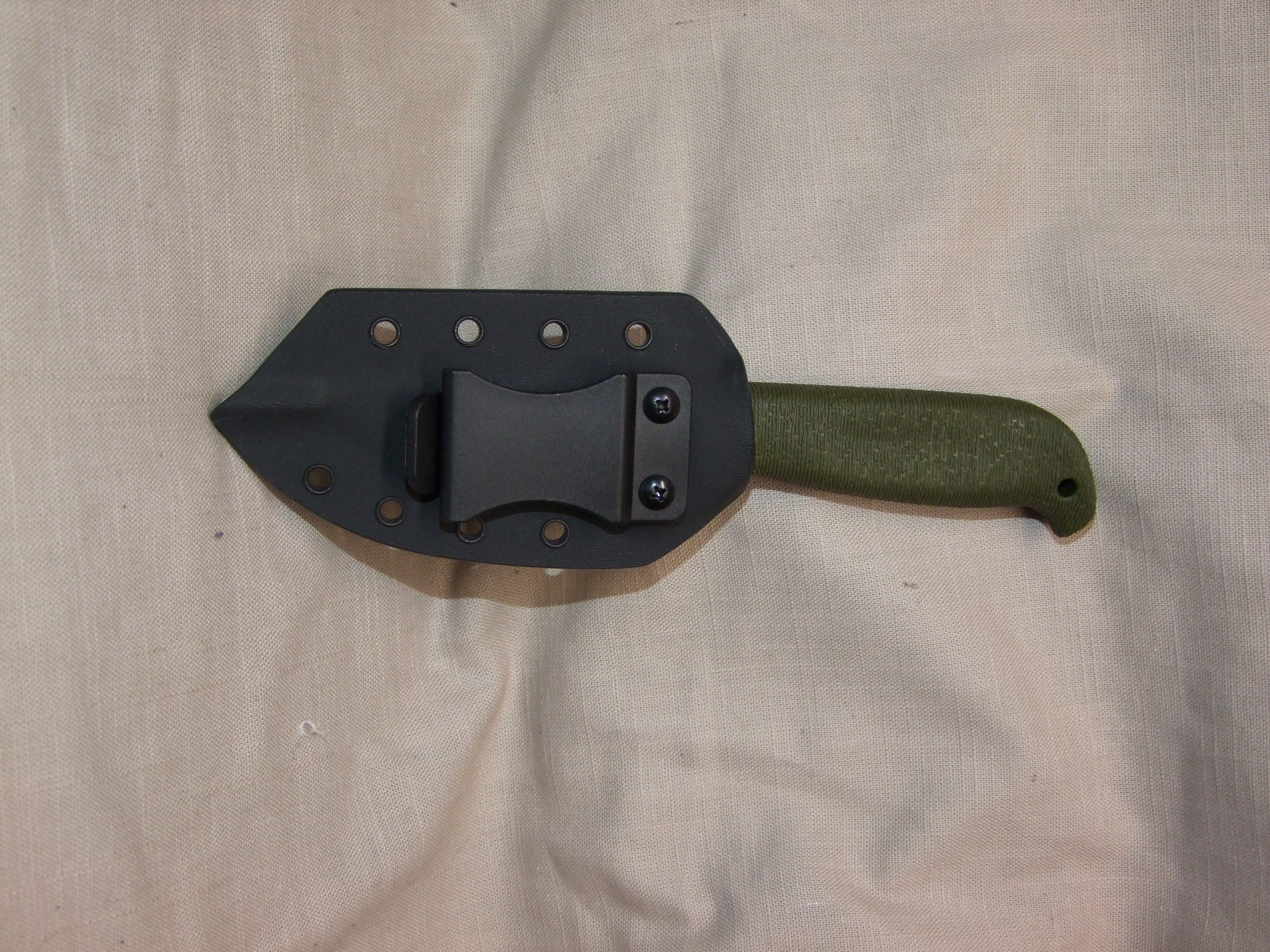 I figured I would put 3i's custom work to the test on a Cold Steel knife I had been given a few years ago. The OEM sheath was not what I needed. Since Scott had told me he does custom knife sheaths I sent 3i the knife. My desire for this sheath was simple; a camouflage to compliment the handle and a clip that will stay secure when I carry the knife. The end result was a sheath the rides perfectly behind my handgun, if need be it will attach to my field pack.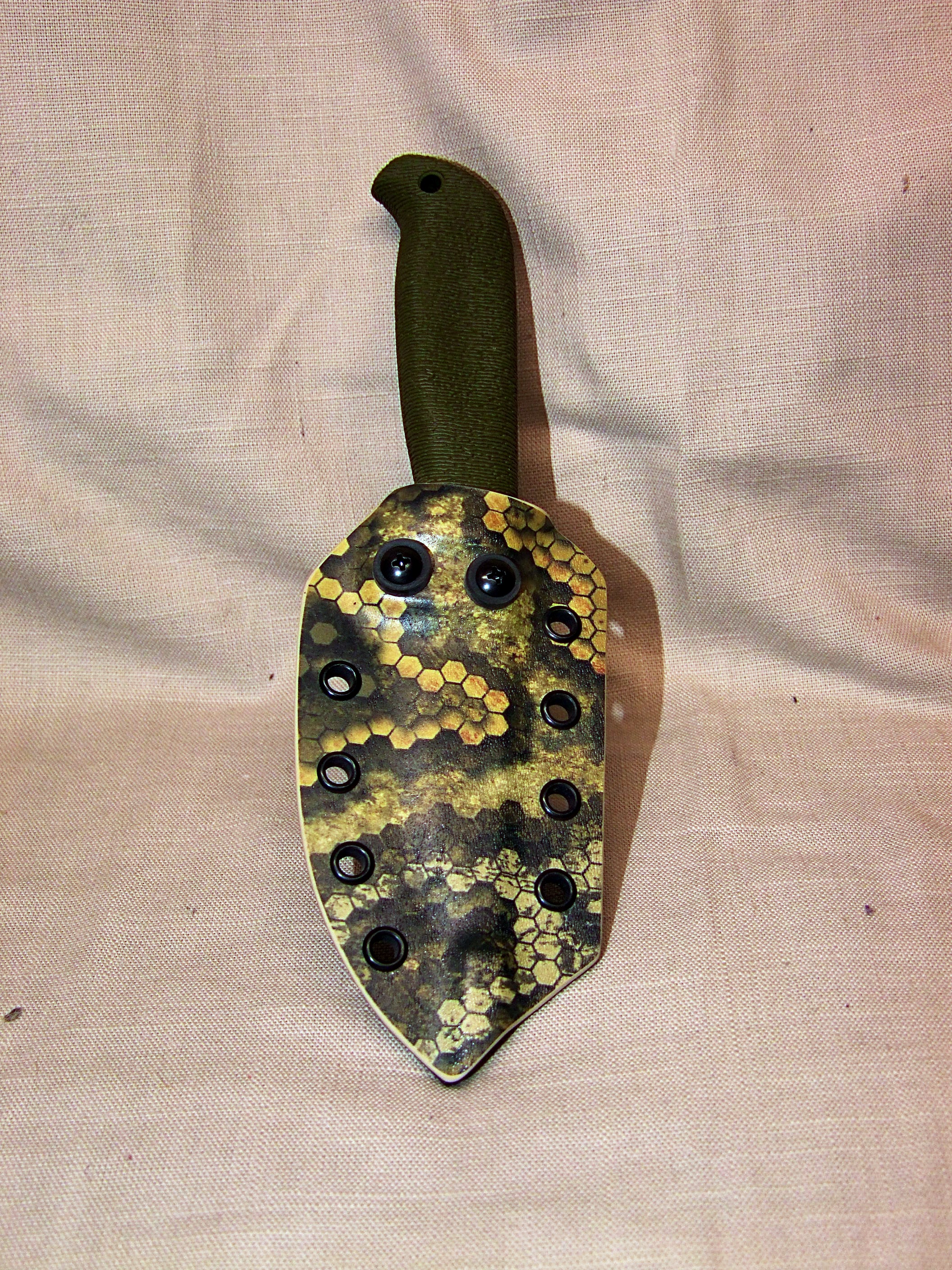 After using these holsters off and on for well over eighteen months I feel they are outstanding pieces of kit. The attention to detail is amazing, the workmanship rivals that of much better known kydex holster makers and Scott's passion to give customers the finest holsters around is unsurpassed. If you are looking for a holster for yourself or as a Christmas gift for someone else, get them a 3i Holster; you or the recipient will not be disappointed.