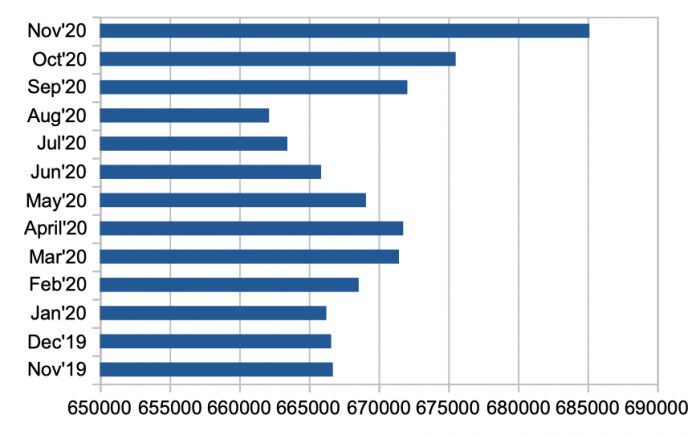 Now, these are Michigan numbers but as Michigan is a solidly politically middle state with our congress and governor often at odds (as this nation is likely to be for at least the next two years) is is probably a fair sample of attitudes.
As of November 2, 2020, there were 685,140 CPL holders in Michigan. That's a gain of 9,600 CPL holders from the previous month. Not only is it an all-time record high, it is also the largest single monthly gain since MCRGO began compiling monthly numbers in 2008. MCRGO student certifications continue at the very high level we saw over the summer months. So we can anticipate more record growth over the late fall and winter. The full report can be read HERE.
The tally has it and CPL's are at an all time record for the state. The dip we saw earlier this year wasn't due to lack of demand but the fact that government offices were not fulfilling their duties in a timely manner due to lockdown and there were no alternatives built in.
People wanting a CPL to carry legally during this contentious time were denied their civil right, not for any legal reason, but simply because the government refused to do the paperwork they didn't create a remote provision for. In the era where you can buy NFA items through that antiquated series of hoops almost entirely digitally, this was quite ridiculous.
But isolated government employees were eventually brought back in and appointments processed and a flood of new applicants came in who had been waiting. The larger counties have backlogs of a couple thousand applications.
What is also interesting is the number of expired licenses. I suspect we will see that pool shrink too moving into 2021. It's a pile of people who forgot, haven't been able to due to distancing restrictions or appointments, and those who just didn't want to pay the rights tax this time.
In total 1.4 million Michiganders hold, held, or applied for a CPL license (685,140 are active with 25,609 pending pushing us over the 700k mark).
The people spoke, self protection is the way.