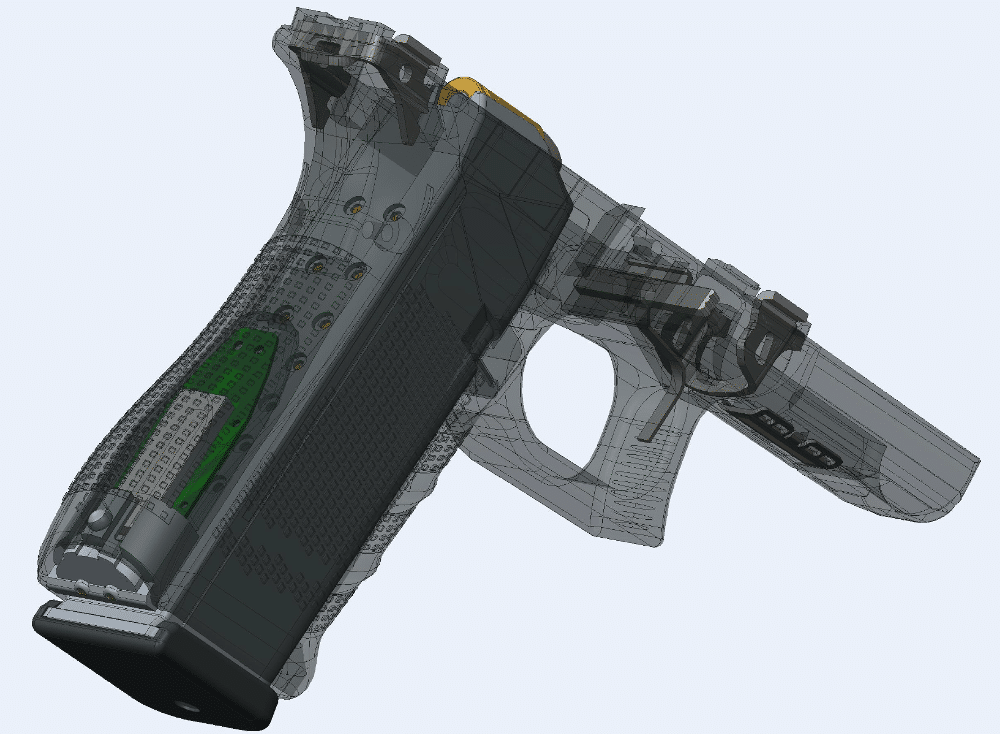 Yardarm, a California startup with a focus on "smart guns," is developing a new drop-in device that monitors guns in the hands of police officers.
While the early proof-of-concept devices included a remote lockout component, the company's new system is designed strictly to observe.
The updated Yardarm device can tell when a gun is holstered, where it is relative to the officer and if and when it's fired. In a sense, Yardarm wants the device to be a sort of bodycam for duty pistols.
The device can also tell if a gun has been taken from an officer.
"That's the worst nightmare for any police officer in the field," Santa Cruz County Sheriff Phil Wowak told the Associated Press. Wowak's department is one of two agencies testing the units.
Yardarm is working hard to distance itself from the anti-smart gun trend among gun users, denying its new device's status as a smart gun component, calling it "police gunfire tracking technology" instead.
So far the Yardarm device has only been developed as a grip insert for Glock pistols, but the technology could be adapted to work with any grip, backstrap or rail system. The tech isn't just limited to handguns, either, as Yardarm has plans to make tracking devices for long guns as well.
Jim Schaff, the company's vice president of marketing, did not say why the company dropped the remote disabling function of its device. Gun rights activists have long held the position that any technology that can turn off a gun is bad news.
"What we do oppose are government mandates requiring all gun owners to adopt the technology," said Sam Paredes to the AP. "If law enforcement wants to adopt this technology, that's great. Just don't make every gun owner adopt the technology."
Realistically the reasons to omit a remote shut-off switch for duty pistols are the same for why private gun owners don't want the tech — it's just too unreliable for a gun. Even if it only fails once in 1,000 times, that means it will cost lives.
When guns are drawn people are literally in life-or-death situations, and few gun users, whether they are sworn officers or private individuals, trust smart gun tech to grant them access to their triggers.
Other reasons to kill the kill switch include the possibility of a remote override of the system.
Just as people worry about smart guns failing to work properly when needed, it's also conceivable that any remote shut-off system can be deliberately taken advantage of to turn the tides against now-disarmed officers.
The weaknesses of any type of remote disabling system make them entirely too risky to employ, but that doesn't mean some smart gun tech can't help keep officers — and the public — safer.
With more and more departments and the public calling for more forms of police tracking technologies, something that tracks their gun use may have a place in the future of policing. Knowing exactly how an officer's gun is used is a matter of significant public interest, and Yardarm knows this.
Currently the Yardarm device pairs with a smartphone and tracks simple information, whether or not the gun is holstered, drawn and fired as well as what direction it's pointed in. It weighs about an ounce.
Yardarm hasn't set a price for their tracking device as it's still in the development phase.
Do you support the idea of gun tracking devices for police officers?
Source Article from http://www.guns.com/2014/10/27/yardarm-changes-course-develops-smart-guns-that-track-police-use-video/