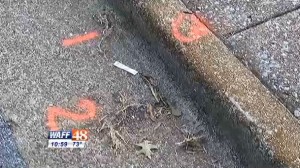 Following the investigation, orange police paint still remained on the sidewalk and grass near where the would-be robber was shot. (Photo: WAFF)
What started out as an apparent good deed early Sunday morning in Huntsville, Alabama, quickly turned into what police described as an apparent attempted robbery gone terribly wrong for the suspect who was fatally shot by the would-be victim.
According to local media, just before 3 a.m. the suspected robber asked the man for a ride from a gas station to a nearby housing project. The man, whose name has not been made public, agreed and gave the suspect a ride.
Once the two men arrived at the residence, the suspect sprayed mace in the man's face. Fearing for his safety and not knowing what the man's intentions were, the driver of the vehicle then pulled out a handgun and shot the suspect, later identified as 56-year-old Clifton Fletcher.
Fletcher fled from the car and the driver wiped the mace from his face, as best he could, and drove away to safety before calling 911, another media outlet reported.
When authorities arrived, they found Fletcher lying on the ground in the front yard of a nearby home. He was pronounced dead at the scene.
"It was a robbery and there is strong evidence to support that," Captain JesHenry Malone with Huntsville Police Department told Alabama.com.
James Burgess, who lives in the house across the street from where Fletcher's body was found, witnessed part of the aftermath.
"All I saw was a bunch of lights through my window and when I came outside it was crazy," said Burgess. "There was police everywhere, there was a body laying down on the ground. I was really just in shock."
Burgess, who has lived in the house for four years, said "it's nothing new" and admits he has always had strict rules for his children while they are outside.
"There's always shootings, always robberies," he said.
"It is just about time for people stop, pay attention, get a job, quit trying to rob folks," Burgess said. "People are starting to defend themselves a lot lately, and it's just, it's time for a change."
No charges have been filed against the driver of the vehicle at this time. The case has been turned over to the district attorney's office for review.
WAFF-TV: News, Weather and Sports for Huntsville, AL
The post Would-be victim shoots suspected robber after getting sprayed with mace (VIDEO) appeared first on Guns.com.
Via:: Would-be victim shoots suspected robber after getting sprayed with mace (VIDEO)