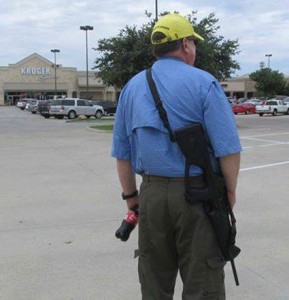 A man was fatally shot Monday morning in Indianapolis during what appeared to be an attempted robbery gone wrong.
According to a local Fox affiliate, the incident occurred about 6:20 a.m. in a parking lot located directly across the street from the Indianapolis Metropolitan Police West District Headquarters. Officers were outside conducting roll call and heard the shots when they were fired. A nearby resident told reporters he heard about 12 gunshots.
When officers came to the parking lot, the man carrying the gun immediately held his hands up in the air and surrendered to authorities. The man was handcuffed and taken into custody. It is unknown at this time if he was released or if he will face any charges.
Officers found a man who had been shot lying next to an ATM. A truck, which was still running, had crashed into the Kroger store which shares the same parking lot as the bank where the ATM is located. The driver's side window of the truck had been shot out. Authorities did not say whether the truck belongs to the victim or the suspect.
The incident remains under investigation, but at this time is being treated as an attempted robbery.
The shooting occurred two days after a mob of teens brutally attacked three people in the parking lot of a Memphis Kroger. Two of the victims, who are Kroger employees, were knocked unconscious. The disturbing video, which was captured by another employee on a cell phone, showed the teens stomping and kicking the head of one victim before they hurled 20-pound pumpkins at his head, after he was already unconscious. Eleven people have been arrested so far, all ranging in age from 14 to 19-years-old.
Just last month Everytown for Gun Safety and Moms Demand Action for Gun Sense in America petitioned Kroger to "make a clear statement that the open carry of firearms is not welcome in its stores." However, Kroger refused and simply said it would abide by state and local laws and trust their customers to be responsible.
Source Article from http://www.guns.com/2014/09/12/would-be-robber-fatally-shot-in-kroger-parking-lot-video/?utm_source=rss&utm_medium=rss&utm_campaign=would-be-robber-fatally-shot-in-kroger-parking-lot-video