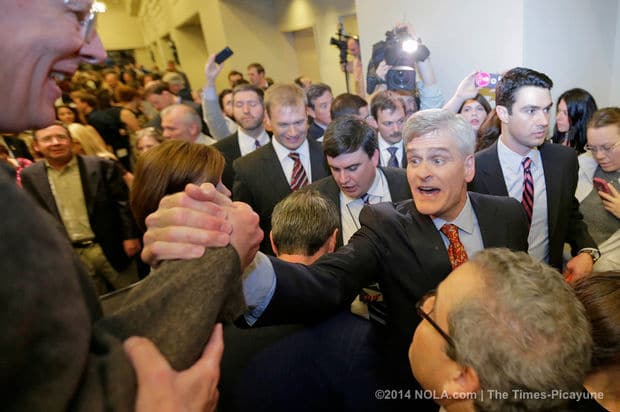 In Louisiana, the National Rifle Association-endorsed Republican challenger Bill Cassidy handily defeated incumbent gun control champion U.S. Sen. Mary Landrieu, a Democrat, in a runoff race Saturday.
With all precincts reporting, the unofficial election results held Cassidy with 56 percent of the votes cast, with Landrieu, first elected to the Senate in 1996 lagging with 44 percent. Currently the senior senator from the state, that role will now switch to Sen. David Vitter when Cassidy reports to Capitol Hill in January 2015.
Landrieu was the only Democratic senator from the Deep South and the only lawmaker of that party to hold statewide office in increasingly Republican-swinging Louisiana. It will be the first time since Reconstruction in 1876 that the Sportsman's State has not sent a single Democrat to the Senate.
Her loss further enhances the huge GOP victory gain in the upper chamber of Congress following a historic swing in last month's mid-term elections. Republicans will now count 54 of the 100 seats in the Senate as members of their party. While it gives the GOP majority control, it still falls short of the 60 votes for cloture needed to break a  filibuster, meaning there will still be need of at least a modicum of bi-partisan support to pass controversial legislation.
In her concession speech Saturday night, Landrieu stood by her record, including a controversial stand on Obamacare. Cassidy, a trained physician, had made that program and Landrieu's support for it, a key issue in his bid for office.
Besides Obamacare and their party affiliations, the two could candidates could not be more different on the subject of gun politics — a fact that supporters on both sides used extensively in the campaign.
Landrieu, going as far back as her original election campaign in 1996, voiced support for continuing the Federal Assault Weapon's Ban although last year she voted against the new Feinstein amendment, which would have brought the ban back into place.
A supporter of increasing background checks she voted for an amendment to direct background checks on gun show sales in both 1999 and 2004. Besides those votes she stood with Senate Dems on the controversial 2013 Manchin-Toomey Legislation that would have expanded background checks on most firearms transfers nationwide.
In an enduring legacy, she voted to approve the confirmation of both Sonia Sotomayor and Elena Kagan to the Supreme Court. Both justices have consistently rules against expansions to gun rights since their appointments.
These actions earned the Senator a D-rating from the NRA, which grades candidates from a scale of A to F on support for Second Amendment issues. A D-rating is reserved for, "An anti-gun candidate who usually supports restrictive gun control legislation and opposes pro-gun reforms," according to the group.
Nevertheless, it should be pointed out that Landrieu did, in fact, co-sponsor some pro-gun legislation to include a failed 2007 bill that would have established a national standard for reciprocity of for concealed carry holders. That bill, S.388, was largely a Republican effort that in the end proved unsuccessful.
This did not stop former New York Mayor Michael Bloomberg's Everytown for Gun Safety group from endorsing the incumbent Democrat.
"The NRA thinks it can set up this strict dichotomy of being for or against guns and it's just not the truth — you can be for the Second Amendment and for reasonable public safety measures that will help save lives," John Feinblatt, president of Everytown told the Times-Picayune in September. "That's exactly what Senator Landrieu and the people of Louisiana support — and it's precisely why we've endorsed her."
It should be noted that Landrieu did not accept the endorsement and Everytown's Action Fund did not donate to her campaign, although she did receive some $2.3 million in donations from the Senate Majority PAC, to which Bloomberg contributes as well.
Cassidy, however, since his election in 2008 to serve Louisiana's Sixth Congressional District in the House, has earned an A+ rating from the NRA, the highest possible for his voting record in that body. Besides the endorsement, the gun rights group publicly stumped for their candidate, running a series of controversial TV ads in the state attacking Landrieu in particular for her stand on Manchin-Toomey.
These ads cost the group no less than $593,271 according to official disclosures.
The points made in the ad brought ridicule from many including the Washington Post who called it "over the top" and gave it a Four Pinocchios fact-check rating, which is reserved for "whoppers."
To which NRA spokesman Andrew Arulanandam acknowledged, "It is a provocative ad … The NRA doesn't run boring ads." Nevertheless, Arulanandam stood behind the fact that in the group's analysis, Manchin-Toomey was an attack on gun rights and Landrieu voted for it even while four other Democrats crossed the aisle in opposition.
Once the results of the Nov. 4 mid-term elections sent Landrieu and Cassidy into a special run-off election, the NRA doubled down on their candidate with a second series of ads that closely tied the Democrat to the President. This was combined with a direct mailer that depicted Landrieu between Obama and Bloomberg that read, "Mary Landrieu will not protect your right of self-defense….who will stop the Obama/Bloomberg/Landrieu Gun Control Agenda?"
In his victory speech Saturday night, Senator-elect Cassidy told an energetic crowd "we want our country to go in a conservative direction," calling his win the "exclamation point" on that desire.
Source Article from http://www.guns.com/2014/12/07/with-guns-a-campaign-issue-gop-takes-last-senate-seat-up-for-grabs-video/