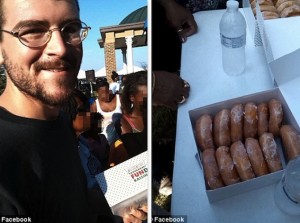 Bradley Hardison won first place at a doughnut-eating contest, but he also won a pair of silver bracelets and a chauffeured ride to the local police station.
A wanted North Carolina man who won first place at a police-sponsored doughnut-eating contest last Wednesday came down from his sugar high after he was arrested a day later.
Bradley Hardison, 24, was wanted in Camden County for multiple felony burglaries. He had successfully been on the lam for several months, but after receiving local media attention for his doughnut-eating prowess, he found himself behind bars, WGHP reports.
At the competition, which was held for the Elizabeth City Police Department's National Night Out Against Crime, Hardison managed to eat eight glazed doughnuts in two minutes time.
Hardison shot to fame after his confectionary feat and even had his photo placed in the local newspapers. But the media attention was bittersweet as Camden Sheriff's Lt. Max Robeson was among the readers.
"When I came in that morning and read that article I was pissed because it's like throwing it in our face," Robeson said. "We've been looking for you for months. I didn't ask him if he won a trophy – he probably did."
The lieutenant was incensed by Hardison's brazen move, especially since he was wanted for breaking into a grocery store and a storage building last November .
"It's like he had the audacity to do something like that knowing that he had broken into these places," Robeson said.
But while the lieutenant was aggravated by the situation, he made sure to give Hardison his due congratulations before he was booked into jail.
"I did congratulate him," Robeson said. "Good for him. He can eat a lot of doughnuts. Good for him."
[ WGHP ]
The post Wanted man arrested after winning police-sponsored doughnut-eating contest appeared first on Guns.com.
Via:: Wanted man arrested after winning police-sponsored doughnut-eating contest